Spotify is going through some feature updates in order to improve usability. The music streaming platform is adding more and more features, which the users have been waiting for a long. Now, Spotify has started rolling out the full song lyrics options for users. You can now get the full lyrics of the doing you are listening, from within the app.
Here is how you can get full song lyrics on Spotify.
Get Full Song Lyrics on Spotify
Many streaming platforms including Apple Music already have the song lyrics option. This lets the users get the complete lyrics of the song without leaving the app. Apple Music even highlights the line which is playing, helps you follow along with the song easily.
When it came to the Spotify, the streaming platform had been using the "Knowledge cards" from Genius for selected songs. It showed a few lines from song lyrics, and mostly the facts and knowledge about the song playing. Even though it was supposed to attract more users, it did the exact opposite.
Finally, considering the users' demand, Spotify has added the full song lyrics for all the users. Here is how you can get the full song lyrics on Spotify.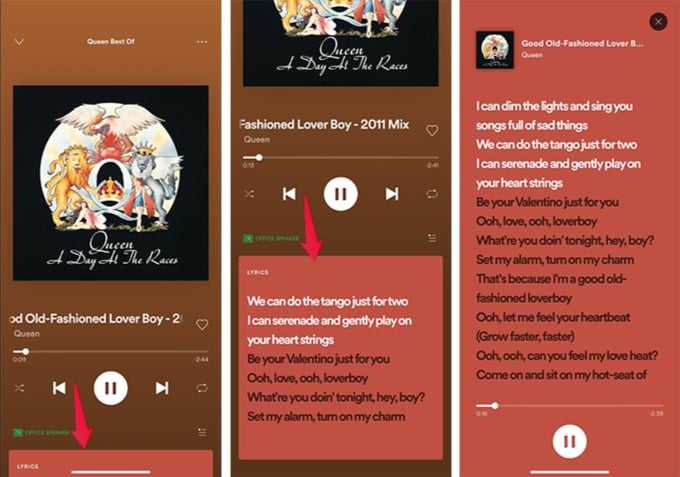 Update the Spotify app on your iPhone or Android.
Open the Spotify app and play a song.
Tap the mini-player at the bottom to enter a full-screen player.
You will see the "Lyrics" card at the bottom of the screen if the song currently playing has full lyrics available.
Swipe up the card.
You can find the currently playing line highlighted on the screen.
Tap on the lyrics card to expand and see full song lyrics on Spotify.
Unfortunately, unlike Apple Music, you cannot jump to a certain line from the lyrics on Spotify.
The Spotify lyrics feature is rolling out to its users worldwide. However, every user can have the feature, regardless of the plan. Therefore, Spotify free account users can also get the full song lyrics on Android and iPhone.
Spotify Lyrics FAQs
Here are some of your questions answered about the new lyrics feature on Spotify.
Can Everyone Get Spotify Lyrics?
Yes. The Spotify lyrics is available for everyone. If you do not have it, you can wait and the feature will roll-out eventually.
Can Spotify Free Users Get Full Song Lyrics on Spotify?
Absolutely yes. Both the free and premium users of Spotify can have full song lyrics on both Android and iOS apps.
How Does Spotify Lyrics Work?
Spotify fetches the song lyrics from various sources including Musixmatch. Previously, Spotify used the genius lyrics platform to show knowledge cards.