Do you see Waze Location is Always-on even after you quit the Waze App? If you are you looking for a solution to turn off Waze Location Service completely while you are not using Waze app, please go through this article. Most of the cases, location service or running internal GPS in the background may drain the iPhone battery quickly. We used to open Waze app when we start to drive and turn off immediately when reach my destination.
However, you may notice that your location service is still turned on even you log off Waze completely. This may or may not consume your battery (see how to stop draining the battery while using Waze) and most of us are not comfortable with tracking your location where you go. Let us see why this Waze locations service is still ON for Waze even if you turn off the Waze app completely. Well, the answer is Waze is using your location for some other integrated features.
Let us get into more details about those features and see how to Turn Off Waze Location Service Completely.
Where is Waze using Location Services?
Waze will use iPhone location (GPS Sensor) while you drive. This lets the Waze App display current location on the MAP and also alert you roadblocks and other hazards ahead.
1, Location Service for Waze MAP
At this moment there are only two options for iOS users on Waze Location Access. You can see this setting in iOS Settings > Privacy > Location Services > Waze > you see;
Never/Always. You can choose never here if you are rarely using Waze. You may need to turn this on manually every time you use Waze app on phone.
Related: How Can I Use Waze as a Standalone GPS Device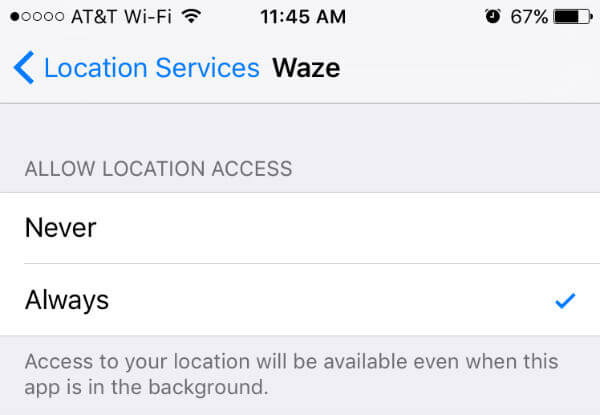 If you are using Waze for daily commuting, the best choice is to keep these Location Settings Always. However, this Always setting will use location setting while Waze is working in the background.
Once you quit the Waze App from the background, (slide and remove) the app no more use the location service. In your case, you may see a purple location arrow on iPhone top menu bar, then go to the second point mentioned here. There are other built-in Waze services that use location reporting on your Smart Phone.
Updated on Aug 21, 2017: Today, Waze rolled out the option to use the location service "While Using the App" and we hope this selection will stop draining your battery.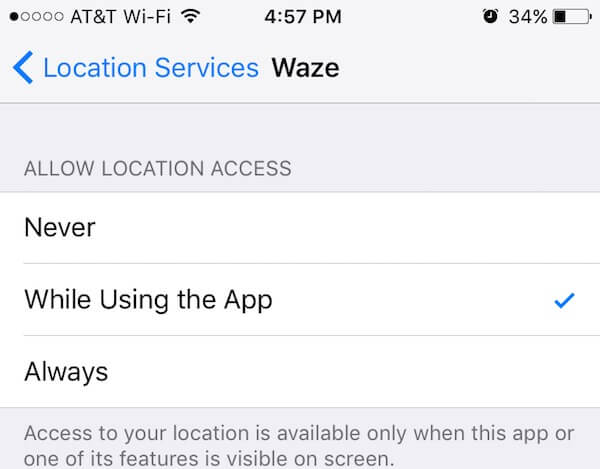 After you select this option, Waze will use the location service only when you use the Waze app.
Related: Set Waze Default Map: How to Change Default Navigation App on Android and iPhone?
2, Location Change Reporting (iOS only)
For iOS Users, Waze is using location change reporting for Time to leave Reminders (synchronized with iPhone Calendar). Waze is accessing your current location even when you are not using the app to remind you about your iOS calendar events especially for planned drives and time to leave notification.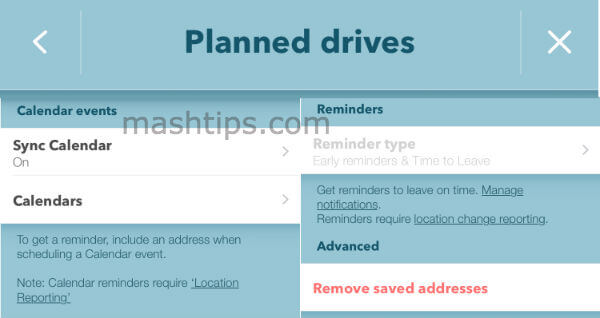 As per Waze Help Documentation; "Location change reporting has minimal impact on your battery since the service uses cell towers and WiFi signals"
How to Turn Off Waze Location Reporting?
If you are not comfortable with this feature and you think your battery is draining with this location reporting, you can turn off this feature. Open Waze App > Go to Waze Settings > General > Location change reporting > turn off.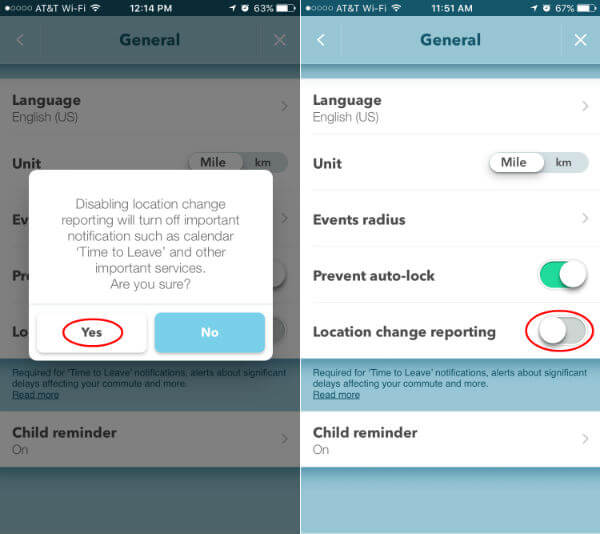 Once you turn this off, you'll no longer receive 'Time to Leave' reminders for Calendar events and planned drives.
Also Read: How to Setup Siri Shortcuts on Waze to Navigate with iPhone
Can't See Location Reporting on Waze?
Sometimes you may not see the Location Reporting toggle button on Waze Settings. In that case, first, you have to enable iOS Calendar Access to Waze. Please go to iPhone Settings > Waze > Allow Waze To Access Calendars > Turn On.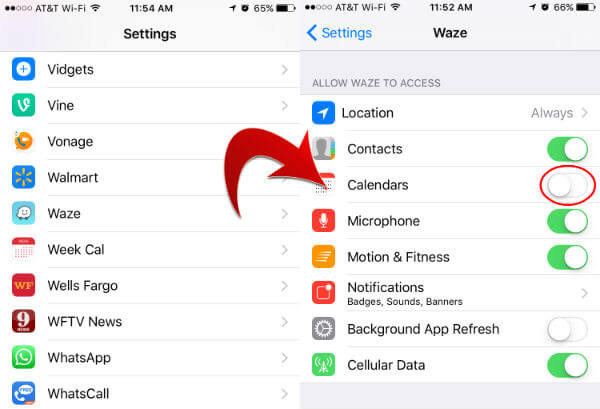 Now Come back again to Waze App > Go to Waze Settings > General > Location change reporting > turn off. If you are concerned about Waze's access to your iOS Calendar, you can go back to iPhone Settings > Waze > Allow Waze to Access Calendars > Turn Off.
Now your Waze will not use your iPhone Location Service while you Turned Off Waze from the background and no need to worry about battery drain.
Related: How to Share Your Exact Location from Google Map / Waze / Apple Maps?
However, iOS Calendar Drive reminders and "Time To Leave" are nice features that you can enjoy if you are not much worried about your battery backup time. It's totally up to you whether you want to allow other apps to use your location services for more features or completely turn off Waze location service.