Google Waze is my favorite GPS app that I am using for the last three years. The best thing about Waze, it is a community driven app where users can report road hazards and other incidents that can see real-time on Waze Map for other users. The developers backed up by Google are implementing exciting features in every release and that is why I don't want to consider any other GPS App for my phone other than Waze. I wish if somebody could launch a Waze Standalone GPS device in the market.
Unfortunately, there is no standalone Waze GPS device so far. However, we have a solution for those who are looking for a Waze GPS Device that can rest on their Car Dash as a stand-alone.
How to Setup a Standalone Waze GPS?
Well, the idea is to use any one of your old Tablet that is resting on your shelf for a long time. This can be an Android tablet or old versions of iPad device too. Please make sure your iOS or the Android OS version is supporting to download the latest version of Waze from iTunes/Google Play store.
Related: How to Share Location With Google Map/Waze/Apple Maps?
The Benefits of Using Standalone Waze GPS
So the advantage of using dedicated Tablets for GPS is you don't need to change the program or attend the calls on your tablet. You can use your Smartphone for calling or messaging. You never distract from MAP since your tablet is displaying the routes on the tablet. Location-based apps like Waze or Google MAP tend to use your battery power more than other apps. A tablet with car charger will keep your battery up on both devices.
Editor's Note: As we mentioned before, there are many benefits of switching from a dedicated GPS device to Tablet devices. Please refer to this article if you want to know more details on the Benefits of GPS Tablets Over Dedicated GPS Devices.
What Type of Tablet Best for Waze?
We recommend using a cheaper Android tablet with 7 inches or more screen size and better resolution. The tablet can be Wi-Fi based, that is way cheaper than cellular models. We listed best noncellular built-in GPS tablets that you can refer if you don't have one now.
For iPad users, Apple is shipping iPads without built-in GPS. So if you want to use iPads for Waze Standalone GPS, then you have to go for an external GPS chip that power up your iPad as a GPS device. Unfortunately, we couldn't find out an external GPS sensor for iPad, and we like to proceed with Android tablets here.
If you can get a built-in GPS tablet that will be great. Please see the best list of GPS based tablet that you can choose from. But if you have a regular one without an internal GPS, don't go for a new one. There are plenty of external GPS devices available in the market that you can buy and connect to your non-GPS tablet. We see one GPS Receiver from Amazon GlobalSat ND-105C Micro USB that requires an Android device to have "USB Host" support & "PL2303 GPSInfo" app for Android to function.
Editors Note: We never tested this GPS sensor in our lab, so we recommend to research further when you chose the GPS sensor.
Related: Have Full Control on Android Data Usage & Dramatically Reduce Mobile Bill
Setup Waze with Android Tablet as Stand Alone
I used my old Android 2013 Nexus Tablets that already has built-in GPS. I connected my tablet to Wi-Fi and installed Waze app from Google Play Store Link.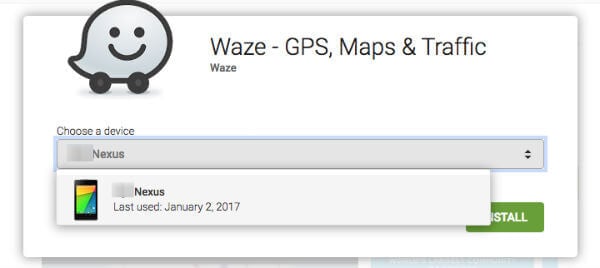 Once you installed Waze on Android Tablet and download the updates and extra language files, then the next step is to fix the tablet inside the car using a
tablet mount holder
.
Now you can set this Waze GPS on your Car Dash Camera. Now the next challenge is to let your Waze connect online while you drive. This is only applicable for those who have a WiFi-based tablet. If you have a tablet with cellular connection, then you don't have to worry about the step here, just bother about your monthly data bill -:).
Setup Hotspot on Android or iPhone
So the best solution to connect Waze tablet to the external world is your smartphone. You can use your iPhone / Android as a hotspot to connect your tablet while you drive. For iPhone; Go to iOS Settings > Personal Hotspot > Turn On > Set Wi-Fi password.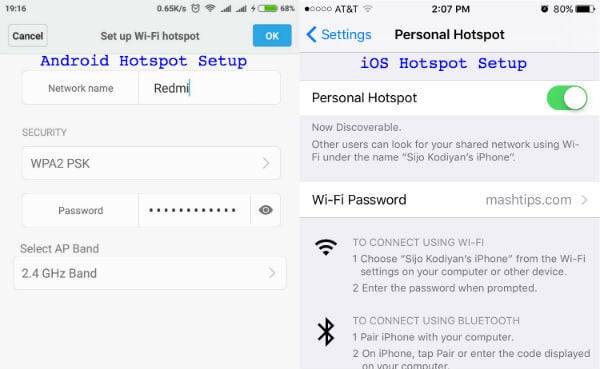 For Android, Goto Android Settings > Personal Hotspot > Portable hotspot – Enable > Setup WiFi hotspot. Now depend on your smartphone, they start to share the network connection.
Now Go back to Android Tablet, Wi-Fi Settings > Select Phone Wi-Fi > Enter Password to connect. Now you can connect your Waze map online, give updates and road hazards while you drive.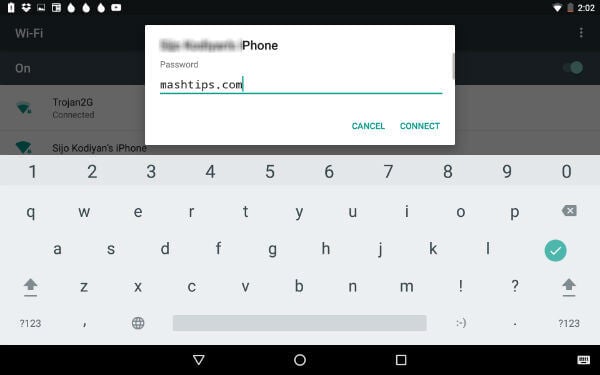 Now you can enjoy a perfect Stand Alone Waze GPS device on your car dash cam. To save your data plan, I recommend connecting the tablet to hotspot only when you want to enjoy the features of Waze while sitting behind the wheels.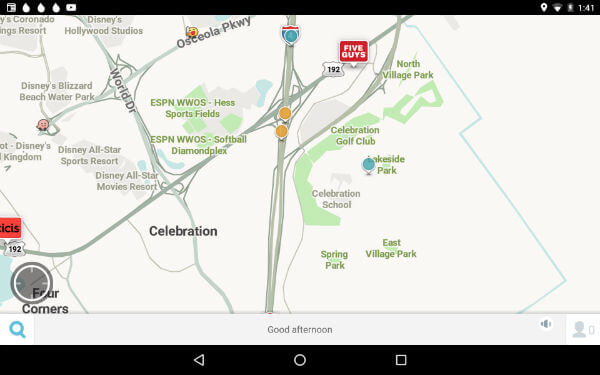 However, if you want to use Waze GPS App without consuming from your data plan, please see our workaround to Get Waze and Google Map Offline to Save Mobile Data.
What will Happen to Waze if I Run Out of Data?
Waze can save your route information in cache memory. So you will be fine once you set your routes on Wi-Fi or data plan before it runs out.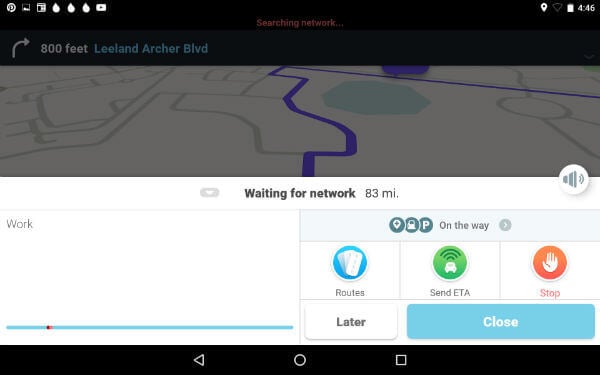 Just in case, if you want to add a stop or reroute to a different location, then you may be stuck with Waze message "Waiting for the network."
Setup Tablet Power Supply to Turn Off Automatically.
The next important thing has to take care of this standalone tablet GPS workout is the power supply. If you want to consider this tablet as a dedicated GPS on your card, then the tablet must turn on when you start the car and turn off when you turn off the car ignition.
You must have a car charger and USB cable to connect the tablet to the car citrate lighter power supply. Here is RAVPower 24W 4.8A Aluminum Alloy Dual USB Car Charger from Amazon for $7.99. To connect the power supply to Android tablet, please use the cable Micro USB (6.5ft) from Amazon for $6.99.
Now we need an app that can automatically turn off or sleep Android tablet while it detects the power supply loss. There is a free Android App from the Amazon Android Store called Autosleeper Auto power ON-OFF. This Android app force Android tablet automatically to sleep within seconds each time you switch off your cars' engine. This is an alternative for those who want to use Waze standalone GPS device. This workaround may cost data usage from your smartphone. If you have data usage restrictions, then the solution is to go for an Offline Map or shop a dedicated GPS.