Google Map and Facebook Messenger recently introduced a feature to share location in real-time using a smartphone. When you share the location with the live sharing feature, our friend can track you in real-time and watch your movement on the map in real-time. You can stop this sharing at any time or automatically after a predetermined time. Live Share feature is useful to share your ETA with your friend to meet, coordinate for a social gathering, etc.
This live sharing feature is additional security that allows you share current location while driving to an unfamiliar place. Your roommate or parents can watch your location on the map and alert emergency service if something bad happens.
Real-Time Location Sharing with Google Map
Well, Google has just rolled out this feature today, March 22, 2017, that you can share your location from Google map to your contact list. This is a real-time sharing of your location with your friends or family. Since this is a live sharing of your location, your friend or family can watch your movement all the time. However, Google is giving you an option to stop love location sharing whenever you want. The other choice is that you can stop sharing after a predetermined time like 60 minutes or 90 minutes like that. The last option is to stop sharing when you reach the destination, in case you travel while sharing the location.
Related: How to Share Live Location on iPhone with Message Apps?
Before you start, you have to change the location setting for Google map and allow to access your location Always. This location setting is required for Google Map to access your location in the background. If you are not allowed Google Map to access location Always, Map will ask you to change location setting when you follow the step below.
Google made this process pretty easy. Open Googe Map on iPhone or Android Phone > Sign in with Google Account > Tap Menu on the Left or Google Map > One Google Map Menu > Share Location > Add People. At this point, Google Map will ask you to change Google Map Location Settings to Always. You can see these settings change in the screenshot below.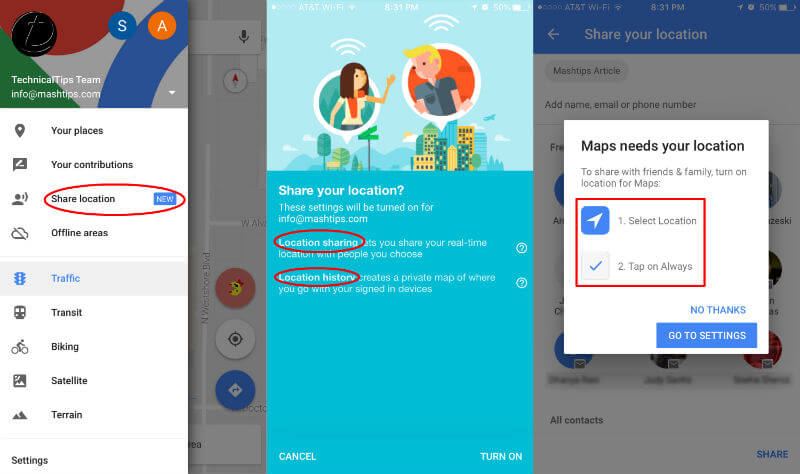 Instead of adding a person from your contact, you can send a link via any messaging app from your phone to share the Live Location. At this point, you can choose how much time you want to share the location with your contact person. As we said before you can set a fixed time or can say until you reach the destination.
When you want to stop sharing immediately, you can open One Google Map Menu
> Share Location > Turn off the switch next to the person with whom you want to stop sharing.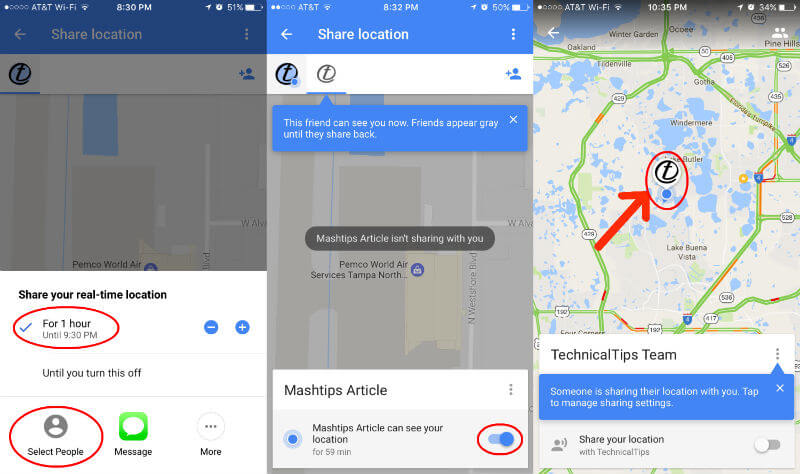 The last screen above is displaying the share location. Your friend has to open Google Map Menu > Share Location > Choose your name to see your location on the map as an icon. Your friend will see your picture or icon that you set on the Google Account will display on the Google Map. The icon will move when you drive or travel and your friend can see your movement on that Map. Your friend can keep update on your location by tap on Map icon > More > Tap Refresh
Your friend can stop seeing you on Map by hiding your icon from the Map. Open Google Map > Tap on Friend's icon > More > Tap Hide from Map. He can revert this by going to the same Setting and tap on Show on map to start to see your Live Location Again.
Those who don't have a mobile device, they can still watch somebody's location on their computer. However, they can't share their location from PC. This is an ideal security measure for parents to share their Kids location while traveling to school or a new place and parents can watch and track their live location from home computer and make sure they reach safely to the destination.
Related: Instead of Live Location Sharing, there are options to share current location. The current location sharing is a built-in feature that is coming with almost all map applications like Google Map, Waze Map and Apple Map.
WhatsApp Live Location Sharing
Please do live sharing only in an emergency and make sure you have enough battery before sharing live location on WhatsApp or any other chat app. WhatsApp will send the live location link through the chat window along with your message.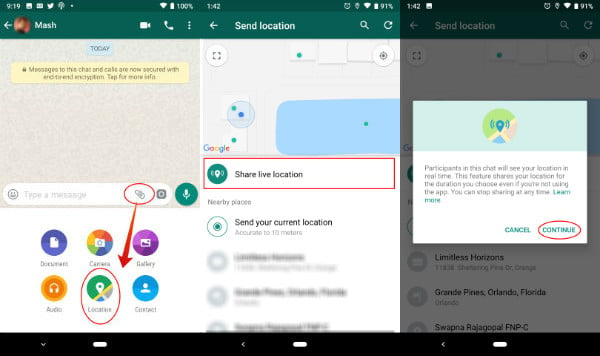 Since this is a live location sharing, the recipient will be able to follow your movements when you move. In addition to this, your phone GPS will be continuously engaged and drain your battery quick. You can see the more detailed step by step instruction at Share Live Location on WhatsApp.
Facebook Messenger Real-Time Location Sharing
Facebook launched live location sharing through Facebook Messenger on March 27, 2017, just after Google Map introduced the feature. With Facebook Messenger app you can share your live location from Android and iOS device.
To share the live location from the Facebook Messenger, first, you have to open Facebook Messenger on your Android or iPhone. Open the Chat windows of the friend you want to share the live location. Now you can see the location icon in the Messenger window. If you can't see the location icon direct, please click on the More button to see more options and tap on the location icon from more window. Now you see the Map window in the keyboard are the Facebook messenger and see your current location there.
On  Facebook Messenger, Map Window > Current Location > Tap Blue Bar to Share Live Location. When you chose the live location sharing, your friend can see your live location for 60 minutes. Then your Live location will share on the chat window, on the chat window, you can see a ticking clock showing how long you will share your live location with your friend.
At this point, your friend can see the where you are and the ETA to reach the destination. You can stop sharing your live location at any point just with a tap on Stop Sharing on the map blue icon.
Find My Friend on Android and iOS
Believe it or not, there is a different version of this live location feature was already on iOS and Android a long time before.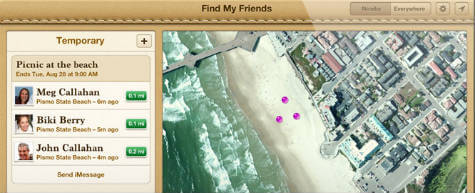 Only the difference in this feature is the live location sharing was not quick like this live sharing and also this feature support for the same OS. Find My Friend feature also helps to share the current location with another user if both have the same OS.
Google map is the most common app and supports Desktop version to see the shared location live. Facebook Messenger is also very common and supports live location with few taps on the Messenger window. However, Google Map Real-time Location Sharing can use with any user and most common that can use anybody.