Share your live location from iPhone is pretty easy. You can share GPS location live for a specified period to another contact by simply messaging from iPhone. Most of the messaging apps like iMessage, WhatsApp, Facebook Messenger, and Snap Chat support live location sharing by using Mobile GPS Location. Sometimes, this Live Location Sharing feature can help your contact to locate if you are in danger.
Even though you are not going to use live location feature now, it is good to know how to share iPhone location in real-time with your friends or family using iPhone message apps.
iMessage Live Location Sharing
iMessage app is built in with iPhones, and it is good to know how to share real-time location with iOS message app. Now open iMessage app on iPhone and send a text or other message to begin the conversation. Now you can see an "i" icon on right top corner, tap on it. This will bring the Details screen, and you have two options. Send My Current Location will send the current location that you are. Share My Location will enable to share the live mobile location for a specified period. You can set this time limit on next screen for One Hour, or Until End of Day, etc.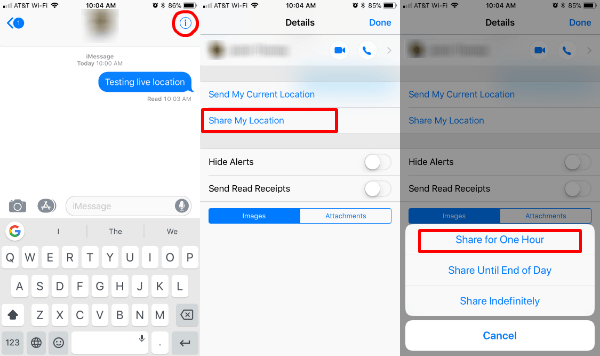 Before you start to share location, you have to permit iOS message apps to use your location. If you are already disabled Share My Location, then you will get a pop-up message to enable Share My Location.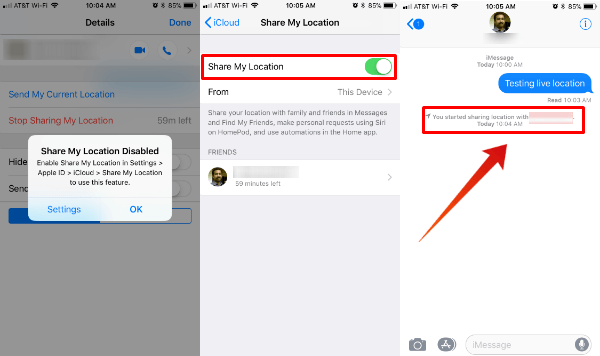 We selected here to share live location on iPhone for one hour and you see the time left on the screen below and the person you are sharing the location. If you go back to your message window, you can see confirmation about sharing the real-time location with message app on iPhone.
Related: How to Share Live Location on WhatsApp?
Stop iMessage Live Location Sharing
If you are concerned about your privacy and also the live location sharing battery consumption, you can stop real-time location anytime.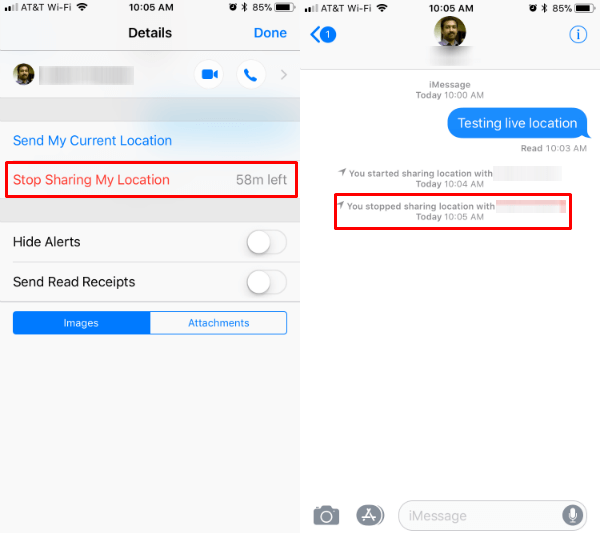 You can get back the Details screen  (iMessage > "i" > Details) and tap on Stop Sharing My Location. You will get a confirmation message on the Message chat window about stopping the sharing location with your contact.
WhatsApp Live Location Sharing
WhatsApp is the most used message app on almost all mobile phone platforms. This messaging app supports both iOS and Android, and you can use live location sharing to all of the WhatsApp contacts.
To start, open the message app and select the contact you want to share real-time location. From the message window, tap on "+" sign and choose the Location of the next screen.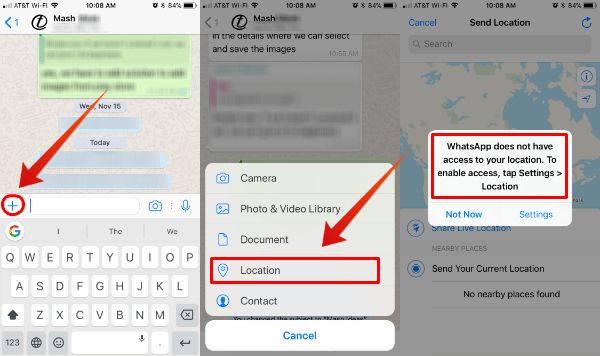 WhatsApp also needs access to iPhone location for live location sharing. Now go to setting and select provide location access to Always. Live location sharing required access Always instead of While Using. Once you permit WhatsApp to access your location Always, come back to the WhatsApp Screen.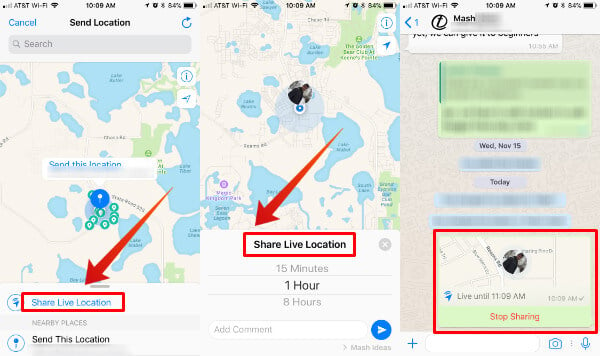 You have an option to send the current location os Share Live Location from the screen. Select the required time to share the live location on WhatsApp from the next screen with a comment if required. Now on the WhatsApp message window, you can see a map with an end time specified for Live Location Sharing.
Stop WhatsApp Live Location Sharing
To stop Live Location Sharing on WhatsApp is pretty easy. Open the message window where you start the real-time WhatsApp Location Sharing and tap on Stop Sharing. The next screen will confirm with a pop-up window.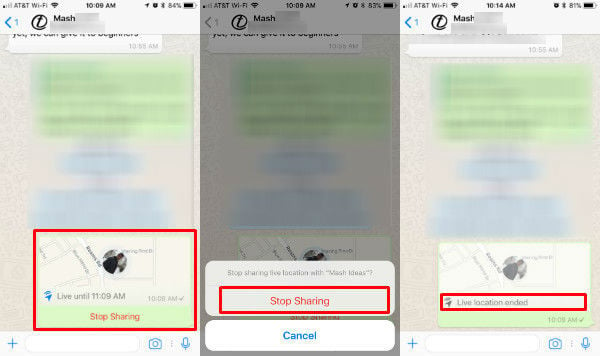 Once you confirmed, you can see on the chat window, and the map block changed to grey stating that inactive Location Sharing. Please make sure to go back to the location access setting of WhatsApp to turn back to Never to save battery while using WhatsApp for regular chat.
Messenger Live Location Sharing
The famous Facebook Messenger app is also supporting the live location sharing from iPhone. Open your message window from Messenger app and tap on "+" sign to proceed. Select Location icon from the popup, and you see a blue button to Share Live Location.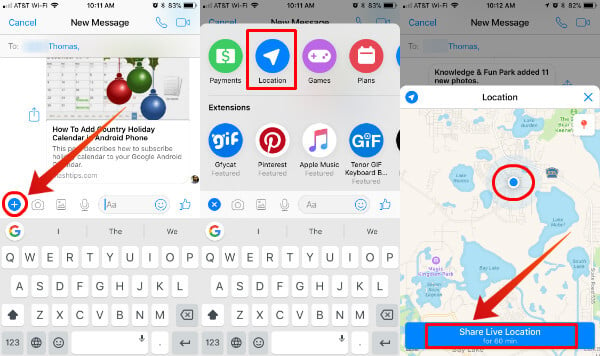 As we see for all other message Apps, Facebook Messenger also required iPhone Location access to Always to support Live Location Sharing from iPhone. Go to iPhone Settings and set access to location Always to proceed with live location sharing. Now, back to Messenger window and you can see a Map block showing the live location.
Stop Messenger Live Location Sharing
You can stop the Messenger Live Location any time just like we described for WhatsApp. Go to the Messenger window, see the Map block showing about your live location sharing on Facebook Messenger. Tap on Stop Sharing and you are done!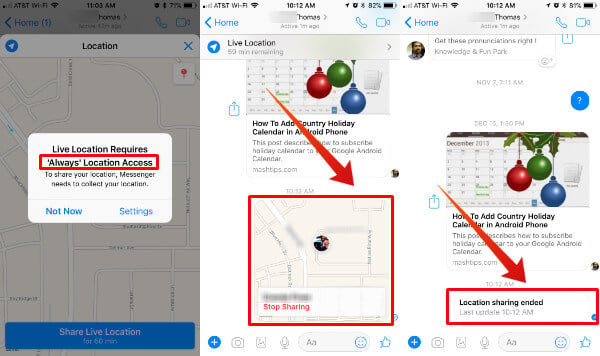 If you are concerned about battery, go back to iOS Setting to change back the Location Access for Facebook Messenger to Never or While Using App. You are pretty much done!
There are other apps like SnapChat, Google Map, Waze are also providing live location sharing from iPhone. You can see the Google Map Live Location Sharing in detail for Android and iPhone.
iPhone Live Location Sharing with Message Apps
Live Mobile Location Sharing is an easy solution to track a cell phone while moving. Hope you experienced Uber driver live location while you wait for the ride. Your contact will get almost sthe ame experience while you share your live iPhone location with them. It doesn't matter which app you are using, either WhatsApp or iMessage, this live location may help your contacts to track your location in case of emergency.