Never lose your family locations from your group on your next vacation. Stay in touch with your friend on next party. Use your smartphone to locate your friend or family and never lose them. If you own Android, iPhone, Blackberry you can just utilize this geolocation apps to find your friend or family.
To start, just open the app, and you will get updated real-time location of your friends or family members on the map who shared the location with you. Cool, the App will also tell you if any of your friends are heading over to the location.
Track Friends using iPhone
The Find My Friends app from Apple is providing an easy way to share your location with people who you want to meet or to keep track. Friends who share their locations with you appear on a map so you can quickly see where they are. Since Find My Friends works with Contacts and Maps, you can do things like finding the quickest route to meet your friend or a lost family member on your next vacation.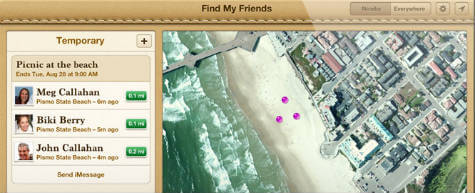 Share the location using your smartphone each other and keep in touch, never lose track of your family. If you lost your team, you could use the same app to notify friends about your whereabouts.
Link to: Find My Friends (iOS)
Related: There is an inbuilt track record keeps your Android phone, and you can see the details her You never Knew that Android Phone Keeps a Record of All Locations You Visited. There is no exception for iPhone users, and there is a workaround to see How iPhone Keeps a Record of Everywhere You Go.
Track Friends using Android
Find My Friends shows where all your friends are on a map and continuously updates their exact locations. You can even chat with located friends at the same time to help coordinate and to meet in the same place. This app supports group text to let send group messages to your party team members or your teammates.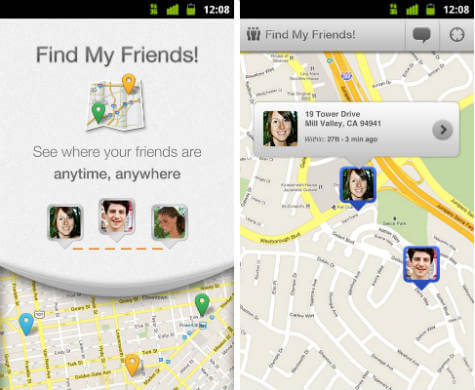 If your friends don't have a smartphone, you can still use the Find My Friends App to locate them. Just send them an invite via text. Once they reply with a "yes," their icon will show up on the App's map. The App uses cell phone tower triangulation to help you find friends no matter where they are. Locate friends on the Find My Friends App with any phone.
Link to: Find My Friend (Android)
The App works with iPhones, Android Phones, BlackBerry phones, and even non-Smartphones. Just install the App on all the phones that you want to be tracked. For non-smartphones, just send an invite via text, and once the invite is accepted, that phone can be tracked.