Google Maps is arguably the best digital map service out there. It's undoubtedly the one with the most users. Sure, sometimes it can get things horribly wrong, too. But not to be outdone by the competition, Google always looks for ways to extend its lead. Google Maps Immersive View is one such feature that makes it stand out.
Google announced this project last year in 2022. The company said they will add "photorealistic aerial views" to almost 100 landmarks in Google Maps. Today, more than 500 landmarks have their Immersive Views on Google Maps. Google isn't just adding landmarks from all over the world, though. They're doing it on a city-by-city basis. This means even if your city has one of the 7 wonders of the world. It still has to wait for its turn.
Immersive View is a 3-D rendering of the world based on billions of Street Views and aerial images. Google Maps Immersive View supports famous cities like Los Angeles, San Francisco, Seattle, Las Vegas, Miami, Dublin, Florence, Venice, Berlin, Tokyo, New York, London, Paris, Amsterdam, Dublin, and many others. However, keep in mind that not all landmarks in these cities are supported.
Use Google Maps Immersive View
The feature is only available on the Google Maps app for Android and iOS, at least for now. It's not hard to imagine this feature also eventually being available on the web.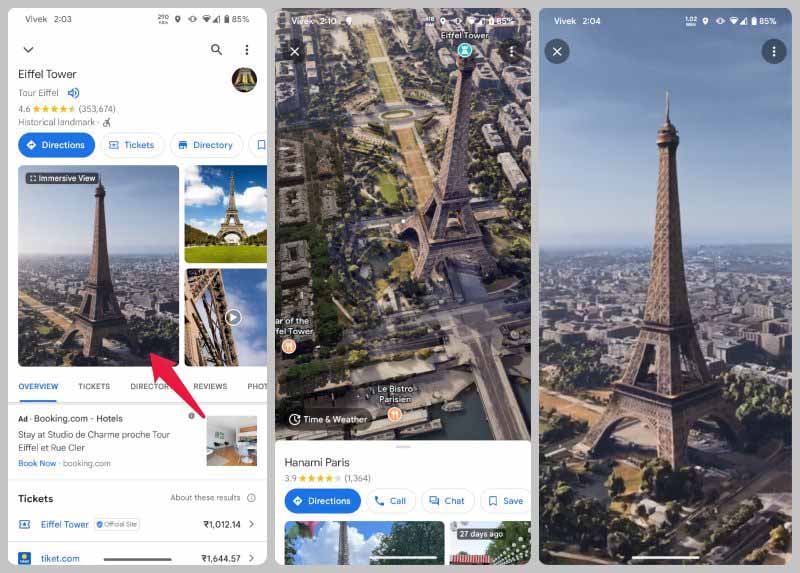 Open the Google Maps app on your Android or iOS device.
Tap on the search bar and search for any of the supported cities or their landmarks.
Tap on the landmark supported by Google Maps Immersive View to view its details.
You should see the Immersive View tile, where you typically see photos.
Tap on it to enter Immersive View.
Immersive View takes a bit of time to load up, even if you have a fast internet connection. Until it does, using it might not be the smoothest experience. Once it is done loading up, you can move around by tapping on a location visible in the view. You can also pinch-zoom in and zoom out or rotate the view with a finger.
Some places will also allow you to look inside, in which case you will see a small bubble under them. This bubble does not have an arrow indicator, which differentiates it from the street view bubble.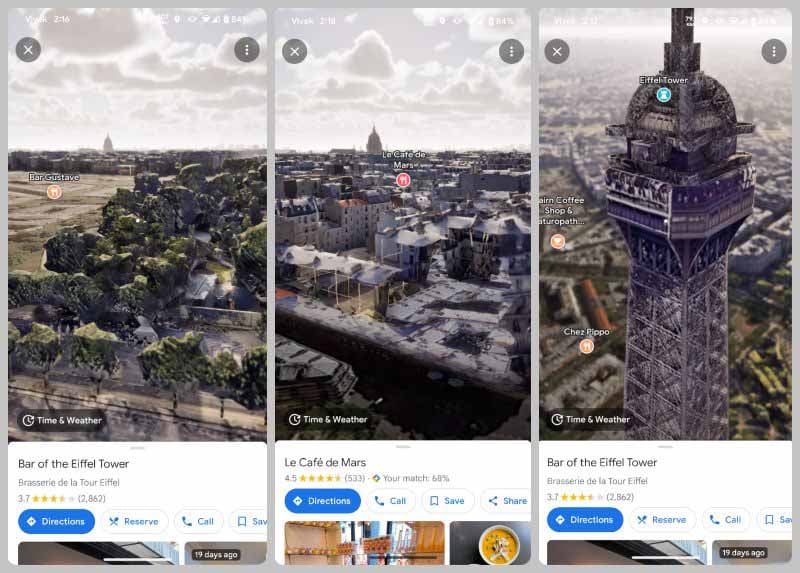 Things look rather impressive at first, with some fake clouds and birds. But once you zoom in, the fact that this is all created using billions of images and AI is quite apparent. It's still a nice feature to have than not have, however. Mainly because you can also get the weather information about the place by tapping Time & Weather in the bottom right.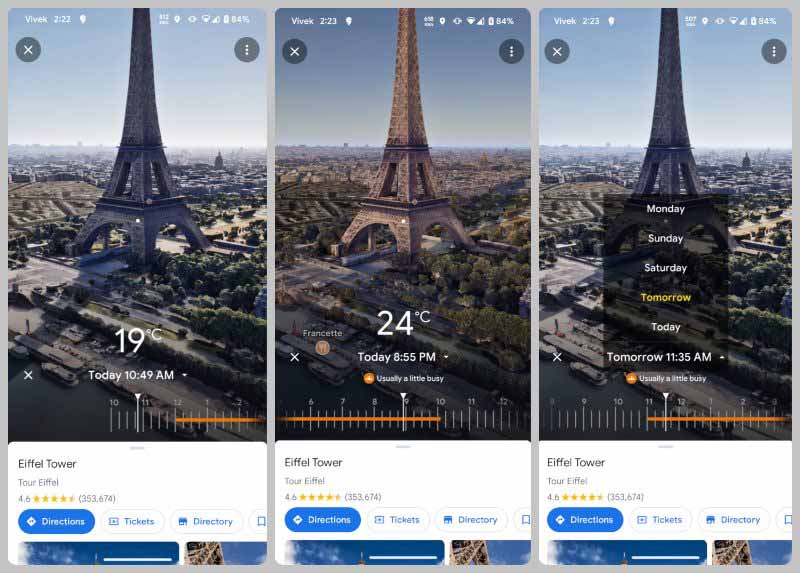 You can see what the weather is like right now and use the slider to see how the weather will change throughout the day. As you move the slider, this is also reflected in the position of the sun and the shadows. You can even see the predicted weather for the next 4 days.
It's not perfect, but Immersive View can be really helpful not just for virtually touring landmarks around the world, but to figure out your plans if you want to travel.
Google Maps' Immersive View feature offers users a captivating and immersive way to explore the world right from their screens. By combining street-level imagery with interactive 360-degree panoramas, Immersive View provides a unique and realistic perspective of various locations around the globe.
With Immersive View, users can virtually visit famous landmarks, explore bustling city streets, or even stroll through picturesque landscapes. The feature offers a sense of presence and allows users to experience the sights and sounds of different places as if they were in person.
Google Maps' Immersive View is a remarkable feature that brings the world to users' fingertips. It allows for immersive exploration, provides practical travel insights, and offers an engaging way to satisfy one's curiosity about various destinations. With Immersive View, users can embark on virtual journeys and experience the beauty and diversity of our world from the comfort of their screens.