Getting a super high-quality 4K laser projector is a must-have if you're looking to blaze up your home theatre setup. We've recently stumbled upon a great ultra short throw projector, the Wemax Nova, and it's cruising its way to the top right now. We've got the Wemax Nova, which has been tested seriously.
Here, we'll give a complete and comprehensive review of the new Wemax Nova 4K UST Projector. We'll also talk about why it should be on your radar if you want something that's value for money and offers hardcore performance.
WEMAX Nova 4K UST Projector: Overview
Wemax creates the Nova projector with ALPD 3.0 Laser Technology and TI DLP technology. The Wemax Nova Ultra Short Throw Projector is simply one of the best budget-oriented smart projectors that offer true 4K visuals.
This 4K UHD Projector offers a max projectable range of 150-inches along an optimum distance of 8 to 12-inches from your screen or the wall. The 8-point Keystone Correction gives you crystal-clear visuals with minimal distortion. The sound qualities, as well as the video outputs, are exquisite. There are dual up-firing 30W Dolby Audio DTS HD speakers for enhanced audio output. The audio quality is superb, and we were stunned by the level of output these speakers could throw at us. We'll be dealing with that in detail as we go on.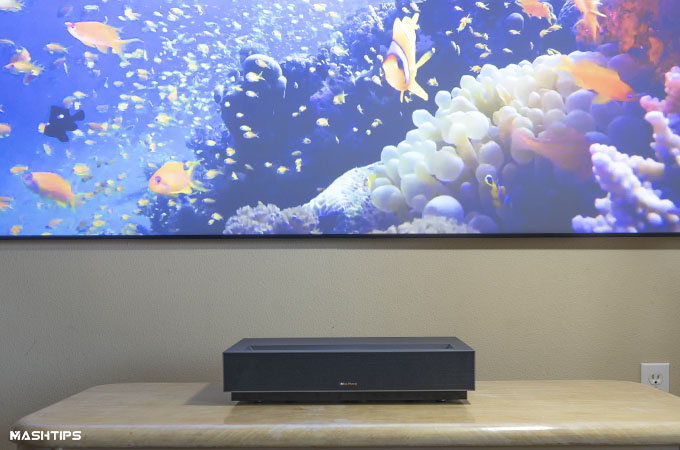 Its superb picture quality with the Android TV integration makes it our favorite projector. It's a smart projector loaded with thousands of apps powered by the Android TV. It features Android TV OS inbuilt, making it rather smooth when it comes to UI experience. The next best thing about this cool projector is the low-footprint design. It is compact and not heavy compared to similar 4K Laser projectors on the market.
You have enough input ports for your needs. Apart from Bluetooth and WiFi, wired inputs include HDMI ports, USB ports, and many more. As we go on, we'll be talking about the initial setup and all other aspects, including video and audio performance.
Related: 12 Best 4K Laser Projectors for Home to Buy in 2022
Nova 4K UST Laser Projector: Specification
Here are the complete specifications of the Wemax Nova Ultra Short Throw Projector. Overall, the specs show that the Wemax Nova is here to stay and will probably give its peers a tough time.
| | |
| --- | --- |
| Specification | WEMAX Nova 4K UST Projector |
| Brightness | 2100 ANSI Lumen |
| Light Source | 5000 ANSI Lumen |
| Display Technology | DLP | Light Source – ALPD Laser |
| Display Size | 80 – 150″ |
| DMD (Micromirror) | 0.47″ |
| Contrast Ratio | 3000:1 |
| Color Coverage | 100% Rec. 709 |
| Native Resolution | 3840 x 2160 (4K UHD) |
| Color Coverage | 100% Rec. 709 |
| Speaker | H30W (10W x 2 Full Range, 5W x 2 Tweeter) |
| Throw Ratio | 0.233:1 |
| Display Size | 80 – 150″ |
| Video Focus | Auto Focus |
| Keystone Correction | 4-point and 8 Point Keystone Correction |
| Storage | 32GB |
| Memory | 2GB DDR3 |
| Bluetooth | Wifi | 4.1/BLE | 2.4/5GHz |
| OS & Smart Home | AndroidTV (9.0) & Google Assistant |
| Dimensions & Weight | 18″ x 12″ x 4″ | 16.5 lbs |
This table is not covering all the specs that we need. We have explained a few detailed specs that need more attention based on our hands-on experience with this Nova Laser Projector for the last three weeks.
Design and Build Quality
Dimensions: 18 x 12 x 4 inches
Weight:  16.5 lbs
The Wemax Nova is pretty compact, considering the 4K Laser spec. It is so compact that it is easy to take it out of your living area and convert it into an outdoor projector. Measuring roughly 18x12x4 inches, it is compact and can fit into even the smallest projector cabin you already have.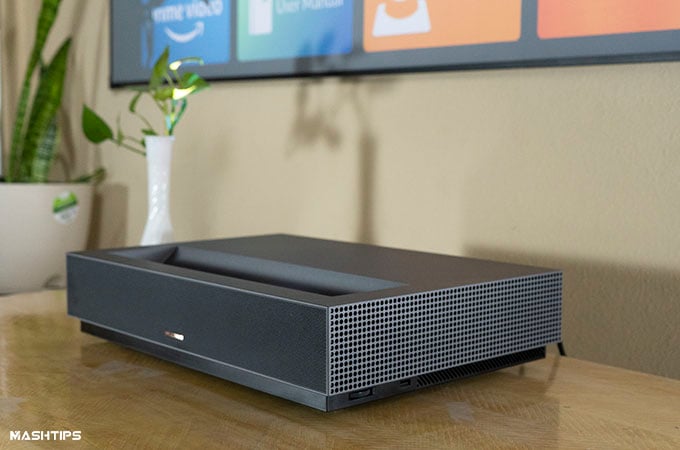 When it comes to the design, the cubical housing is nicely wrapped in a mesh, which by the way, hides the four front-facing speakers. The speakers, to me, felt way better than any normal ones that you come across the TV sets. The two 10W Full Range speakers and two 5W Tweeters housed in the projector offer the boom you require during your movies and binge nights.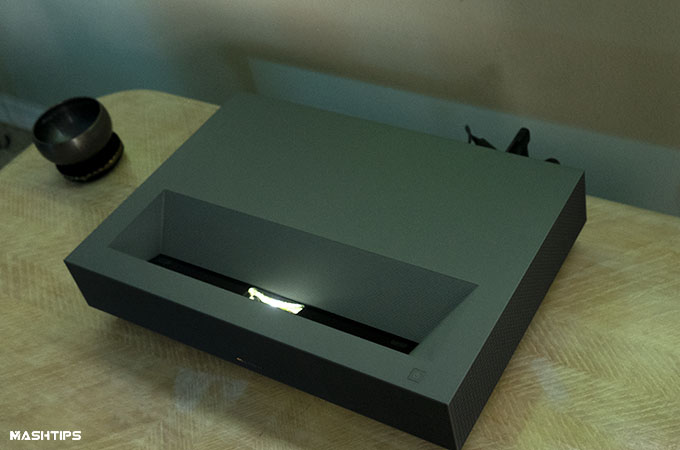 On the top is where you will find the Laser Projection System. The 4K laser projector has a peak brightness of 2,100 ANSI Lumen and a good contrast ratio of 3000:1.
There is only one physical button on the projector, and that is the Power button. The infrared motion sensor is mounted on the main projection unit, enabling auto shutdown even if the slightest movement is detected. This, in a way, protects your eyes from the laser light, along with a nice precaution screen for you.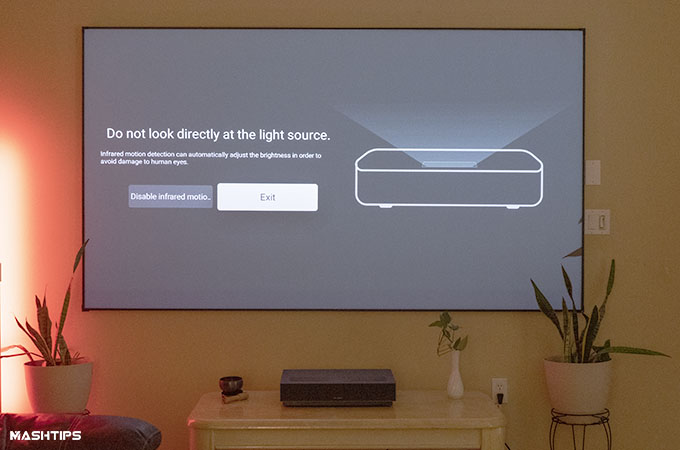 Coming to the rear, you'll find the wired inputs as well as the output ports. From the left, the power cord is the first thing you'll gaze at. Right next to it is the dedicated HDMI 2.0 ports. Nova comes packed with three of them, so you'll get the added benefit of connecting multiple input channels in one go. Also the 3rd HDMI port is HDMI ARC. Right next to this, you'll find a single USB 2.0 and a 3.5mm Composite Video port.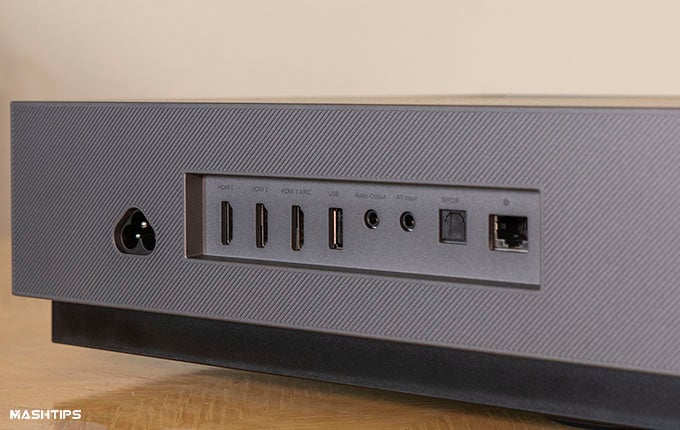 Even though the projector has built-in WiFi, which supports 5Gz, an Ethernet Port is included. Hence, in terms of ports and connectivity, the Wemax Nova indeed does hold the upper hand. The Nova is loaded with 3 HDMI 2.0 (w CEC/ARC support), 3.5mm composite video port, 2 USB 2.0 (one side, one rear), 1 RJ-45 ethernet LAN, 3.5mm headphone, and a S/PDIF port.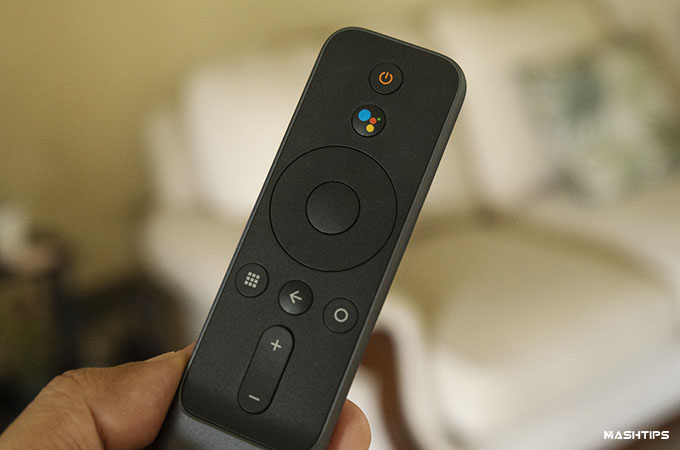 The Android TV with a dedicated Google Assistant is the cherry on top. Wemax Nova is a great voice-controlled, Bluetooth-enabled remote controller with a very simple design. It is small and includes all the essential function buttons functional. This is not a traditional IR remote, so you don't need to worry about the "remote pointing" while you operate.
Related:10 Best Android TV Remotes with WiFi Keyboard & Mouse Connectivity
Initial Setup and Calibration
The setup was the best part. The biggest pro of owning an Ultra Short Throw Projector is that no hefty installation and wiring is required. All you have to do is to find the perfect spot for your projector to be rested. Of course, there would be some minor coarse adjustments but selecting the spot for your projector is the single biggest step.

The Wemax Nova UST Projector can be placed within a distance of 5.5 to 20″ from the screen or wall, depending on the picture size from 80″ to 150″ you want. A tiny bit of adjustments would find the sweet spot in no time.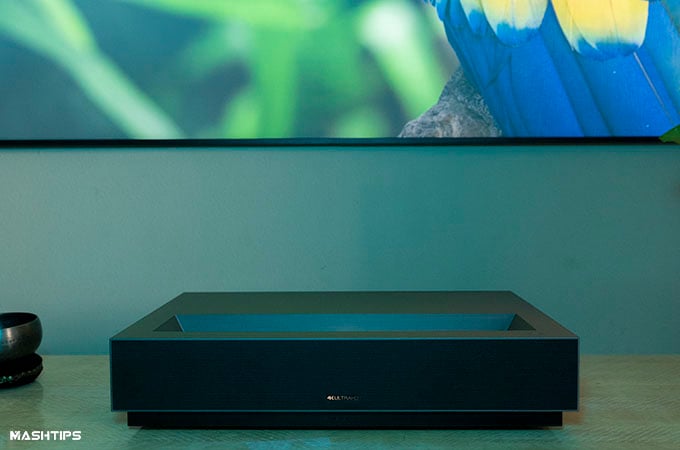 There's the right amount of space to easily plug in a USB Stick or the HDMI cable. Even though the projector comes with an inbuilt ceiling bracket. You have the option on the projector screen to tilt the projector in if you need it for the ceiling mount, which we didn't try. I didn't feel the need for it anyway. Hence, this effectively sums up the installation or hardware setup you'd need to be done on the Nova.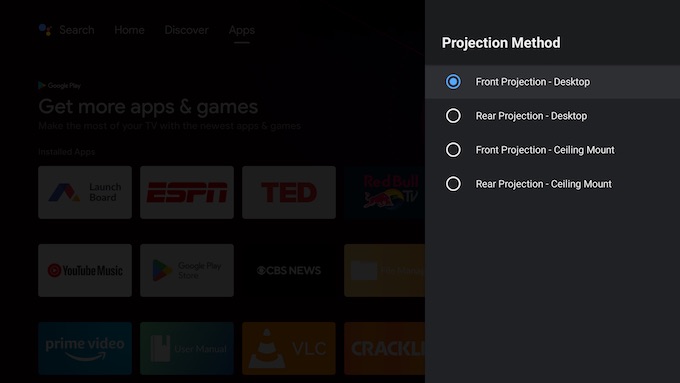 Once that's taken care of, the next step is to switch on the device and walk through the settings and tweaks. You will initially need to connect the projector to your Home WiFi. Once that's done, the projector auto-updated to the latest Android TV OS.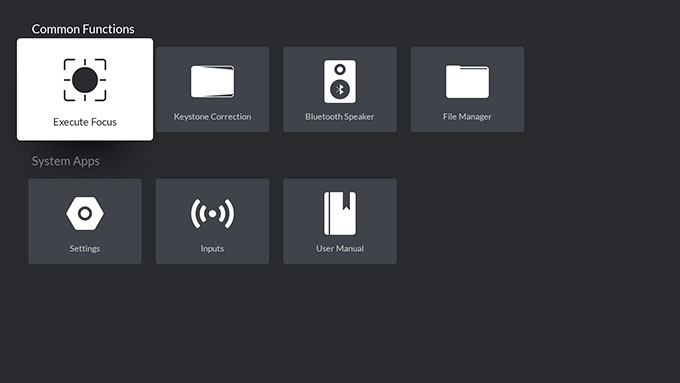 The Wemax Nova lets you tweak the display settings and focus calibrations. There's the 4/8-Point Keystone Correction dial right on the right edge of the projector. Although the focus and the Key Stone adjustment are manual, it was easy going through the proper direction and image correction. We'll discuss these once we get to the video performance part.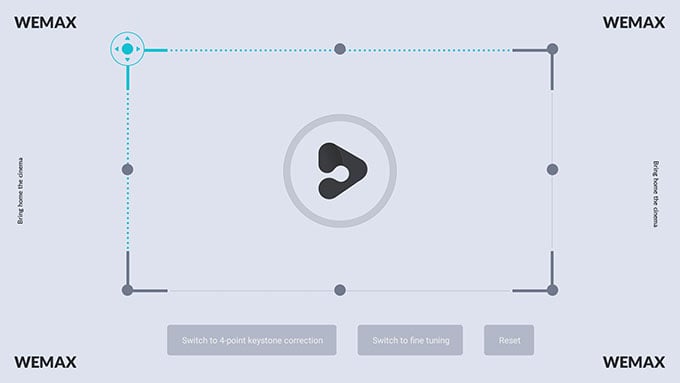 Another thing worth mentioning is that the device runs on Android 9. It is pretty simple to complete the Android-based setup, and all that's left would then be the image quality. Since the OS is based on Android, you are free to install all the Android Apps that support Android TV with your Google account.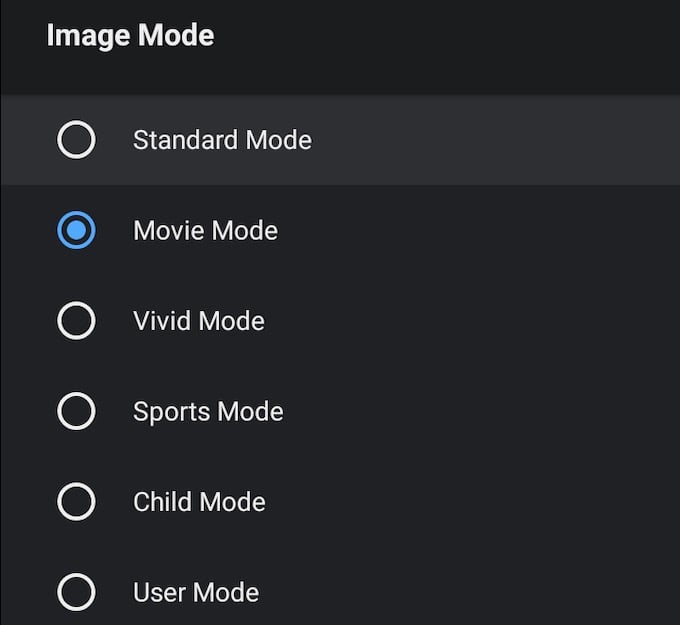 Nova comes preloaded with specific presets, including the Movie, Vivid, and Sports Mode. You could also make a custom image mode by tweaking the contrast and saturation.
Related: 10 Best Android TV Box to Convert TV to Smart TV
Ports and Connectivity
Wired: 3x HDMI, 2x USB 2.0
Wireless: Bluetooth, WiFi (2.4GHz & 5GHz)
Audio: AV input, 3.5mm, Optical Audio
The connectivity on the Nova is a plus. There is both Wireless and Wired connectivity available. The Bluetooth and WiFi work as your wireless mode of connection and works on both the 2.4GHz as well as the 5GHz channel. The WiFi connects to your Home WiFi router and lets you stream content online.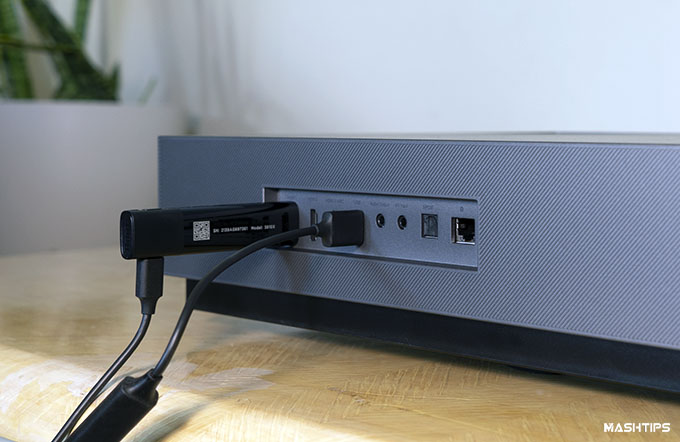 Apart from the WiFi and Bluetooth, the Wired inputs include triple HDMIs, two USB 2.0, a Composite AV Input, a 3.5mm Headphone jack, and an Optical Audio port. They've also included an Ethernet Port, which by the way I think is a brilliant move.
Since the projector is based on Android, you can easily cast Android devices, and it also supports Chromecast. I connected my Roku stick and drew the power from the built-in USB Stick, which expanded the capability of this Android Laser Projector to AirPlay from my iOS devices. And Netflix is the nice addition you get with this combo since there is no built-in Netflix app on this projector.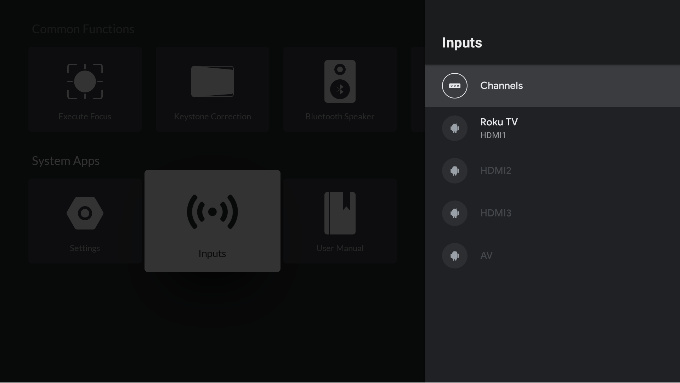 A thing that's worth mentioning is that one of the HDMI is HDMI ARC. And if you need superior audio, connecting an external sound bar via the HDMI ARC is also possible. Also, you'll find only a single USB port on the rear. The second one is at the side and doesn't miss that. The USB ports let you access contents from your USB Sticks if you ever get bored with what the Android TV has to offer.
I even connected a wireless mouse and a keyboard via a USB dongle with the project. This comes quite handy if you want to browse online directly from the interface. So, if you ask me, there are plenty of connectivity options that one needs in order to get the best user experience possible.
I felt a small con is that there is no dedicated Android or iPhone app to control the projector. The smartphone app is always an alternative screen for the devices, helps to troubleshoot, or is even to use as an alternative remote control. This would've given you an easy option to stream or access content from your smartphone.
Features and Capabilities
4K UHD
Laser Projecting
Ultra short throw
Android TV OS
The Wemax Nova is a game changer when it comes to the UST Projectors. It is relatively affordable and comes packed with many innovative features. The video and the audio qualities are perfect (we'll be talking about that in detail), there is wireless connectivity, and Android TV powers it.
4K UHD Capability:
The Wemax Nova offers video projection in True 4K UHD. The 2100 ANSI Lumens brightness makes it one of the best portable projectors that could work even during moderate light. With its expandable projection range of up to 150-inches, 4K videos look splendid once you find the sweet spot.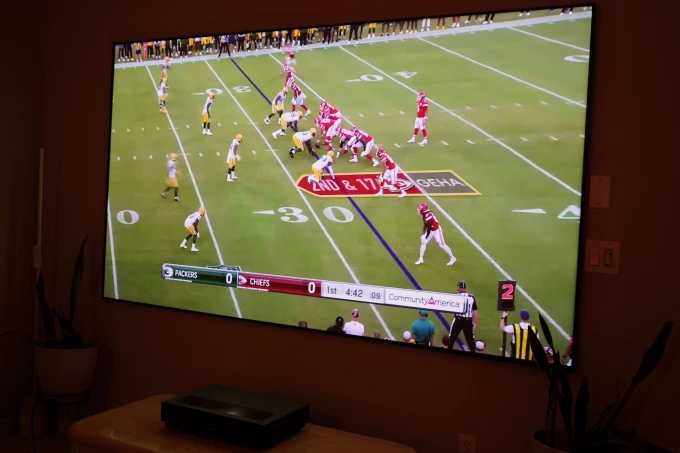 ALPD 3.0 and TI DLP technology: The Wemax Nova is built on ALPD 3.0 and TI DLP technology. ALPD or the Advanced Laser Phosphor Display, is the most recent version of fluorescent laser technology. It enhances visual multi-folds and gives you sharp, vivid images without a screen. It offers more color accuracy and thus a wider color gamut. Another plus here with the ALPD 3.0 is that it's way more comforting and safe for the eyes compared to your TV's LCD or LED panels.
On the other hand, the TI DLP technology gives the UST projector a distinct upper hand over the native Laser projectors. The DLP Technology offers better brightness and light modulation so that your projector works flawlessly, even in moderately lit rooms and spaces.
Ultra Short Throw: The Wemax Nova is basically an Ultra Short Throw Projector, as we mentioned earlier. This makes it pretty much easy to set up. With an ultra-short throw ratio of 0.233:1, you can place this compact laser projector just inches away from the wall, thereby not interfering with the whole view or aesthetics in any manner.
Android TV: The Nova is powered by Android TV. This makes it relatively user-friendly and lets you get that Android experience you crave. The device runs on the Android 9 OS and is seemingly smooth to use. Many streaming apps are available on Play Store that you download once you're up and connected with your home WiFi.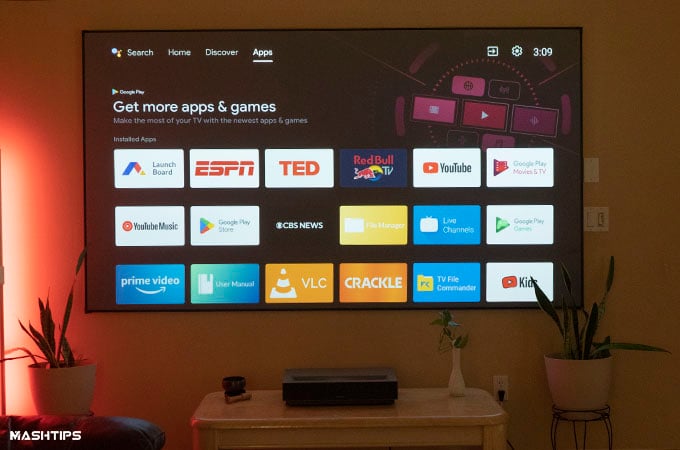 What's more, the Nova comes with Google Assistant inbuilt. Thus, you can control everything with your voice commands. A slight flaw that I felt is the absence of Netflix. If you binge-watch a lot of Netflix series, then you'll need a USB Streaming device, like the Fire TV stick, to access Netflix. As we mentioned before, you can have a Roku device to get both Netflix and Apple AirPlay on this projector.
Related: How to Fix Netflix Not Working on Android TV
Video Quality
Engine Type: DLP
Peak Brightness: 2100 ANSI Lumens
Native Resolution: 4K UHD, down scalable to HD 1080p
The Wemax Nova comes with a native resolution of 4K UHD. But there were some instances when we genuinely felt Nova lagged behind. The image quality is stunningly vivid, with better color gamut thanks to the ALPD 3.0. This UST projector is excellent when you tend to operate it in dim or moderately lit rooms or environments. With a peak brightness of 2100 lumens, this is one of the few suitable projectors I genuinely feel is an excellent choice for your home.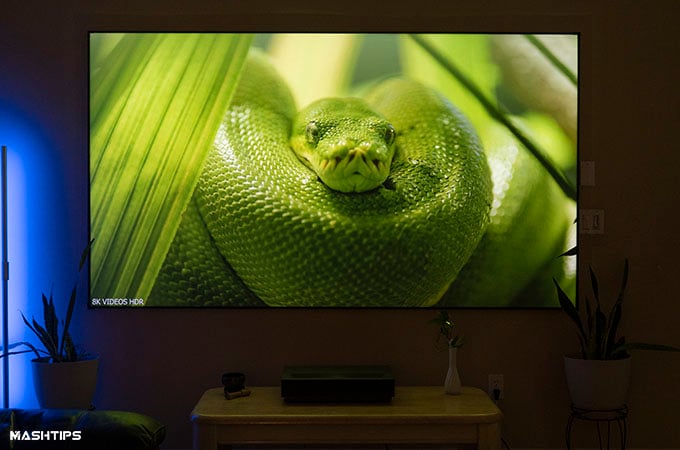 The Wemax Nova does well even without an ALR Screen. There was a bit of a rainbow effect at times, but some minor adjustments and compromises can get you the video clarity.
Among the built-in apps, Amazon Prime and YouTube could be played in 4K, while there was a bit of struggle when I switched to Hulu. There isn't Netflix out of the box, and we've mentioned that, and so far, you can't add it from Google Play Store. But yet, you could connect any 4K streaming sticks and watch Netflix on the projector.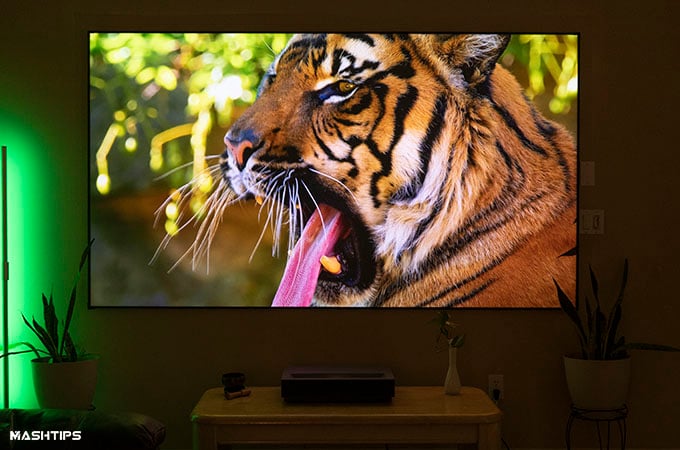 Talking about the image options, Nova offers some image presets, which by the way, are good. There are 5 Image Modes, including the Movie, Sports, and Vivid Mode, which are tweaked out of the box to get the best color, sharpness, and contrast suitable for every occasion.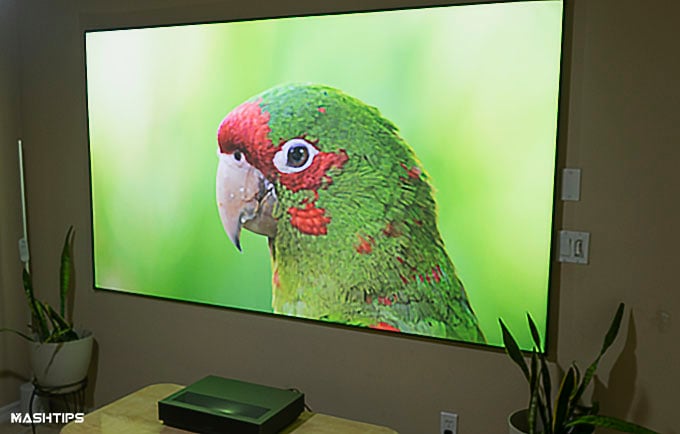 Overall, when it comes to video quality, you get incredible output if you're playing it in a dark environment. And, yeah, there's a bit of loss to that vivid colors when the ambient lighting around is increased. But overall, it performs much better than any UST projectors in this price range, so kudos to that.
To get accurate picture quality from the UST projector, Wemax recommends the distance from the wall as follows:
| | | | | |
| --- | --- | --- | --- | --- |
| Projection Distance: | 5.5″ | 9.1″ | 13″ | 19.3″ |
| Screen Size: | 80″ | 100″ | 120″ | 150″ |
Related: 12 Best Music Streaming Apps for Android and iOS (Free & Paid)
Audio Quality
No. of Speakers: 4
Sound Output: 30W (10W+10W+5W+5W)
The Wemax Nova UST Projector comes with inbuilt speakers that offer a combined sound output of 30W. There are 4 front-facing speakers; two are 10W Full Speakers, while the others are 5W Tweeters. The sound quality is exceptional compared to the sound outputs from standard TVs.
It is not a replacement for your soundbars yet, but the sound quality is worth praising. The projector is built with full audio speakers and tweeters for high-frequency crisp sound. But if you are a heavy bass lover, you may need an additional audio system to get the immersive audio output. As a laser Projector with built-in audio, the quality offered is superb.
The Projector features an HDMI ARC port. Connecting your soundbars via the port lets you get all the better sound quality. But a thing to note is that you cannot play audio from both the soundbar and the inbuilt speakers at the same time. There's also an option to turn off the video projection and use it as a dedicated Bluetooth speaker.
WEMAX PSA01 ALR Projector Screen: Best Combo with Wemax Nova Projector
Screen Type: ALR (Ambient Light Rejecting)
Screen size: 100-inches
Viewing angle: 160-degree
The Wemax PSA01 UST Projector Screen is a jackpot. It's a dedicated 100" projector screen made exclusively for Wemax Nova. It is compatible with the UST projector and has a smooth aesthetic design that mimics those 4K TV sets. The Wemax ALR Screen is guaranteed to give you the best color once you combine it with the Nova.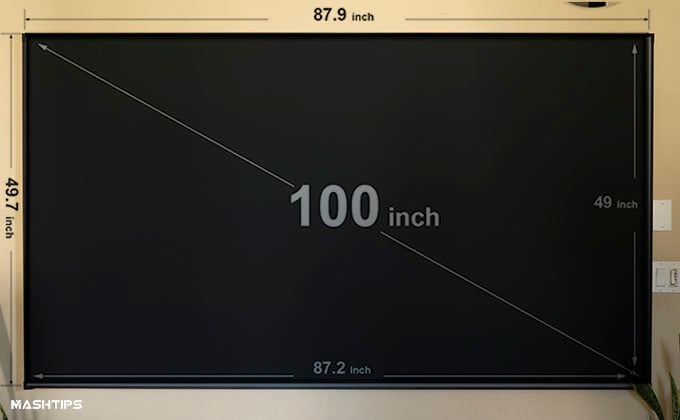 The ALR Screen even improves saturation and restricts image distortion thanks to its multi-layer optical structures. This projector screen is suitable for any environment, whether your living room or home theatre system. The Wemax combo's got you secured.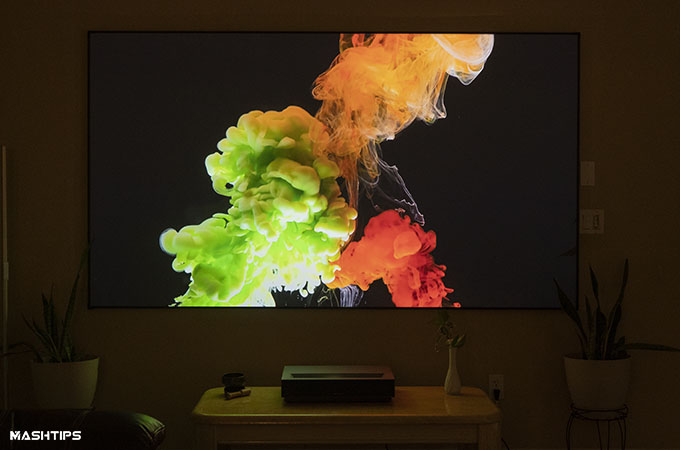 Talking about the ALR, or the Ambient Light Rejecting Technology is capable of giving you a 160° viewing angle. The ALR technology rejects 90% of the ambient light, enhancing all the UST projectors' abilities many folds.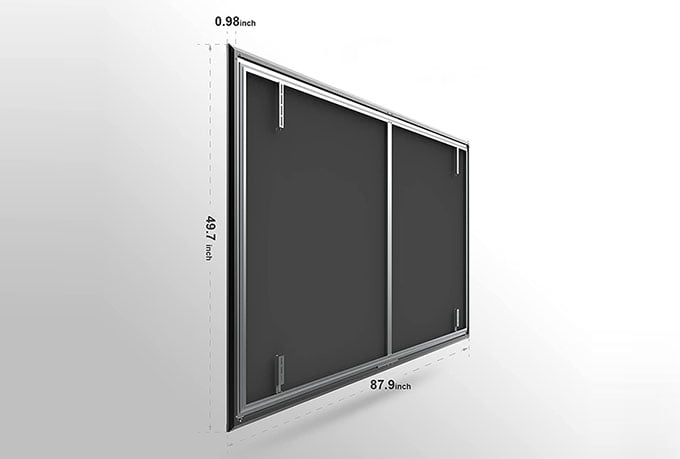 The Wemax ALR Screen is equipped with an aluminum fixed frame that gives excellent stability to the screen overall. Hence, it's a pretty neat combo that you should consider, as once coupled with this screen, Nova's visual projection got on beast mode.
Related: Anker Nebula Capsule: Smart Portable Projector for Home
Pros and Cons
What We Like:
Excellent picture quality
Built-in Android TV
Wide Connectivity Options
30W High-Quality Audio Output
Portable Design
HDR10 Support
What We Didn't Like:
Mild Skewing

No Dedicated Smartphone App
No Built-in Netflix *1
No Remote Battery *2
Key Features: 4K UHD Resolution |  2100 ANSI lumens Brightness | Inbuilt WiFi and Bluetooth |  ALPD 3.0 and TI DLP Technology | Projectable Range: 150″ | 8-Point keystone correction | 30W Dolby Audio Speakers| 3 HDMI Ports | Ethernet | USB 2.0
Editors Note:
1. Wemax Nova doesn't have a built-in Netflix app (it may be due to the licensing issue). Amazon Fire TV Stick or Roku will be the best choice rather than downloading the APK files.
2. We are not sure why Wemax not shipping batteries (two AAA) for the remote control. Wemax! this is a $2.5K product, and the buyer does not want to drive to the nearest shop to buy the batteries to turn this projector on.
Pricing and Availability
The Wemax Nova UST Projector is a great home and office projector that you should keep an eye on if you're looking for something innovative and solid. It's great if you consider the features, projection range, and visual quality.
If you want to get your hands on this compact, powerful UST 4K projector, rush to Amazon. It's available at a great deal that's pretty much on the affordable side of the budget.
And also, do not forget about the Wemax 100″ High Gain Projector Screen we discussed. It is one of the best projector screens you could couple up with the Wemax Nova 4K laser projector. Make sure to seal the deal by getting your hands on this dedicated 100″ screen.
Today's Deal: $50.00 Off
Final Thoughts: Should You Buy Wemax Nova 4K Laser Projector?
The Wemax Nova is a great choice to look out for if you're on the hunt for a competitive 4K UST projector. It is fairly priced if you ask me compared to the specs it offers. The 4K UHD video, along with an extensive 150" projection range, is a deal breaker. There's the Android TV inbuilt, which by the way, is pretty responsive and user-friendly.
Also, being a dedicated home theatre projector, its ability to perform well in low to mid-illuminated rooms is worth praising. Of course, there is a bit of drawback like the inability to get the full out of HDR10 and occasional light skewing. But on the whole, we feel that Nova would give a tough time to its competitors as there are quite a lot of pros than cons.