Recently, Anker launched their Anker 737 Power Bank, which is packed with a powerful battery of 24,000mAh and offers 140W power output. This 3-Port, 140W Power bank that's pretty much the best solution for all your charging needs.
We got the device a few days back, and here are our first impressions of the new Anker 737 PowerCore PowerBank.
Anker 737: Overview
The all-new Anker 737, yes, you heard it right, is the completely upgraded version of the Anker 733 PowerBank, which we introduced quite some time back. The 737 is completely new in design and performance. It is quite efficient regarding output power delivery and quick charging. This powerful power bank comes with two-way charging and is equipped with the latest PD 3.1 technology.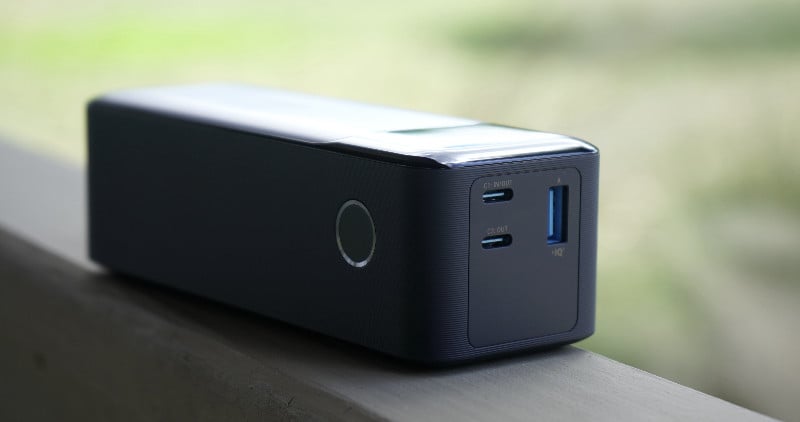 Anker 737 has 3 output ports, including two USB C ports and a USB Type-A. The USB Type C ports offer a combined power output of 140W, which is phenomenal. The combined output, of course, varies with your device, but on the bright side, the power bank is simply dashing when it comes to power delivery. One of the USB ports marked as in/out is dedicated to charging the PowerBank. The second USB-C port and USB-A ports are out ports.
The thing I liked the most when I got it in hand was its compact and smart display. The device is compact enough to be placed in your backpack or laptop. The design includes a small LED display that hovers over the changing output and the battery status in real-time.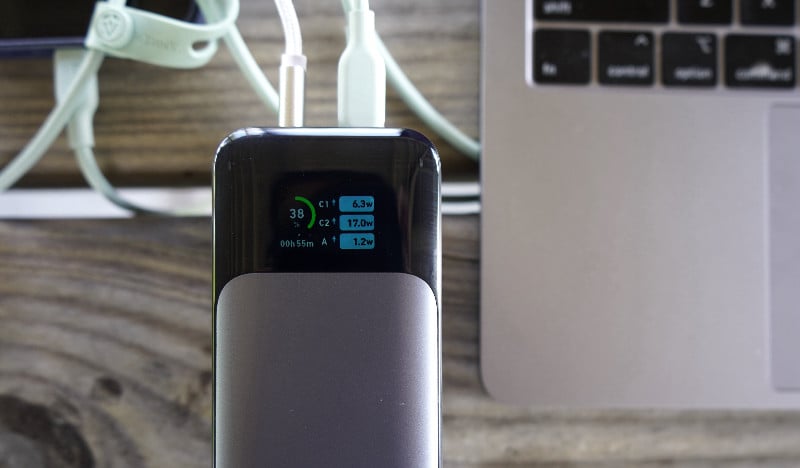 Although the device favors a compact design, it's rather bulky. At 630g, it is one of the bulkiest I've ever tested. And owing to the internal battery offering a battery backup of 24000mAh, you cannot imagine it to be that feather-like. You know, you can't make a 24Ah battery lightweight. I assume most of the device is contributed by its powerful battery. We'll be talking more about the design and the power delivery as we go on, so stay tight.
Related: Anker 733 Power Bank: A 65W Hybrid Power Bank for All Your Gadgets
Anker 737: Specifications
The Anker 737 PowerBank is sheer power when it comes to power delivery. It is one of the best portable power banks that you can get right now without burning a hole in your pocket. Before getting to know the device in detail, it's good to understand its specs.
Specification
Anker 737 Charging Station
Max Output
140W Max
Battery Capacity
24,000 mAh
Power Tech
GaN Prime Technology
Number of Outputs
3
Number of USB-C Ports
2 USB-C Ports
Number of USB-A Ports
1 USB-A Ports
Dimensions
6.13 × 2.15 × 1.95 in
155.7 × 54.6 × 49.5 mm
Weight
22.22 oz / 630 g
Anker 737: Design and Build Quality
The Anker 737 PowerCore battery pack is fairly bulky. It's 6.2″ long and roughly 650g in mass. This is due to its internal battery and all those circuitries that govern the power delivery. Of course, the 737 is based on their new GaN Prime Technology and offers lower-than-usual heating of the component and off curse off high efficiency than silicon components.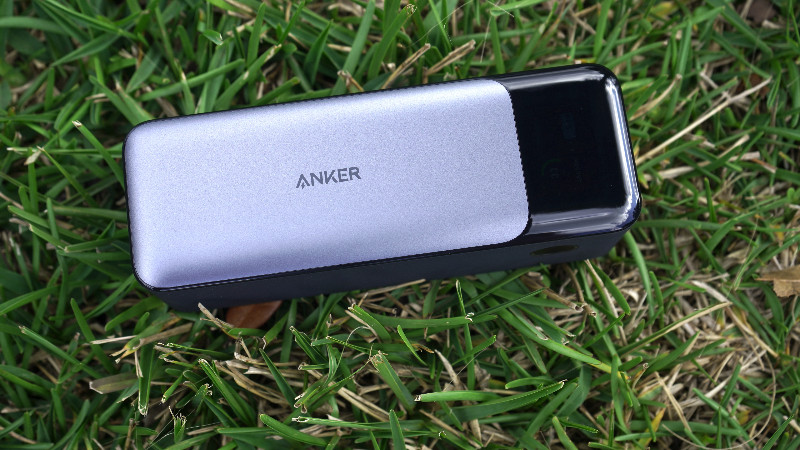 On the top of the brick is where you find the ports. Three power ports include two USB Type-C ports and a USB Type-A Port. The first USB C you see serves as the input and output, while the second serves as an output only. Right next to these, you'll find the USB Type A, which offers a power output of max 18W.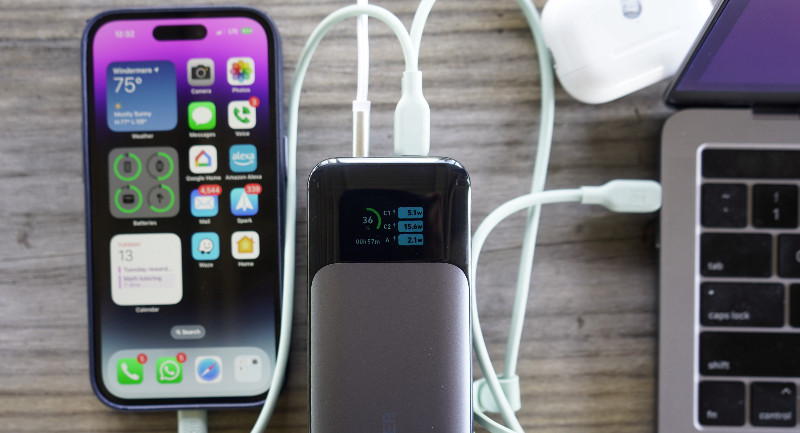 The Anker PowerCore 737 features a small LED display. It's a smart display I have seen in power banks. This gives info related to the battery status as well as the charging output wattage. You can also see how long the battery pack will actually last, which is something good.
Surprisingly this provides the battery life cycle, an easy solution to get an idea fo the battery's age and life span. The device comes with a gyroscopic sensor; hence, the display reorients according to how you handle the gadget.
On the right side, you'll find a Power Switch, like the shape of Apple Touch ID. The power switch has a dual function, double tapping on that enables trickle charging. And the display will switch to more details when you press the power button each time. We'll talk about that and also the power output delivery as we go on.
Related: 12 Best Portable Power Banks with Wireless Charging
Anker 737: Ports and Connectivity
Connection
USB-C
USB-A
Single Port
140W Max
18W
Two Ports
140W Max
100W Each
18W
Three Ports
122W Max
18W
The Anker PowerCore 737 features 3 charging ports. There are two USB Type C and one USB Type A that offers a max combined chargiung output of 140W. The ports are situated right at the top. The two USB Type C ports are in line and offer a peak power output of 140W. One among them is the power bank's input port.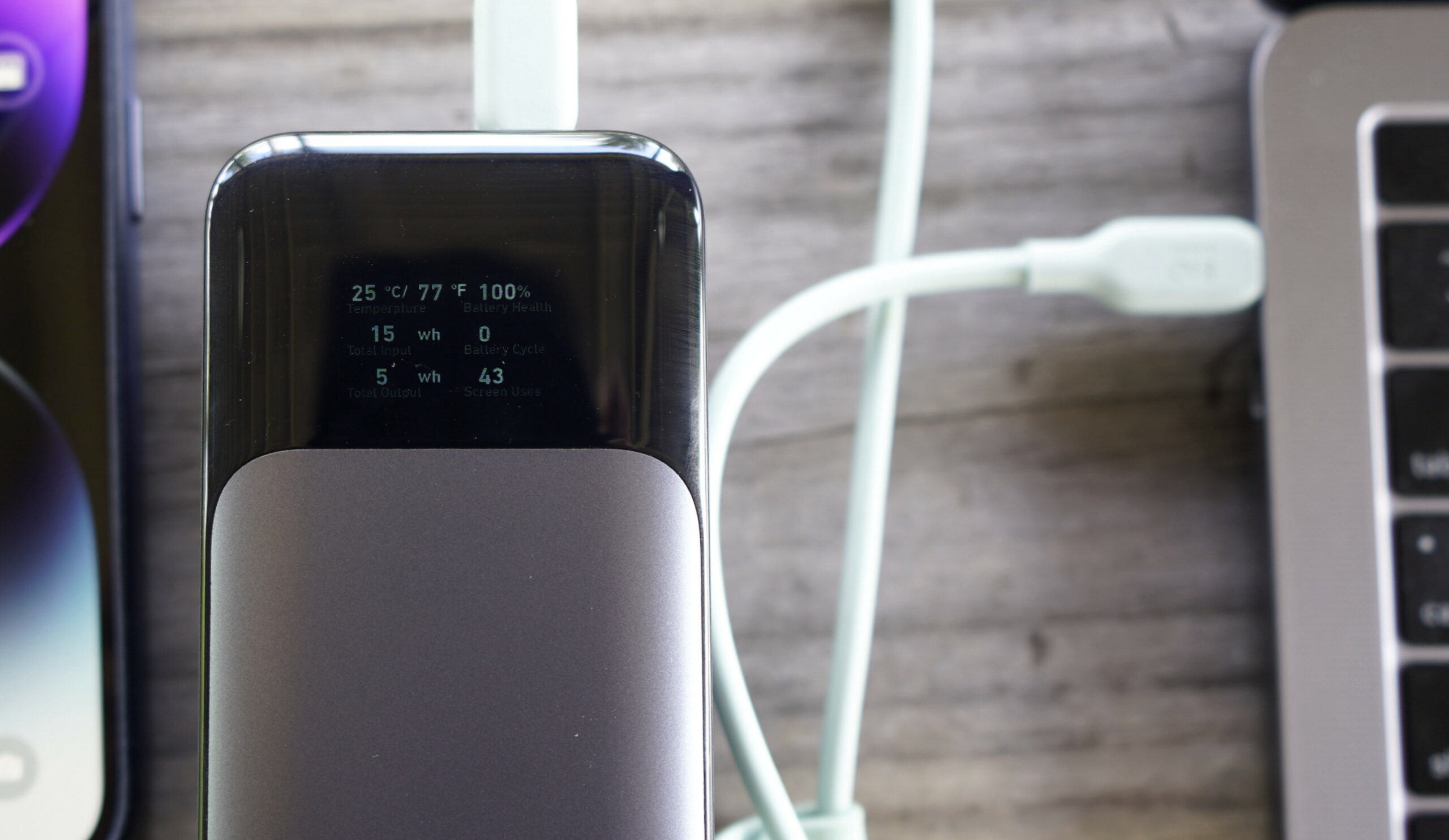 Being equipped with the PD 3.1 makes it capable of attaining charging power delivery of up to 122W max from USB-C ports when using all ports together. Still, you can get the 18W output from the USB-A port. A thing to note is that you won't be getting a compatible travel charger with a full delivery. You'll need to equip one for yourself. The only thing that you'll get is a USB type A to Type C cable. The limited number of ports is the only major con I have noticed.
Anker 737: Battery Backup and Charging
The battery backup on the PowerCore 737 is quite large and is suitable to charge multiple devices all at once. The 24,000mAh internal battery pack along with the GaN Prime technology sees to it that you get the best possible charging and that too in the lowest possible time.
The 737 offers a max power output of 140W combined. Apart from the USB type A, which is capped at 18W, the type C ports are the ones that attain variable charging output based on your connected devices. It's a fact that you can easily charge your MacBooks up to 1.3 times on a single full charge. The iPhones on the other hand could power up in a time when connected individually of course.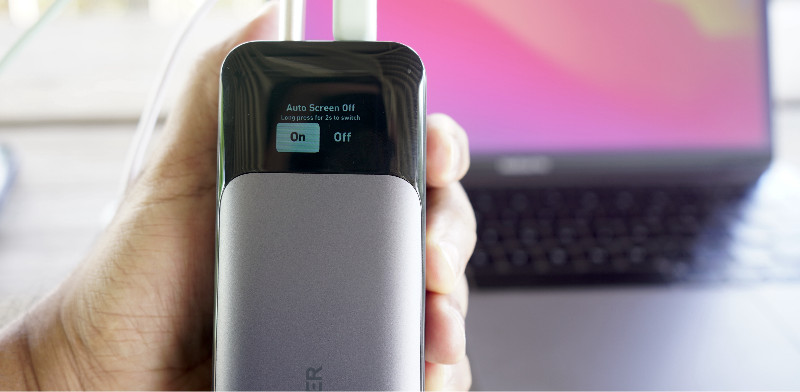 Once drained out completely, the Powerbank could be recharged via the Type C input. You could easily get it charged in an hour with your existing Macbook 96W charger. Anything lower than that could make it rather time-consuming. There is a heating issue, but it's never as high as the other ones out there. Thanks to the ActiveShield technology, the 737 keeps up with the raging heat at all times.
Related: 10 Best MagSafe Battery Packs for iPhone 13 Users
Anker 737: What's In The Box
The Anker 737 comes in a great package, all neatly sealed and properly wrapped of course. The whole delivery includes;
1x Anker 737 PowerBank
1x USB-A to C cable
1x User Guide
Warranty papers and other documents
Anker 737: Can you Carry in Flights?
And according to Anker, this is allowed to carry in flight, and the total Wh is under the TSA limit (below 100Wh). However, you must check with your local airport and flights before taking this PowerBank in your backpack.
Anker 737: Pricing and Availability
The Anker 737 is a great portable charging station that's made while keeping productivity in mind. It is quick regarding power delivery, and reaching power outputs up to 140W is phenomenal, and you know that. If you're the one who owns quite a lot of gadgets, including the MacBook, then this power bank is just for you. Of course, the number of ports is limited; it doesn't rob away its luster when it comes to reliable multiport power delivery.
Today's Deal: $45.00 Off
If you're looking to get the new Anker 737 PowerBank, go to the eufy website and yeah, it is listed just below 150 bucks.
Anker 737: Does it Worth it?
The Anker 737 PowerCore is a powerful power bank with a smart display that's up at a great deal that you shouldn't miss. It works on the new PD 3.1 along with the GaN Technology. GaN or the Galium Nitride semiconductor chips are power efficient and produce a lower amount of heat.
This makes it one of the best choices to equip for your trips, as its battery could last even more than what the native power banks could offer. The only con that I felt was the limited number of ports. But yet, with a 140W charging output that charges all your devices within the blink of an eyy!, you couldn't ask for more!!