When you connect the charging cable to your iPhone, you will hear a mild sound indicating that the device is charging. Also, you can set an automatic alert when your iPhone battery reaches 80%. However, if the charger gets disconnected due to a loose connection or it simply doesn't work, there is no way to know if your device is still charging unless you check the battery percentage on the home screen. Unfortunately, iOS doesn't notify you when the charger is disconnected, but there is a way to create an alert using the Shortcuts app.
How to Automate iPhone to Alert When Charger Stops
I plugged in my iPhone to charge and continued working. An hour later, I checked my phone and realized it wasn't charging. I unplugged the charging cable, fixed it properly, and then plugged it in again, after which it started charging. While searching a solution for this, I stumbled upon an idea on a Reddit forum that suggested using Shortcuts. I created an automation that plays the message "Charger is disconnected" when the charging stops.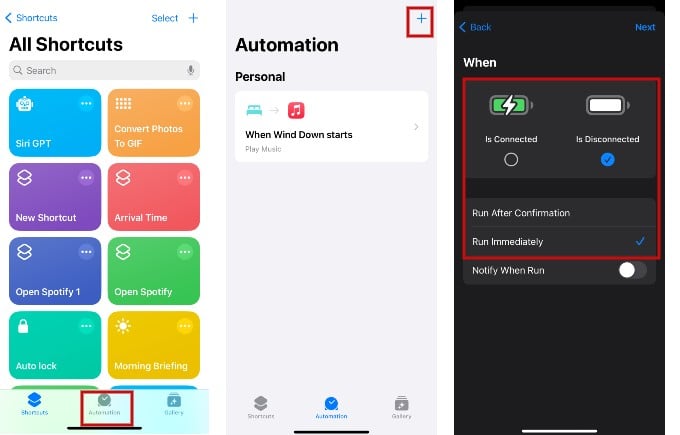 Launch Shortcuts app and tap Automation on the bottom of the screen.
Tap + icon on the top right.
In the Personal Automation screen, scroll down and tap Charger.
In the new screen, tap the radio button Is Disconnected. If you want the automation to run after you provide permission, tap Run After Confirmation. Tap Run Immediately to run the automation automatically. Then, tap Next at the top right.
Tap Speak Text to set the message that will play when charger stops. (Instead of a message, you can tap Play Sound to set a specific sound when the charger stops).
Type the message you want to play on the text box (eg: Charger is disconnected). By tapping the down arrow, you can customize the Language, Voice, Pitch and Rate of the message.
Finally, tap Done to save the automation.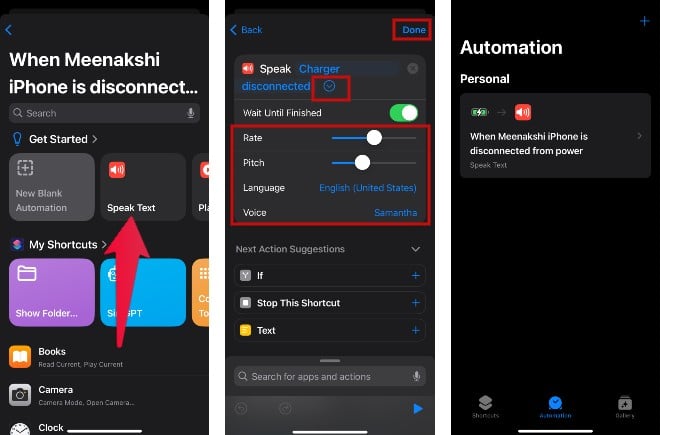 That's it. Whenever your device is not charging or it is unplugged, you will hear the message "Charger is disconnected".
After setting up this automation, I never have to worry about my iPhone stopping charging, as I can hear the message when the charging stops.