The Portable power banks are very common now and are available in the market with different battery capacities. These portable battery packs are coming with multiple output ports. They have inbuilt wireless chargers and lightning ports for iPhones and smartphones. These battery packs also feature the USB C port to support the latest MacBook and a 110V power outlet. When you are looking for the best power banks, make sure you consider the features.
Here we've made a list of best Portable Chargers with Wireless Charging and additional built-in features.
MashTips's Best Picks:
RAVPower Wireless Portable Charger
RAVPower Portable Wireless Charger comes with a 10400mAH internal battery. It can charge your smartphone many times. This power bank is capable of charging the iPhone with fast-charging technology (7.5W). This adds up to 50% faster charging than normal. It also works well with Android smartphones too.
This battery pack is coming with a wireless charger pad and compatible with Qi-enabled devices like iPhone X and Samsung phones. RAVpower Wireless charger can fully charge Galaxy S8 and S8 plus in just around 3.8 hours.
With the charging pad and USB port, this portable charger is capable of charging two devices at once.  The power bank supports easy charging and, capable of charging in less than 6 hours with a 2A/2.4A AC charger. For non-Qi enabled phones, you can use the USB cable to charge the phone.
While using this power bank during charging, you might encounter heating issues. The direct charging will be more efficient than Wireless QI charging.  It is better not to use the wireless charging feature when power bank battery drops below 25%. 
Buy from Amazon: RAVpower Portable Wireless Charger
DoSHIn Wireless Portable Charger
DoSHIn in shipping this Wireless Portable Charger with 10000mAh internal battery. There are Micro USB and Type C ports are available to connect your devices. This power bank will cork with all Qi-enabled phones, including iPhones and Samsung Galaxy phones.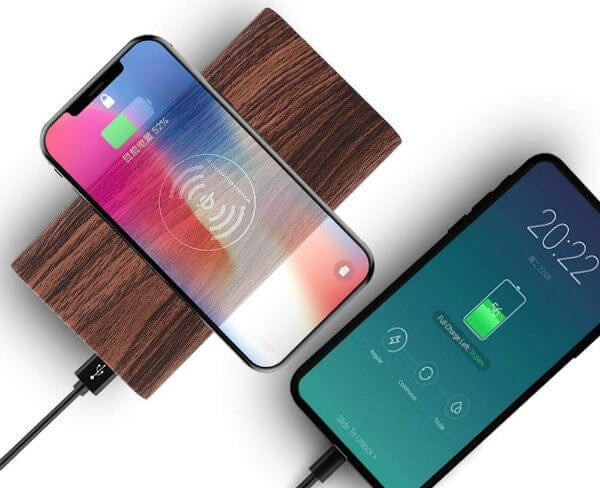 The inbuilt LED indicator displays the battery level. The charger can supply 1A for wireless charging and 2.1A through direct cable. This battery pack supports over changer protection, over current and short circuit protection.
Buy from Amazon: DoSHIn Wireless Portable Charger
Kuppet Wireless Portable Charger
The KUPPET power bank is a portable charger that comes with 20000mAh internal battery. This wireless charger is capable of charging around 2 to 3 devices. Kuppet mobile power bank comes with a 2 in 1 micro USB cable, lightning adapter and two USB charging ports.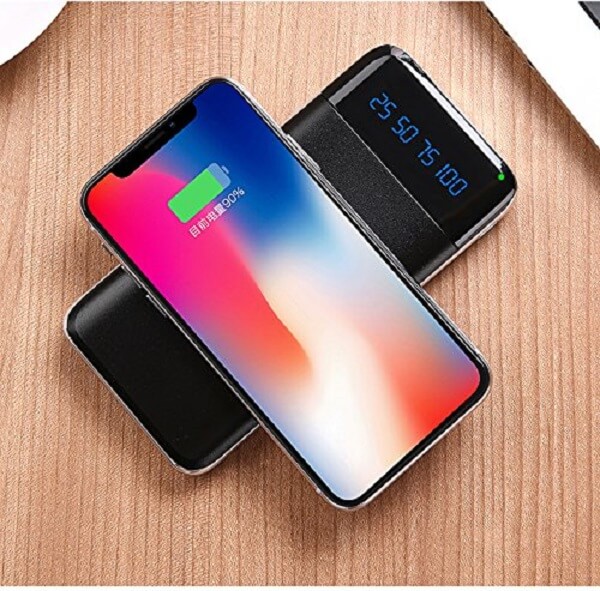 The wireless charging feature is for Qi-Enabled phones like iPhone 10/X/8/8Plus, Samsung Galaxy Note5, etc. This battery charger supports wireless charging up to 1A for Qi-enabled devices. Also, this product comes with an insulated design.
It takes care of the heating issues. Moreover, the charger also comes with a small pouch that makes it easy to carry. Though, you have to admit that it is a bit bigger than the normal power banks available.
It is noted that the device developed a bit of heating when the wireless charging feature used at minimal power. 
Buy from Amazon: Kuppet Wireless Charger
Foster Wireless Portable Charger
Foster wireless power bank is one of the best available portable battery packs. The design is sleek like a pocket charger. The power bank comes with 10000mAh internal battery. This battery pack can charge your devices up to 3+ full charge cycles. The Qi Wireless Charger supports wireless charging up to 5V, 1A for Qi-enabled devices such as the iPhone 8, 8 plus, X and Android devices.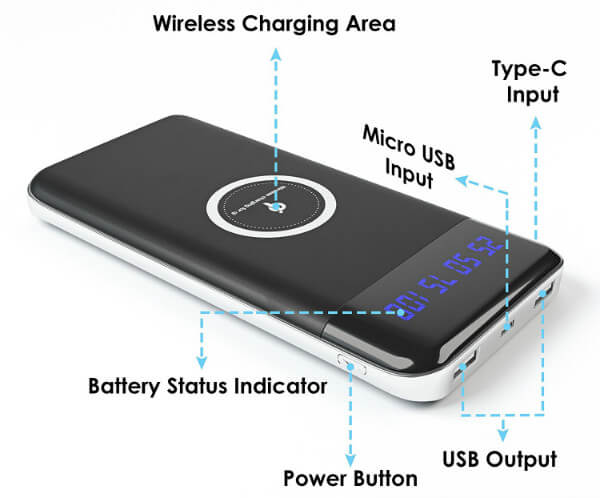 With the improved dual, smart USB 5V, 2.1A charging port, you can easily charge up to 3 devices.  You can charge the power bank from an AC outlet with a micro USB input. This portable battery pack comes with a small LED display that shows the remaining battery capacity and number of connected devices.
While using this power bank during charging, you might encounter heating issues. The direct charging will be more efficient than Wireless QI charging. 
Buy from Amazon: Foster Wireless Charger
RAVPower Portable Charger
The RAVpower portable charger is sheer strength combined with a stylish design. This large battery pack comes with a strong and sturdy internal battery. It is capable of storing 22000 mAh.
The RAVpower power bank gives the provision to charge up to three devices. This power bank features three USB ports with a combined output of 5.8A. It is good for MacBook 2015 (USB-C to USB 2.0 cable needed) and can charge while you travel and also an ideal portable charger for tablets (including the Nexus 7).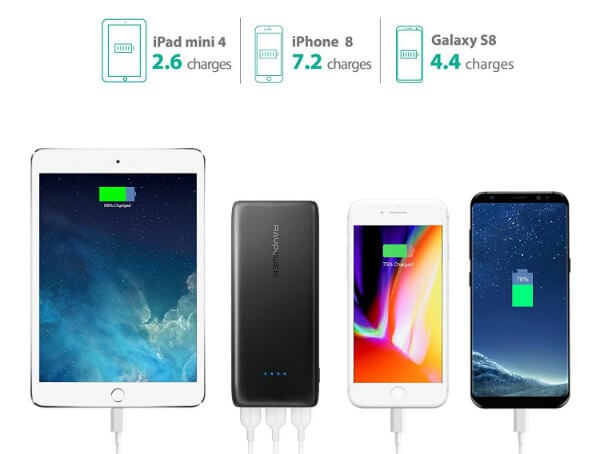 The RAVpower is capable of charging your iPhone X within 5 hours and takes only 4.4 hrs for the Galaxy S8. The time required to charge the power bank is 11 to 12 hours with a 2.4A charger. This portable power bank retains up to 70-80% of its full capacity even after 500 charge cycles. The heating issues of the internal battery are in fact taken care of the thermoplastic design.
This model does not support wireless charging. It is advised not to use the power bank while charging as it can reduce the battery life and produce unwanted heat.
Buy from Amazon: RAVPower Portable Charger
Anker PowerCore Portable Charger
The Anker PowerCore portable charger is thin and weighs around 12.5oz. Being so light makes it the best portable charger when it comes to portability. This battery pack comes with modern voltage-boost technology.
It's guaranteed to deliver the fastest possible charge output. You can recharge it with a 2A charger within 10 hours. The Anker PowerCore comes with a 20100 mAh internal battery and lets you charge anything from your smartphones to iPods.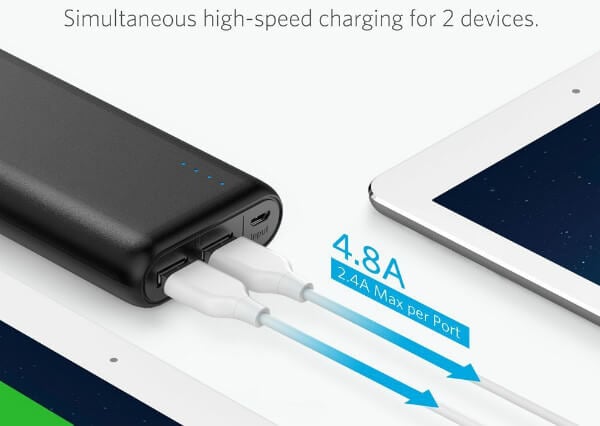 Moreover, you can equip a lightning cable for iPhone and iPad if you prefer rapid charging. With an output of 4.8A, this power bank provides enough power to charge any combination of devices at full speed.
Anker PoweCore doesn't support Qualcomm quick charging feature. If you are looking for a decent battery pack, then Anker PowerCore's a good option.
Buy From Amazon: Anker Powercore Charger
AUKEY Portable Charger
This Aukey flagship is reliable and this makes them stand out among its competitors. The Aukey power bank & micro input portable charger comes with a large 20000 mAh. The internal battery lets you stay online throughout the day. With a combined output of 3.4A, you can charge maximum of two devices.
This power bank comes with a dual-port design that includes lightning and the standard micro USB port(2A). The Ai power technology sees that every device connected gets the safest recharge rates. Also, the Aukey power bank comes with an inbuilt current monitor. It protects your devices from excessive current, overheating issues, etc.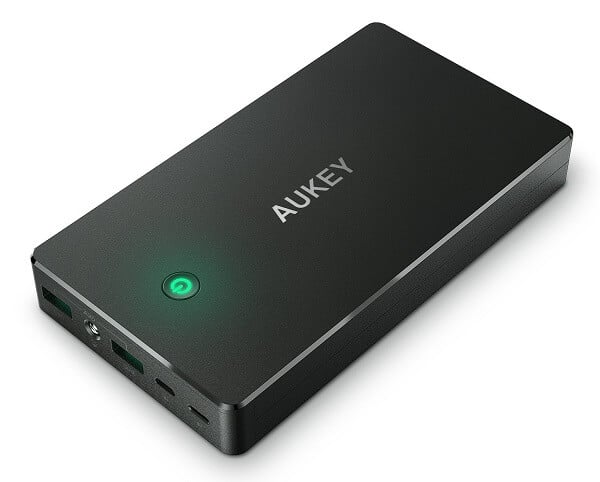 With the lightning charging port, you can charge any Apple devices. This battery pack is compatible with all popular USB powered devices including Android smartphones, Bluetooth devices, etc. Being light and pocket size makes this portable battery pack one of the best. If you need a charger that's highly reliable, then consider this one for a change.
It would be better if the device operates in a charged condition. This is better to avoid unwanted heating issues. With simultaneous charging and discharging, the power bank's charging efficiency may reduce and the power bank might die much sooner.
Buy from Amazon: Aukey Portable Charger
Jackery Bolt Portable Charger
The Jackery Bolt power bank isn't as that mammoth when compared with our top shots. But, the reason it's on our list is because of its built quality. This portable power bank is only designed and customized for the iPhone series. Although the maximum internal capacity is limited to 6000mAh, it stands out with its charging speed.
The inbuilt lightning cable enables super-fast charging for iPhone. Moreover, this cool battery pack guarantees twice as fast charging when compared with the normal iPhone charger. The Jackery battery pack is capable of charging the devices with the maximum output of up to 2.4A.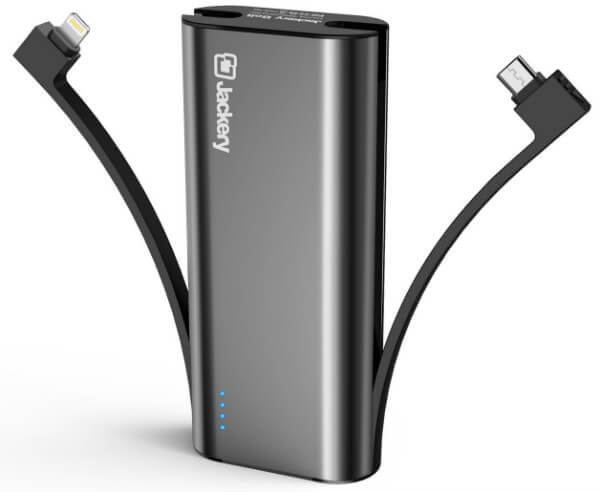 In fact, the Jackery Bolt charges an iPhone 8 two times within 2 hours. It can also charge the iPhone 8 Plus one and half times within 2 hours. Also, this power bank includes a triple port output that is a 5V/2A lightning port, a 5V/1A micro USB port, and an open USB port.
The major advantage is that the device accommodates the lightning cable as well as the micro USB cables within itself. Hence, you never need to worry about carrying any cables anymore.
The prolonged use of the device while charging can destroy the device. If you look for a decent power bank with assured quality, think not, go for the Jackery Bolt.
Buy from Amazon: Jackery Portable Charger
iMuto Taurus X6 Portable Charger
The iMoto Taurus X6 battery pack is the most compact and sleekest in our list. The design and the battery capacity makes it one of the best performers when it comes to the world of power banks. The X6 portable power bank comes with a whopping 30000mAh A-Class lithium-ion battery.
The battery capacity makes it the best companion for your road trips and satisfies all your power needs. This portable battery pack is capable of charging the MacBook two times, iPhone 7 ten times. It can also charge the Galaxy S7 almost 6.5 times, and the iPad Air 2.5 times. Moreover, the smart digital screen shows the remaining power in digital format.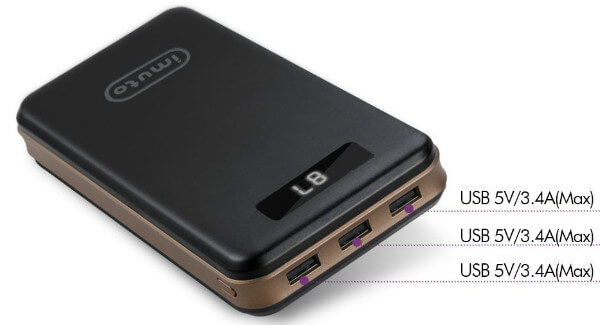 This battery pack works with almost all USB powered devices. The X6 offers around 3 charging ports and provide multiple charging. The combined max output of 3.4A gives you the fastest possible charging span altogether. Also, the smart protection systems keep your devices safe from overheating and short-circuits. Equipping the USB-C cable or a USB to USB-C cable helps you to charge your iPhones at lightning speeds.
The cables can give you a bit of an issue when charging. Equipping an extra USB and USB-C cable would be good as the normal cables coming with the products are below average. The device is not compatible with the MacBook Pro or MacBook Air.
Buy from Amazon: iMuto Portable Charger
MaxOak K2 Portable Charger
If you are searching for a power bank for laptops and notebooks, MaxOak portable charger is your best bet. The MaxOak K2 portable battery pack is made to meet the requirements of laptops. The internal setup comprises of a big 50000mAh internal battery that is compatible with most of the laptops and notebooks. The best part is that the device comes with a set of 14 connectors that suits most laptops and notebooks.
Moreover, this large battery pack is also capable of charging your smartphones including the iPhone series. Once charged, the K2 can charge your iPhone 6 plus for about 11 times and the iPhone 6 for about 17 times. The main thing worth mentioning is that is it houses 6 output ports. To be more precise, it contains one 20V/3A for laptops, one 12V /2.5A for Digital Cameras, Two 5V/2.1A and Two 5V/1A.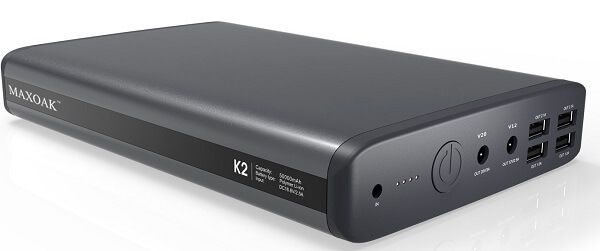 Hence you can charge anything with the MaxOak K2. This portable power bank gets charged in around 6 to 8 hours. This is due to the performance of the modern Lithium-ion Polymer Battery Cells.
This power bank has six inbuilt security] features that let you charge all your devices. Coming to its design, the K2 could be the smallest 50000 mAh laptop battery pack you could ever get. Although it is compact, you might feel it a bit heavy. But considering the efficiency, the device suits most people who are always on the go. Hence, if you are on the hunt for a decent laptop portable charger, the MaxOak K2 could be your best pick.
It would be wise to check the laptop standards are below 4.5 A before purchasing. A thing to keep in mind is that laptops or notebooks with current requirements exceeding 4.5A/90W are not compatible.
Buy from Amazon: MaxOak K2 Portable Charger
RAVPower iSmart AC portable charger
The next one in our list is an AC and DC portable charger, the RAVpower iSmart. This cool battery pack is a strong AC portable charger. iSmart comes with an updated AC power supply output along with the AC power supply indicator.
The iSmart houses a huge internal battery with a massive capacity of 20100 mAh. This large battery pack allows 110V electronic devices like GoPros, printers, table lamps, and small fans to work. The device comes with a two-prong AC output combined with an adapter cable suitable for devices up to 50W.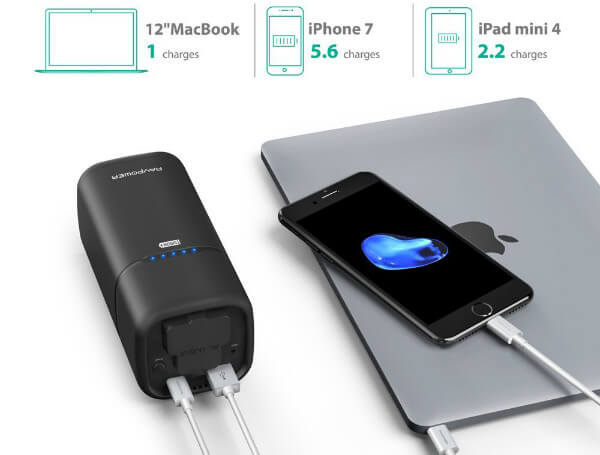 In addition to the AC output port, this portable battery pack also houses a dual DC charging ports. The two DC output ports include USB-C(5V/3A) and normal USB (5V/2.4A). It let you charge devices like your smartphones and Bluetooth receivers. The USB Type-C allows rapid charging of iPhones within no time.
You can charge your iPhone 7 for a total of 6 times when the battery pack is operational. Also, you can use the AC outlet as a smartphone charger by connecting an extra DC adapter.  You can also use the AC output to charge MacBook for a maximum of 2 times without draining the power bank. Moreover, with the 19V/1.6 DC input, the battery pack gets itself to full swing within 4 hours.
Prolonged use while charging can damage the battery pack and reduce its life. Also, the cylindrical design and compactness are space-saving as well as portable. Note: Press and hold the power button for 8 seconds to turn on/off the AC output.
Buy from Amazon: RAVPower iSmart
ZeroLemon ToughJuice Portable Charger
ZeroLemon ToughJuice is pretty good when it comes to efficiency and performance. This battery pack comes with an internal capacity of 30000mAh. The internal battery sees to it that every device stays filled all day long.
iPhone X can charge up to 11 times and other smartphones up to a maximum of 7 times before complete draining. The major advantage is that it comes with five output charging ports. These ports include a quick charge2.0(12V/9V) and the legacy 5V support, and three normal USB ports(1A).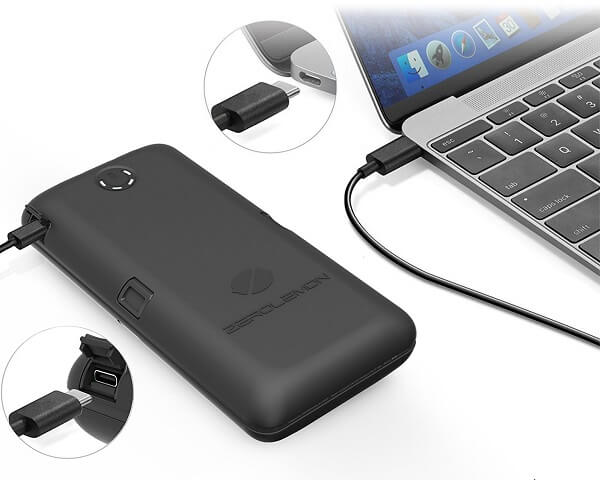 The USB compatibility makes it work well with the MacBook 2016 and other laptops. Also, the availability of 5 ports makes this the most suited battery pack. The tough outer case, as well as the internal battery arrangements, makes this large battery pack the best one. If you are looking for a USB charger that is sleek and compact, do try the PowerJuice a shot.
A small flaw that we found out was that this battery pack does not allow pass-through charging. You heard it right; You need to plug out to use.
Buy from Amazon: ZeroLemon Portable Charger
Power Banks with Wireless Charging
There you have it, the list of the best portable power banks to look out for the year. Most of us make use of a power bank according to specific needs. Be it a businessman or a wanderer; this cool gadget does its job quite well. So, it's all come down to one single aspect, choosing the right one according to your needs.
It all comes down to the fact that equipping a good battery pack with the specified requirements is essential. Before making decisions, see that the devices as well the battery packs matching the necessary conditions. A thing to keep in mind is that never try to use the device when it is kept for charging.