Carrying wall adapters and battery packs for all your gadgets is a nightmare since they all take up a lot of space in your bag. You would be annoyed by how often you need to plug them in and change the adapters for each gadget. Anker 733 is an all-in-one 65W power bank that is also a wall adapter at the same time for all your devices. You read it right; it can juice up all your devices.
Anker 733 GaN Wall Adapter combines the superfast charging speeds with a 10,000mah power bank for portability. Let's find more about the Anker 733 power bank with wall charger combo.
Anker 733 Power Bank: Overview
The Anker 733 GaNPrime PowerCore combines the best of both worlds. It is a 2-in-1 hybrid charger that also doubles up as a power bank that can be used to charge your devices on the go. It is slightly heavier than regular chargers due to the inclusion of a battery pack and is compatible with various devices that support USB-PD standards.
Anker has already released several GaN chargers before, but their newest series, GaNPrime, takes things ahead. The latest models include increased USB inputs, the PowerIQ 4.0 technology that intelligently prioritizes charging the device with the lowest battery, and unconventional designs.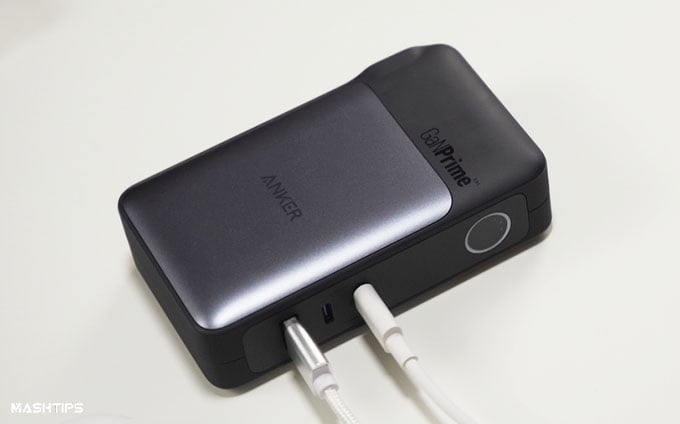 It has USB Type-C ports with 65W maximum power output. The Anker 733 GaNPrime also supports slow trickle charging for wearable devices like Smartwatches and TWS Earbuds.
Related: 7 Best USB C Wall Adapters with Power Bank for iPhone, iPad, and Android
Anker 733 Power Bank: Specifications
Before diving into more details of Anker's hybrid power bank, look at the complete specifications.
| Specification | Anker 727 Charging Station |
| --- | --- |
| Max Output | 100W Max |
| Battery Capacity | 10,000mAh |
| Power Tech | GaN (Gallium Nitride) Semiconductor |
| Number of USB-C Ports | 2 USB-C Ports |
| Number of USB-A Ports | 1 USB-A Port |
| Number of Outputs | 3 |
| Dimensions | 4.36 x 2.48 x 1.22 in / 110.8 x 63 x 31 mm |
| Weight | 11.29 oz / 320 g |
Design and Build Quality
Dimensions: 4.36 × 2.48 × 1.22 inches
Weight: 11.29 Oz
The Anker 733 GaNPrime has a bulky design like any other fast charger, but the added battery also contributes to the thickness of 1.22-inches. The charger with the battery pack is housed within the sturdy ABS material, topped with an aluminum plate that adds to its style and acts as a heat dissipation area. The Anker 733 power bank is available in black and golden colors. We have the black one, as you can see below.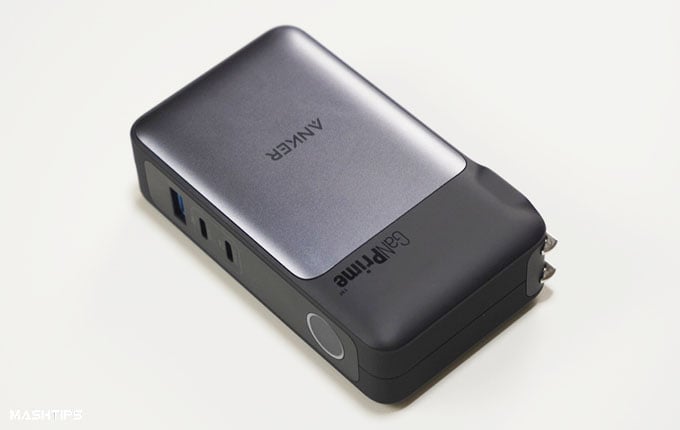 Coming to the sides, you can find the wall adapter plug which goes right into your wall outlet. The plug is retractable into the housing, making it easy to carry around in your pockets.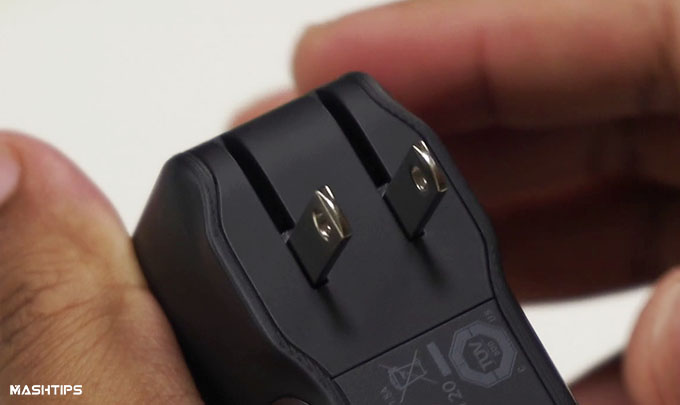 A power button is provided for the battery pack on the opposite—the button doubles as a charge indicator for the power back simultaneously. However, while plugged into the wall outlet, you do not need to press the power button to enable charging your devices.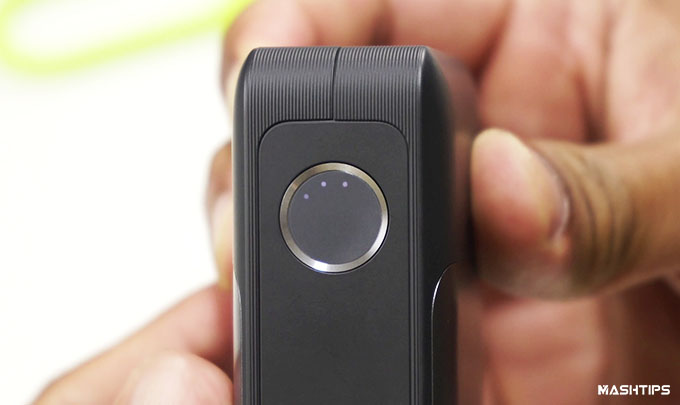 The Hybrid charger has three output ports – two USB-C and a USB-A with fast charging support. You can use all of them simultaneously, but the power delivery will be reduced when used together.
Related: 7 Best USB C Wall Adapters with Power Bank for iPhone, iPad, and Android
Connectivity
2x USB-C Ports
1x USB-A Port
Anker 733 power bank has three USB ports that output power to the connected devices, be it your iPhone, Android, AirPods, iPad, or even MacBook Air. Both the USB-C ports support the new Power Delivery Standard and can provide up to 65W while plugged in and 30W with the 10,000mah battery. The USB-A port supports a maximum of 22.5W both plugged in and on the power bank.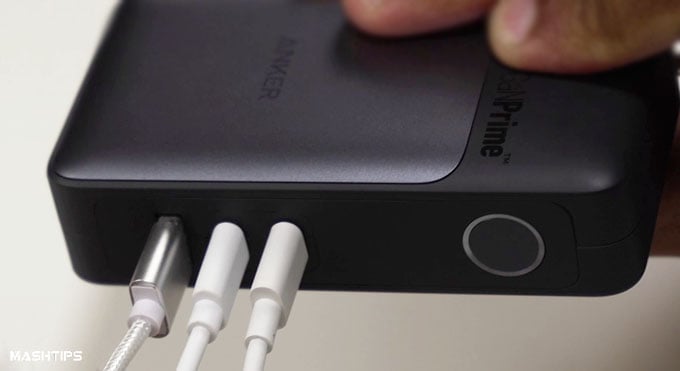 The battery of the hybrid charger can be recharged simultaneously from the wall charger while you charge your gadgets using the Anker 733 GaNPrime PowerCore. Besides, you can use the USB-C port as a power input port to charge the battery back, especially when traveling and cannot find a power outlet.
Battery Backup and Charging
Max. Output: 65W
Battery Capacity: 10,000mAh
The main advantage of a hybrid power bank is it can charge itself and the connected gadgets simultaneously. The Anker 733 65W adapter also supports passthrough charging. It can act as an inverter and portable power brick for your devices.
The 10,000mAh battery can fully charge a Google Pixel 6 for 1.7 times, a Galaxy S22 two times, and an iPad mini for 1.3 times. The hybrid 2-in-1 charger also supports trickle charging for wearable devices. The fast charging works perfectly alright with all supported devices; below you can see the rapid charging works for my Pixel 6a.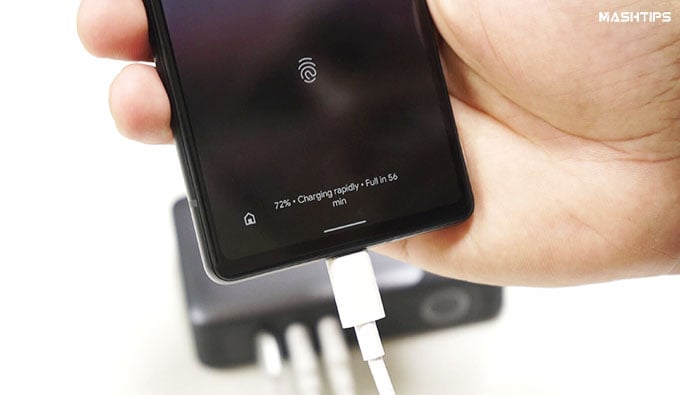 You can also charge a MacBook Air (M1/M2) with this hybrid 2-in-1 power bank and charger, as both support 65W USB Type-C charging. But to get the max out from the charger, you can only connect one device (MacBook) at a time. Any additional device connected will cut down the power output. Also, the maximum power delivery from the battery alone is 30W which is insufficient to power up your MacBook.
The Anker 733 GaNPrime PowerCore also has a high-capacity multi-cell battery that retains 80% battery health after 450 charging cycles, which is impressive compared to traditional power banks.
Related: 10 Best Hybrid Smartwatches with Long Battery Life
Anker 733 Power Bank: What's in the Box
The Anker 733 GaNPrime PowerCore charger comes in a decent retail package with minimal addons to it. The hybrid charger comes with several things in the box including;
1x

Anker 733 GaNPrime Powercore

1x USB-A to C cable
1x User Guide
Pricing and Availability
The Anker 733 GaNPrime PowerCore is incredibly cost-effective, in addition to being quite handy for use on the move. This portable charger can run anything from a pair of TWS Earbuds to a laptop or tablet. You can get the Anker 733 2-in-1 power bank on Amazon or Anker Website for under $100.
Final Verdict
The Anker 733 GaNPrime PowerCore charger provides a considerable quantity of power and is equipped with enough ports for all of your gadgets. It also has the fastest charging port (65W) available on a portable charger, which can be used with or without plugging into your wall outlet.
If you are looking for a portable hybrid charger for your phone, iPad, and MacBook, the Anker 733 is considerably one of the best choices you can make under the budget.