Zigma Aerio-300 is a smart WiFi air purifier that comes with excellent filter action. Not only does it improve the air quality, but keep allergens, pollens, and other harmful particles at bay. The Zigma Smart WiFi Air Purifier offers quite a lot of features including complete smart home controls.
From the day we got our hands on the Zigma Smart WiFi Air Purifier, we've put it to some serious testing. It is fairly easy to use and does a good job. There's a lot to talk about, so let's go through the full hands-on review of the Zigma smart WiFi air purifier.
Zigma Aerio 300 Smart WiFi Air Purifier: Overview
The Zigma Aerio 300 is a powerful home smart WiFi air purifier that offers multi-stage air purification. With True HEPA filters, this smart air purifier can remove 99.9% of dust, pollen, and other allergens and gives fresh, clean air.
The working of the purifier is pretty silent enough. For instance, the maximum noise level of this air purifier is 25 dB, which is even quieter than a library and just as near as whispering. The silent operation combined with its great Clean Air Delivery Rate makes it pretty much suitable for your bedrooms and offices.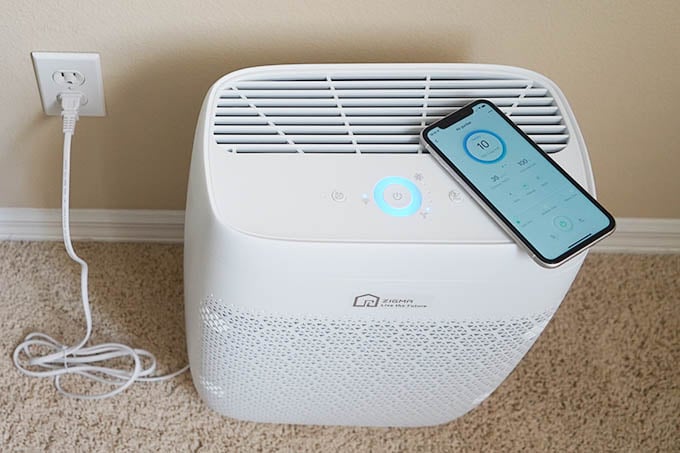 The Zigma Smart WiFi Air Purifier can purify an effective area of 1580 sqft within an hour with a peak Clean Air Delivery Rate (CADR) of 330 m³/h. That means, it can purify the air inside an average-sized bedroom in under 10 minutes. It is an exclusive bedroom or living room air purifier and has great quick air cleaning ability.
The best part we felt during our tests is it is pretty much child friendly. Zigma smart WiFi air purifier has a child lock that will prevent your kids from operating the device. We will also talk about more of its features, performance, purification modes, and many more as we go on.
Zigma Smart Air Purifier Specifications
Before talking about the design and features of the Zigma Smart WiFi Air Purifier, let us see what it is on paper. Take a look at the complete hardware specifications of this Zigma Smart WiFi Air purifier.
Specifications
Zigma Smart WiFi Air Purifier
Brand
Zigma
Model
Zigma Aerio-300
Floor Area
1580 Square Feet
Noise Level
25 dB
Air Filter
Pre-Filter, H13 HEPA Filter, Carbon Filter
Control
Smartphone app, Voice control
Dimensions
13.78 x 8.66 x 19.29 inches
What's In Box
1x Zigma Air Purifier
1x H13 HEPA 3-stage Filter
1x User manual
There are no many accessories coming along with the Zigma smart air purifier. This in fact makes the installation and using much effortless for everyone. We are not done yet, let's look more deeply into this smart WiFi air purifier from Zigma.
Related: 12 Best Air Purifiers with HEPA Filters for Home & Office
Design and Build Quality
The Zigma Smart WiFi Air Purifier 300 is pretty attractive and has a rectangular design. It is pretty stylish at the edges and measures 13.7"x8.6"x19.4" in dimension. The smart WiFI air purifier is made of matte white plastic and has a front air grill that looks stunning.
The Zigma Aerio 300 is pretty much sturdy and durable. You will notice its build quality from its great out housing and enhanced control panel. The device is pretty much stylish enough and also, compact. We did felt a bit of heaviness but that was manageable. There is nothing noticeable at the rear side of the air purifier.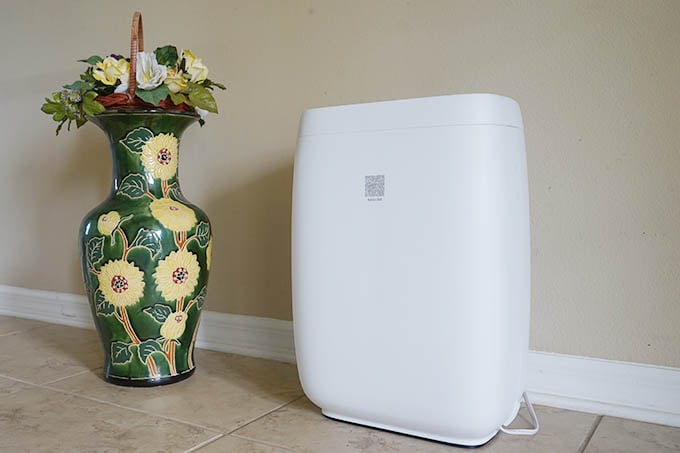 The front panel is detachable. This is where you will find the HEPA and carbon filter that purifies dust, pollen, and other allergens. The filter panel is covered and before turning it on, make sure to remove it. It also mentioned on the instruction manual to pop out the front grill or panel and reinsert the filter.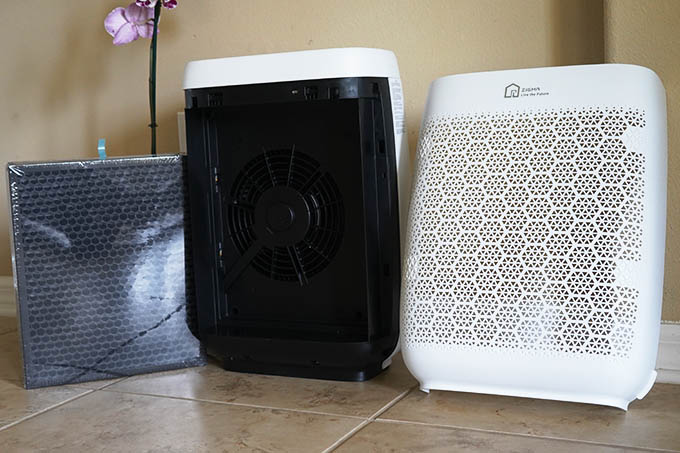 Talking about the filters in detail, it includes both the HEPA as well as activated carbon granules. The filter has hexagonal arrays in which, these activated carbon granules are present. The carbon treatment takes care of 99.9% of allergens, smoke, and odor from polluting your home.
At the top of the purifier, there is a sleek touch control panel. The touch panel is quite intuitive and offers everything right at your fingertips. The panel includes fan speed toggles, Negative Ion Release mode, On/Off, Child Lock, Night Mode buttons and WiFi indicator.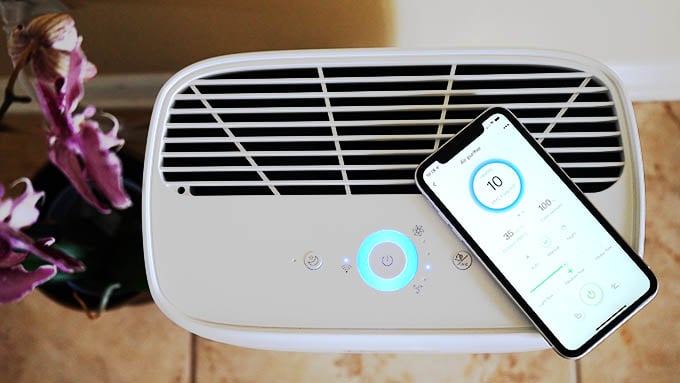 There is a circular LED right next to the control panel. This is an Air Quality Monitor. The inbuilt sensors detect the air around the purifier and display the status in real-time. The LED indicator is pretty much accurate as we did a bit of testing near dusty areas.
The Zigma smart WiFi air purifier shows a red light when the air quality is at the worst. Moderate and good air quality is displayed when the LED turns Orange or Green. The best air quality standard is shown when the LED is bright blue.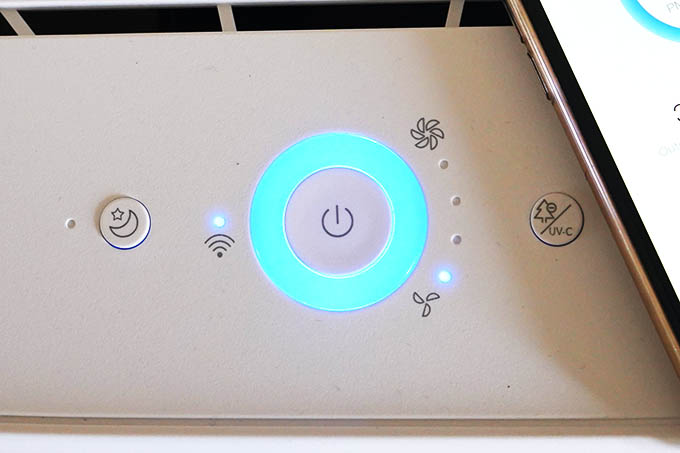 Apart from this, there are 3 more LED indicators. These include a four-level fan speed indicator. Near to the LED ring, there is a small Sleep mode button. When you press and hold it for 3 seconds, it functions as a child lock, which locks the control panel of the purifier. When you simply press it, the smart WiFi air puriofier becomes ultra silent.
Related: VIOFO A139 3-Channel Dashcam Review: All-Round Surveillance for Your Car
Working Modes
The Zigma Smart WiFi Air Purifier is a mid sized HEPA air filter that's pretty much essential for your home. It offers a max coverage of 1580 sqft, enough to cover a normal home. Being compact also gives it the added advantage of being useful and effective for your office space or living rooms exclusively.
The WiFi Air Purifier has 3 different power settings combined with 4 fan speed levels. On the highest mode, it can effectively clean and purify the air with a max coverage of 1580 sqft.
While we tested, the Zigma smart WiFi air purifier was successful in scaling up to 1500 sqft without any limitations. The only problem was the air purifier gets fairly loud at this setting. The lower settings can handle to 840sqft of room area within 30 mins. This is quuite good since there is no loud noise or power consumption.
The Auto Mode in Zigma smart WiFi air purifier is worth mentioning here as it purifies the surrounding air without you getting noticed. It adjusts the level of purification required by analyzing the Air quality. This mode draws a lower amount of energy and the operating sound is just around 25dB.
Air Purification System
The Zigma Smart WiFi Air Purifier comes with a 5-in-1 filtration system. The 1st stage is a washable pre-filter that is designed to remove comparatively large air-borne contaminants. It easily filters out pet hair, dust, and other debris.

After the pre-filter, there is the H13 HEPA filter. Almost all air purifiers include a HEPA filter as they are pretty much effective in reducing allergens and other air-borne molecules. It can filter out or trap pollens, smoke particles, spores, and many more and reduces the contamination in your home. It is this HEPA layer that takes care of allergens and if you're facing pollen or other allergies that we would certainly advise you to go for the Aerio 300.
The third layer of filtration is done by the Carbon filter. This area, right next to the HEPA filter has activated carbon granules. They are effective in filtering out harmful chemicals, cigarette fumes, harmful odors, and many more.
The next layer is what they call the ionizer. It's a charged panel to put it simply, that emits negaticely charged ions into the air. This, in turn, makes the particles drop out from the atmosphere. You can control the ionizer filter by manually switching it on. Ionizing air filtering is not harmful to the body or life. However, you can still opt out of it if you do not trust the feature.
The final air filtering system in Zigma smart WiFi air purifier is the UV-C treatment. You might have heard about UV C sanitization. That's the same principle here. A chamber illuminates UV C light to the closest environment. This light can kill viruses and bacteria that are present in the air.
Keep in mind to not obstruct the suction area or the front grill. It is always good if you replace the filter unit once every 6 to 7 months. Zigma also says that more efficient H14 HEPA filters are on the way. You may be able to get a better filter when you replace it next time.
Related: iLife Easine H55 Cordless Stick Vacuum Review: Multipurpose Vacuum for All Your Needs
Wireless Connectivity
The Zigma Smart WiFi Air Purifier comes with inbuilt WiFi. You can connect this smart air purifier with your iPhones or Android smartphones via the Zigma app. Although there is a control panel, you get more access when you connect the device with the Zigma App. You can schedule, set timers, activate different modes, cleaning and many more with the Zigma app.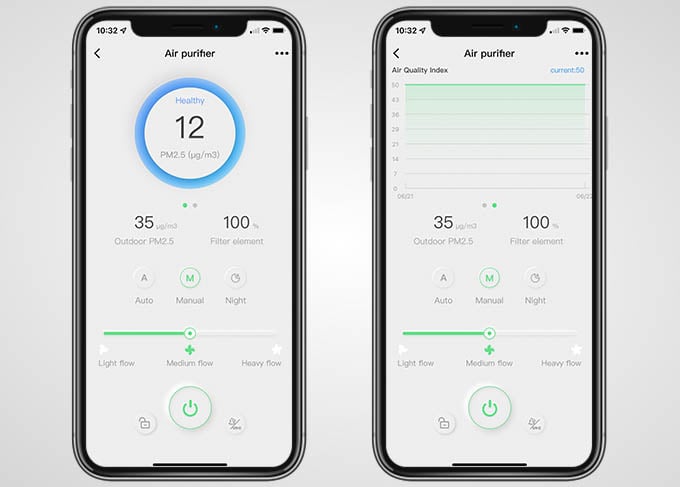 There is an inbuilt AI detection system that keeps an eye on your air quality and gives reports as well as warnings to your phone. When connected with your smartphones, you get hourly notifications of your air quality. The best thing that we loved about the app is that it shows the status of the filter. It shows the current status of the filter and its life remaining.
Being a smart WiFi air purifier, the Zigma Aerio 300 supports voice commands. You can activate Zigma smart WiFi Air Purifier through voice commands using Google Assistant, Siri, and Alexa. If you have a Google Home or Alexa-based smart home set up, it is easy to pair the smart WiFI air purifier with it.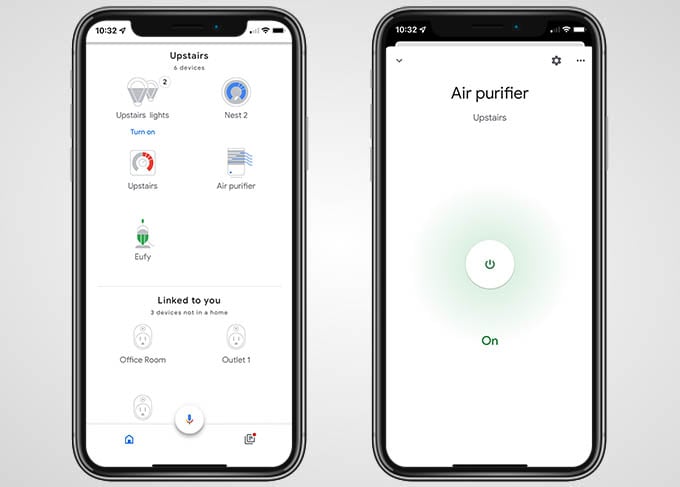 After pairing the Zigma air purifier with Google Home or Alexa smarthome system, you control in various ways. You can either command Alexa or Google through the speaker to control the air purifier. Otherwise, it can be controlled from the Google Home app directly.
Pros and Cons
The Zigma Smart WiFi Air Purifier has many features that will make you want to go for it. However, there are some adverse sides too. Here are the best and worst things we experienced about the Zigma WiFi smart air purifier.
What we like:
Higher rate of air coverage
Includes high-end filter systems
Child lock feature
Reliable Air quality report
Supports Google Assistant, Siri, and Alexa
Remote control access via Zigma App
Scheduled air purification
Auto Mode and Sleep Mode
Quiet operation
What we don't like:
Not suitable for large homes and offices
Loud operation sound during highest setting
WiFi works only on the 2.4GHz channel
Filters need frequent treatment
Ion treatment isn't suitable for everyone
Key Features: 5 in 1 True HEPA filtration | inbuilt Activated carbon filter | UV C treatment | Peak CADR 330 m³/h | 3 working modes | Inbuilt control panel | Wifi connectivity | Zigma App | App based controls | Smart Assistant support | Negative Ion Generator
Related: 21 Best Smart Home Devices for Alexa, Compatible with Amazon Echo
Pricing and Availability
The Zigma Smart WiFi Air Purifier is pretty much essential for every home. It's a great Smart Air purifier that can cover a fairly large home and offers a faster air purification process.
The powerful filter system combined with smart home connectivity makes it powerful and easy to use. If you're happy with what the Areio 300 smart air purifier is capable of and are in the mood to get it for your home, then you can get one online at Amazon.
Today's Deal: $80.00 Off
Final Thoughts
The Zigma Smart WiFi Air Purifier is an essential product for our homes. So far, we are pretty impressed with what this WiFi smart Air purifier has been offering. The smart air purifier can cover a wider area and can effectively filter the air around you. Not only does it filters out the pollens, dust, and smoke, but it does also wipe out air-borne microbes.
If you're looking for a decent WiFi smart Air purifier, then you can surely go for the Zigma Aerio-300. The quiet operational noise is a plus. However, if you are worried about saving space in the room, we would suggest you get any table-top air purifiers that are much compatible. Otherwise, Zigma smart WiFi air purifier is a decent deal.