The Pixel Buds Pro was announced in May 2022 and has been available in the market since July 2022. We have been using this for about 6 months. You wonder, after 6 months, are the Google Pixel Buds Pro still worth buying? You should find that out at the end of this Pixel Buds Pro review.
When Google released the Pixel Buds, it did so in a familiar Google fashion. A quality product with some issues and lacking features, but it is priced on the higher end. The Pixel Buds even lacked ANC (Active Noise Cancellation). But, to no one's surprise, Google then released the Pixel Buds Pro, which does have ANC and competes with the likes of AirPods Pro, Sony WF-1000XM4, Galaxy Buds Pro, etc.
Pixel Buds Pro Specs
Google's hardware has never been about the specs, be it the Pixel phones, Chrome books, or something else. When it comes to earbuds, specs mean features rather than a measure of RAM or processing power.
In that regard, Pixel Buds Pro matches the top-of-the-line TWS earbuds from the competition but also falls flat in a couple of places.
Specification
Pixel Buds Pro
Type
In-Canal
Wireless
Yes, TWS
Connection Type
Bluetooth 5.0
Water/Sweat-Resistant
Yes
Case – IPX2
Buds – IPX4
Active Noise Cancellation
Yes
Transparency Mode
Yes
Battery Life
7 Hours on single charge
31 Hours with case
Before we jump to more conclusions, here are some specification highlights for the Google Pixel Buds Pro.
Google Pixel Buds Pro Review: Design & Comfort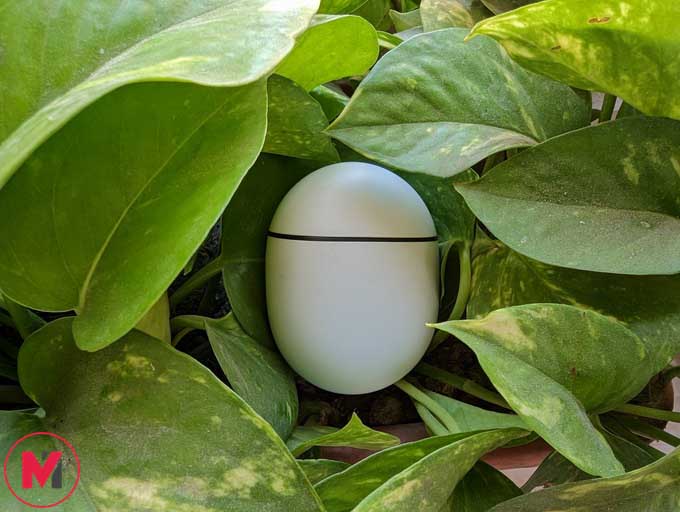 Design is an important aspect when it comes to earbuds of any kind. But when it comes to TWS earbuds, it becomes crucial to get the design right. Manufacturers don't have the luxury of space and need to cram all the hardware in your ear. On that front, the Pixel Buds Pro is chunkier than the original Pixel Buds.
They come in the familiar egg-shaped white case with black accents. The case feels nice and smooth to the touch and can be opened and closed easily with a gentle thumb flick. We can't say this for most TWS earbud cases other than the AirPods lineup. To my eyes, this case is so unique and just gorgeous. It's like a perfectly rounded pebble and looks so natural.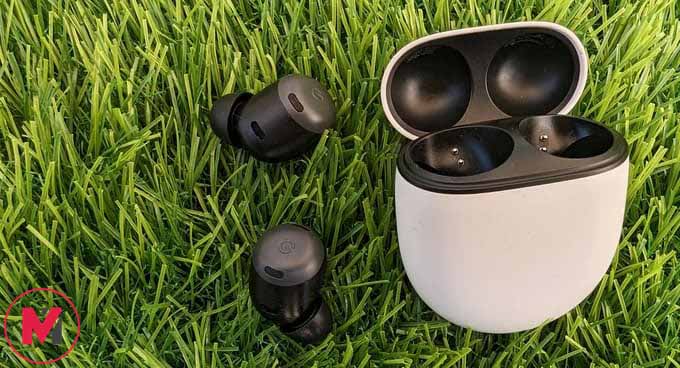 Inside, you will find the buds with either Lemon-grass, Charcoal, Fog, or Coral caps, depending on the color you picked. The wing tip is gone, which makes for a more comfortable fit. If you're worried about the buds falling off, as long as you've got a good fit, they won't. Some extra ear tips are included, so you'll find something for your size. The default tips would be more than comfortable enough for most people and offer a good fit.
Although the earbuds are slightly thick, they're much smaller than most TWS earbuds with ANC. Except for the AirPods Pro, nothing beats the Pixel Buds Pro in terms of comfort. I've had the buds on almost all day; at some point, I even forgot they were there. To be fair, there are multiple factors at play for that to have been possible, and we will get to them, but comfort is undoubtedly one of them.
Sound Quality: Great Overall, But Not The Best
The next thing that should be on anyone's checklist when it comes to earbuds is sound quality. For some, it's even more important than comfort. Wireless headphones and earbuds are known not to sound as good as their wired counterparts. TWS earbuds have come a long way, but they're not as good as wired options. However, if you're not an audiophile who needs everything pitch-perfect, the Pixel Buds Pro sounds great.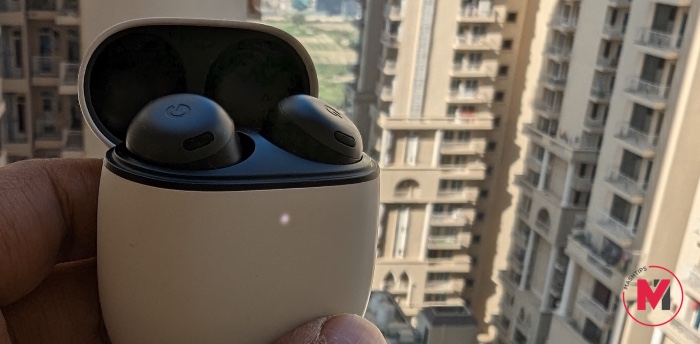 There's a decent amount of bass, which doesn't affect the higher end of the spectrum. The result is a wider sound spectrum which is just a joy to listen to. The highs and lows are balanced well, regardless of the audio level. The bass is nice even at lower volumes, and there is no distortion even at the highest volume. The mids are decent, not great, but by no means bad.
This is made possible by the 11 mm sound drivers included in each earbud and the hexa-core audio processor. Google may not be the name you think of when you think of excellent sound quality, but the company delivers one of the best-sound earbuds in this category.
The unique Volume EQ feature on the Pixel Buds app is designed to enhance the bass and treble frequencies when listening at lower volumes. It may not be apparent to everyone, but those with keen ears will be able to appreciate this rather impressive technology.
Google Pixel Buds Pro ANC And Transparency
The Pixel Buds Pro is pretty good when it comes to Noise Cancellation. The ear tips already provide a good seal and passive noise cancellation, and the ANC works in tandem. With the ANC on, you won't be able to hear chatter, and sometimes not even when someone is directly talking to you. Pixel Buds Pro does a splendid job at canceling low and mid-frequency sounds.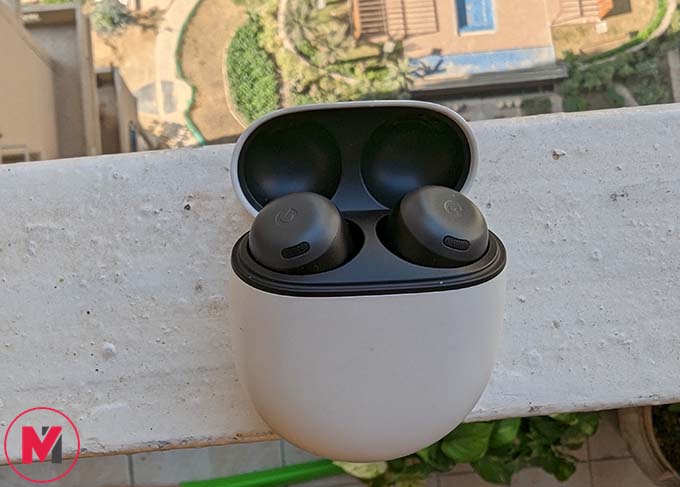 The mesh over the microphones also ensures your ears won't hurt with painful sounds when the wind blows over them. When it comes to high-pitched sounds like a screaming woman or a crying baby, horns, sirens, etc., the buds struggle a bit. The buds can handle some high-frequency sounds, but not all. The ANC on the Pixel Buds Pro is not as good as the Sony WF-1000XM4, but it's not too far behind. The AirPods Pro also handles high-pitched sounds slightly better than the Pixel Buds Pro.
The transparency mode is equally great on the Pixel Buds Pro. Not only can you hear everything that you could if the buds were not in your ears, but you can also hear everything better. It enhances your hearing slightly, and you can even have conversations from a distance. However, it's not as good as the AirPods Pro, and you will be able to tell the difference between having the buds in your ear or not.
Touch Controls: Light on Customization But Consistent
The touch controls on the Pixel Buds are consistent to say the least. That is to say, the accuracy of their detection is pretty good, especially considering the small size of the surface. The gestures could have been a bit more intuitive, however. The earbuds support fast pairing, and pairing with Android devices is a breeze.
By default, a touch-and-hold on either earbud toggles between ANC and transparency modes. In the app, you can customize this so that you can invoke the Google Assistant with one and toggle ANC with the other. A single tap on either earbud toggles play and pause.
A swipe forward increases the volume, and a swipe backward lowers it. Typically, one would expect to swipe up to raise the volume. However, that isn't a problem once you start using it, especially since the Pixel Buds app guides you through the controls.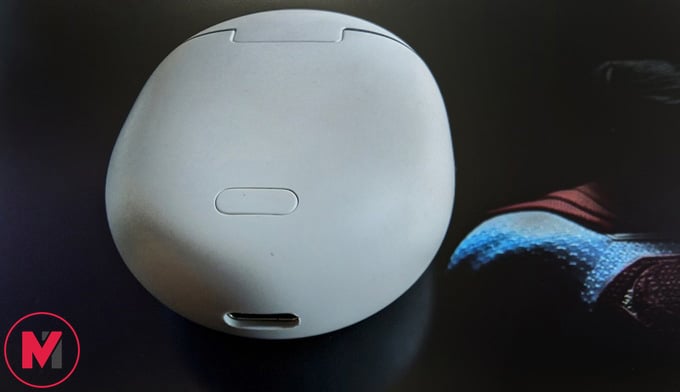 Just open the case, and you will see the prompt on your phone to connect the earbuds. This, of course, only works with Android devices. The case also has a pairing button at the back that lets you connect the earbuds to other devices.
Pixel Buds App Experience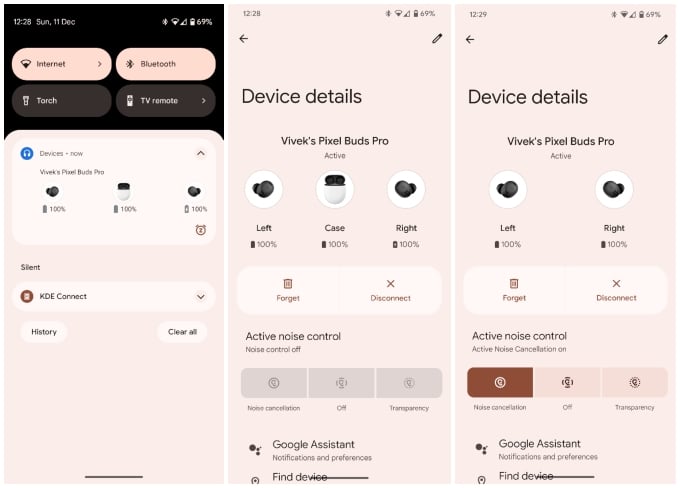 Speaking of the app, at launch, the Pixel Buds app had no equalizer. 6 months later, there's a fully customizable 5-band equalizer in addition to the Volume EQ feature. If you're not comfortable with so much control, some easy-to-use presets should be more than enough for most people.
The app can also help you find your earbuds by "ringing" them. However, there's only so much sound a pair of earbuds can produce. So, if it's stuck under some blankets or under cushions, you might not be able to hear your precious earbuds calling out for you. Pixel Buds app also has the option to check the seal of your ear tips, and it can tell you if you've put them on the right.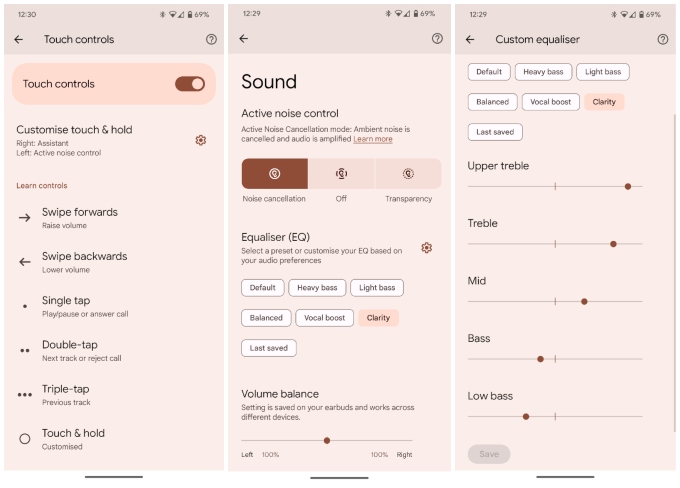 But that's not all. As promised, Google had finally delivered Spatial Audio as well, with a new update that only arrived a day before I started writing this review. Not everyone will be able to take advantage of this feature, though, since you will need a compatible Pixel device and content that supports it.
Multipoint Works Flawlessly
Pixel products have always been focused on user experience more than features. That's very true for the Pixel Buds Pro. If you turn on Multipoint in the app, your Pixel Buds Pro can connect to two devices at once. For example, let's consider that your earbuds are connected to your laptop and phone.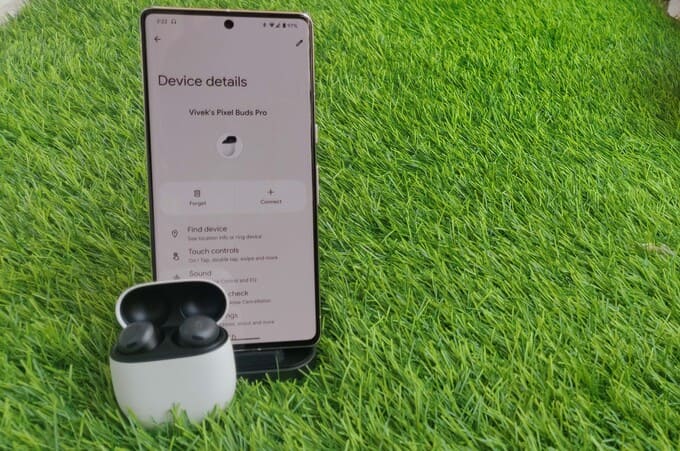 When you get a call, the buds automatically switch to your phone, and anything you may be playing on your laptop will be paused. Once the call ends, the buds will switch to the laptop, your media will resume, and it is all so seamless. This isn't a never-seen-before feature, but it is surprisingly not as common amongst premium TWS earbuds as you would think.
Pixel Buds Pro Call Quality
Each earbud is packed with three microphones that provide a decent listening experience to someone on the other end of a call. Pixel Buds Pro call quality is good under ideal conditions. The mesh-covered mics, ironically, struggle the most against the wind. It's even more confusing, considering that the Pixel Buds Pro does a much better job canceling wind noise with ANC.
Noise rejection isn't amazing in a busy office environment-like setting, either. However, it's also not bad, and the buds prioritize your voice pretty well. If you plan on taking Zoom meetings at a busy café, they will do just fine. Outside on a windy day, though, you're better off using your phone for calls.
Battery Life Has No Match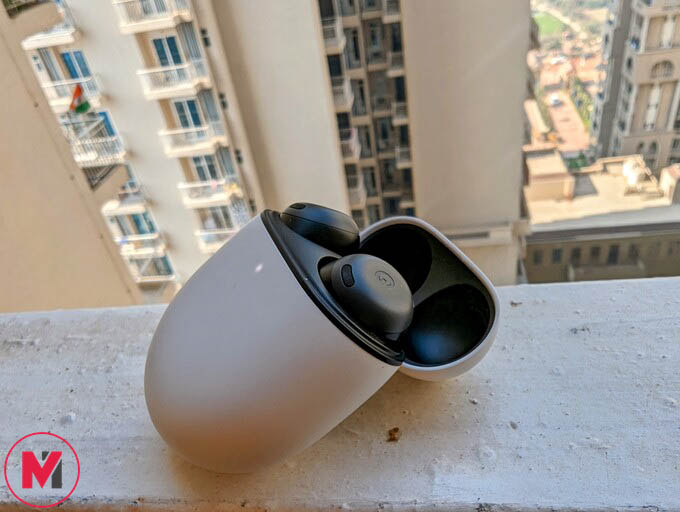 One of the best things about the Pixel Buds Pro is the battery life. The earbuds alone last more than 7 hours on a single charge. If that doesn't sound impressive, consider that this is with ANC all the time. The case can charge both earbuds up to three times for a total of 31 hours. This is consistent in our testing with Google's claims, and in this budget segment, this typically is the case.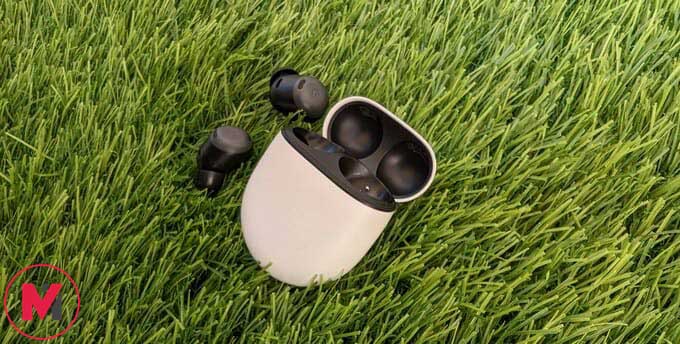 Even if you're a heavy user, the battery life on the Pixel Buds Pro can last you a couple of days easily. The battery life paired with the comfortable and fitting design and fairly good transparency mode is why I was able to forget I had earphones in my ear for about 5 hours.
Google Pixel Buds Pro Pros and Cons
Google's hardware products are known to have some glaring flaws, but they're also known to more than make up for it in the software side of things. That doesn't always work, however. What makes this bad is that for the Pixel Buds Pro, software is what lets the buds down in some places.
PROS
One of the best noise cancellation and transparency profiles
Impressive battery life
Customizable, consistent touch controls
Good bass depth and bright, sculpted highs
Hands-free and translation features on Android
Qi-compatible wireless charging case
Automatically switches between devices
CONS
No AptX support
Lacks LDAC support
No iOS app
USB charging cable not included
No third-party voice assistant support
A bit overpriced compared to more feature-packed competition
Key Features: Active Noise Cancellation | Transparency Mode | Easy Touch Gesture controls | Connect Multiple Devices | Automatic Switching | 7+ hours battery, 31 hours with case | 5-band equalizer | Spacial Audio support | IPX4 Sweat and Water Resistance
Best TWS Earbuds for Pixel Owners?
Knowing what you know now, it may sound like the Pixel Buds Pro are the best thing to get only if you have a Pixel, kind of like AirPods are for iPhones. But the answer again is kind of no, maybe. If you want the best ANC experience, you can get that with the Sony WF-1000XM4 and the Bose QuietComfort. Admittedly, they're both a tad more expensive. If you want high-end TWS earbuds for sports/exercise, the Jabra Elite 7 Pro offer much better water-resistance in the same price.
None of this means that the Pixel Buds Pro are bad, they're just not the best at nearly anything. You can ignore that if you consider that they're significantly cheaper than TWS earbuds that are actually the best at certain things. But the lack of aptX is big ifif you don't have a Pixel phone.
If you don't care, though, about the best ANC or the best IP rating, and you have a Pixel phone, the Pixel Buds Pro is definitely a good choice. You don't need to download any additional apps on the Pixel, pairing is fast and easy, and the buds look good with the phone. You may need help putting them back in the case for a while, though, I still can't get it right in one go and have to try a couple of times.
Pixel Buds Pro Review: Should You Still Buy Them?
Now that you know all about them, should you still shell out 200 bucks for them? That's a decision you will need to make because if you've been really looking forward to getting the Pixel Buds Pro, our answer might be disappointing. But that also depends on what you expect from it. For the feature set, Pixel Buds Pro is asking for a little too much from your pocket. The feature set has expanded since launch and includes a 5-band equalizer and spatial audio.
However, the Pixel Buds Pro only supports AAC and SBC when it comes to Bluetooth audio codecs. AAC works better with iOS devices and is mandatory for Bluetooth 5.0 devices. With Android, it gives inconsistent results. That's why most brands also support aptX, which is much better. The lack of aptX support is baffling here, given that the Pixel Buds don't even have an iOS app. Which platform is Google targeting here? The answer is neither.
Today's Deal: $40.00 Off
Google wants you to use these earbuds with the Pixel. With any other Android phone, defaulting to AAC, you will likely experience an audio lag. Not with the Pixel, because that's what these earbuds are made for. On the iPhone side of things, you don't experience any lag either, but that's because AAC just works better with iOS. That's probably why they don't give you an iOS app, lest you ignore the Pixel.