As the demand for video conferencing platforms increase, existing platforms including Zoom and Google Meet continue to add more and more features. In a recent update, Google Meet has added an AI-powered noise cancellation feature. With the new active noise cancellation, you will be able to make official meetings without much background noise.
Here, we will show you how to activate and use noise cancellation on Google Meet.
How to Activate Noise Cancellation on Google Meet?
The G Suite Enterprise and G Suite for Education users are getting the new Noise Cancellation on Google Meet conferences. The feature is rolling out slowly to specific users and is expected to roll out by later this month. If you are using your Google Meet for your business meetings and conferences, you can check for the feature and enable or disable the noise cancellation from the web. Here is how to activate Noise Cancellation on Google Meet from your PC or Mac.

Go to Google Meet from your web browser.
Click on the gear icon to open Settings from the window.
Toggle on "Noise Cancellation" under the Microphone.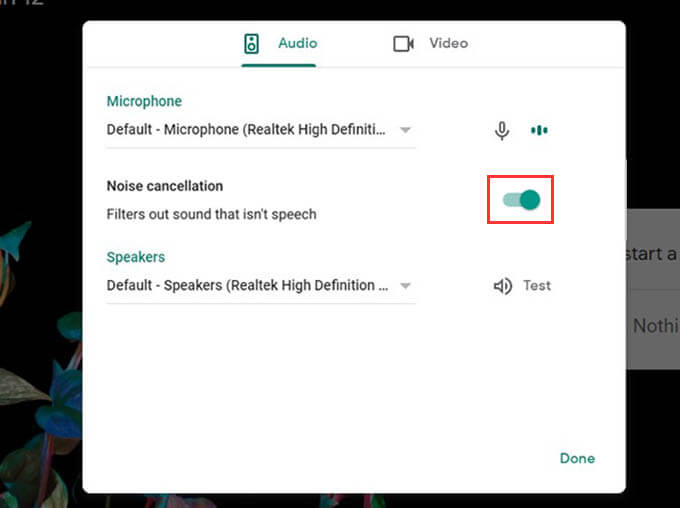 Enabling the noise cancellation feature for your Google Meet will filter out all the noise other than your own voice. Therefore, other people at the meeting will not hear the annoying sounds from your surroundings, whether it is the crunching sound or even the dog barking outside.
Also Read: 8 Best Google Meet Features That You Should Know About
How Does Google Meet Noise Cancellation Work?
Google's new AI-powered smart noise cancellation feature on Google Meet is yet another big step from the tech giant in terms of the real-time cloud-based audio processing. Google uses a secured Artificial Intelligence network to process the audio in real-time to filter out the "unwanted" noise. As of now, the Noise Cancellation feature seems to filter out almost everything other than the human voice. However, it does not exclude several noises in order to retain the naturality in conversations, according to Google.
You could filter out the generic noises like door slamming, crunching, ticking, tapping, dog barking, etc. with the Google Meet denoiser. The voice output is still audible, even with a noticeable sound loss.
There is no indicator to show if the Noise Cancellation on Google Meet is enabled. However, you could still feel the blurriness in the voice output during the conversation.
Also read: How to Use Your iPhone as a Webcam for Video Conference
Can I Get Noise Cancellation on Google Meet for Mobile?
As of now, the newly introduced Noise Cancellation for Google Meet is rolled out only to the web users. that too for G Suite Enterprise and G Suite for Education users. Therefore, if you have a G Suite account, you can make video conferences with advanced noise cancellation technology. Still, you might not be able to use it on your smartphone through Android or iOS apps.
Google has not yet confirmed the release of Noise Cancellation for the standard Google account holding Google Meet users. So, you cannot use the Noise Cancellation on the Google Meet app for Android and iOS. Anyways, you can wait for a slow rollout from Google for standard users and Google Meet Android/iOS app users.