Have you ever been in a very quiet environment and wondered what the decibel numbers the place must have? Of course, you haven't. But now that Apple has a decibel meter to watch OS, we expect more people to be aware of the noise levels around them.
If you have an Android phone, you might want to know if you can measure sound on it. And in fact, you can get a sound measurement on Android too with a little app called Sound Meter.
Get Sound Measurement On Android With Sound Meter App
Android users can use the app Sound Meter from Google Play Store as decibel meter fro Android. To measure the sound, just open the app and your Android phone will start to listen to the noise and display on the decibel meter app.
The interface is pretty minimalistic and straight to the point so it doesn't feel all that old, especially with the black theme. The top half od the app's main screen displays the decibel meter/sound meter along with the decibel reading.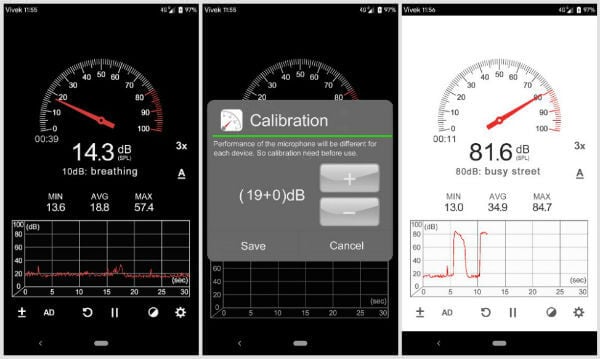 It also displays what the current noise around you is equivalent to. You can change how frequently the sound measurement is updated by tapping on the right of the meter "3x/2x/1x"
Right below that is the Text/Graph icon which lets you switch between a graphical and textual representation of the noise levels. There are some controls that let you Calibrate the app, show an ad, reset the meter, pause sound measurement, change between light and dark themes, and take you to the settings page, from left-to-right, and in that order.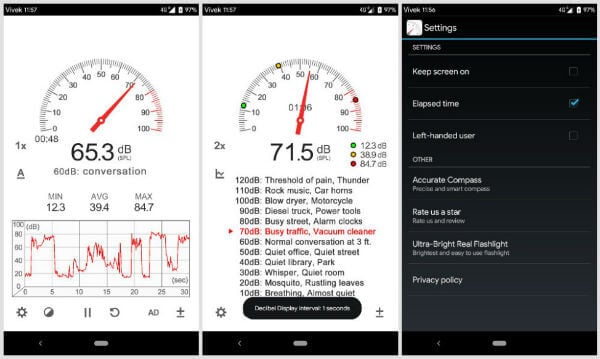 In the settings, you can choose to keep the screen on while the app is running, and there's also a Left-handed user mode.
Also read: How to Make Sure Android Hardware is Working Properly?
More Apps to Measure Sound On Android
Sound Meter isn't the only app on the Google Play Store that does what it does but it's certainly among the best. The app has over a million downloads and still enjoys a healthy 4.6 rating where over a million users have shared their opinion about it. Turns out a lot of Android users are actually interested in sound measurement.
Sound Meter & Noise Detector
While there are many similar apps, there aren't many that are actually good. Most of them are marred with annoying ads while others can't take remotely accurate sound measurements. Sound Meter & Noise Detector is one of the rare few apps that are good. Like the previous app, it also provides clear information about different noise levels to help you better understand them.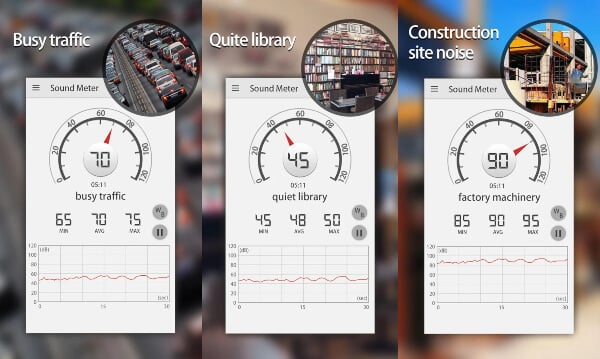 For example, 10dB is as quiet as the sound of someone breathing while 140dB is as loud as the shot of gunfire. This and a lot more comparative information is available in the decibel meter Android app. The interface is very similar to the Sound Meter app mentioned above.
Download from PlayStore: Sound Meter & Noise Detector
Sound Meter – Sound Pressure Level Meter
Sound Meter – Sound Pressure level meter is one of the few apps that have a different look to them. There aren't many good apps that don't look like clones of the Sound Meter app. The app features a minimal design on an AMOLED black background. Features are pretty much the same as any other sound app.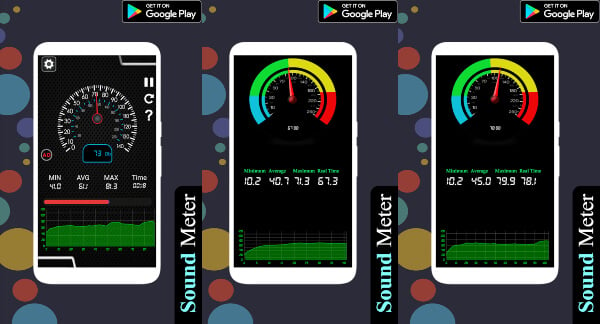 You can measure the sound levels, of course. It also gives you the option to view a Sound Meter, Sound Graph, or a Digital Sound Graph. Unlike previous apps, you can't switch between these on the fly but have to rather select one from the main menu. To see another representation you have to go back to the main menu.
That's not much of an issue but something that's different. It also lets you calibrate your microphones. Comparative information is also available as with the previous two apps.
Download from PlayStore: Sound Meter – Sound Pressure level meter
Decibel – Threshold Sound Meter (Noise Levels)
Decibel – Threshold meter has an even more distinctive UI but it's not the cleanest looking app out there. This particular app is, however, one of the more polished sound meter apps on Android.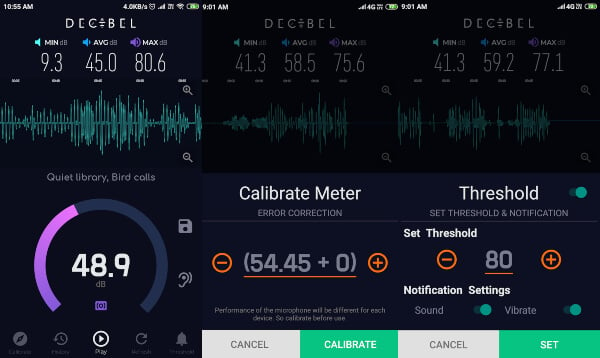 The Android decibel meter has the usual sound meter features, that is, you can obviously measure the sound and see information about it. It also lets you calibrate your device's mics. A unique feature with this app is the ability to set a threshold value. Anytime the app detects sound levels cross that threshold value, it will notify you.
Download from PlayStore: Decibel – Threshold Sound Meter (Noise Levels)
The apps do have certain limitations when compared to an actual sound measurement tool. These are mostly hardware limitations of your device though, which then limit how much sound you can measure on your Android device. The microphones on most devices are calibrated for the human voice. Very loud sounds, such as those around or over 90dB are not recognized as a result.