The new AirPods Pro 2 is in the market. There are already the Pro owners, and AirPods users are wondering whether this is worth updating. We have the same question before we get into the deep review of this new AirPods Pro 2.
Here is our experience with the new AirPods Pro 2 and what we feel about the features and the great ANC that Apple talks about on the stage.
Overview and Specifications
The new AirPods Pro 2 is better than the regular AirPods. Well, that's it. Let's jump to our review of the all-new Apple AirPods Pro 2. The all-new Apple AirPods Pro 2 stands out from the rest of the truly wireless earbuds that are available at different price points.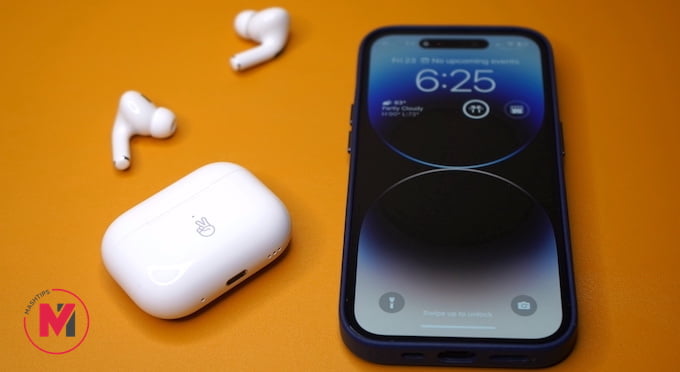 There is a slight change in the case (do not use your old AirPods Pro case for the new one), and the U1 chip is worth experiencing. Before we move to more details, let's take a look at what's packed under the hood of the Apple AirPods Pro 2:
Category
Apple AirPods Pro 2
Headphone Chip
Apple H2
Charging Case Chip
Apple U1
Protection
IPX4 Sweat and Water Resistant
Connectivity
Bluetooth 5.3
Battery
6 Hours per charge
30 hours with charging case
Charging
Apple MagSafe / Wired /
Apple Watch MagSafe Charger
AirPods Dimensions
30.9 x 21.9 x 24.0 mm5.3 g
Charging Case Dimensions
46.2 x 60.6 x 21.7 mm50.8 g
The battery power and the connection spec kept the same. However, the new AirPods Pro 2 supports the Apple Watch MagSafe Charger. So you have three new options to charge your AirPods Pro Case, including the lightning cable that comes with it.
Related: Apple AirPods Pro 2 Review: Great Earbuds with Super ANC
Apple AirPods Pro 2: Design
| | |
| --- | --- |
| Protection | IPX4 Sweat and Water Resistant |
| AirPods Dimensions | 30.9 x 21.9 x 24.0 mm5.3 g |
| Charging Case Dimensions | 46.2 x 60.6 x 21.7 mm50.8 g |
At first glance, you won't find anything different between the original Apple AirPods Pro and the AirPods Pro 2. But, if you look closely, you will see a few differences that will easily help you identify which ones are the AirPods Pro 2.
For starters, there is an LED indicator at the front of the charging case. With the new lanyard loop holder, you can now add a lanyard to hand your AirPods Pro 2 case to your bag.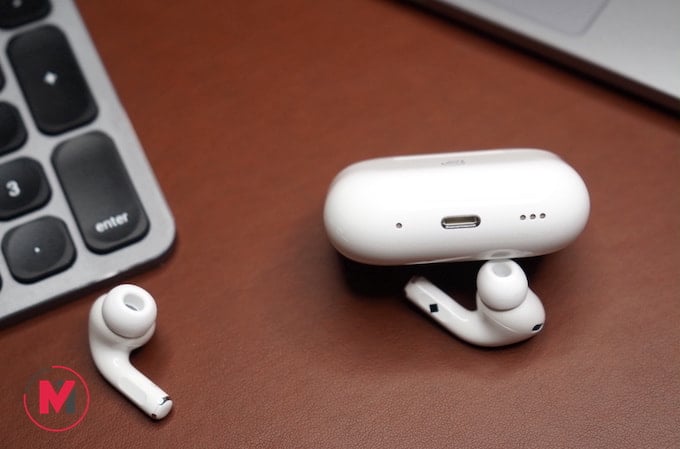 Another new feature that distinguishes the AirPods Pro 2 from other Apple AirPods is the speaker that has been added to the case. This is handy when you might have misplaced the charging case and need to find the charging case.
Out of this speaker, you will hear audible alerts when the device has been paired, low battery levels, and even audible alerts when you want to search for the charging case. The speaker is designed to make an audible alert, and the integrated U1 chain helps you to find the lost case just like the AirTag, with high precision.
At the bottom of the case, you will find the charging port to juice up the charging case and your AirPods Pro 2.
AirPods Pro 2: Audio Features
Headphone Chip
Apple H2
Connectivity
Bluetooth 5.3
Battery
6 Hours per charge
30 hours with charging case
Apple's AirPods Pro 2 comes with its custom-designed Apple driver and a custom AirPods Pro-designed dynamic range amplifier. One of the reasons why people prefer the Apple AirPods is because of the active noise cancellation. With the new AirPods Pro 2, you can expect 2x more active noise cancellation thanks to the Automatic Noise Canceling microphones at the outer tip of the AirPods.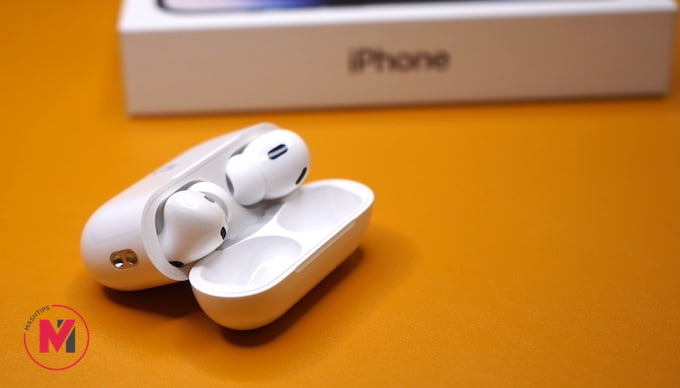 Apart from the active noise cancellation, the new AirPods Pro 2 now feature silicon tips in four different sizes which will not only fit your ear perfectly and keep the AirPods from falling out but will also prevent any outside sound or noise from interrupting any calls or audio that you are listening to via the AirPods Pro 2.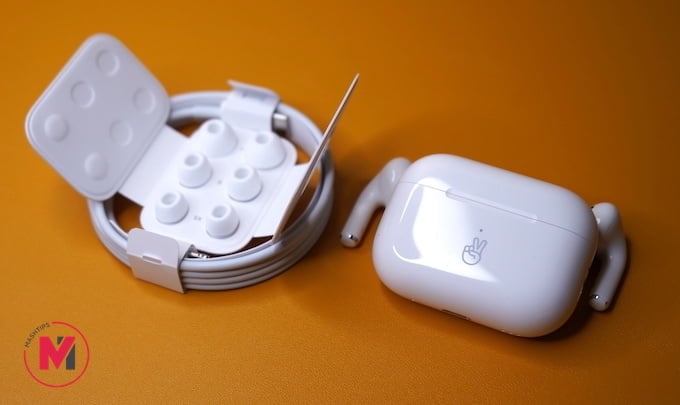 With the help of Adaptive Transparency, you can eliminate a number of noises from the outside environment. Apple claims that the new AirPods Pro 2 can reduce noise at 48,000 times per second.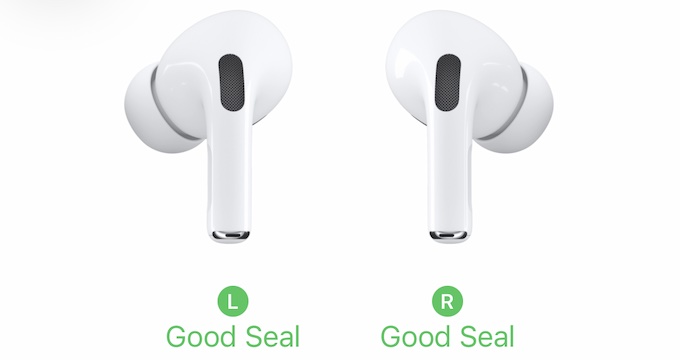 Another cool feature on the Appel AirPods Pro 2 is the Spatial Audio settings that can be personalized according to your liking. With Spatial Audio, you can get immersive audio quality when listening to music via Apple Music.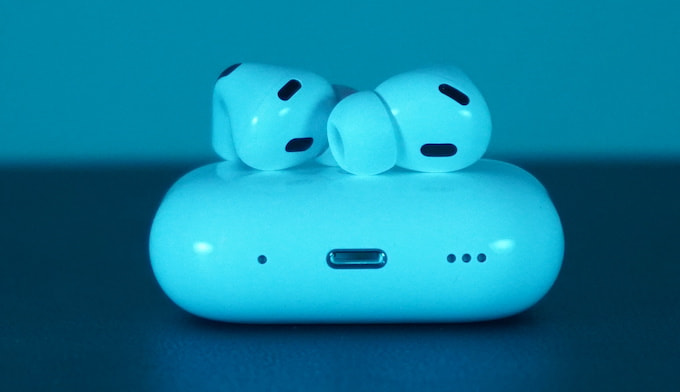 The new Adaptive EQ setting also helps you listen to every audio frequency as clearly as possible.
14 Best Apple AirPods Pro 2 Accessories: Chargers, Cases, Tips, Hooks, and More
AirPods Pro 2: Sensors
Let's look at what kind of sensors are on the AirPods Pro 2. The Skin Detect sensor is one of the most important sensors of the Apple AirPods Pro 2. This is because the AirPods Pro 2 can easily detect if the AirPods have been removed or put into the ears and then plays or pauses the music based on whether the AirPods are.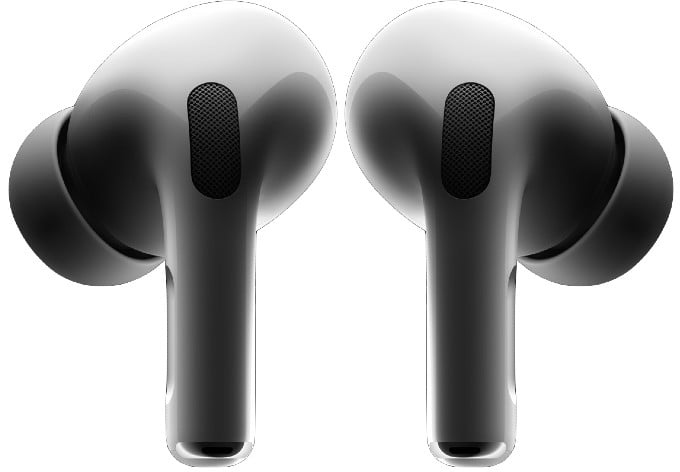 You also have the motion and speech-detecting accelerometer that help in allowing you to swipe on the stem of the AirPods to control your music and ask Siri to perform a few tasks without you having to use your iPhone.
AirPods Pro 2: Touch Controls
As seen on the other AirPods, the Airpods Pro 2 also features touch controls on the stem. Here is what happens when you touch or tap on the stem.
Control
Function
Single Press on Stem
Singel to pause, play or answer an incoming call.
Double Press on Stem
Fast forward to the current track
Triple Press on Stem
Skips back to the previous track
Press and Hold
Switch quickly between Active Noise Cancellation
and Adaptive Transparency / Activate Siri
Swipe Up or Down
Increase or Reduce the volume
Hey Siri
Invokes Siri and lets you ask it to perform a task.
Siri and ANC controls are customizable for individual AirPods stems. You can set one AirPods to get Siri and the other for ANC controls. Similarly, you can change the swipe up/down speed in AirPods' Accessibility Setting.
AirPods Pro 2 vs. AirPods Pro (Should I Upgrade?)
There are some unique features Apple introduced with the AirPods Pro 2 versions. Let's check some of them and see if it is worth upgrading from AirPods Pro to Pro 2.
Automatic Noise Cancellation (ANC): The ANC is not new in AirPods. However, Apple did an amazing job of introducing a more powerful ANC expense in AirPods Pro 2. The ANC is superb compared to the AirPods Pro version. In addition, the low frequency (bass) has got a bit of a boost on the new AirPods Pro 2.
Editor's Note: Based on our experience, the ANC was not good in high frequencies. The cancellation is not working, especially if you have any high-frequency sound or ambient noise. Other than that, the ANC works great with the new AirPods Pro 2.
AirPods Case Speaker: The speakers are a new addition to the AirPods Pro case. These are pretty handy when we use the "Find Me" feature with AirPods to find out your missing AirPods case. Also, the case makes a sound when placed in a charger and reaches a low battery.
AirPods Case Size: There is a slight change in the case, do not use your old AirPods Pro case for the new one. Also, the newly added "lanyard loop" makes it portable and easy to carry around with your car key.
FindMe with Precision: The new AirPods Pro 2 case comes with the U1 chip used on the AirTag. This will help you find the missing case with a high-precision location just like you finds your AirTags.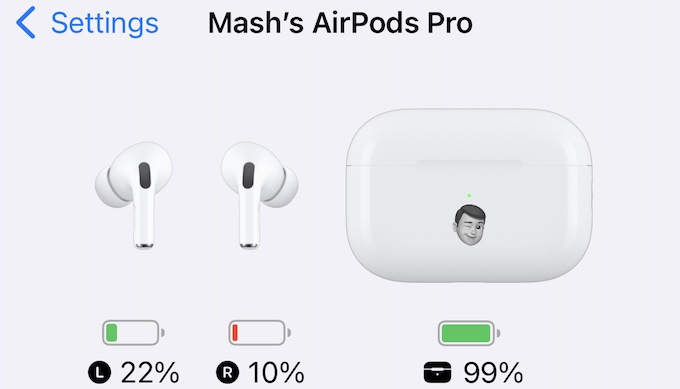 Engraving: With the new AirPods Pro, you can see the engraving (free from Apple) on your AirPods Case on the Software. It is a nice free addition from Apple, where you can have the customized emoji on your iPhone.
The spatial audio and other software features are also added in AirPods Pro and Pro 2. In a nutshell, as long as your AirPods Pro works well and offers good battery life, not worth upgrading. But if you are looking for new AirPods, go for Pro 2.
AirPods Pro 2: Exclusive Features
While the AirPods Pro 2 will work perfectly for everyone, people with disabilities need the help of certain features that helps them to easily use the AirPods Pro 2 without having to struggle around for no reason. Live Listen can be enabled on your iPhone using the AirPods Pro 2. This feature allows you to use your AirPods Pro 2 as a microphone that allows you to have conversations with other people without having o remove your AirPods Pro 2.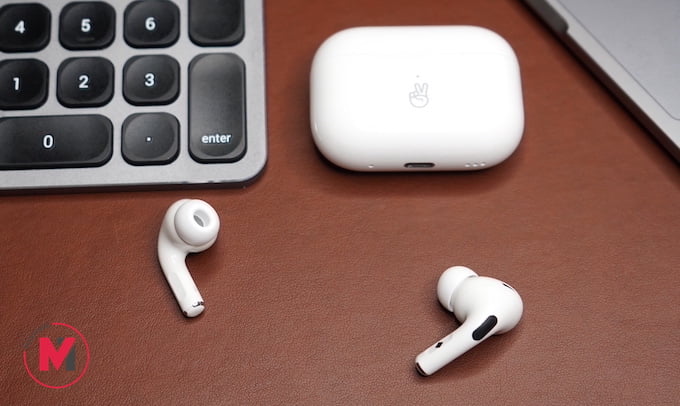 Headphone Audio Levels is another great feature that allows you to amplify or adjust different audio frequencies. It's basically like an equalizer, but for the sound frequencies, which can be adjusted using your iPhone or iPad.
And finally, Conversation Boost allows you to hear what another person is saying by filtering out the ambient noise and unwanted sounds via your AirPods Pro 2. Conversation Boost allows you to pay attention to what the other person is saying to you. This works perfectly when using Transparency Mode on the AirPods Pro.
Draining Battery: 7 Tips to Improve AirPods Pro 2 Battery Life.
AirPods Pro 2- Software Updates
Concerning software updates, your Apple AirPods Pro 2 will always be updated automatically. These updates are downloaded to your iPhone and then installed on your AirPods Pro 2 either when they are charging in the case or within Bluetooth range of your iPhone.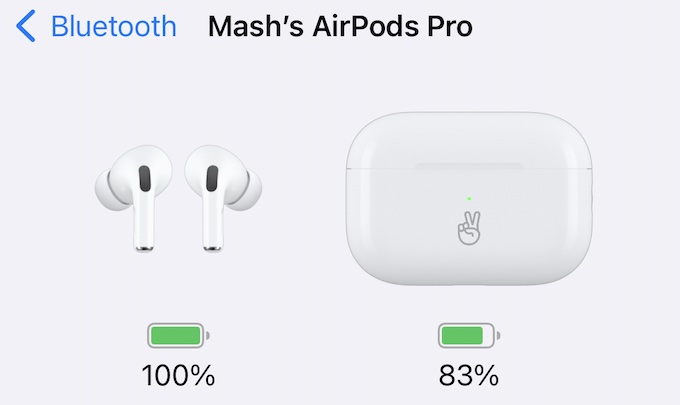 Apple provides these updates regularly, and this process requires no user input. You can check the AirPods Pro version on the settings page.
AirPods Pro 2: Supported Apple Devices
As we all know, Apple products are perfect with devices that are inside the Apple ecosystem. The same can be said for the new Apple AirPods Pro 2. Apple will support most iPhones, iPads, Apple Watches, and Mac devices without any issues.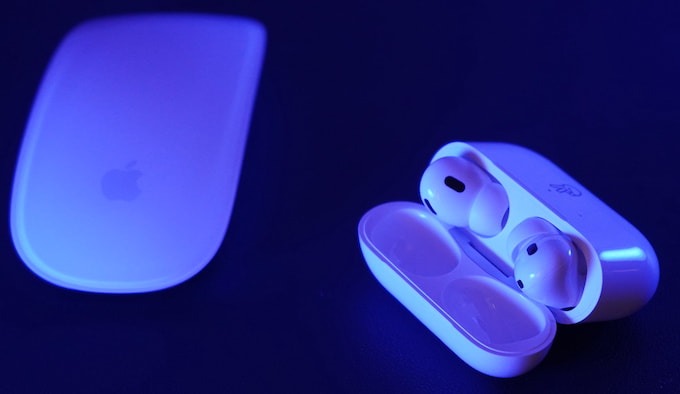 Compared to other third-party ANC earbuds, the AirPods Pro or any AirPods from Apple can automatically switch between Apple devices. One of the best features that make Apps AirPods Pro superior to other ANC Earbuds.
Apple AirPods Pro 2- What's in the Box
When you purchase your brand new Apple AirPods Pro 2, these are the items you'll be getting in the box.
Apple AirPods Pro 2
MagSafe Charging Case
4x Silicon Ear Tips (S, XS, L, M)
Lightning to USB- C Cable
AirPods Pro 2 Documentation
Pricing and Availability
The brand new Apple AirPods Pro 2 can be purchased from Amazon itself or the Apple Website. The advantage of purchasing from the Apple website is that you can freely engrave your AirPods with a mix of emojis, letters, and numbers. If you plan on purchasing from Amazon, it would be advisable to purchase it at a discount during the holiday sales that will be coming up soon.
Today's Deal: $30.00 Off
AirPods Pro 2 Pros and Cons
No product is perfect; everything comes with its pros and cons. We sincerely expect, and USB-C port for the new AirPods Pro, and Apple released this version with the same lightning version too. There are Pros and Cons we want to point out here for the sake of this review. Even if you are an Android user, you don't have much luck with this AirPods Pro.
Pros:
Active Noise Cancellation
Easy to Setup and Pair
Portable Design
Find My AirPods Pro
Cons:
No USB-C charging
Available in White Color Only
Certain Features won't Work on Android or Windows Devices
Key Features: ANC | Apple H2 Headphone Chip | 6 Hours Battery | 30 Hours with Case | Transparency Mode | AirPods Case Speaker | Software Engraving | Find My for Case | Apple Watch MagSafe Charge Support | Bluetooth 5.3 | IPX4 Sweat and Water Resistant
To conclude, the Apple AirPods Pro 2 is one of the best feature-rich and excellent-sounding wireless earbuds available. Sure, the pricing might be steep for some people, but it would be great if you could get it during the holiday discounts on Amazon; you will have to be quick as these AirPods Pro 2 sell like hotcakes.
Regarding audio quality, Apple doesn't compromise on it. You will hear the vocals, treble, and bass perfectly and clearly without any problems. Also, when you purchase the Apple AirPods Pro 2, you get access to six months of free Apple Music subscription.