Apple AirPods are too small to handle, and not easy to find AirPods if you lost it. Since it is very small, there is a big chance you would lose them. Even though the AirPods shape similar to the buds of old wired EarPods, it can fit int your ears perfectly like any other in-ear wireless earphones. However, there is a big chance you could lose them when you work out or run with putting those buds on.
Apple introduced the feature Find My AirPods feature to find out the lost AirPods. In addition to that, we are describing several clever ways to find your lost Apple AirPods.
How to Find AirPods with Siri
With the new firmware update for AirPods and the second generation (AirPods 2) released, Apple configured the Siri to find your AirPods in case they are lost. Instead of going through all those settings, and before you are beginning to panic, it is quite easy to try to find AirPods by asking Siri about it.
It is pretty easy and quick rather than trying the Find My AirPods feature. Here is an example of the command for Siri to find your Apple AirPods when they are not found.
"Hey Siri, Locate my AirPods."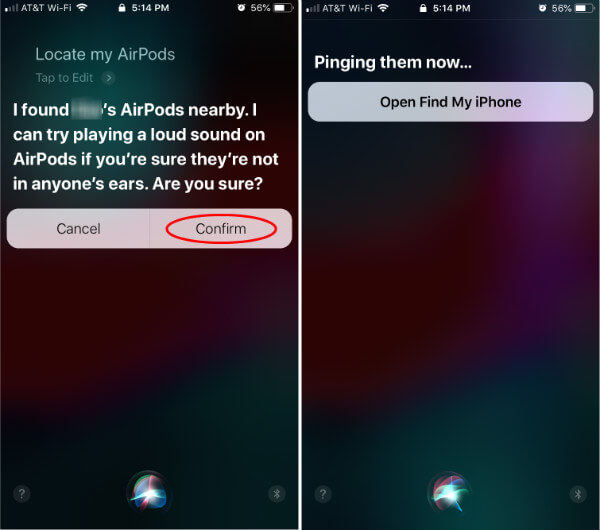 The Siri command can instantly locate the AirPods if they are connected to your iPhone at the moment. It can then send a high pitch sound to the lost AirPods, so you can locate them easily. Siri will guide you to open Find My iPhone as the next step if you can't find the AirPods with sound. Refer Setup AirPod to Work With Siri if you are not aware of the Siri feature on AirPods 2.
Find AirPods with Find My AirPods Feature
Since every Apple devices connect with the iCloud account, it is possible to find almost all of them using the Find My iPhone feature. The "Find My iPhone" on iOS devices and iCloud helps you protect your iPhone and iPad from getting stolen, and locate them easily if lost. The app can list every device that is synced with the same iCloud account, and their last location based on the online and location history.
If you have lost your Apple AirPods outside of your home, and sure that someone could have it, you can simply use the "Find My AirPods" feature to locate them in the Map. Here is how to find Lost AirPods using "Find My AirPods" on your iPhone/iPad.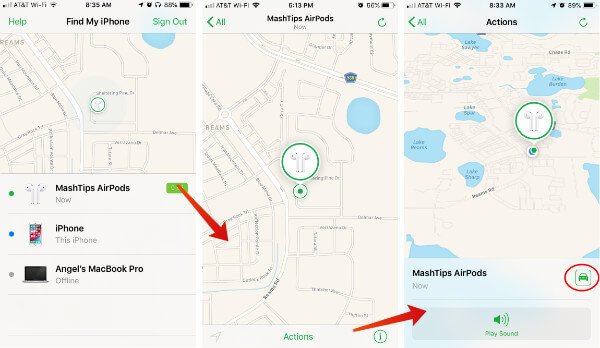 Open the "Lost My iPhone" app.
Make sure you are using the same Apple ID.
Tap your AirPods from the list.
You can identify the current status of your Apple AirPods by looking at the colored dot on the left. Here is what they mean:

Blue: Device you are using.
Green: AirPods are online.
Red: AirPods are offline.

Tap on Actions.
Tap on Car Icon.
Your iPhone will open the Map and show you the AirPods location in the Map. You can then find directions to find AirPods from the map on Find My iPhone app.
You may not able to face some difficulty even if you find the right spot of your AirPods in the Map. Once you reach the location, you can play a sound to figure out the precise location of the AirPods. If your AirPods is nearby and connected to your iPhone via Bluetooth, follow the steps to play some sound on the AirPods.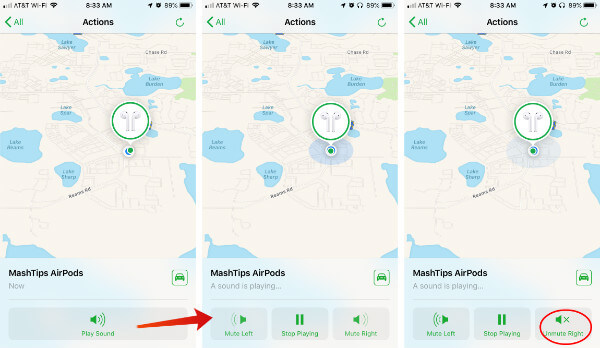 Open Find My iPhone app on your iPhone.
Find your AirPods from the list.
Tap Actions.
Select "Play Sounds."
Your AirPods will start playing sound for two minutes, and you can find them easily.
If you already found one bud, you can choose to mute the current one and keep playing the sound on the lost bud.
Editor's Note: You don't need to register AirPods with Find My iPhone app. Your AirPods will automatically add to your devices list when you pair AirPods with iPhone.
Related: Should I Choose AirPods Pro or AirPods?
Find AirPods with iCloud
Don't you have iPhone handy or unable to use the Find My AirPods Feature? You can open an iCloud account in PC or Mac to locate the lost AirPods. Here is how to do find lost AirPods by logging into the iCloud from any PC browser.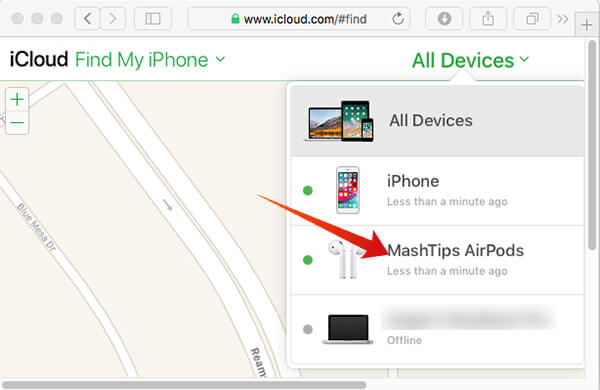 Open icloud.com from your web browser on PC or Mac.
Sign in with your Apple ID.
Click "Find iPhone."
Expand "All Devices" and choose your lost AirPods.
Find the lost AirPods using the map provided.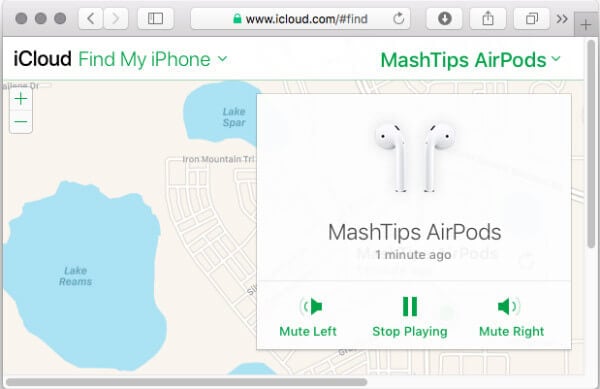 You can also send a sound to the AirPods if it is online. If you have not turned on the Find My iPhone feature for your iPhone and AirPods before it went missing, it will be quite difficult to find your misplaced Apple AirPods.
Play Song Direct from iPhone
Do not panic if you still have not been able to find out the AirPods so far. There are still many other ways to find out the device, which you may not be thinking of. And, here is one. You can try playing some sound or song on your AirPods so loud so that you could trace them in a bit of time if the AirPods are nearby.
Even if the iPhone is connected with your AirPods, the default playback speaker will of iPhone's since the buds are not on your ears now. Check out how to find lost AirPods by playing music so loud.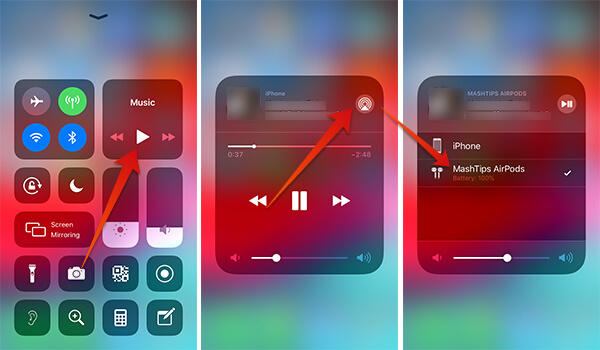 Launch the Control Panel on your iPhone.
Play a song from the Music box.
Tap the AirPlay icon right within the playback control panel.
Choose the AirPods from the available device list.
Set the volume to the max level to play on AirPods.
Listen carefully for the music from your AirPods.
As the volume is at highest, you could hear to the music coming out of the buds, if it stays anywhere near you. Instead of playing music, there is a way to play some loud sound on your AirPods from your iPhone to find lost AirPods.
Editor's Note: Please note that the playing loud sound or music on your lost AirPods work only if it is still connected to your iPhone.
Find AirPods Case
If you were looking for the AirPods Charging case and not the earbuds, there is no point in searching further. The Find My iPhone and Music Playback only locate the AirPods buds and not the charging case. Therefore, in case you have lost your AirPods Case, you should be looking to buy a new case.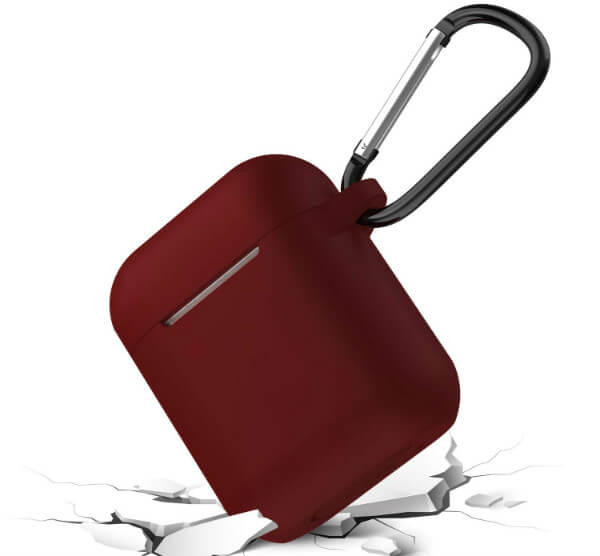 Apple provides the AirPods cases alone, which could cost you $59. Also, it can go up to $79 if you are getting a wireless charging case for your Apple AirPods. You already learned your lesson. When you buy the next one, please get one AirPods case skin (9 bucks from Amazon) and buckle up them with your bag or jeans.
Also Read: 7 Best Wireless Headphones for iPhone to Replace AirPods
Tips to Never Lose Your AirPods Again
You may have finally found your AirPos after lots of searching. I can guess what you were thinking right after getting them back on your hands – never lose them again. It is apparently difficult to keep them AirPods without losing, as they are too small. Here are several tips to help you never lose the pair of AirPods ever again.
Use Bud Skin/Earhook
There are these silicon or rubber skins available for Apple AirPods, which could fit on the bud perfectly. The covering skin can help itself to fit against your ear opening, and keep them off from falling down during workouts.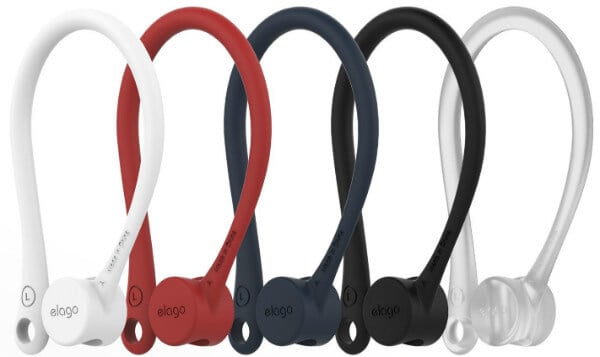 You can also avail Skins with Earhooks that make it look like a sports earphones, to lock it up on your ears. If you are looking for total protection to your AirPods case and AirPods, you can get AirPods Accessory Set with Case, Ear hooks and Strap.
Use Tic Tac or Mint Decals on Case
You cannot just neglect the chance of getting your AirPods stolen when you are among a huge crowd. Well, there are some simple techniques to keep those sneaky thieves away from pickpocketing your AirPods. You can just buy some Tic Tac, Mint or similar-looking decals for your Apple AirPods case. Next time you look at your AirPods case, it will definitely resemble a flip-case for mint or candy.
Name AirPods Your Phone Number
Are you afraid of losing your AirPods on the street or public places? You can simply set your phone number as the AirPods Name. So, when someone finds it elsewhere, they could find out the phone number in the position of device name while trying to connect. You could wish for them to contact you to hand it over back to you. If you don't know, see how to change the name of your AirPods.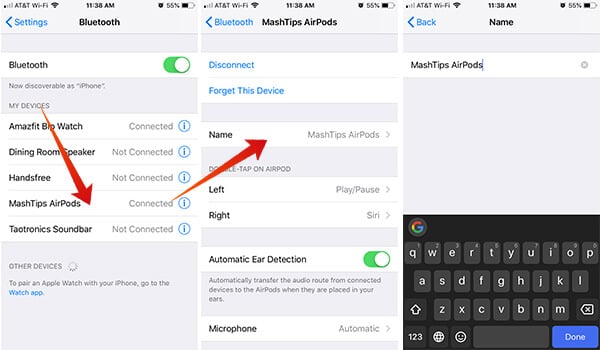 Connect AirPods with your iPhone.
Open Settings > Bluetooth.
Tap your AirPods.
Tap Name.
Enter the new name (phone number).
Editor's Note: When you name your AirPods with a phone number, everybody can see that phone number in public. If you are not comfortable with revealing your name, you can give your website URL or twitter handle and dream for a good samaritan who returns your device.
Use Keychain Protective Cover for the Case
As you already know, you could avail of lots of protective covers for your AirPods case in different styles. The ones which look similar to keychains are the most helpful. You can attach your AirPods to your home or car key so that you never wanna worry about missing it again.
Attach a GPS/Tracking Tile to the Case
Along with the AirPods Case protector skin with keychain hook, you can attach an additional GPS tag or Key tracker tile. With it, you can track your AirPods even if it goes offline. Buy yourself a Tile Mate Tracking Tile from Amazon now.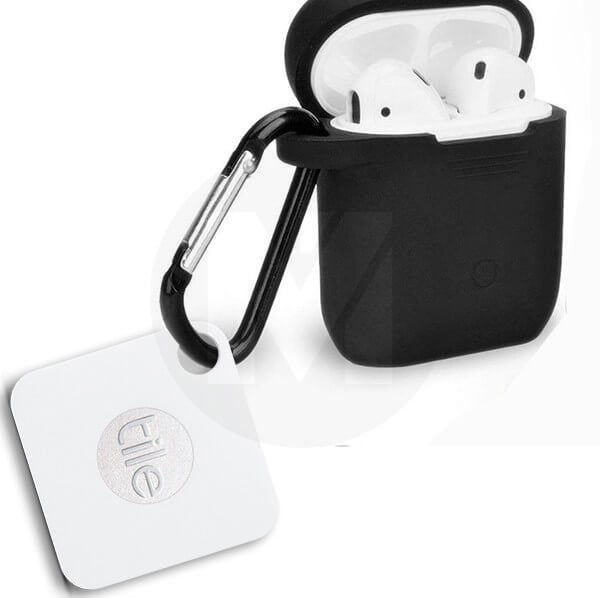 Use Anti-lost Strap for Earbuds
Apple AirPods earbuds are separated, and still too small. If you are the type of putting them on all the time, we would suggest you go with the "anti-lost straps" that are available online. These straps can attach the earbuds on both the ends and let them have you like a neckband.
Losing AirPods is totally painful for everyone, but unlike other earphones, you could find them easily to an extent. Please be aware, once you lost it, the lucky guy who gets it can pair and use it. There is no software lock or any other kind of protection you can do on a lost AirPod. Better you not lose it and always keep safe by following the measures explained above. Comment down if you managed to find any more tips to find the lost AirPods.