Apple always introduces new features or improvements for AirPods, and iOS 17 is no exception. With the release of iOS 17, Apple has once again elevated the user experience, offering a suite of innovative features designed specifically for AirPod aficionados. From enhanced audio quality to intelligent connectivity, iOS 17 promises to take your AirPods to new heights. It has introduced a new listening mode, Adaptive Audio, which adjusts the audio according to the environment. Most new AirPod features are available only for AirPods Pro 2 users. In this article, let's walk through the unique features of AirPods in iOS 17.
Table of contents
Mute/Unmute in Calls
While attending office meetings on your iPhone, you might want to mute or unmute yourself. With iOS 17, you can just press the stem of the AirPods to mute or unmute yourself during calls quickly. If you are using AirPods Max, press the Digital Crown.
Before trying out any of the new features, you need to update the AirPods firmware to the latest version.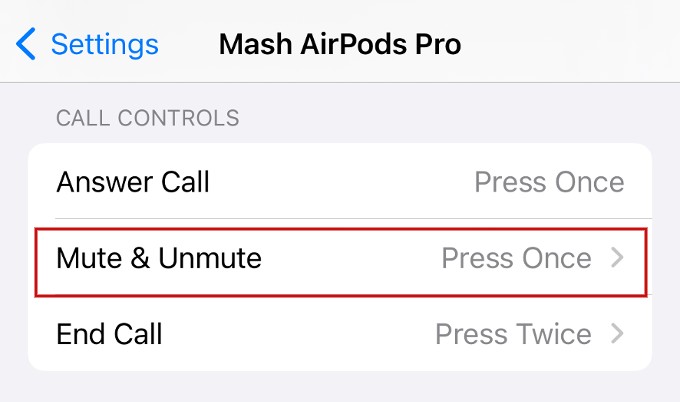 Go to Settings and tap your AirPod name.
Under the section CALL CONTROLS, tap Mute & Unmute to select Press Once or Press Twice. By default, the value is set to Press Once.
This feature is available on AirPods Pro (1st and 2nd generation) and AirPods. (3rd generation)
Adaptive Audio
According to Apple, "Adaptive Audio dynamically blends Transparency and Active Noise Cancellation to tailor the noise control experience as you move between changing environments and interactions throughout the day."i.e. it dynamically adjusts the external noise by adjusting the noise cancellation and transparency levels on your AirPods.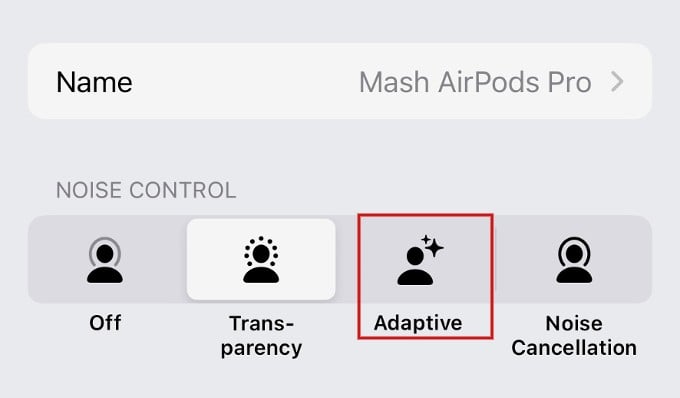 On your iPhone, go to Settings and tap your AirPod name.
In the NOISE CONTROL section, tap Adaptive to enable the feature on your AirPods Pro 2.
You can also enable Adaptive Audio from the Control center.
Conversation Awareness
Conversation awareness is an excellent feature on iOS 17 that automatically lowers the media volume and reduces the background noise when speaking with other people. Navigate to the AirPod settings screen on your iPhone and toggle Conversation Awareness under the section AUDIO to green or on.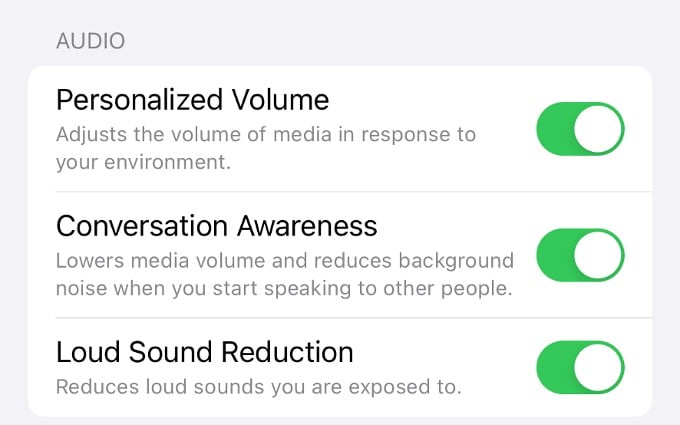 At the time of writing, this feature is only available on AirPods Pro 2.
Personalized Volume
Everyone sets a different volume level while listening to music or other content. The new feature uses machine learning to learn your listening habits and adjust the volume based on your style and the sounds around you.
To enable this feature, go to AirPods settings on your iPhone and toggle Personalized Volume to on. Both conversation awareness and personalized volume are part of the adaptive audio feature.
Dark Mode
Another exciting change in iOS 17 for AirPods is the dark mode. When dark mode is enabled on your iPhone, and you connect an AirPods, then the connection pop-up will also switch to dark mode to provide a complete dark mode experience for the users.
Automatic Device Switching
With iOS 17, the AirPods can automatically switch between Apple devices much quicker than before. You don't need to enable any settings for this, as it is available by default.
With the above-listed features, we hope that the AirPods Pro 2 will provide a seamless listening experience and a noise-free environment during calls.
From spatial audio advancements that immerse you in your music to intelligent connectivity that effortlessly transitions between your devices, iOS 17 ensures that AirPods remain at the forefront of wireless earbud technology.
The ability to fine-tune audio settings, the convenience of "Find My AirPods," and the privacy-focused features further solidify the bond between your AirPods and your iOS device. These improvements elevate your music and communication experiences and exemplify Apple's commitment to innovation and user satisfaction.
So, whether you're a long-time AirPod user or considering making the switch, iOS 17's tailored features will undoubtedly enhance your daily life and immerse you in the Apple innovation world. Embrace the future of audio with confidence, knowing that Apple has your back and ears covered.