Apple's iOS 17 now offers a convenient feature called Family Passwords, which allows you to share your passwords with a select group of trusted individuals in your contacts. For example, you can share your Amazon password with your spouse or family member so that they can buy things using your account. You can share any password for any app or website safely stored in your iCloud keychain.
What are Family Passwords
Family Passwords is a feature on iOS 17 that allows you to share the passwords stored in your iCloud keychain. Its main purpose is to share the passwords between you and your trusted contacts seamlessly and securely.
You can easily share passwords for streaming services, online shopping sites, ride-hailing platforms, food delivery apps, and more. You can selectively share passwords with different members of your family group, such as your kids, spouse, and friends.
How to Share Passwords with Your Contacts
To share passwords with your friends or family, you need to make sure their device is also using iOS 17 and that iCloud keychain is activated. Let's see how to do that.
Open Settings app on your device. Scroll down and tap Passwords.
After authentication with Face ID, you will see the Passwords screen. Below the Password Options, tap Get Started.
Tap Continue in the descriptive screen about sharing passwords.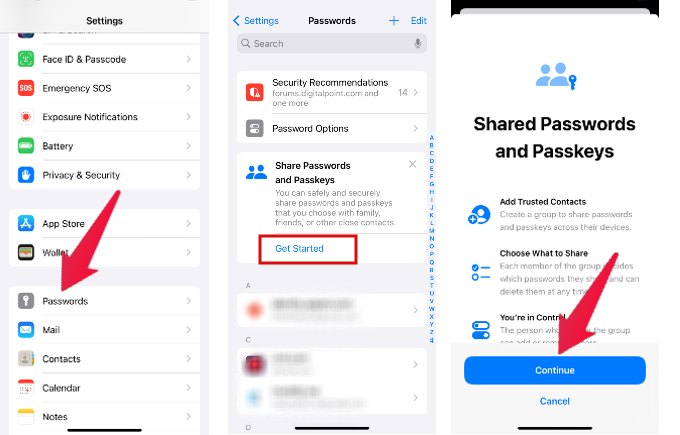 In the New Shared Group screen, enter a name for the shared group on the box provided. (eg. Family).
Tap Add People. Then, select the list of contacts you want to add and tap Add on the top right. Do remember that you can add only those whose devices are running iOS 17.
After adding the contacts, tap Create on the top right to create the shared group.
Now, you can see the list of passwords stored on your iCloud keychain. Go ahead and select the passwords you want to share and tap Move on the top right.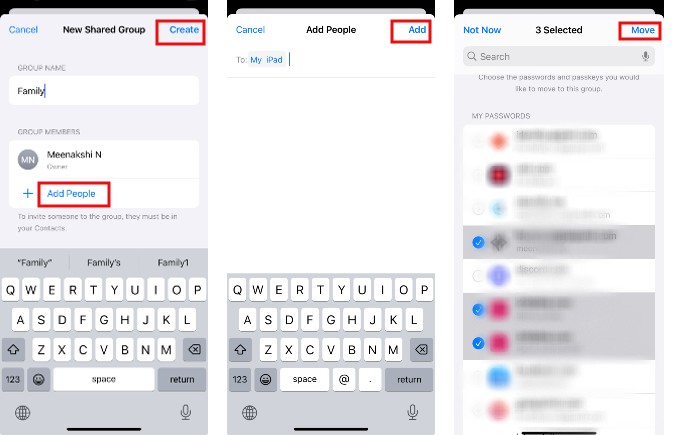 In the next screen, tap Notify via Messages and follow the on-screen instructions to send a message to your contacts about the password sharing.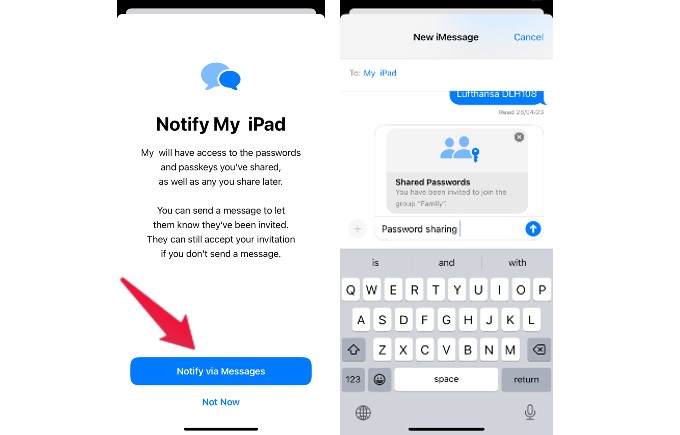 That's it. Now, all the contacts in the shared group can access the passwords.
How to Manage Shared Passwords
After creating a shared group, you can add new people or remove existing ones from the group anytime you wish. Plus, you can remove one or more passwords from the group so that they will not be shared anymore. Let's see how to do that.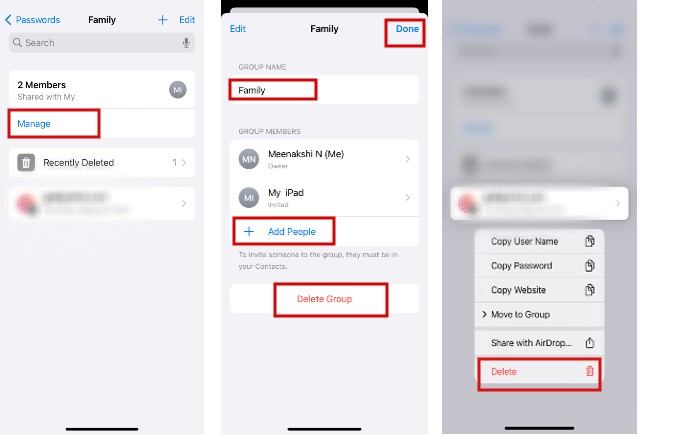 Navigate to Settings->Passwords.
In the Passwords, tap the name of the shared group you need to edit.
In the new screen, tap Manage.
Here, you can add people by tapping Add People or you can change the group name. Once you are done, tap Save on the top right.
To stop sharing a password from the group, long tap on the password and tap Delete in the pop-up menu.
Tap Delete Shared Password in the confirmation screen.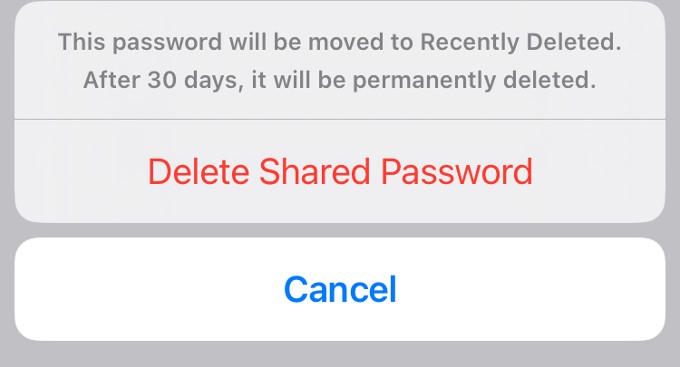 How to Recover Deleted Password
Have you deleted a shared password by mistake? No need to worry. After you delete a password, iOS moves that to the Recently Deleted folder. You can recover a deleted password within 30 days from the time of deletion.
Go to Settings->Passwords.
In the passwords screen, tap Recently Deleted.
Long tap on the password you deleted till you see a pop-up menu. Here, you can tap Recover to My Passwords or Recover To Group to restore the password.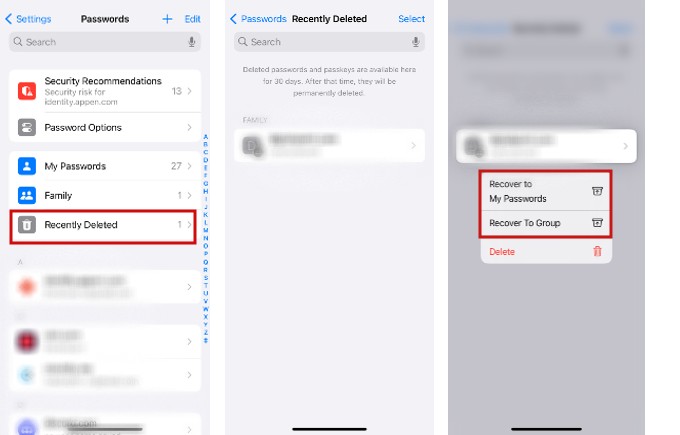 How to Delete People in a Shared Group
Apple allows you to remove specific people from the shared group whenever you need. Let's see how to do that.
On your device, go to the shared group from which you need to remove contacts.
In the shared group screen, tap on X Members (X – total number of members in the group) above Manage.
Tap the contact you want to remove and tap Remove from Group. (If you want to delete the entire contacts from the group, you can tap Delete Group)
Tap Remove From Group in the confirmation screen.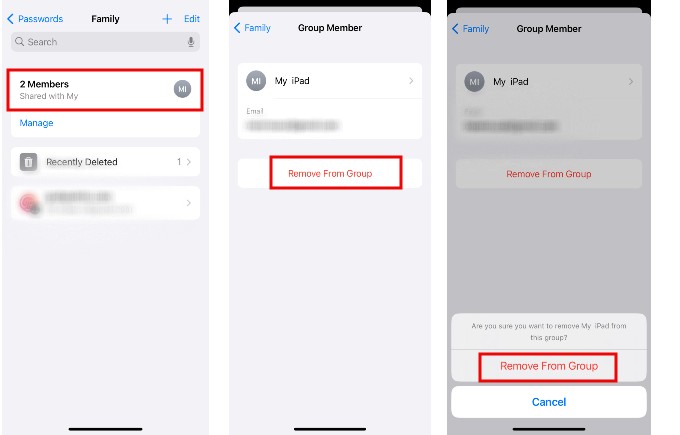 After removing a contact from a group, you will see a warning message that prompts you to change the passwords like below: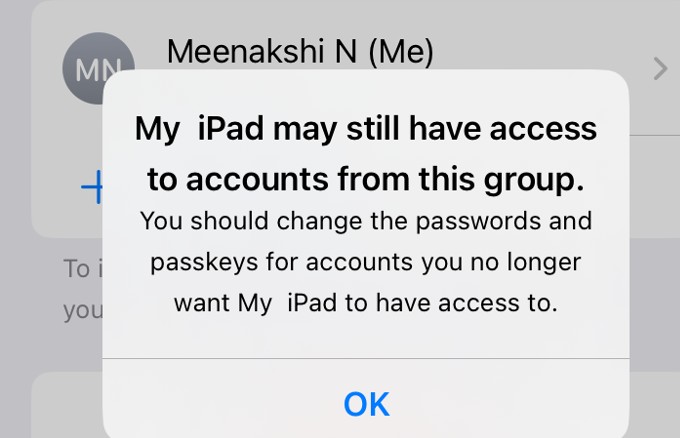 If you delete someone from a group, it is highly recommended to change the passwords and passkeys to prevent them from accessing your accounts.
Few Things about Family Passwords
Before sharing the passwords with someone, please make a note of the below things:
You can add only people from your contacts to the shared password group. So, if you want to share passwords with someone, you must first add that person to your contacts list.
The contacts you have added can view the passwords only if they accept the invite.
Ensure that the people in your shared group have enabled iCloud keychain so the passwords will be synced correctly.
If you are using the same password for different types of services, the person in the group can misuse that for other purposes. Therefore, you must ensure you only share the passwords with trusted people. Avoid sharing passwords of bank accounts or other financial services.
You can create as many shared groups as you like. For example, you can separate groups for family, friends, kids, co-workers etc to share passwords.