When you save passwords for websites and apps from your iPhone or Mac, the iCloud KeyChain is where you keep them. Apple offers protected password storage with the iCloud and lets you use them across your Apple devices. Well, if you just had to switch to Windows PC and wondering how to retrieve ll those saved passwords in iCloud, here is a solution.
In this guide, we will talk about how to get iCloud KeyChain saved passwords in the Chrome browser on your PC.
Get iCloud Passwords in Chrome
In order to get the iCloud Keychain saved passwords on your PC, you need to have the Google Chrome browser installed on your PC. Also, you need to install the iCloud application on the PC. Make sure you follow these steps before settings up iCloud on your PC.
Related: How to Autofill Passwords on iPhone from Google Password Manager
Download and install iCloud on your PC.
Sign in using your iCloud email ID and password.
From the next screen, check the Passwords option and click on Apply.
Now, open the Google Chrome browser and install the iCloud Passwords extension.
Click the iCloud Passwords extension icon from Chrome.
A popup will appear on the bottom right corner of the screen with a 6-digit code.
Enter the same code in the extension popup.
Choose to autofill the password for the website from your iCloud KeyChain.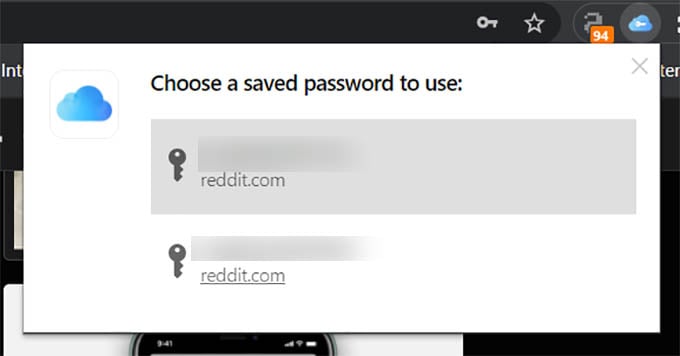 Related: How to Check If Your Passwords Were Leaked Using Your iPhone
All your saved passwords from iPhone, iPad, or Mac will now be synced with your Windows PC, Chrome browser. You can also install and use the iCloud Passwords extension with any Chrome extension supported browsers like Edge or Brave. It also lets you save passwords to iCloud KeyChain when you register on new websites from your PC.