Apple AirPods are undoubtedly the best wireless earbuds ever created for an Apple iPhone. Although, when it comes to Android smartphones, not many people buy them purposely. However, if you have an iPhone which used to pair with AirPods, you should be looking to use the same Apple AirPods with Android as well. Well, if you have so clue about using the Apple-focused AirPods on Android, here is a complete guide.
Do AirPods Work on Android?
Apple AirPods are designed for iPhone devices, and they pair well with each other. However, still, the question remains for the Android community. Can You Use AirPods with Android? However, there may be many reasons one wants to use the same wireless earbuds on an Android device.
If you are in such a situation and confused, here is the simplified thing. Like any other wireless earbuds on the market, the Apple AirPods is a standard Bluetooth-enabled device with standard Bluetooth transceivers and similar protocols. Therefore, Yes. You can use the Apple AirPods with any device, including an Android smartphone.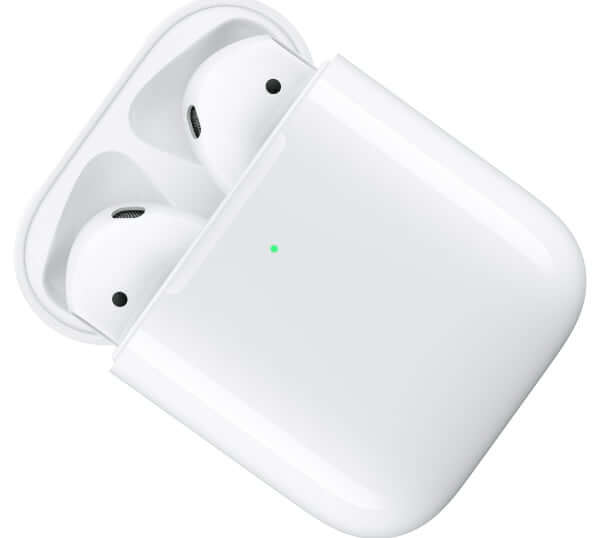 One of the major reasons you feel the AirPods is something beyond a normal headset is its unique pairing ability with Apple iPhone models. When you open the case lid, your iPhone nearby will suddenly prompt you to connect with the AirPods, and no buttons will be pressed.
That is cool, and no third-party headsets would be that compatible with an iPhone. However, technically they are standard Bluetooth headsets and can be connected to Android or Windows devices. Although, many of the features and connection reliability might get affected with AirPods on Android compared to when it is connected to an iPhone.
Related: How to Connect Apple AirPods with Windows 10 PC?
How to Use AirPods on Android?
When you are pairing the Apple AirPods with a compatible iPhone model, there is no necessary to hassle with steps like pairing manually with Bluetooth devices. All you need is to put the device aside an iPhone. However, things are quite different with Android smartphones. When it is not an iPhone, the AirPods are just a standard pair of Bluetooth headphones that must be paired manually. Here are the complete steps to pair Apple AirPods with Android.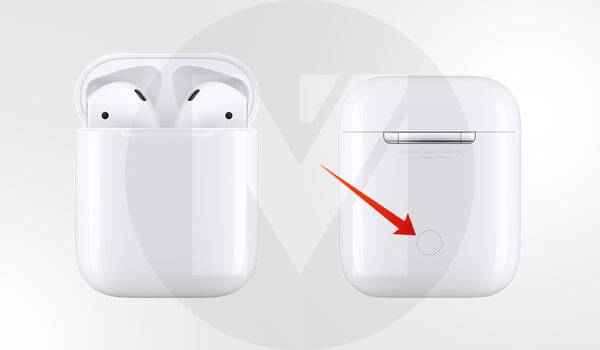 Put your AirPods in the charging case.
Open the lid.
Press and Hold the button on the back of your AirPods case.
Turn on Bluetooth and go to Bluetooth settings on your Android smartphone.
Find your AirPods from the discovered devices and tap on it to start pairing.
Once it is connected, you can start listening to music.
Related: How to Find Your Lost AirPods?
Do All AirPods Features Work with Android?
One of the factors that keep the Apple AirPods ahead of any other wireless earbuds is its unique gestures and connectivity features which you could never find elsewhere. Apple designed the AirPods to work well with the iPhone models. Therefore, you cannot expect each of those features to work well with an Android smartphone. Here is a list of AirPods features that do not work with Android.
Double Tap Gestures: You may not be able to use the double-tap gestures and even customize them like on an iPhone.
Automatic Ear Detection: When you are on the iPhone, you can set AirPods to pause music when the device is not in your ears. But, this is not possible with an Android smartphone.
Quick Pairing: In an Android device, you cannot simply pair the device by opening the lid by putting the devices side-by-side.
Siri: The latest version, AirPods 2, has an inbuilt Siri function. This seems to work only when you pair them with an iPhone. If you are using AirPods on Android, forget it.
Using Single AirPods: Unlike on an iPhone, you can't put one of the earbuds in the case for charging and use the other one alone. Both need to be outside of the box in this case.
AirPods and Case Charge Status: Apple iPhone battery notification panel can show you the power left on the paired AirPods. Android smartphones have no such things inbuilt.
Live Listening: You can turn on the mic of your iPhone and listen to the conversation live from a limited distance using Live Listening.
Announce Calls: AirPods on Android cannot announce the caller names on incoming calls.
Find My AirPods: There is no way to track down your AirPods when you use it with an Android smartphone.
Also Read: How to Hard Reset Apple AirPods?
Enable AirPods Features on Android
Well, you might be confused by now since you just got to know about the limitations if you use the AirPods with an Android smartphone. Don't worry. There are plenty of ways you can use most of the AirPods features with Android smartphones. You need to install third-party Android AirPods apps that enable all those "unavailable features" for your Android device.
AirBattery – Get AirPods Battery Status
The AirBattery is a lightweight app for Android to get the battery status from your smartphone. You can get the battery status of both your AirPods earbuds as well as the charging case. In order to get accurate charging case power details, at least one of the buds needs to be inserted into the case. Also, it displays the charge status at an interval of 10, which is like 95%, 85%,…, et al.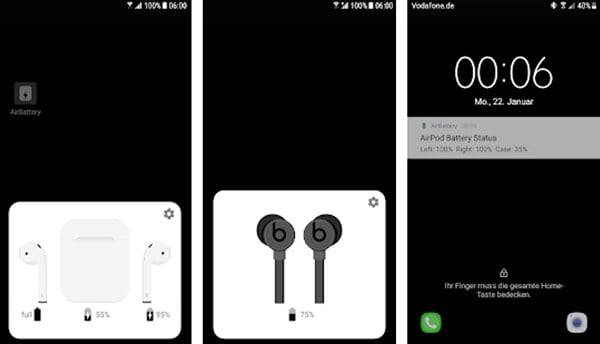 The AirBattery also has an automatic ear-detection feature. However, you need to be on the Spotify app to pause music automatically when you remove an earbud from your ears. Download AirBattery: Play Store
Podroid
The app can enable many of the iPhone-enabled AirPods features on Android smartphones. When you pair AirPods with Android devices, it could let you customize the features and use them. The app has a customizable list of double-tap gestures, which are all the same as on the iPhone.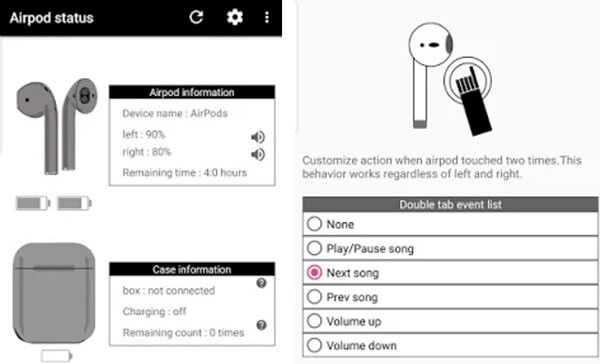 Download Podroid: Play Store
Assistant Trigger
If you are missing the Siri trigger feature while connected to the iPhone, this is the app for you. Instead of pulling up Siri, you can use Google Assistant at your convenience using this app. The app can also enable double-tap gestures, battery level, auto ear detection, etc., with AirPods on Android.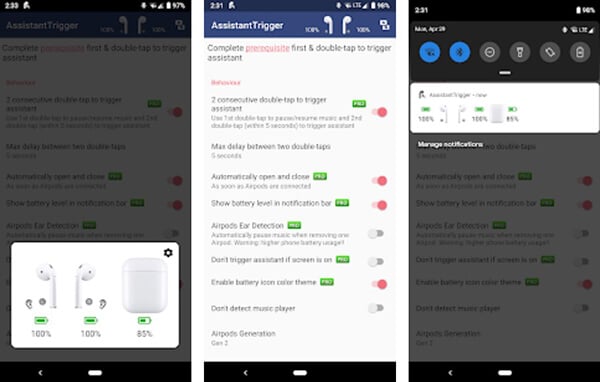 Download Assistant Trigger: Play Store There are even many other apps to customize the Apple AirPods experience with Android devices. So the answer to your question, "Do AirPods Work on Android?". Yes, it will work. However, AirPods are made for Apple devices, and you might end up with a couple of Android Apps to utilize all the AirPods features. Alternatively, you can try Bluetooth EarPods designed for Android and iPhone to replace these expensive AirPods.
Troubleshooting Steps for AirPods Not Connecting to Android
Are you trying to pair Apple AirPods with an Android device, and it doesn't work? Then, try out the below-listed steps.
In general, the range of a Bluetooth connection is 10m or 30 feet (approximately). Therefore, you must ensure that Apple AirPods are kept closer to the Android device.
If AirPods are already connected to another device, you will not see it under the list of Bluetooth devices on your Android phone or tablet. Therefore, you must ensure that AirPods are connected to any other device.
Are you sure AirPods have enough battery? If not, connect it to the power source using a lightning cable or other wireless charging options.
If the pairing doesn't work due to a software glitch, it will get resolved by restarting the Android device.
Have you kept the AirPods in the charging case? If not, then the pairing will not work.
Turn off Bluetooth on your Android device and turn it on after a few seconds.
Try connecting another Bluetooth device to the Android phone/tablet and see if it works. If it doesn't work, then there is some with the Bluetooth connection on your Android device.
FAQ: AirPods for Android
Why is my Android not connecting to my AirPods?
If your Android device connects to AirPods, keep the devices as close as possible. Make sure AirPods are kept in the charging case and have enough battery or connect it to a power source.
Why won't my AirPods flash white when I press the button?
If you don't see the white flashing light after pressing the Setup button, most likely, your AirPods might have run out of battery. Or your AirPods are not in contact with the connectors of the charging base. Dirt on the bottom of the AirPods might also be a reason.
How do I set my AirPods to pairing mode manually?
To put AirPods in pairing mode, you need to press and hold the Setup button on the back of the charging case till you see a flashing white light.