We've all used "wireless headphones" at some point in our lives, but the problem with almost every single one of them is the fact that they've had some sort of wire connecting the two earbuds. Well, this is not exactly the "wireless" that we all wanted, as no one likes having a wire that hangs around the back of your neck. That's not quite the convenience that we expect from wireless earbuds.
Times have changed, technology has advanced, and today, we've got a whole new category of headphones called "truly wireless earbuds". As the name suggests, they are in fact truly wireless, since there are no cables connecting the two earpieces. Therefore, you don't have to worry about that annoying wire that runs behind your neck. With these, you get the convenience that you always wanted from a pair of wireless headphones.
If you're in the market looking for truly wireless earbuds, here are the best ones you can go for:
Apple AirPods
When Apple announced the iPhone 7 and iPhone 7 Plus last year, they also shocked the world by removing the much-loved 3.5 mm headphone jack (if you want wired headphones, refer the list of lightning connector headphones for iPhones). Apple's intention is to prepare for a wireless future, and it begins with the company's AirPods. Now, when we talk about AirPods, the first thing that comes to our mind is convenience. Although it just looks like EarPods without wires, there are some significant differences in terms of hardware.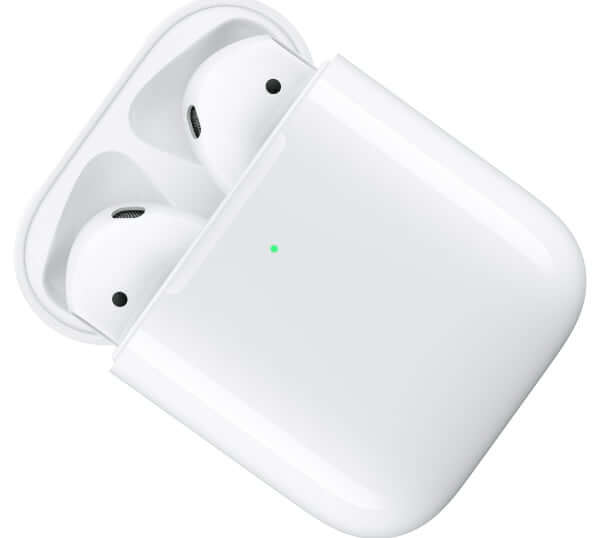 For starters, it's powered by Apple's custom-designed W1 chip which takes the pairing process to a whole new level. Simply open up the case that stores the AirPods while your iPhone or iPad is nearby and it's almost instantly connected. These truly wireless earbuds also got infrared sensors to detect and stop playing music if they're not in your ears. As far as sound quality is concerned, they do sound noticeably better than AirPods, but it's not good enough to justify the huge price difference.
Lastly, when it comes to battery life, the two earbuds can individually last up to 5 hours, but the compact wireless charging case that you use to store the AirPods is capable of providing a 24-hour battery life. As a result, you'll be able to charge your AirPods multiple times while you're on the move.
Buy from Amazon
Bose SoundSport Free
When it comes to audio quality, most of us already know that Bose is the brand to beat. The company recently launched first truly wireless headphones called the SoundSport Free, and it certainly manages to live up to all the expectations. These earbuds have fins to make sure they remain intact while you're jogging or working out in the gym. SoundSport is water resistant as well, so you don't have to worry about your earbuds getting damaged when you sweat a lot.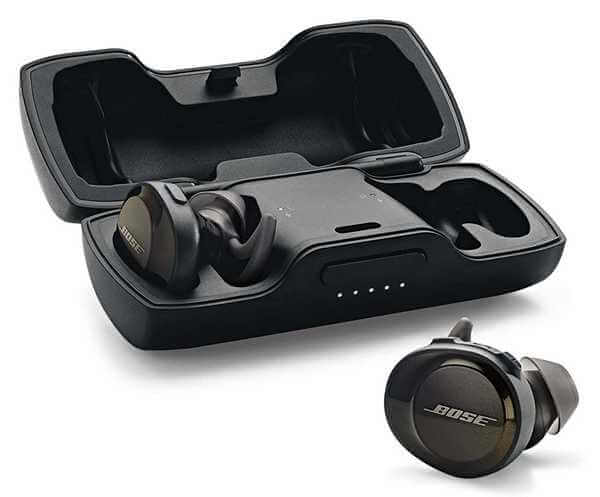 The sound quality, which is the most important part, is absolutely fantastic, and it's certainly better than most of the competition. The Bose SoundSport Free earbuds are able to provide a listening time of 5 hours, but thanks to the included carrying case, you'll be able to charge it a couple more times and extended the battery life by 10 hours. However, not everyone will be able to afford it, as it costs nearly 250 bucks at the moment.
Buy from Amazon
Also see: TaoTronics SoundLiberty 79 Wireless Earbuds
Sony WF-1000X Noise Cancelling Earbuds
Sony has recently gained quite a reputation for making some great noise cancelling headphones. Being their first attempt at truly wireless earbuds, we're certainly impressed with what the WF-1000X has on offer. The company has managed to jam-pack some elements from last year's MDR-1000X noise cancelling headphones which we absolutely loved. If there's one negative aspect about these pair of earbuds, that's the battery life, but we'll get back to that in a bit.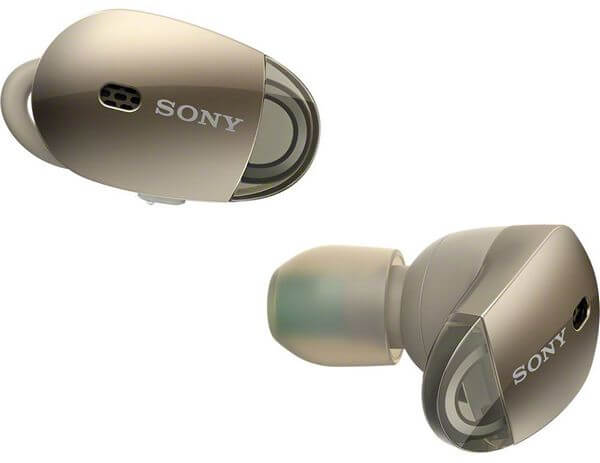 The earbuds take a sound-first approach, which was much needed in this new category, as most of the competition seemed to focus on convenience and connection stability a lot. The digital noise cancelling is impressive to minimize ambient noise as much as possible so that you can enjoy rich sound in all its glory. Speaking about battery life, each earbud is able to deliver 3 hours of listening time, whereas the carrying case can be used to fully charge them a couple more times to achieve a total of nine hours of listening time.
Buy from Amazon
Jaybird Run
As the company says, these truly wireless earbuds are "designed and built by the runners for the runners". Jaybird is best used while you're working out in the gym, as it ensures a secure and comfort-fit with interchangeable tips and fins to fit all ear sizes. The Jaybird Run is sweat-proof as well as water-resistant, so you don't have to worry about removing them during your intense workout sessions.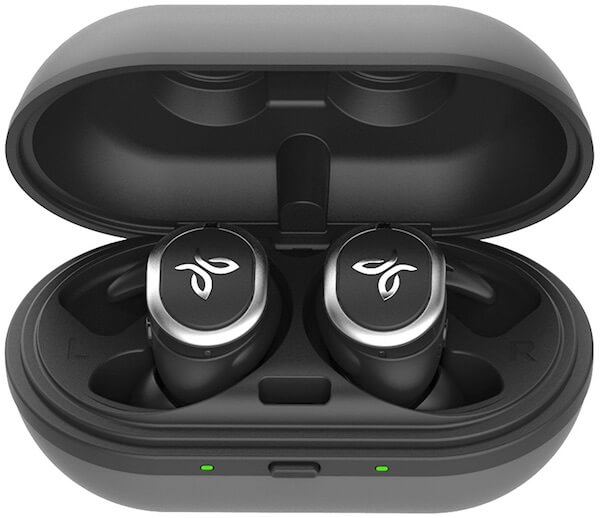 In terms of sound quality, the Jaybird Run might have an edge over the Apple AirPods, so we've got no complaints on that regard. As far as battery life is concerned, each of the earbuds is able to deliver a play time of 4 hours, but thanks to the included charging case, you'll be able to charge it a couple more times and ensure a total listening time of 12 hours while you're on the move.
Buy from Amazon
Jabra Elite Sport (2017)
Next, on the list, we've got yet another sports earbuds designed to stay firm in your ears even during your most intense workout sessions. The company offers foam or silicone tips in three sizes for customizable fitting options. There's also a unique feature called "Hear Through" that lets you listen to the ambient noise upon double-pressing the play/pause button on the right earbud. Above all this, these headphones are IP67 water and dust resistant, so you don't have to worry about accidentally dropping it in the pool.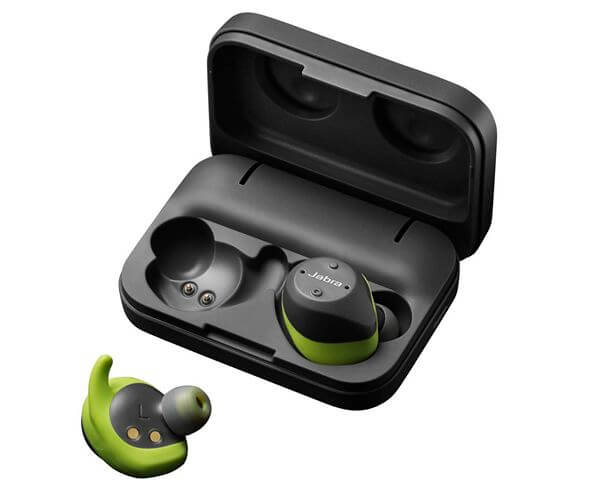 The Jabra Elite Sport features two microphones in each earbud that work in tandem to filter out the background noise to ensure superior sound quality for both music and calls. Now, let's talk about the most important part which is battery life. The upgraded Elite Sport packs 50 percent more power in comparison to the predecessor, and each earbud is able to deliver up to 4.5 hours of listening time on a single charge. The included charging case can hold 9 hours worth of charge, so you can expect a total battery life of 13.5 hours, which is quite decent for a pair of truly wireless headphones.
Buy from Amazon
Samsung Gear IconX (2018)
About a year ago, Samsung entered the truly wireless headphone market in style with the IconX. Although we loved using them, the 90-minute battery life was nothing short of disappointing. However, that's been fixed in the second-generation IconX as Samsung has made sure that battery life is no longer the department you need to worry about. The first major addition to the updated IconX is support for Bixby voice assistant which was introduced along with the Galaxy S8 earlier this year.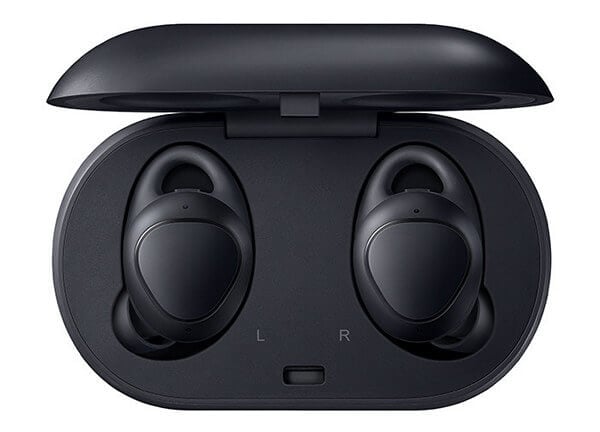 These earbuds are intended for fitness and activity monitoring. A personal coach keeps you informed on your progress and also motivates you while you're working out. IconX features a built-in heart rate monitor and an accelerometer. Above all this, there's 4 GB of internal storage on these headphones, so you can store and listen to your favorite songs even while you're offline and on the move. The audio quality is impressive and it falls in line with other truly wireless sports earbuds. When it comes to battery life, Samsung promises 5 hours of Bluetooth streaming, 7 hours of listening with built-in storage and 4 hours of talk time, which is a major upgrade over the first generation.
Buy from Amazon
Bragi The Dash Pro
Last on the list, we've got the Dash pro, which improves upon the original Dash in terms of audio quality, battery life and wireless stability. Just like the Gear IconX that we just discussed above, the Dash Pro packs 4 GB of storage space that can be used to store up to 1000 songs locally. When it comes to sound quality, the audio is now a lot more balanced and clear, which is definitely a welcome improvement. The Dash Pro does a great job when it comes to minimizing the ambient noise by sealing your ears.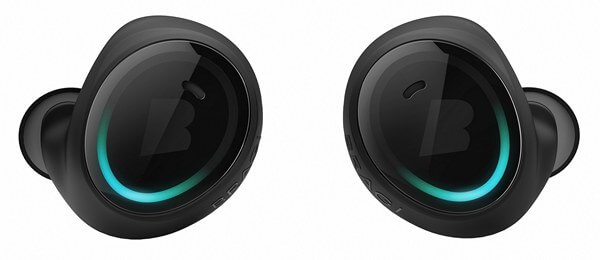 Just like its predecessor, users will be able to take advantage of the integrated motion and heart-rate sensors to detect when you've started an activity. Bragi works in tandem with the companion app that's available for both iOS and Android. Bragi ensures the battery on the Dash Pro is good enough to provide you with up to 5 hours of listening time, but that's if you're listening to the music stored in the built-in memory. So, expect it to be lower if you're streaming via Bluetooth. However, the charging case that it comes with is good enough to fully recharge the Dash Pro up to five times.
Buy from Amazon
Best Truly Wireless Earbuds
It's been two years since we saw the first batch of "truly wireless earbuds" being announced by multiple companies. A year later, the top dogs in the audio industry jumped on to the bandwagon, and this year, customers have got plenty of options to choose from. The demand for truly wireless earbuds have spiked in the last one year, and major manufacturers have entered this new segment to grab a chunk of the market share by releasing some great pair of wire-free headphones.
In the coming months, you can only expect the number to increase. Sure, the convenience comes at a cost, but if you can afford it, most of them are certainly worth what you're paying for. Well, we're glad that we could list out some of the best ones that are currently out there on the market. So, are you keen on purchasing one of these truly wireless earbuds? Do let us know which one you're opting for, by dropping your valuable opinions in the comments section down below.