How do you find out if somebody is stealing WiFi? There are plenty of Android network apps helps you to catch WiFi stealer. You can make sure nobody else is accessing WiFi and protect your network from intruders with these Android apps. Your Android phone will help to keep an eye on home or office network with network monitoring apps. Once they could intrude into your network, they can steal your data and trace your transactions from any computer device that you use on the same network. They can monitor the websites you are opening, they can trace the credit card and bank account numbers you are using for online purchase and use it for themselves later.
So here is the list of Android Apps to Detect WiFi Thieves and Block them away from your network to protect your data.
Fing – Network Tools
Fing is a professional network analysis App which allows to find out the devices connected to Wi-Fi network. Fing WiFi Security App helps you to evaluate security levels, detect intruders and resolve network issues.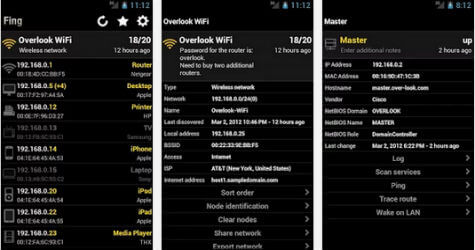 Using Fing, you can search any device on a network by IP, MAC, Name, Vendor, and Notes and you will be able to see the history of all discovered networks. This the easy solution to finding out if any new devices added to your network. Fing can find hundreds of open ports in a few seconds and ping and traceroute which helps to understand network performances. This Android Network tool allows you to even troubleshoot network problems and also to achieve best network performance. There is an additional Fing hardware add-on to enhance the network tools functionality. Additionally, this can block and pause network connections. Furthermore, bandwidth and the Wi-Fi sweet spot can be accurately monitored.
Download from PlayStore
Related: Someone is stealing your WiFi? Find out using iPhone.
Network Discovery
Network Discovery app can discover hosts and scan their ports on your Wifi network. This app can be used as TCP Port Scanner, check in NIC vendor database and the service detection according to the service banner. This Android network discovery app can connect to known services (HTTP, ssh, telnet) directly from the application results and do the scan in an adaptive scanning rate (slow start, then adaptive to network latency). Network discovery insists the users download the databases for the NIC list which comes in about 500 KB.
Download from PlayStore
Related: Here's a Quick Way to Make Sure No One Else is Using Your WiFi Network?
Net Scan
Network Scan is an android app that can do the network scanning and discovery along with the port scanner.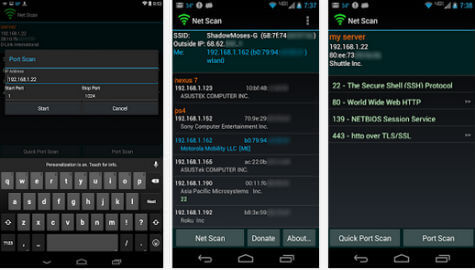 It can find holes and security flaws in your network, and this app works without any pop-up add and clean interface. The Net Scan Android app helps you to find out the bandwidth hog in the network and to scan public Hotspots that are available for proper verification of security.
Download from PlayStore
Network Scanner
Network Scanner allows you to scan IP allocation and opened a port in local area network. It can verify suspicious vulnerabilities or security issues within the network and can assist in understanding the use of your network.
With the help of these apps, at least you can monitor your network and see who else connected to your network and what is going on. The analyzed reports are generated and can be exported to general formats. There are tools available like Wake on Lan(WoL) and traceroute to make your network connections much more secure.
Download from PlayStore
Related: Ultimate Buying Guide for Modern Wi-Fi Router
WiFi Inspector
Android WiFi Inspector is a tool to scan and report all the devices connected to a particular network. The list will include both wired and wireless devices connected to your network. This Android Network Analyser tool can report back to the device IP address, Mac Address, Device name, and Manufacturer. This Android WiFi Inspector could save the list of known device and alert you if any new device joined in the network so that you can always be alert to any presence of a new intruder into your network. It still lacks the ability to terminate the connections at will.
Download from PlayStore
WiFi Analyzer- Home WiFi Alert
One more Android app to catch your WiFi Stealer. This app displays the connected devices, Wi-Fi signal info, speed, etc. When somebody intruded into your network, then the app can display intruders IP addresses, MAC addresses, Vendor names, Wireless access points (WAP, AP) and you can Ping to the device, Scan the Port and even Block user from Wi-Fi. The Android WiFi analyzer app can tell you the bandwidth speed, Encryption, Frequency to understand the best usage scenarios and performance boosts. MAC address, DHCP, and DHCP lease are also analyzed. Additionally, there are Access point tabs and Connection tabs showing the Access point details from the SSID specified network and the active connections in the system respectively. Blacklist IP Address feature helps you to remove the specified connections and block the specific IP address.
Download from PlayStore
Hackers can intrude into the home internet and steal your data. It is important to keep a good WiFi password and keep an eye on the home WiFi network. The above Android apps will help you to inspect and monitor WiFi network and detect intruders.