It is easy to hack your bank or credit card information by using your WiFi network. How do you know that no one else is sharing your network other than your family? How do you make sure that your WiFi router is protected? Do you feel your Internet is extremely slow or somebody is accessing your network?
To above all, make sure to buy the best secured W-Fi router from the market. There are certain security and encryption options that you have to research before you shose the right rouer for your home.
See this post that describing Secure your BSNL wireless modem from intruders. This is typical WiFi router and you can follow the same instructions to add WiFi password for your password. Please check your router user manual for more instructions. This post brings you a different technique rather than digging into your WiFi router settings and find the connected PC.
Even though that is an solution to find out who else connected to you network, but there has some easy free of cost solutions that we can try. To make our job easy, there are some WiFI Network Scanner for Mac & Windows are avilbale to scan the devcie IP. These Network Scanners can scan your entire network and give you the list of connected system with host name. Fair enough to find out if there any intruders are enjoying your network.
Network Scanner for Windows
We are listing here two free Windows tools that you can download and use to find the connected devices in your network using your Windows computer.
The basic tool to scan your network is free. This software scans your network including Wi-Fi and Wired network and brings the list of all connected devices including computers or mobile names and MAC-addresses.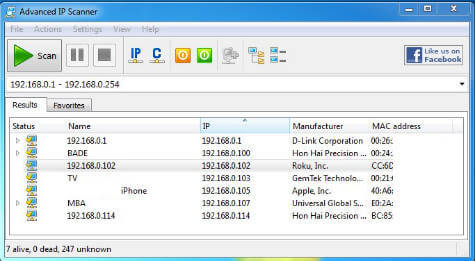 SoftPerfect Network Scanner is a free scanner for windows platform. This Network Scanner pings computers and other devices connected on your network and scans for listening TCP/UDP ports and displays which types of resources are shared on the network.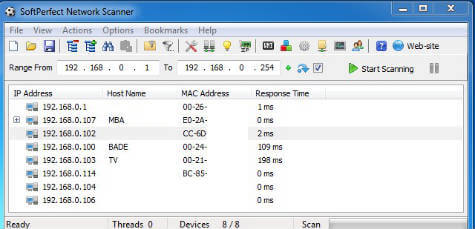 This tool can do lot of other thing like mount shared folders as network drives, browse them using Windows Explorer, filter the results list, and more if you are interested to play with it more.
Network Scanner for MAC
If you are a MAC user, there are some tools for you MAC. This will help you to scan your networks and find the connected devices both in WiFi and Wired Networks.
IP Scanner for Macintosh scans your local area network and list all the active machines and internet devices on the same network that the MAC connected. This software is free to use on small networks (up to 6 devices) and $29.99 for larger networks.

IP Scanner is designed to allow you to customize your scan results; once a device has been identified, you may assign it a custom icon and name to more easily recognize it at a glance.
LanScan is a free, simple and effective Mac OS X network scanner that helps you to discover all connected active devices on your network.

Most of the local area networks uses the default IP range from 192.168.0.1 to 192.168.0.254. Sometime it may change to 192.168.1.1 to 192.168.1.254 based on the router setting. Some of these scanners need to manually enter the IP address and you can pick the range from 1 to 254 to search the entire router network.
If you wan to use similar apps in your iPhone, please see this article for iOS apps, Someone is stealing your WiFi? Find out using iPhone. Please read this article for the similar apps from Google Play Store,  Someone is stealing your WiFi? Find out using Android Phone. for Android users.