Download managers have become a necessary tool in this era of technology and mass availability of the World Wide Web. Almost every browser does inherit a good download managing mechanism, but they do not give an overall performance that many seek. Content like movies, TV shows, and music is always available for download.
Content like movies, TV shows, and music is always available for download. By the use of a good download manager, the time and data needed to access them on your system lessens.
A simple download manager can help you to avoid any download failure as the downloading file divides into multiple parts. There is no need to download a file from the beginning when you have these managers for the rescue. Enhanced download speed and the characteristic of managing multiple downloads without any browsing lag makes it a great tool to use.
Related: 8 Best Android Download Manager for Phone and Tablet
Other than just the normal features, the download managers do come with some additional characteristics to make your waiting time worthwhile. Here are a couple of download managers to enhance the file downloading speed for Windows 10.
Internet Download Manager
Video Download: Yes | Torrent Support: No | Download from Website
Internet Download Manager or popularly known as IDM is an awesome download manager. Aiding in bringing the much stability and swiftness in downloads; this Download Manager tool is great in use. You can easily drag and drop downloads on the tool as well as use the command line to start the download.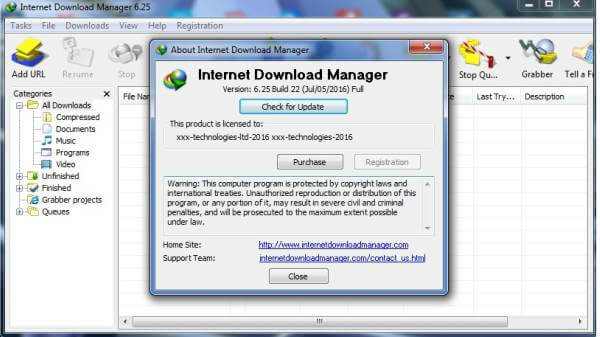 The download manager does come with the support of getting video from web-players with new updates. Unlike other download managers, Internet Download Manager comes with HTTP and FTP protocol over a secure connection for user's safety concerns. The multilingual support of the tool helps to boost the productivity of the software.
Free Download Manager
Video Download: Yes | Torrent Support: BitTorrent Support| Download from Website
The Free Download Manager is more than simple and ordinary as it is one of the few download managers to support BitTorrent. For many people, Free Download Manager is a great alternative to Internet Download Manager. With Windows Download Manager, anybody can preview the audio and video file before the download process is complete. After the download is finished, the file format can be altered easily.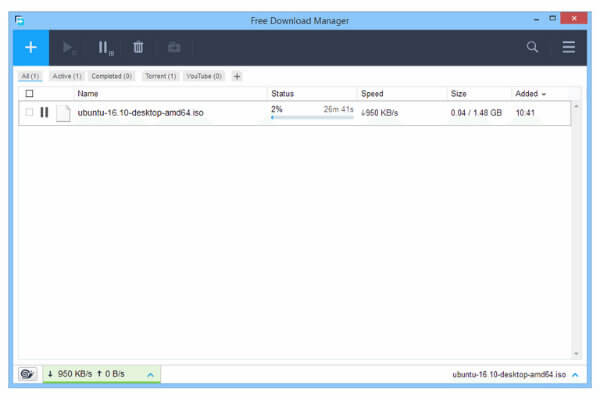 Free download manager comes with Smart file management and powerful scheduler. This feature allows you to start and stop the download at a particular time and also you can adjust the traffic usage and avoid any browsing while using the tool.
Download Accelerator Plus
Video Download: Yes | Torrent Support: No | Download from Website
Make your downloading process simple and easy with the help of Download Accelerator Plus. Accelerator Plus lets you download the files quickly by using the fastest available speed. With the integrated security coming with Accelerator Plus, you can easily detect the malware content in the file to make sure that file is safe.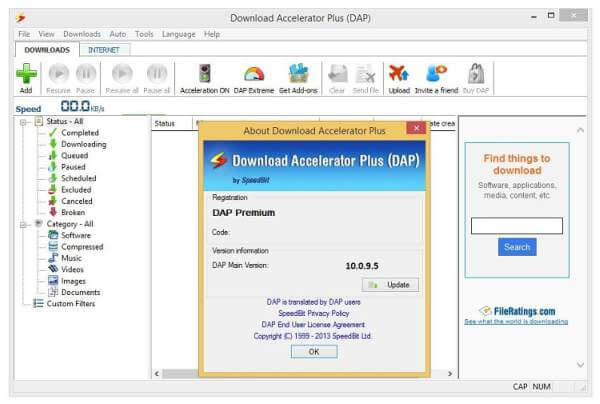 Available in almost 48 languages the tool is accessible for all. The interface of the tool is easy and allows you to preview every video file while it downloads. One of the best features of Download Accelerator Plus, you can check whether the downloads are valid or not before you start with this Windows Download Manager.
JDownloader
Video Download: Yes | Torrent Support: Yes | Download from Website
JDownloader is an ideal download tool for Windows power users. Backed by a huge community of developers, the download manager allows you to auto-extract archives and performs bandwidth limitations. Having over 300 decryption plug-ins and password list searching are some of its features making very different from available download managers.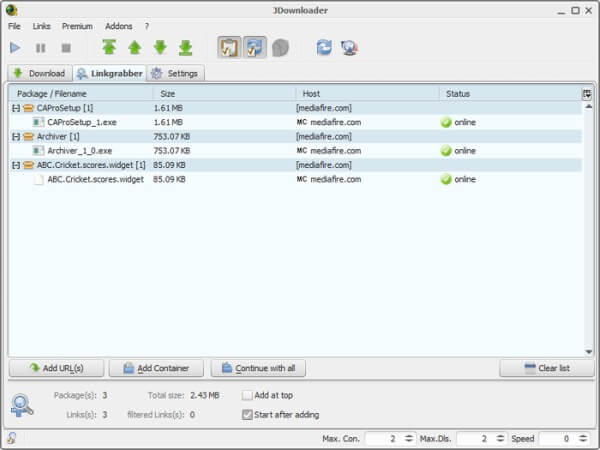 JDownloader also comes with remote control option and auto-completes the CAPTCHA forms for you. The free open source tool automates the entire downloading process for you. JDownloader reduces the file downloads to mere a single click. You can easily get a new IP address when you are blocked from IP to get full speed.
Microsoft Download Manager
Video Download: Yes | Torrent Support: No | Download from Website
Direct from Microsoft, and this Windows Download Manager is one of the simplest download managers available for Windows 7, 8, and 10 users. This download manager, weighing less than 5 MB, the tool comes with the integrated feature of managing downloads.
However, there are not many features available for the people to give them more control over the downloading process. This Windows dedicated download manager is a simple tool to give you the smooth downloading of every file regardless of their size and very simple user interface.
Orbit Downloader
Video Download: Yes | Torrent Support: No | Download from Website
One can easily use Orbit Downloader for rich media downloading and streaming media as well as social media. Orbit tool is based on p2p and multi-source downloading technology. Inheriting micro-efficiency, the download manager takes only less than 3 MB of the memory of the system.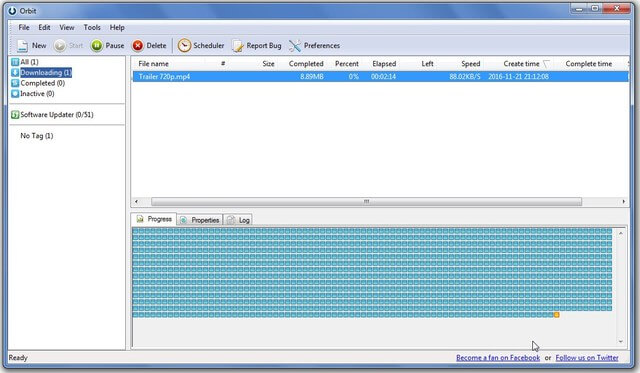 The interface of the tool is clean and easy to access allowing both professionals and amateurs to use it. This Downloader for Windows does support Megaupload, Badongo, Sendspace, Sexuploader, Yourfilehost, Uploading, Filefront, 4shared, Turboupload, Depositfiles, Filefactory, and more. Not many download managers do support the file-sharing websites.
FlashGet
Video Download: Yes | Torrent Support: Yes | Download from Website
Using Multi-server Hyper-threading transporting mechanism, FlashGet offers some excellent download management features. On FalshGet, all the features are easily accessible with the simple user interface of the tool. FlashGet also supports various protocols for downloading like HTTP, FTP, BT and eMule.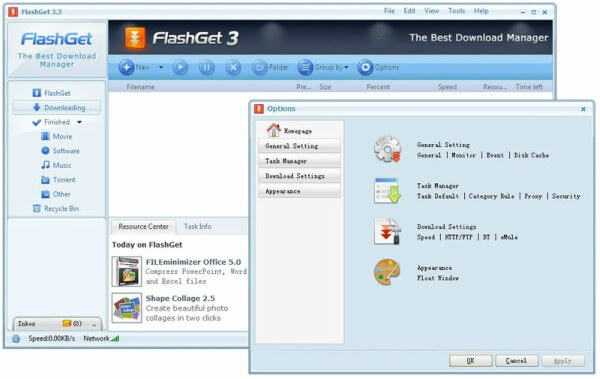 The download manager is indeed a promising one that allows you to download files through email to a remote PC. With the help of fluent management features, you can easily handle every document without any trouble. FlashGet can increase the speed of downloading to about 6-10 times quick. There is no adware and spyware, and easy to install as well as use.
DownThemAll
Video Download: Yes | Torrent Support: No | Download from Website
DownThemAll is a powerful and yet easy to access extension for Mozilla Extension. By adding the extension to the browser, the user can make it more capable of downloading the files. This browser extension allows you to download all the links and images present in a web page. One can refine their downloads and criteria to get what they want to.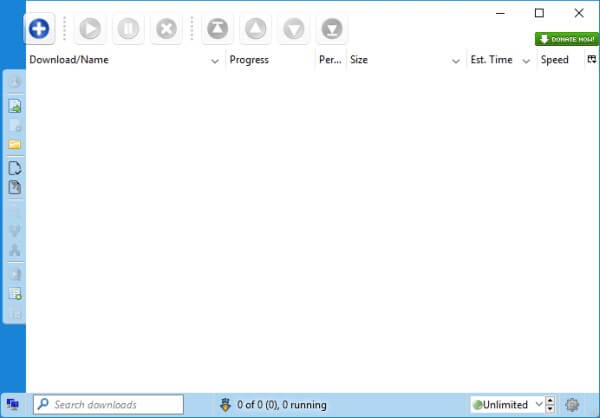 You can quickly stop, play and pause ongoing or previous downloads by being fully integrated into the browser. There are some custom filters present giving you more control over the process. The user can set the limit to allow the tool to remove the files automatically from the download list. Since this is a browser extension, this Download Manager is compatible with all operating system with Firefox browser.
Chrono Download Manager
Video Download: Yes | Torrent Support: No | Download from Website
Chrono Download Manager is the only full-featured download manager that is available exclusively for Google Chrome browser. Plenty of management options is there that are solely present for the download process to give people more control over it. The download manager is integrated closely with the browser as it has context menus, toolbar buttons, and keyboard shortcuts.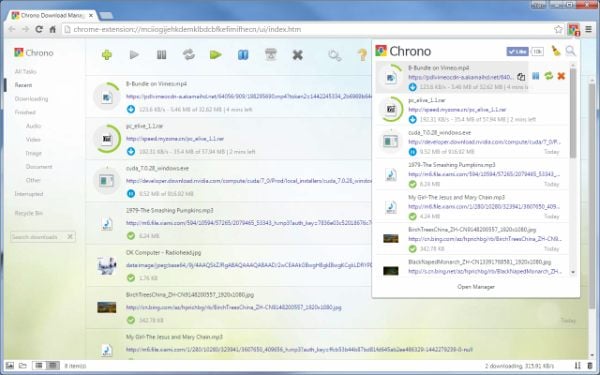 Other than download manager, Chrono also serves as the best video/image download helper for the user. With a single click, you can browse the download easily with a pop-up list anytime. It also comes with desktop notifications and sound notifications to alert you about the completion of the download.
Most of our activity over the internet revolves around the downloading of several files. With the help of these download managers; our dependency over the browsers for downloads decreases. Anybody can enjoy fast as well as secure downloads by the use of these tools. Windows Download Manager is quite useful for people who do not enjoy fast internet speed in their location. You can easily choose one of the download managers to make the process easy and customizable.