Used iPhones, the best choice to enjoy the power of iOS on your palm with less money from your pocket. For used iPhones, you can check for cosmetic or display screen damage and hardware damages when you get iPhone in hand. There are a couple of other things that should check on the iPhone before paying money to the seller.
When you buy used iPhones from online stores, there is no freedom to check all these details. However, there are a couple of other details like warranty check, Activation check, etc., which you can perform if you can obtain the Serial number or IMEI number from the seller.
We have listed used iPhone software checklist for online buyers who have limited freedom to check the details before they get the phone in hand.
Check iPhone IMEI Number & Serial Number
First thing, you have to ask the seller, or you have to find out the serial and IMEI (International Mobile Equipment Identity) number of the phone you are planning to buy.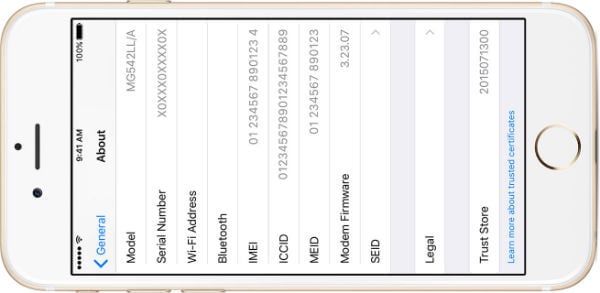 iPhone IMEI Number: iOS Settings > General > About > IMEI or type *#06# on the phone keyboard (15 digit).
iPhone Serial Number: iOS Settings > General > About > Serial Number
iPhone Model: iOS Settings > General > About > Model
If you have iPhone handy, you can see the Model, Capacity (phone memory) and available Free space from the iPhone Settings. We explain in detail how to get iPhone IMEI Number & Serial Number.
Related: The second part of the Buying Guide for used iPhone, we are covering the used iPhone hardware tests, that can perform once you get the phone in hand.
Make Sure iPhone is Original
There are plenty of fake iPhones are available on the market. Sometimes these iPhones are coming without any valid serial number, or these sellers are smart enough to bring iPhone with some fake serial number. Please collect the iPhone serial number from the seller and go to Apple website called Check Your Service and Support Coverage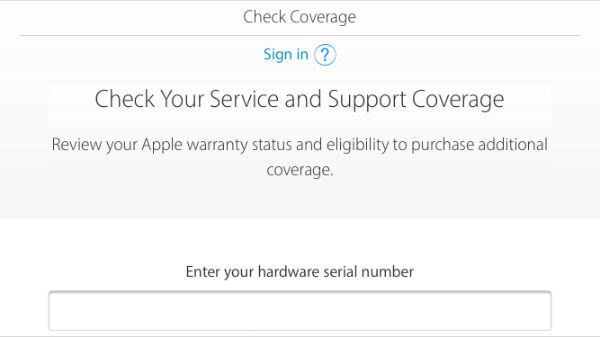 If this online check correctly reports iPhone model and expected expiration of the warranty, you can say the iPhone is a genuine one. Once you have an iPhone in handy, you can connect Apple store and try to download one free app from the Apple store. If the iPhone is original, then you will be able to download and run apps from the iTunes Store.
Check iPhone is Compatible with Your Provider
You have to make sure the phone is compatible with your service provider. You may require iPhone model number to check this. Usually, iPhones are coming in either GSM or CDMA or both in the same model. For example in the US, AT&T and T-Mobile are GSM and phones are compatible with each other. These phones won't work with Verizon or Sprint; both providers are CDMA.
You should know what type of phone you are going to buy and you can verify with iPhones' model number. Once you have the iPhone model number (can get back case of the iPhone or from iOS Settings > General > About > Model) there is an article Identify your iPhone model published by Apple that describes the technology used in each phone model.
Related: Make Sure These Pins are Unlocked When you Buy Used iPhones.
Make sure the iPhone is Career Unlocked
Apple was selling two types of iPhone before, locked version and an unlocked version (check best-unlocked iPhones from Amazon) with IMEI Number. There are a couple of choices to check the phone is career/SIM unlocked or not.
Test with a Different SIM
If you already have the phone with you, turn off the phone and replace the SIM with a different career network. Turn on the phone back you will be able to make calls with a new SIM if the phone is unlocked one.
Contact Original iPhone Service Provider
This is another worry-free method. When you buy a used iPhone, you have to contact the current network provider with phone serial or IMEI number. This way you can make sure the network provider unlocks the phone.
Check with Online Tools
If you don't have the freedom to do the above two methods, the last option is to depend on an online tool like IMEI INFO that displays the iPhone status if you provide the IMEI / Serial number of the phone. We prefer this is the last resort, because this online report may not be accurate always.
Check iPhone Warranty
Apple offers a one-year default warranty for Apple products. Sometimes buyers may purchase an additional warranty for peace of mind. You will be under the same protection if you can buy a used iPhone before the service warranty expire.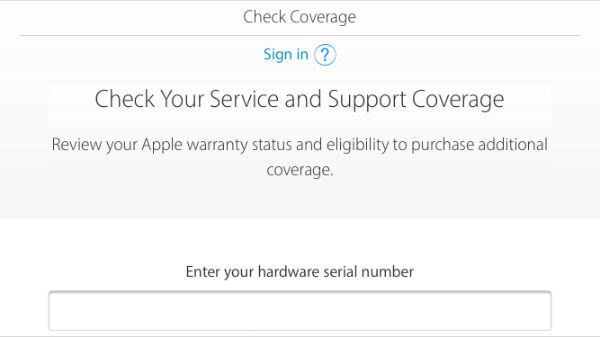 Please go to Apple Service Coverage Check link and verify the phone is under warranty with the serial number of the iPhone.
Make sure iPhone is Not Stolen or Activation Locked
Apple introduced the Activation lock on iPhones to protect the device from theft. Before you pay the money for a used phone from any online store, you must get the IMEI or serial number to check the iPhone activation lock status. If you see activation lock enabled, you won't be able to use that iPhone as your own.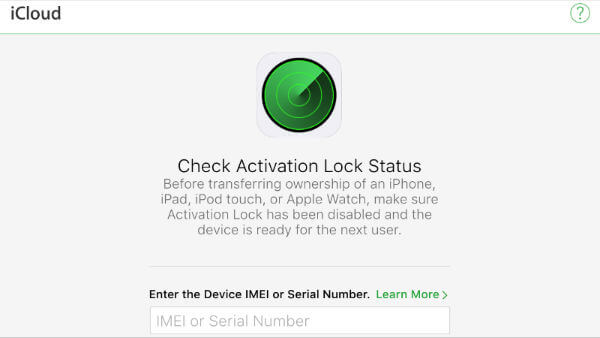 Please contact iPhone seller and request to disable the activation lock and check again before you pay him. To disable the activation lock successfully, iPhone needs original owner user ID and password.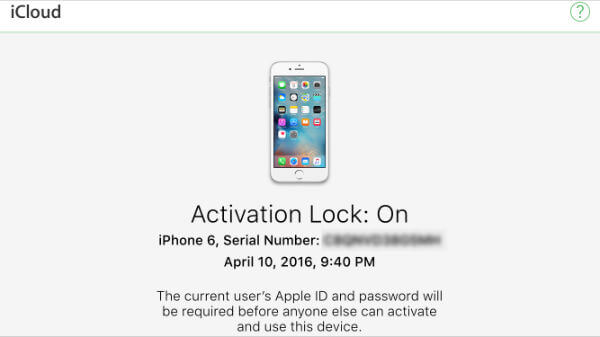 In case the iPhone you are planning to buy is stolen or seller is not the right owner, then he won't be able to disable the activation lock.
Alternatively, if you have iPhone in handy, you can check the activation lock on the device itself, iPhone Settings > iCloud > Find My iPhone. This should have turned off before you pay money to the seller. The owner required username and password to turn off this Find My iPhone settings.
This is all pretty much you can investigate with a Serial Number and IMEI number of the phone. Once you have the iPhone in handy, you can go through the Complete Hardware Checklist Should Perform Before Buying Used iPhone for water/liquid damage and other hardware/sensor testing guidelines. These software checklists are handy while you are using with the used hardware checklist to make sure you get the excellent quality used iPhone for your money.