In the second part of this Used iPhone Buying Guide, we are going to expand the checklist with a couple of other iPhone hardware tests and performance measures. This checklist includes iPhone screen dead pixel check, iPhone water damage, iPhone sensor and screen functions. Most of these tests can perform manually, or you can depend on dedicated apps built to perform these tests.
Let us go through the complete list of used iPhone hardware tests that you should perform when you buy used iPhones.
Check iPhone for visible Scratch/Screen Damage
This is the first check you can do once you get the iPhone in your hand. You can perform a visual inspection on the iPhone case, back panel and iPhone screen for any visible damage. Please be aware that you have a used iPhone in your hand and a few minor dent and scratch on the iPhone body are acceptable. Better to stay away, if you see any scratch or break on the iPhone screen. Since iPhone screen damage may affect the function of the screen and iPhone screen replacement is expensive.
Related: 6 Online Checklist Should Perform Before Buying Used iPhone.
Check for Visible Water/Liquid Damage on iPhone
Water damaged iPhone may function properly as expected for a few hours or days. Eventually, the iPhone may shut off sensors and functions one by one. Be aware that none of the manufacturers cover warranty for liquid damaged phones. There is no need to buy a water damaged phone with your hard-earned money.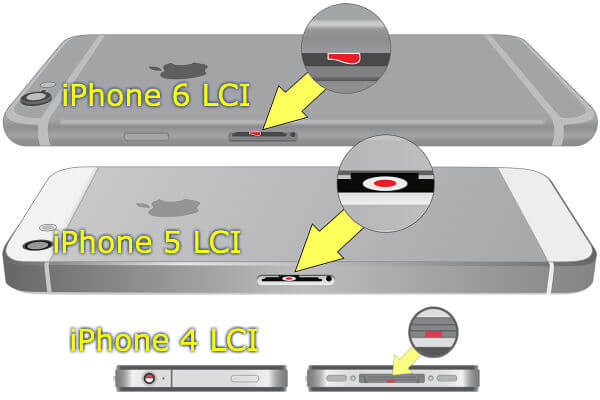 Image credit: apple.com
Fortunately, all smartphone manufacturers have implemented a straightforward but smart solution to identify a water damaged phone. Almost all smartphones are coming with water damage indicators placed in specific locations of the phone.
Apple sets these LCI (Liquid Contact Indicators) detectors that are easily visible from outside. For iPhone, these LCIs are coming in White or Silver and turn into red when it contacts liquid (As per Apple, These LCI won't activate with humidity or temperature changes).
Related: Make Sure These Pins are Unlocked When you Buy Used iPhones.
Check iPhone Call Quality, Speaker and Headphone
When you get the iPhone in handy, replace your SIM and call a known number. Please make sure iPhone call quality, speaker sound, and headphone sound and Microphone are performing well.
Perform iPhone Display & Display Dead Pixel Test
This is a simple test that can perform with the help of a free website iPhone Dead Pixel Test. Load this site on your phone and tap on each color buttons to fill the iPhone screen with Black, Blue, Red, Green and Yellow colors. iPhone Screen Tests also include iPhone screen brightness test, Multi-touch test, Pinch test, etc. You can visually inspect the iPhone screen on each color to make sure the screen is free from dead pixels.
Perform iPhone Sensor Test& Button Test
There are few more tests can be performed if you have your iPhone in handy. These tests include,
iPhone Sensor Tests: There are a couple of sensors built-in with your iPhone like Proximity, Accelerometer, GPS, Home button touch sensor, etc.
iPhone Button Test: iPhone has the volume up/down, power, home and vibrator mode buttons, make sure all these buttons are functional.
The app from the iTunes store called Test & Check for iPhone by Prasomsak Khunmuen can also perform all these tests in one shot.
Perform iPhone Multimedia, Connectivity& 3D Touch Functions.
There is a free app come in handy to perform all these sensor and camera tests that are available in the app store called Test & Check for iPhone by Prasomsak Khunmuen. This app can check iPhone Wi-Fi, 3G/4G and Bluetooth sensor.
iPhone Multimedia Test: This can include the iPhone headphone and speaker sound, iPhone camera photo, and video test, etc.
iPhone Connectivity Test: You can check the iPhone's Wi-Fi, 3G/4G, Bluetooth connectivity.
We mentioned a couple of other iOS apps in our previous article that you can read from iOS apps to Test your iPhone Sensors & Functions.
Be wise While Selecting the Used iPhone Model
Used iPhone models are expensive compared to other Android, or Windows used phones. If you are planning to use the phone at least for two years, do not buy an older version than two previous models. When we publish this article, Apple launched iPhone SE, and your best bet on a used phone will be iPhone 6S or iPhone 6 models to perform well with Apple's latest OS. Old iPhone models perform and respond slowly with the latest iOS updates. There is a nice iPhone model comparison list from Apple website that you can refer to the latest model iPhones.
Related: 8 Best Unlocked iPhones from Amazon
Make sure the Seller performed iPhone Factory Reset
Make sure that you are buying a phone with clean storage, means in a factory reset condition, to make sure you are not carrying your seller's junks. If not, please instruct your seller to perform a factory reset from iOS > Settings > General > Reset > Erase All Content and Setting.
Check iPhone Battery Life and Battery Safe Limit
New iPhones are capable of staying more than one and half a day long with normal usage. iPhone battery will maintain this performance for the first 1-2 years and eventually degrade the battery life and backup time. Since the iPhone battery is not easily replaceable like other Android phone models, the repair cost is going to be expensive if you end up with a bad battery. To be safe, do not buy an iPhone older than two years.
Related: Ready for an iPhone Battery Replacement, How to Check?
When you get an iPhone in handy, charge your phone battery in a range of 80%-90%. Now start to make a short call, record a couple of videos, turn on 4G/ WiFi and watch a video from Youtube. Please perform these activities at least for 3-5 minutes and make sure the iPhone battery did not drop more than 2%. If the battery fell more than 2%, you could assume that the battery is not good.
Alternatively, you can depend on the apps to check the performance and battery of the used iPhone. If you already stuck with a low backup iPhone, there are plenty of cheap iPhone gadgets available in the market to extend the battery life of the iPhone.
Check for iPhone Charger and Lightning Cable
Connect your phone into a wall charger with the lightning cable and make sure the phone starts to charge the battery. You can see the battery symbol on the phone is changing to a charging (lightning) symbol. Please connect iPhone through the lightning cable to your PC and make sure iPhone is detecting by iTunes software on your computer.
Make sure you have all accessories with iPhone box
Apple is selling iPhone within a cute box with Apple EarPods with Remote and Mic, Lightning to USB Cable, USB Power Adapter, SIM Eject pin and Documentation. Please make sure you are getting all these original accessories and boxes with used iPhones.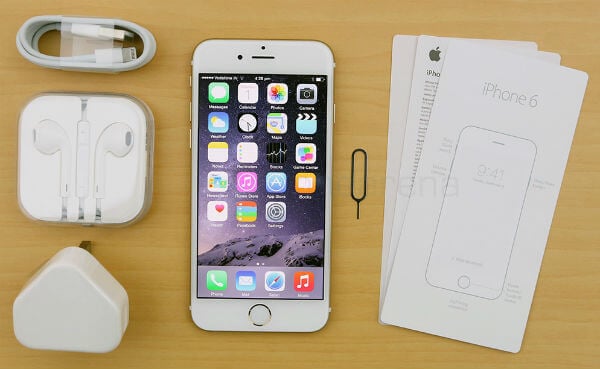 Please make sure you select the right model and damage-free iPhone when you buy the used iPhone. Better to have a face to face deal and get the iPhone in hand before you pay rather than choosing an unknown seller who is sitting on the other side of the world. So you decided to buy one, Welcome to Apple world!