All of us are fond of the Apple products. Whether we are talking about the iPhone, iPad or the MacBook, Apple has always surprised us with the top of the line innovation. Nowadays our smartphones have surpassed several limits and have become such powerful devices that thousands of processes can run on it without even a glitch.
With so many processes running simultaneously, it is somewhat hard to catch on to one of those processes that might not be running correctly and may cause damage to the system. Hence, it is essential to ensure that all the processes are running flawlessly on your smartphone. Here we present some applications especially for iOS devices that will help you test an iPhone. These apps will help you verify that all the necessary processes on an iPhone are working just fine. Also apart from this, these applications will help you to find the IMEI number, serial number, etc., which can be helpful when you plan to sell the phone.
Some of the tests that these applications can perform screen test, sensor test, multimedia test, connectivity test, etc. With one of these apps installed on a used phone, you can verify that the device that you purchase has all of its functions intact. Apart from this, having one of this applications is always a smart idea even on a new iPhone as you can ensure that all the processes are running fine, after accidentally dropping the phone. Hence, here we present the Top 3 iPhone function tester applications:
Test & Check for iPhone
This is one of the iOS apps that help you test almost entire iPhone functionality. With several features to check all of your iPhone's functions, this is an application that is a must-have for any iPhone user. Some of the tests that this sensor and functions app can perform on your iPhone are:
Screen Test – Verifies that the screen on your iPhone is working fine with a Brightness, color, touch screen, multi-point, pinch test.
Sensor Test – Ensures that all the sensors on your iPhone are running correctly such as the accelerometer, shake, compass, GPS, proximity sensors.
Multimedia Test – Checks that all the multimedia functions of your iPhone are in a top-notch condition such as sound, camera, and video.
Connectivity Test – Verifies that all the connections made by the iPhone are at their optimum levels with a Wi-Fi, Bluetooth, hotspot, phone call test.
Other Tests – Some additional vital checks performed are the warranty check, activation lock check, water damage check, iTunes sync test, button check and the cosmetic damage check.
You can install this application either on a new iPhone or an old one to ensure that every function on it is running properly.
iTunes Link: Test & Check for iPhone
Related: 11 Hardware Checklist Should Perform Before Buying Used iPhone
Sensor Kinetics
This is another one of the smart applications that can be used for an iPhone to check the functionality of all of its sensors. It is not only an iPhone tester application but also can be used to understand the basics of physics!
This application is more focused on testing the kinematic sensors of your iPhone, that is, its motion sensors. A fit for all app, this is not just a useful testing application but also for engineering students as it can help them in their project work.
The feature list on this iOS application includes a list of all the available sensors on your iPhone, Graphical demonstration of onboard sensors, ability to capture real-time sensor data, ability to record the motion and sensor data for further use, etc. With these features, you can quickly test all the motion sensors on an iPhone with a high accuracy.
iTunes Link: Sensor Kinetics
System Activity Monitor – All in one
As the name suggests, this iOS hardware specification check application is an all in one app. It provides all the information that you will ever require about an iPhone such as hardware, operating system, processor, memory, GPU, network interface, storage, battery, etc.
Not only does this application provide the necessary information but provides an in-depth detail regarding all of these features on an iPhone. If you want to know what an iPhone is built up before you can install this application. The important information that this application can display Hardware information, Operating System, CPU, Network, Storage, Battery, etc.
iTunes Link: All in one
This is an all in one application, that unlike the other two apps does not measure any real-time data, but displays important data one may need while messing with the firmware of the device to tweak its performance. With these applications installed you can verify the working of any of the above-mentioned features in an instant. Also, if you feel like tweaking with the performance features these applications provide all the important data.
Phone Check Utility
The iPhone check utility is not your typical iPhone basic hardware check app. Rather, it is an impressive set of testing tools to check whether over 20 functions in your Apple iPhone device works normally. This iPhone tests include SIM card test, Display test, physical button test, speaker test.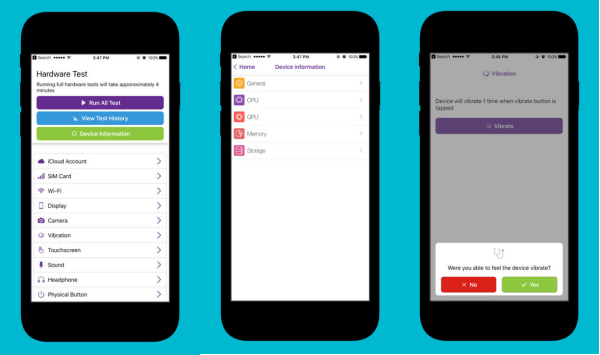 If you want to make sure that your Apple iPhone device is perfectly fine, this iPhone hardware test app is a must have. With all these tests, we can also use this phone check utility app to view the information regarding the hardware specifications of your smartphone.
iTunes Link: Phone Check Utility