Any average individual is capable to type about 38 to 40 WPM average. However, a large number of professionals like developers, writers, bloggers, etc., are spending a major part of their time using the keyboard of desktop or laptop computers. Most of them have a career that demands to write tons of stuff. And the typing speed is a critical measuring factor for those professionals to improve productivity.
When you want to measure your typing speed for a job or interview, there are a bunch of typing speed test tools freely available online. A couple of these free typing test tools are in the form of a game. These typing games can measure your typing speed while you play online games.
To help you to check your typing speed, we listed some of the best typing speed test tools online by inheriting typing games as well as English typing test modules to assist you.
TestMyTypingSpeed
Calculating your typing speed with TestMyTypingSpeed is very easy. Know your characters per minute as well as the word per minute speed with the help of this typing speed test tool available over the internet. Typing speed score of any individual is calculated based on the effective words or characters typed correctly.
For speed calculation, the user must type the words highlighted in the white box and hit space after every word input. This typing speed test tool is also available in the form of a Chrome browser add-on to take the free typing test. TestMyTypingSpeed tools is a simple yet efficient typing speed test online tool.
Website Link: TestMyTypingSpeed
Related: 7 Best Free Online Typing Practice Tools to Improve Productivity.
10fastfingers
If you are looking for a simple website that serves as one of the finest typing speed test tools then 10fastfingers is the best bet. With a simple user-interface, this free typing test tool serves most of the people who just want to increase their speed. The site starts by analyzing the speed as soon as the individual initiates typing in the box with a timer.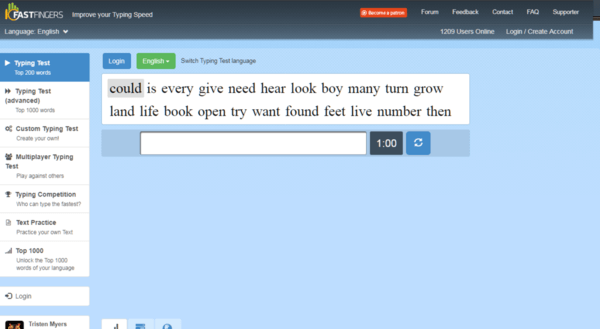 Divided into three form of test types, the users can select the word count among them for which they want to test their speed. You can select the test containing 200 words, 1000 words as well as customized word count with a timer. With Multiplayer typing test, you can easily compete with others to know who types fast between them. This English typing test tool also gives out a ranking and position among hundreds of other users.
Website Link: 10fastfingers
Related: Top 5 Android Keyboard Apps for Fast & Easy Typing
Nitro Type Race
Engage your child in the typing practice by using this typing speed test game online. Improve your typing speed by competing in the race with the typists all around the world. Compete against your friends and earn new cars as well as track your scores over the site. You can do this at no price and the access to this typing game is completely free.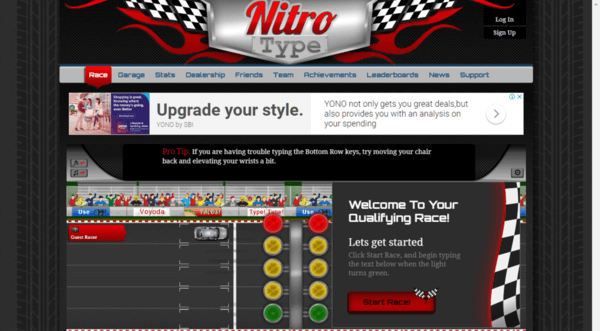 You can Race with up to five players online to take the competition to a completely new level. The word per minute speed is calculated by dividing the total words typed by the typing minutes and adding five to the rounded off result. This game besed typing tool is a great tool to promote typing for kids inside home or school.
Website Link: Nitro Type Race
Key Hero
Make yourself more productive with this typing speed test tool and improve the typing skills. The game tracks the typing performances by you and aids in clearing doubts on what you lack in typing for improving the overall typing speed. Key Hero brings almost everything that is necessary for mastering the typing speed. Reduce finger movements while typing and improve the shortcomings that are presented in it for the updated swift typing.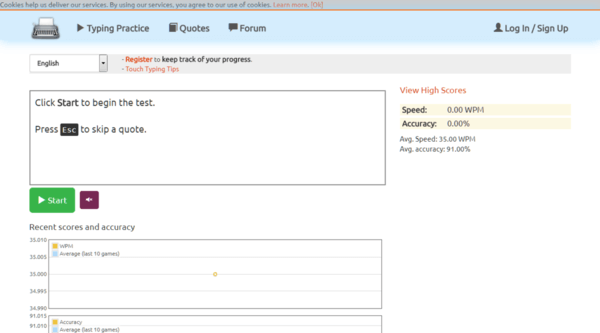 You can select the preferred keyboard layout from the available layouts and start typing to increase your keystrokes speed. With regular practice and interesting games, you can easily benefit by learning to type fast.
Website Link: Key Hero 
The Typing Cat
Learn to touch-type here and work for better typing speed with Typing Cat. You will be able to see more about your typing speed by focusing on the key points and regular practice on the typing speed test tool available online. Choose the preferred keyboard layouts from QWERTY to Workman for experiencing the best out of this online tool.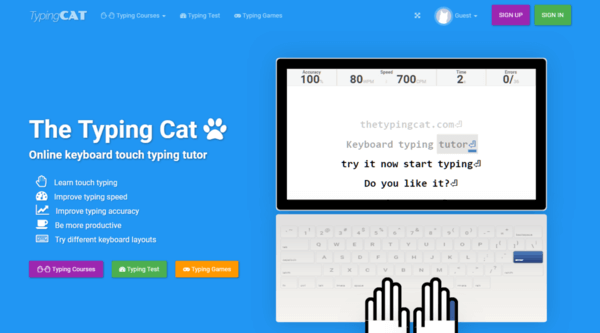 The courses range from Basic to Advanced for getting more information on typing. This online typing tool also offers the diverse type of courses for programmers aiding them for better typing speed. They can use the HTML 5, CSS 3 and ECMAScript 6 examples. You will know more about capitalization, punctuation and number row to maintain the grab on typing.
Website Link: Typing Cat
Keybr
Keybr is a simple typing tool suitable for all age people, allowing them to type faster with more accuracy and fewer errors. There is no random set of sentences presented in front of you to type instead. This online typing speed measuring tool gives you readable random words for typing. You can choose from the three basic lessons available in this typing speed test tool to progress.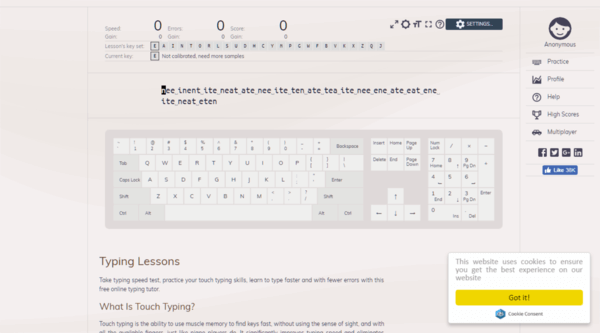 Keybr has one of the best web layouts, the free typing test of this site is quite different from other websites to accelerate your typing speed. The graphical representation of the errors on keyboard displays which key was mistyped mostly. This WPM testing tool tracks the performance and mistakes to aid in your speed improvement.
Website Link: Keybr
Ratatype
Speed up your entire learning progress with the help of Ratatype online typing speed test tool. Impressing your friends as well as co-employees with your improved typing speed certificate is easy now with this tool. For teachers, Ratatype is a great tool allowing them to teach their students on how to speedily touch type with utmost simplicity.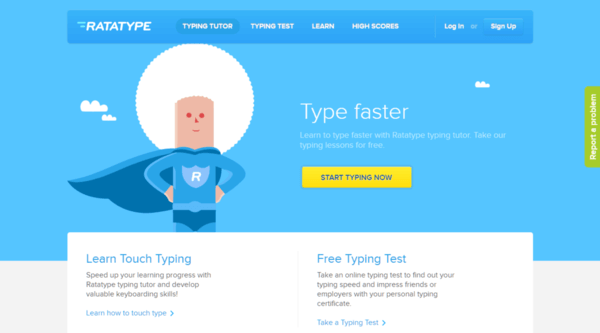 A user can make a group to compete with family members, friends, classmates etc in the English typing test of this site. You can also use the tool as 'typing for kids'. Access it to teach them how to type correctly and fast in the best possible way. You will get Platinum, Gold and Silver certificate that bears your speed in word per minute as well as the typing speed accuracy.
Website Link: Ratatype
Typing Master 10
Typing Master adapts to your unique needs and helps in alleviating your typing mistakes and increasing the word per minute speed. Through the customized exercises present in the tool, you can easily follow the step-by-step guide for specialized typing training. Start from amateur and go to the professional level of speed keyboarding with the use of this online typing speed test tool.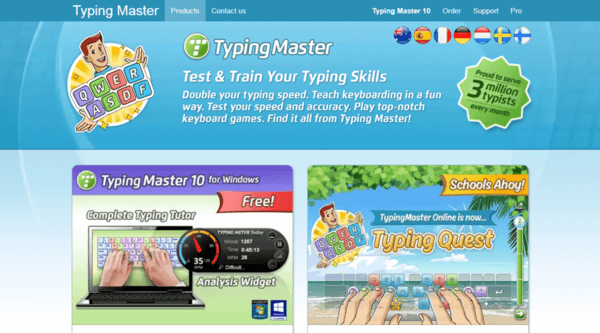 Double or triple your typing speed from the current speed by learning more about keyboarding in a fun way. Several typing speed-based games are available to motivate kids to play the games to experience the benefits of typing for kids. Find your keyboarding speed and accuracy to make it better in a unique way with Typing Master 10.
Website Link: Typing Master 10
FreeTypingGame.net
Learn how to type efficiently and with great accuracy with FreeTypingGame.net. There are several typing games as well as online typing speed test tools are available for most of the learners.  In every lesson, the individual needs to type as quickly and accurately as possible and he or she can rectify the mistakes with the backspace key.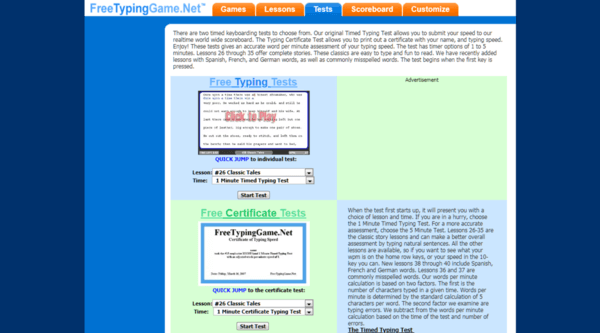 The methodology of the typing speed game is simple; the test inherits a timer option that ranges from 1 to 5 minutes. The typing lessons also inherit the German, Spanish that includes common misspelled words. The test starts as soon as you hit the first keystroke. Learn to type faster with the tool by setting a word per minute goal ranging from five to 60 words per minute.
Website Link: FreeTypingGame.net
Goodtyping
Know how to type correctly and efficiently with the help of Goodtyping. Type faster through the 27 guided lessons aiding the step by step learning from the beginning. Select from 23 different keyboard layouts to master the one that is perfect for you. Web-based typing courses are available on this typing speed test tool that allows you to type without any error while using the keyboard.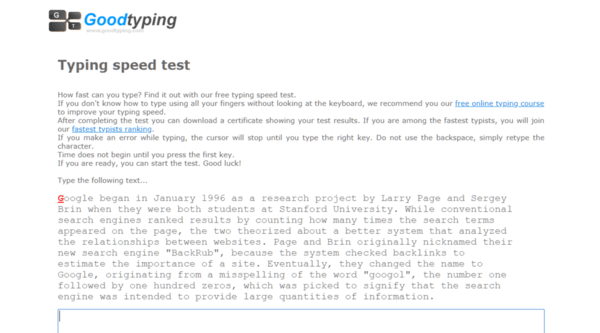 The typing speed test online tool gives the people a unique way to learn to type fast and with great accuracy. Users can easily learn from the keyboard combinations that were previously unknown to them to type faster than earlier.
Website Link: Goodtyping
Best Typing Speed Test Tools Online
If you are a professional or a candidate to apply for a job, that required an intensive typing speed, these tools are going to help you to understand your current speed and improve that by spending few hours on these English typing test tools. With this free typing test tools, you can improve the efficiency as well as type speed to give out better results in each passing day.
Anyone working with the keyboard needs to have above average typing speed to meet their deadlines. With the typing speed test tools, any person can easily ensure the proper hand placement for the correct keystroke. After regular practice and learning on these typing games, many were able to type without any trouble on the keyboard. Take up the English typing tests or wpm typing tests to get a better command of your typing.