Are you a professional lack of typing speed? Do you experience low productivity because of your typing speed? Well, there is a bunch of online typing class to help you to provide typing lessons for free. Whether you are a student or a professional, these free typing practice sites will help you to start from the beginner level and bring you up. It is never too late to learn. You can opt for the online typing class and turn into an online typing master with the typing lessons.
With the help of regular free typing practice and typing tests available online, you can easily acquire the skill to type fast and reach between 40WPM and 80WPM depends on the efforts you put in.
Typing.com
This typing practice tool is offering about 45 courses on their online typing class that range from beginners to professionals. Typing.com is a comprehensive typing practice tool available online. Choose the short lessons in the offered courses to nurture typing speed and capability. Along with the courses, there are about eight fun games available to play for the typists of every age group.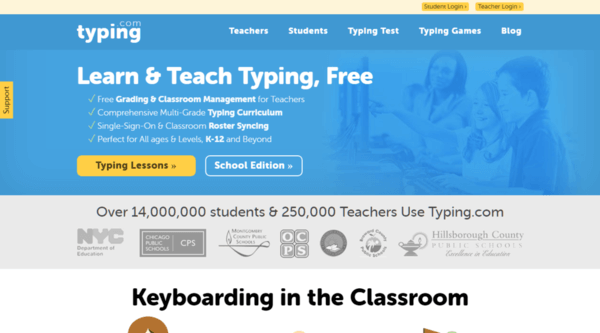 This typing lesson site provides a separate login for teachers and students. Teachers can easily impart the homework to students and track their progress. You can also avoid the login process entirely on the site. Learn more about typing by taking an online typing test and play fun typing games to learn more.
Website Link: Typing.com
Keybr
Keybr is a typing practice tool containing smart lessons for increasing your typing speed. Type efficiently and fluently without any error by using the online typing class and online typing test on the site on a regular basis. Choose between the offered seven languages and three skill levels to ensure that you are learning in the right way.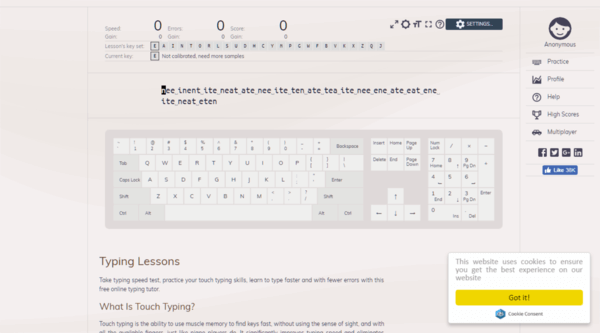 In Keybr's site's visual display, the beginners are able to see the keystrokes that are needed to identify the keyword for the test. After online typing test, the errors come in red and the right strokes are lit up in green. You can level up your typing speed and challenge your friends on social media by connecting your Facebook account.
Website Link: Keybr
Ratatype
Speed up typing and learning process with the help of Ratatype typing practice lessons. In the main page, a superhero greets the users for motivating them to take the online typing test of the site. A variety of typing exercises and lessons are available for students as well as teachers.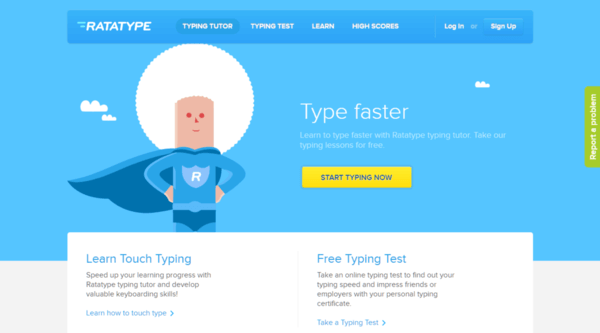 The social media integration allows the users to boost their successes as well as show their mistakes to others. On the site, you can easily chat with others and share your support with them to motivate each other. You can also make a group of competing with friends, colleagues, and classmates while increasing your typing capability.
Website Link: Ratatype
Also read: Best Typing Speed Test Tools Online
TypingClub
TypingClub is a web-based and highly effective typing practice tool. The user needs to attain five stars on each typing lesson to move ahead in the learning process. With a few minutes every day on site, you can easily become a professional in typing. There is absolutely no need to create an account and the user can create a profile if they are willing to save their progress.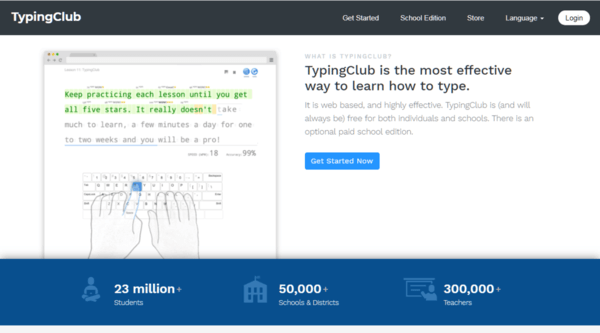 The online typing master tool is engaging and effective showing you proper hand posture on every keystroke made to learn. Every word typed is read aloud with the voice-over feature present in the site.
Website Link: TypingClub
Related: 12 Best Free Android Calculator Apps for Students & Professionals
Speed Typing Online
Featuring multiple lesson formats, Speed Typing Online offers Classic and Advanced lessons to allow the choice regarding the way you would like to learn to type. You can easily set target speed and accuracy to achieve it as well as track the progress. Concentrate on the technique and accuracy of your typing to nurture it.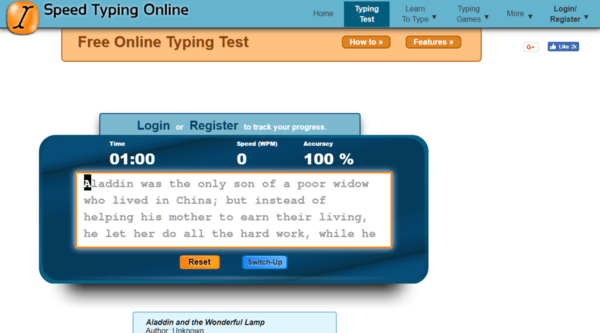 The lesson length toolbar allows you to customize and select the preferred length of every lesson. Through this feature, you can easily spend more time on important lessons on the site. Focus more on crucial topics by using the feature to get more information.
Website Link: Speed Typing Online
Typing Cat
Improve your typing speed and typing accuracy with Typing Cat. Use the typing practice tool to enhance your typing and learn more about through diverse courses. Starting from Basic typing, Typing Cat offers courses on ECMAScript, HTML5, and CSS3 and this is ideal for programmers and developers.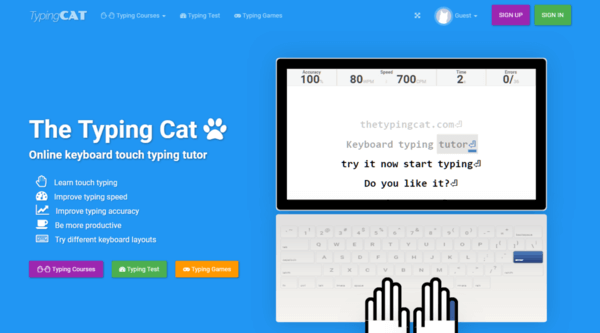 You can do just learning about typing and you can also know about diverse forms of typing if you are a professional and need typing skills on code editors. Master diverse types of keyboards and get command on your form of typing. There are more than 12 keyboards present on the site for learning and type to make more of your skills.
Website Link: Typing Cat
Typing Tutor
Start training yourself for free typing test with Typing Tutor typing practice tool. You can easily select typing exercises on the site by selecting the characters. Select any particular row of the keyboard and undergo the typing exercises for that particular character set.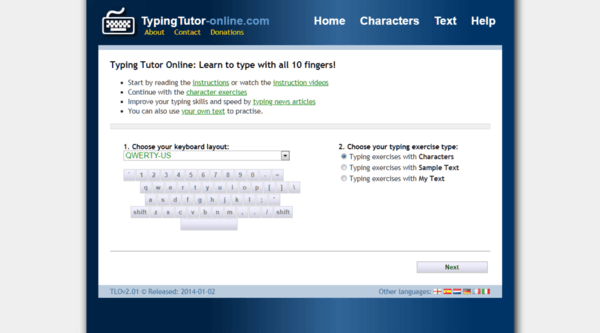 You can easily practice typing the number row or the home row on the tool. Choose the keyboard layout and the typing exercise as per your preference to get the best out of typing exercises. Perform typing exercises with your text, sample text, etc as you find it appealing.
Website Link: Typing Tutor
Typing, regardless of its form, is giving pleasure to a large number of people. You may be a writer, a journalist or a blogger, whatever, it is an important part of your lives. Being a slow typist at work is quite embarrassing and at the same time, it may affect your productivity. You can get a decent writing speed to perform your job if you spend one hour a day on these free typing lessons.
Typing fast and efficiently is solely based on your learning. With this online typing class,  you can make more words per minute than usual. You can progress quickly and get efficient results through the easy to understand programs and exercises. Tune-up your writing speed with these online typing tests and free typing tests. Typing lessons available on these tools give you a brief means to learn in a manner like never before.