If you look around on social media, everyone's uploading videos. Apart from having the skills, it is equally important to have good video editing software. If you have a Windows 11 PC, there are a good number of free video editing programs that you can use to edit your videos.
Here is a list of the best video editing programs that are free to use on a Windows 11 PC.
Clipchamp- Video Editor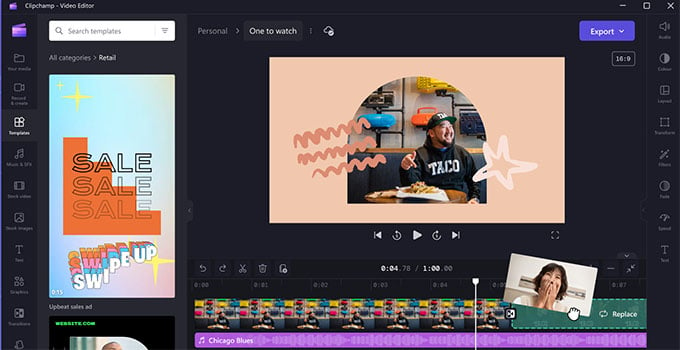 ClipChamp is a video editing software that you can use easily via a web browser such as Google Chrome or Microsoft Edge. This is a great editor for those who are first time entering the world of video editing. Clipchamp has a good number of features such as the ability to use many templates, use a green screen and even use the built-in screen recorder to record anything on your screen.
Clipchamp is a video editor that comes pre-installed with Windows 11. The software allows you to add various backgrounds, croup, trim, and split your videos. You can use your webcam to record yourself and add it right into your video. If you don't want to use the app, Clipchamp can be used on a web browser on any device.
Pros:
Feature Rich
Multiple Social Media Templates
Cons:
Works only with Chromium Browsers
Key Features: Freehand Cropping | Templates | Stock Library with Images and Audio files | Text to Speech Generator
Download: Clipchamp (Freemium)
Related: 15 Best Free Video Editors for YouTube Video Making
OpenShot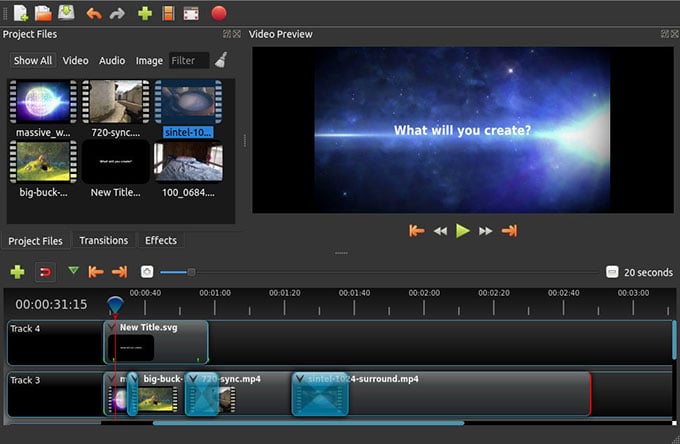 OpenShot is a multiplatform video editor that is free and open source. This software lets you import audio and video files of multiple file formats OpenShot has all the basic features like clip resizing, cutting, trimming, and merging videos, scaling, and rotation. If you have various audio files to be adjusted, they can be done thanks to the various audio mixing and editing tools.
With over 400 video transition styles to choose from, you will be bring the best edits from the footage that you have. You can make use of various title animations in 2D as well as 3D. Want to add audio and video files? You can simply drag and drop them without having to browse using the built-in file manager.
Pros:
Completely Free
Keyframe animations
Cons:
Lacks support for plugins
No stock footage library
Key Features: Unlimited layers | Adjust video elements | Brightness, greenscreens, bluescreens | Time mapping animations.
Download: OpenShot (Free)
Lightworks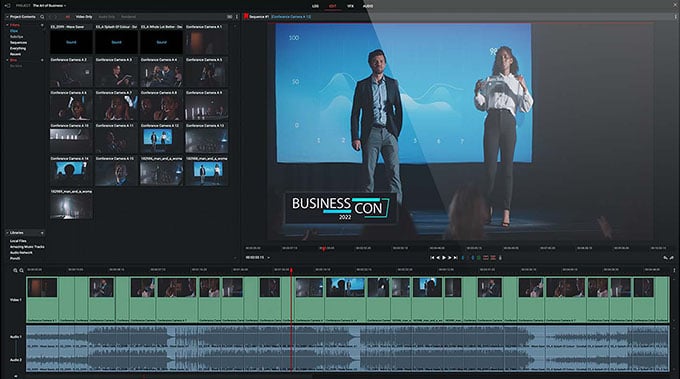 Lightworks is a free video editor that talks about how you can achieve Hollywood-style editing with their software. The software has a paid version which you can purchase and get access to a number of cool features. Lightworks is for those who have a good idea of how Adobe Premiere Pro works as the user interface is similar to it.
The powerful timeline layers in Lightworks help you to easily cut, paste, and move your audio and video clips easily. It also has a good number of ready-made titles and transitions, which can help the person focus on the video's elements. If you are a beginner in video editing, the website has a number of tutorials that can help you get started with editing.
Pros:
Local backup and Archive
No Watermarks
Cons:
Need to reactivate every 90 days
Max export quality upto 720p
Missies Exporting camera formats
Key Features: Cloud Storage | Ready-made templates | Supports multiple file formats | Simple layouts
Download: Lightworks (Freemium)
Related: How to Set Video as Live Wallpaper on Windows PC
Hitfilm Express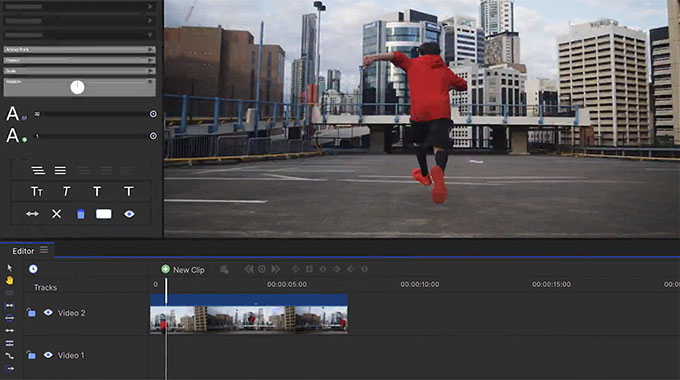 Wanted to try your hand at a few VFX effects? Hitfilm Express is the way to go. It is a free video editing software that is filled with features you would expect. The simple and easy-to-use timeline lets you cut, trim, split, and even flip your video and audio right away. The user interface is a mix of Premiere Pro and Lightworks
When it comes to adding transitions in Hitfilm Express, you can drag and drop them to the timeline along with the various presets that allow you to adjust text, color, size, and various animations The software will automatically sync your audio and video file which saves you time. Plenty of lens flares and lighting effects to make your videos or vlogs stand out.
Pros:
Adjustable Workspace
Stock library field with audio and video footage
Cons:
Max video output at HD resolutions only
No customer support
Key Features: Mocha plugin support | 3D camera tracker | Motion tracking | Green screen
Download: HitFilm Express (Freemium)
DaVinci Resolve 18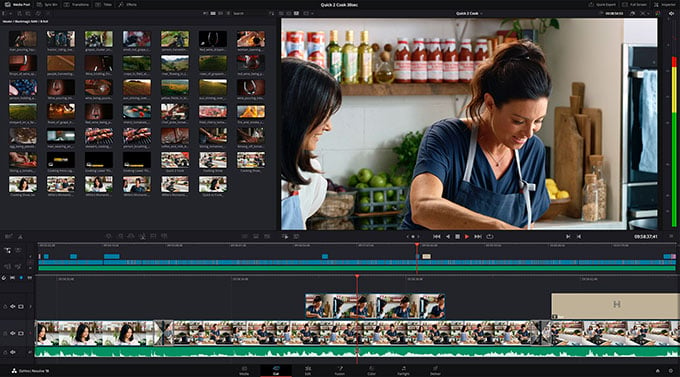 Want professional-level video editing software without spending a dime? DaVinci Resolve is the answer to all of your questions. This is the king of all free video editing software. While you can do all of your basic editing right out of the box, DaVinci Resolve lets you add enhanced subtitles, add chapter markers to videos for YouTube, and has a number of color adjustment options including a color depth map that helps you set the right color levels for your videos.
DaVinci Resolve 18 lets you import and export files from various other popular video editors like Premiere Pro, Final Cut Pro, and Avid. It also works as an audio editor, VFX composter, and color adjustment tool. Plan to get the Studio version of Resolve? it will cost you $30 which is a one-time payment, thus putting it ahead of many other paid video editing software.
Pros:
Completely free
Best color grading tools
Cons:
Very steep learning curve
Not recommended for beginners new to the editing field
Resource heavy
Key Features: Customizable UI | Automatic face Detection | Automatic Cut Detection | Cloud Collaboration Plugin Supports | Metadata management | Remote rendering
Download: DaVinci Resolve 18 (Freemium)
Related: 10 Best Free YouTube Thumbnail Maker Online
Kapwing Video Editor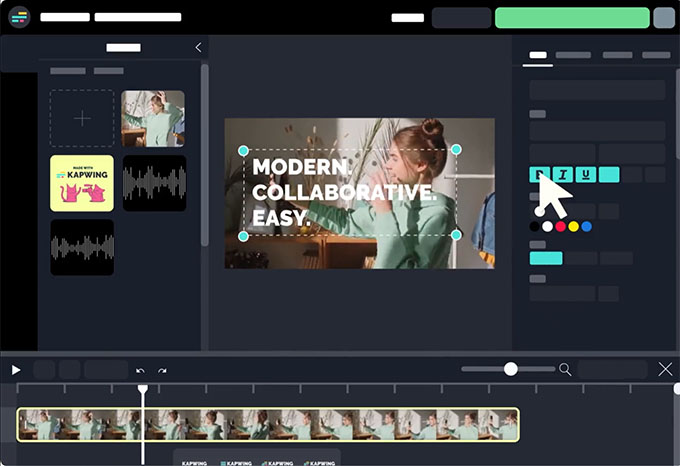 Not having a PC that is good enough to run most video editors? No Problem! Kapwing is a video editor that moves all of your editing work online in a web browser. You simply need to upload your video clips to the timeline, make necessary changes and finally export them. Kapwing lets you add subtitles, resize your videos and adjust audio files easily.
One good reason why Kapwing is recommended is simply that it lets you collaborate with other people right away. With it being an online editor, you can access it from any device that has a web browser. This is a great editor for those making thor entry into video editing.
Pros:
Easy to learn
Better collaboration tools
Cons:
ML and AI can be glitchy at times
Auto-generated subtitles can be wrong at times
Key Features: Ad Free | Updated Templates Store | Stock Assets Library | Convert video files | Background remover tool
Get: Kapwing (Freemium)
Clipify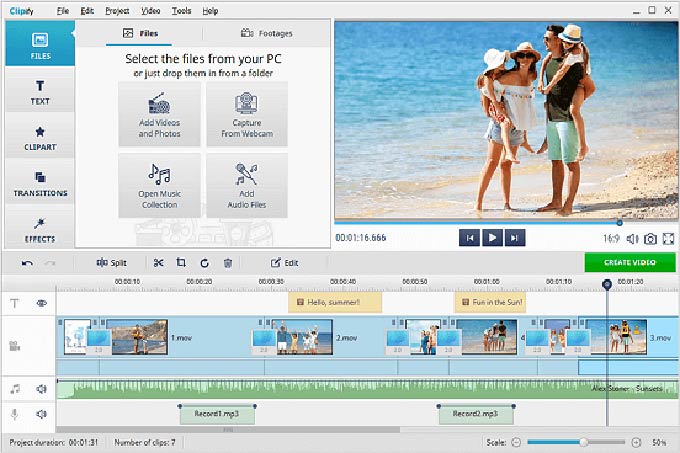 Clipify is for those who quickly want to edit their videos without having to learn too many things. You simply drop the audio and video files onto the timeline, cut, trip, and add your favorite video effects. Great tool for those who have a low-end PC and simply need a program to complete fun projects.
Apart from the regular cuts and trims, Clipify also allows you to stabilize your video, and add multiple cinematic transitions. And if you wanted to change the backgrounds of your videos, the Chroma Key tool works perfectly. Clipify also allows you to record using your system's webcam.
Pros:
Easiest to use
Minimal clicks to make edits
Cons:
Allows Full HD exports only
Key Features: Built-in music library | Multiple title card options | Add stickers and clipart easily | Curve-based color adjustments | Good audio editing tools
Download: Clipify (Freemium)
Related: 20 Best Free Adobe Alternatives to Replace Photoshop, Premiere Pro, and More for PC and Mac
Adobe Premiere Rush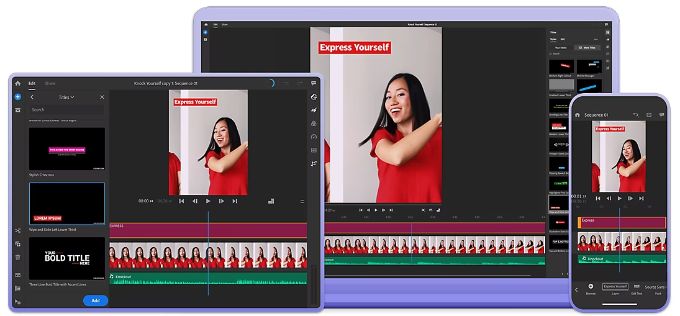 This one's for the Premiere Pro fans out there. If all you need to do is make basic cuts, merge two video clips and add audio effects, Premiere Rush is good for you. Great for those who edit videos on the go. This is the trimmed-down version of the mighty Premiere Pro which keeps important elements such as drag and drop video clips, easily adjust video speed, and the ability to export to various platforms in different sizes and formats.
Since it's all about moving and working at the same time, Premiere Rush is a fast and responsive video editor. If you don't have a Windows PC, no problem! Premiere Rush is available for macOS, Android, and iOS devices. This means you can take your footage and files and edit them on any device without having to worry about the cost.
Pros:
Simple Interface
Modify built-in titles
Cons:
No cloud sync on the free version
No cloud storage
Key Features: Unlimited Exports | Free library of audio tracks | Manual color correction tools | Customizable animated titles
Download: Adobe Premiere Rush (Freemium)
VSDC Video Editor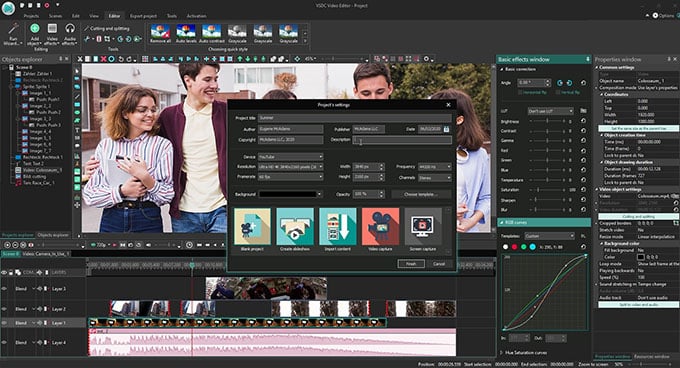 VSDC Video Editor is a free editor that has video filters similar to the ones on Instagram. The interface for VSDC is similar to Premiere Pro which is good for those who might be shifting from the latter software. VSDC lets you do your basic edits plus the various audio and visual effects that can be used to make your videos more interesting to look at.
The video editor also supports importing various file formats such as MPG, WMV, FLV, MP3, WAV, OGG, PNG, JPG, and even PSD files. Whether you want to screen record or capture footage from your system's webcam, VSDC lets you do it. Even if you are a beginner at VSDC, there are a good number of tutorial guides you can follow to understand basic functions.
Pros:
Built-in file converter
DVD authoring tools
Key Features: Masking tools | Motion tracking tools | 4K export support | Create multiple charts and 3D diagrams | Video stabilization | Easy export to social platforms
Download: VSDC Video Editor (Freemium)
Related: 10 Best Free Audio Editing Software for Windows Users
Kdenlive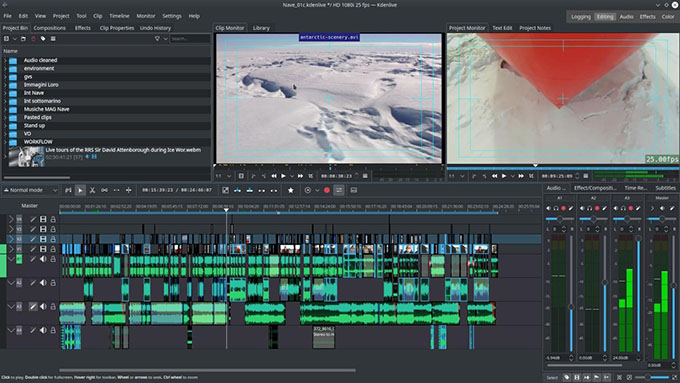 Kdenlive is a great video editing software that is perfect for mid-level video editors. The software has multiple layers that let you lock or mute audio or video placed on the layers. Given that it's an open-source tool, Kdenlive supports all types of audio, video, and image formats Apart from the standard cut, trip, and merge tools, Kdenlive has an online library of titles, templates, and animations that can be downloaded and used freely.
When using heavy video files, Kdenlive lets you render different parts of the timeline which results in a smooth playback when previewing your edits. It also lets you customize the layouts and set up shortcut keys to make your workflow smoother.
Pros:
Completely free
Automatic local backup
Cons:
No stock assets library
Supports 2D titles only
Key Features: Audio and video level scopes | Proxy editing | Keyframe effects | Light and Dark themes | Monthly software updates
Download: Kdenlive (Freemium)
These are the best free video editing software available for you to download and use on Windows 11. If you want the best free editor without many complications, Clipchamp is your go-to editor. But, if you prefer professional high-quality tools for serious editing, then DaVinci Resolve 18 is what you need to be looking at. Granted it has a steep learning curve, but once you master it, you'll be able to edit like a pro.