All-terrain hoverboards are specially designed to tackle different kinds of roads and terrains. These hoverboards are made for outdoor fun and enjoy the ride on off-roads. They designed to withstand the weather, and road hazards and comes with safety standards. Most of the off-road hoverboards listed here are illuminated with colorful LEDs and wireless Bluetooth speakers so that you look stylish and modern wherever you go.
Here are the all-terrain hoverboards with Bluetooth speakers available in the market. Select one which suits you and hover like in the movie 'Back to the Future'.
TOMOLOO Hoverboard
Tomoloo started investing in self-balancing scooters since 2013. They introduced the first self-balancing electric hoverboard in the market. The 6.5-inch off-road solid rubber tires are for all kinds of terrains. This all-terrain hoverboard has an IPX4 rating for solidness and water resistance. This makes it possible to ride across grass, mud, and sand. Smart balance chip and Gravity Accelerators with anti-slip pedals give you complete control over the product. Electric brakes respond faster and effective, making it safe across all the terrains.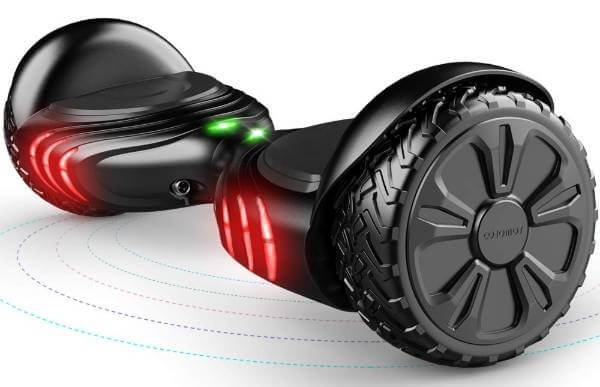 The company integrated more features to make this off road hoverboard more attractive with Bluetooth. A dual 5 Watt HIFI Bluetooth speakers and RGB LEDs add more color to it. The Bluetooth speakers get connected to your smartphones easily. The RGB LEDs give the hoverboard a futuristic touch.
The Tomoloo app functions as a controller for the speakers and the lights. The app keeps track of your off road hoverboard's location, battery percentage, speed, etc. We can set different riding modes via the app. The Tomoloo app is available in both the Android and iOS stores. The company provides 12 months warranty on their wheel hub motor, controller and battery. They also provide 24/7 service support.
Key Features: 44-220lb Capacity | 6.5″ Tires | IPX4 rating | Dual 5 Watt HIFI Bluetooth speakers | RGB LEDs | Tomoloo Control App for Android & iPhone | Buy from Amazon: TOMOLOO Hoverboard
Gyroor Hoverboard Warrior
Gyroor introduced 8.5 inch ABS tires to hoverboards that changed the off road hoverboard industry. The larger tires provide a smoother commute than the smaller ones. They used 700 Watts motors to keep the bigger tires moving over all kinds of terrain. The powerful motors helped the hoverboard to reach a speed of 9.95Mph.
Gyroor uses Lithium-ion battery to discharge charge into the motors. This all terrain Bluetooth hoverboard takes 1.5 to 2 hours to charge and travels 7 to 9 miles in one full charge. IP54 rating prevents the motherboard and other electronic materials from getting wet. It weighs around 33 pounds and can withstand up to 265 pounds. The frame is of metal and aluminum to make it look stylish and durable. Self-balancing and electric brakes are the other highlights of the product.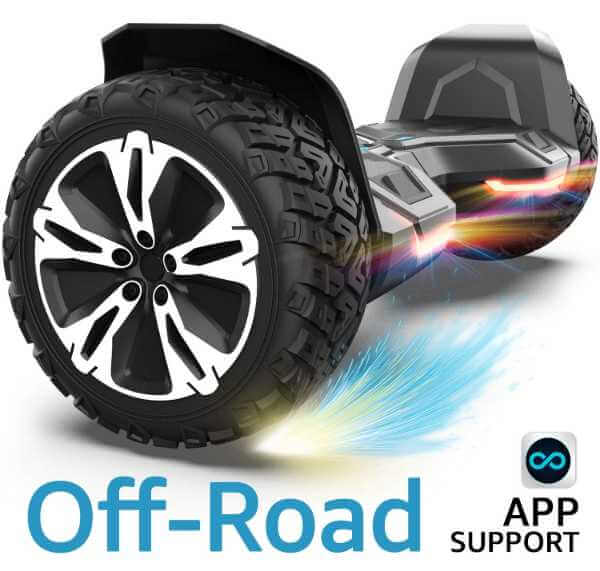 This Bluetooth hoverboard comes with a Pro Music Player to listen to your favorite songs while hovering. It also has an RGB LED set to illuminate the hoverboard for more stylish looks. The Gyroor hoverboard is UL2272 certified. A certification is given to the products which qualify the electric and safety tests. Gyroor app is available in Google Play Store for selected smartphones. This hoverboard is safe for all categories of people.
Key Features:  Up to 266lb Capacity | 8.5″ Tires | IP54 rating | Bluetooth speakers | LEDs | Control App for Android | Buy from Amazon: Gyroor Hoverboard Warrior
Also read: Best Waterproof Portable Bluetooth Speakers
XPRIT Hoverboard
Xprit specially designed their hoverboard for kids and teenagers. Unlike ordinary hoverboards, Xprit hoverboard has vibrant colors and LEDs on them. XPRIT hoverboards can withstand only 45lbs to 165lbs, making it suitable for teenagers. Since the design focuses on kids, it's simple to get control of and roam around.
You can master the working of this hoverboard with just minutes of riding. The twin motors are able to achieve a top speed of 6mph. lithium polymer batteries that provide 45 minutes to 75 minutes of battery backup. It takes almost 2-3 hours to get fully charged and to keep running. Since they're designed for kids, they're not as tough as other models.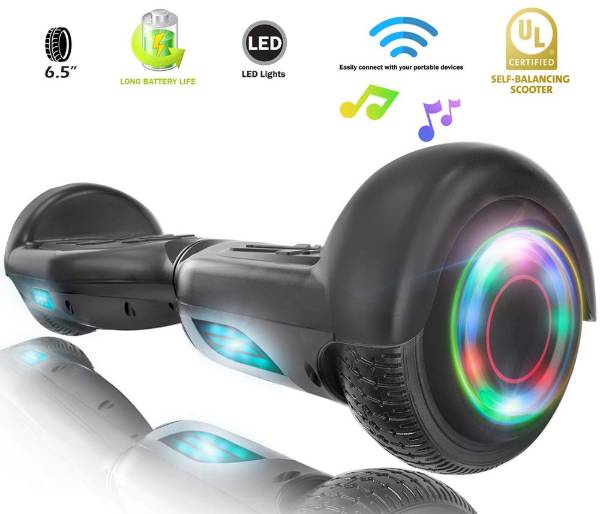 The manufacturer advises against the use of hoverboard on rough surfaces. 6.5-inch non-slip sturdy rubber tires provide a firm grip while riding. Anti-slip rubber at the pedals helps in taking full control over the board while riding.
Xprit hoverboards did qualify the UL2272 tests and are safe around kids. The tires and the panel have LEDs to give a shiny look while riding. Wireless Bluetooth speakers allow the users to listen to their favorite tracks while on the board. The Xprit Hoverboard weighs around 19lbs and needs a minimum of 44lbs on it to start working.
Key Features: 45-165lb Capacity | 6.5″ Tires | Bluetooth speakers | LEDs | Buy from Amazon: XPRIT Hoverboard
Swagtron Swagboard Vibe T580
Swagtron Swagboard is a sports hoverboard that can go at a speed of 8mph. Swagboard can climb a 30-degree incline at a speed of 7mph. Each motor of the Swagtron gets the power of 200 Watts. 3 riding modes are available to the riders to select from.
The riders can set different modes to get different speeds. 6.5-inch tires can withstand a weight up to 220lbs. With the self-balancing chip and non-slip pedals, Swagboard is easy to control the hoverboard for all ages. The body has an IPX4 rating that protects the Swagboard from dust, water, and sudden shocks.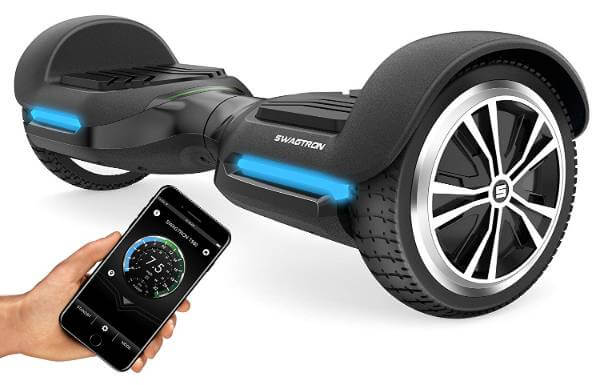 The Swagtron plays an important role in this Swagboard. The app keeps track of the distance you covered, the current speed and can even set destinations. The app also helps the user to play music on the go. The Swagboard comes with a built-in wireless Bluetooth speaker. Swagboard is one of the best off road hoverboard with Bluetooth speakers.
You can select the different modes available using this app. It also shows the remaining battery life on the product. Swagtron app is available on both Play Store and App Store. The Swagboard takes almost 2 hours to get fully charged and it weighs 20lbs. UL certificate makes it safer and durable around the users.
Key Features: Up to 220lb Capacity | 6.5″ Tires | IPX4 rating | Bluetooth speakers | LEDs | Control App for Android & iPhone | Buy from Amazon: Swagboard Vibe T580
Magic Hover
Magic Hover produces the best hoverboard board for beginners and experienced users. The Magic hover comes with 2 modes. A child mode for the beginners where the controls are easy. The child mode limits the speed of the hoverboard so that you won't fall off easily. After you master the child mode you can switch to adult mode.
This mode utilizes the full potential of this hoverboard. A dual 350 watts motors reach a speed of 10mph. The 6.5-inch all-terrain off-road tires help you to drive through different terrains, at ease.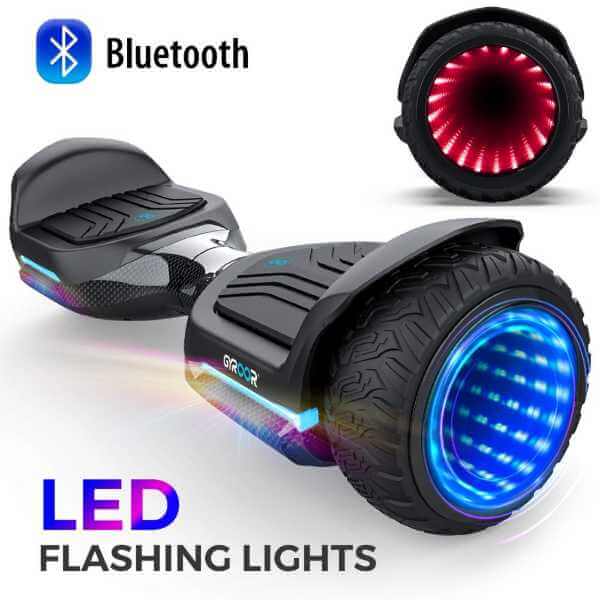 The magic swift speakers provide high-quality sound while riding the board. Bluetooth connectivity makes it easier to connect the board with your smartphones. The LEDs' lights can change according to the users. You can also toggle between modes, keep track of the remaining charge and current speed using the app.
This off-road hoverboard with Bluetooth is UL2272 and UL 2271 certified making it electrically and structurally safe. Magic Hover also has CE, RoHS, and FCC certifications. The company also provides a free fashion bag to carry the hoverboard everywhere you go.
Key Features: Up to 220lb Capacity | 6.5″ Tires | UL 2271 Certified | Bluetooth speakers | LEDs | Control App for Android & iPhone | Buy from Amazon: Magic Hover
SISIGAD Off-Road Hoverboard
Sisigad designed a hoverboard for the adventurers out there. They created a hoverboard with 8.5-inch rugged tires and gave 300-watt motors to each tire. The large tires help the hoverboard to hover over sand, dirt, mud and even gravel. The powerful motors make it easy to climb 30 degrees inclined plain, with ease.
The top speed recorded on this hoverboard is 10mph. The best thing about this hoverboard is that it comes with 2 performance modes. In normal mode, we can use all the features like LEDs, speakers, etc. while riding. In off-road mode, all these features are unavailable to mainly focus on performance and speed. The self-balancing control system makes it easy for both amateurs and experienced users.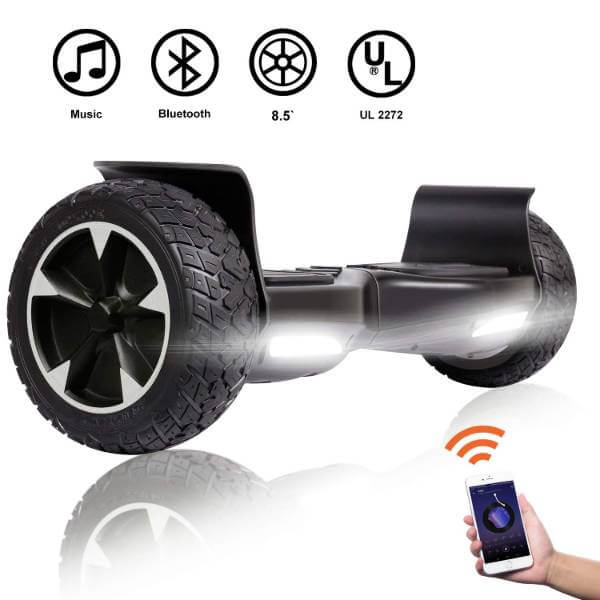 The hoverboard uses Lithium-ion batteries for quick charging and longer use. It can withstand an adult with a weight of almost 260lbs. The LEDs are in this hoverboard helps you to navigate through the darker areas. Turn signal lights are also there to respond to which pedal you step on.
The built in Bluetooth wireless speakers in this hoverboard provide loud enough sound to enjoy music on the go. The built-in Bluetooth takes 1-2 seconds to pair up and start playing. This hoverboard has passed all the basic certifications needed to classify it as safe and durable.
Key Features: Up to 260lb Capacity | 6.5″ Tires | UL2271 Certified | Bluetooth speakers | LEDs | Control App for Android & iPhone | Buy from Amazon: SISIGAD Off-Road Hoverboard
CHO All Terrain Hoverboard
Cho is an all-terrain Hoverboard with 8.5-inch rugged tires. These big tires make it possible for the hoverboard to tackle all kinds of terrains. The self-balancing technology makes it easier to use, for both adults and kids. It can withstand weight up to 265lbs and climb 17 degrees inclined slopes.
This hoverboard takes up to 90-120 minutes for a full charge and works for nearly 13 miles. The top speed of the product is 8.5mph and gets reduced while climbing a slope. Two 350 watts motors are present for a smooth riding experience.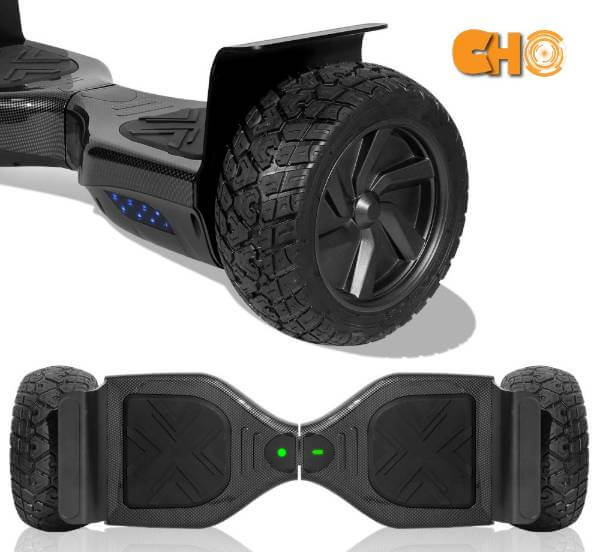 Cho All-Terrain hoverboard comes with a wireless Bluetooth speaker. They produce high definition audio while commuting. This Bluetooth hoverboard is easy to connect with your smartphones and takes less charge to operate the speakers. The hoverboard has passed the UL2272 certificate making it electrically and body-wise safe. LEDs are also present on the hoverboards to give them a modern stylish look.
Key Features: Up to 265lb Capacity | 8.5″ Tires | UL2272 Certified | Bluetooth speakers | LEDs | Control App for Android & iPhone | Buy from Amazon: CHO All Terrain Hoverboard
Ever since Back to the Future 2 hit theatres, people were waiting for the hoverboards. A skateboard-like board that hovers over any surfaces without touching the ground. This concept made believe the viewers that their rides will be smoother, compared to skateboards. The viewers believed that the product will be a reality in 2015, as shown in the movie. It is 2019 and we still don't have any hoverboards as described by the movie. But, there are some inventions that got so close to the concept.
Even though they don't hover, it feels the same while riding these hoverboards. Each one of these hoverboards is specially designed to tackle different kinds of roads and terrains. These hoverboards are safe and durable for daily use and look cool while riding them. Just get one and start hovering like Marty McFly!