There is no 100% solution to protect Mac from potential theft. But you can be prepared to recover Mac just in case you lost. When you consider Mac Theft Preventing Software, "Find My Mac" app will pop into your head. Apple's Find My Mac is easy to set up and easy to track,  but not as powerful as you think, especially when you want to recover the lost Mac?
My own story, my MacBook Pro was stolen in Dec. 2012. When I realized that I lost my Mac, I was sure to retrieve Mac with Apple's Find My Mac Tracking App. I logged into my iCloud account from a Windows Desktop and checked the status of lost MacBook Pro.
After waiting for a few hours, my MacBook status had been changed from offline to online. I wasn't sure about my next step. I took a screenshot of the location, and I played a sound to alert the thief. Playing an alert sound on lost Mac won't help you to retrieve the Mac. Instead, an alert sound may be a warning, like, Hi, Dude. I tracked you. I can see your location… Blah.. blah.
When I realized that I took a wrong step there, my Mac went into the offline mode from the iCloud account. After a few days, my lost Mac came back online with a different name (Angel's Mac). When I saw a different name on my Mac, I realized that he is not going to return my Mac. I sent another signal to erase Mac data, and I'm still not sure whether it worked or not.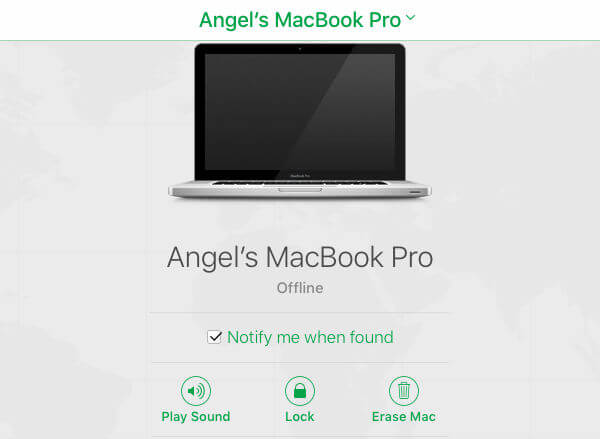 Meanwhile, I filed a complaint and completed all the legal formalities. That's all; I had Mac last found the location, Mac Serial Number, and UID number, none of these were helpful to track back my lost Mac.
I bought a new Mac after two years, and I implemented the following steps to protect my Mac from any potential theft. I listed all those steps here and I encourage you to follow these free tips to secure your Mac.
Related: 12 Things to Customize for New MacBook User
Set Up An Open Guest Account
When you set up Mac first time, create an account for you and a different guest account without a password. This guest account will be the only place where the thief can immediately tend to access a stolen Mac. This Mac guest account allows changing the Wi-Fi network without an admin password. Trust me. This internet connection is the only solution for your tracking software to connect Mac and share thief's information with you by email or message.
On Mac OS, you can easily add a guest account. Go to System Preferences > Users & Groups > Unlock Paddle Lock > Click Add+ . You can refer KB article from Apple to set up users for Mac.
Custom Lock Screen Message
The Custom Lock Screen message is a good idea to provide your contact details in case you lost your Mac. You can provide a return address or a callback number on the lock screen that may help the good Samaritan to return your lost Mac.
This Lock Screen Message also good to display the ownership information of the real Mac owner. If somebody has stolen your Mac and you have already set a Firmware password with this Custom Lock Screen, nobody would be able to change this Lock Message without firmware password. This Custom Lock Message will help the technician to contact you if thief approaches any repair shop.
To add custom lock screen message, go to System Preferences > Security & Privacy > General > Click Pad Lock to Disable > Check Show a message when the screen is locked. You will get a pop-up window where you can add your custom lock screen message; more details can be found on Apple KB article.
Install a Mac Tracking Software
Find My Mac is not an ultimate solution to track back your stolen Mac. Find my Mac can lock or erase your Mac or play a sound. But this solution is not sufficient to retrieve your stolen Mac. There are a bunch of other third-party apps coming with helpful features that help you to recover your Mac.
Most of this Mac anti-theft software can email stolen Mac location coordinates that help the cop to track thief's location. In addition to this, this Mac Tracking software can send intruder selfies, track screen activities and even send screenshots by email to the law enforcement and the owner of the Mac.
Please set up a guest account, use firmware password, turn off FileVault and grant location access to make sure your Mac Theft Protection can perform well.
Setup a Firmware Password for Mac
Nobody cares about a firmware password until they learn the lesson. Firmware password protects your Mac Operating System from any changes. Anybody can reinstall your Mac Operating system or even modify the admin password unless the system protected with a Firmware Password. Please refer more details for Use a firmware password on your Mac.
When somebody steals your Mac, he will first try to use the system with a guest account. When he realizes that idea is not safe, then he will try to wipe off and reinstall a brand new Mac OS on your computer. This Firmware password is going to prevent him from reinstalling the OS. This password also blocks him from changing the custom lock screen on Mac.
Now the only solution for him is to use your guest account or approach Apple Support to reinstall the OS. Well, if he wants to keep using your guest account, you can eventually track him using the Mac Tracking Software. If he chose to approach Apple Technician, the Custom Lock Screen Message would give them a red flag.
Grant Location Access
Like your iPhone, Mac doesn't have any built-in GPS sensor. However, Mac's approximate location is determined using information from local Wi-Fi networks that connected. Most of the powerful Mac Tracking Software is offering to share the location of the Mac. When you install these Mac theft protection software on your computer, the app will ask you to share the location access to this software. Please make sure you grant the location for the tracking software.

To enable location service on Mac, System Preferences > Security & Privacy > Privacy tab > Location Services > Check the "Enable Location Services" checkbox. Please read more details to enable location service here.
Be Careful with FileVault
Sometimes, this tracking software may not work with Mac's FileVault. FileVault is to encrypt your entire disk so that nobody can retrieve the data from your Mac Hard Disk. Unfortunately, there are some compatibility issues with FileVault and Tracking software. Please check with your Mac tracking software before you turn on FileVault on the system.
Conclusion
Before you leave, if you already lost your Mac, there is a worldwide registry to register your lost Mac details (there is no Apple service to register lost devices). I'm not sure how effective this third-party service, but you can try your luck at this free service called Immobilize. The Immobilize website is a free register of possession ownership details. This site works together with its sister sites  Police's NMPR  and CheckMEND forms; both are very effective tool in helping to reduce crime and repatriate recovered personal property to its rightful owners.
I couldn't retrieve my MacBook back because of my negligence. I wish I had all these security measures I mentioned above to protect my Mac, but it is too late. This guide will not complete unless you refer Complete Security Guide to Protect MAC from Online Attacks and A Complete Guide to Protect Mac & Avoid Data Loss.
Please be careful not to lose your hard-earned money, and make sure you did all the possible steps to protect your Mac from potential theft.