Apple's FindMyMac is a good tracking app that lets you trace your Mac if lost. However, this app is not much powerful if some worst thing happen. FindMyMac features are limited and may not be helpful to track your lost Mac.
FindMyMac can send a beep or message to the lost Mac screen, Lock the Mac and erase the content. Unfortunately, these features are not enough to retrieve your mac if you lost it. Hence, a greater share, as per the FBI, 97% failed to recover their stolen Mac. Sounds upsetting, but the truth is if your Mac is gone, it is surely a goner.
In short, you need powerful tracking apps to retrieve Mac if somebody steals your PC. These FindMyMac alternatives are built with additional features that help you to pinpoint the location of lost Mac and the thief.
These apps can take pictures using Mac Camera and send it to the owner anonymously. Most of these apps can trace the location coordinates and send them to the owner, which helps them to track back the lost Mac.
We listed best Mac Tracking Apps and you must have one of them on your Mac as an alternative to FindMyMac to help you just in case.
Prey
Key Feature: Prey offers the Prey Report wherein a detailed report including its geolocation, pictures of the screen and front cam as well as the detailed logins are shown, from the time your laptop was stolen.
This app is a feature-loaded anti-theft software that's not even limited to any single OS. The features of this app are tailor-made to help you locate your Mac along with the thief as well.
By tagging your device "Missing" in the Control Panel, the Prey Report sets up a detailed info screen including its geological location, pictures, etc. Also, the front and back cam is used to take snapshots to identify the thief or the place, and if it's a laptop-like Mac then the screenshot is taken. Furthermore, you can remotely lock it using a password and delete all the private information along with recovering them to your remote location. There are different control zones and you can keep a tab of your Mac, like which zone is it leaving or entering.
There is another business version wherein further non-intrusive features are provided to protect important files of business dealings. Prey Project is open-source and you can use it for free with limited features. At 15 USD/month, you can upgrade the subscription to access all the great features and worth for money.
Absolute LoJack
Key Feature: The Device Lock feature of this application is one of the most trusted ones and moreover, the dedicated team assures you of a guaranteed return within the stipulated team which no other app offers.
With a dedicated investigation team at its core, Absolute Lojack finds many parallels with the CIA and other investigation agencies. This app lets you lock your Mac once it is stolen and track it with the help of GPS, IP, and other location finder systems. The investigation team helps you to track the device with their hi-tech software and also promises to help you if the device isn't tracked within 60 days of the complaint.
One can scroll up its official page and very few countries are outlined on the map where the team hasn't made even one recovery, along with testimonials of recovered device owners. This app lets you permanently delete your private data before releasing it into the wrong hands. Starting at USD 29/year, it is one of the cheapest in the market, though one of the better ones in hand.
Download Absolute LoJack from Website
HiddenApp
Key Feature: HiddenApp allows the user to locate each keystroke the thief is making, transmitting even password tappings as well as other key usages.
HiddenApp has all the features of the apps mentioned above, so what is different? There's the catch. SSH tunneling wherein a reverse tunnel is set up to bypass firewall and other routers. A message broadcasting service wherein you can alarm the intruder with any message. Sending the screenshot of the device with a warning message. Tapping each keystroke including passwords. All this and much more.
HiddenApp is available in different plans as per your requirements, at cheap prices along with a variety of online payment options.
Related: How to Make Mac Dark Mode Enabled on MacOS
Undercover
Key Feature: Undercover transmits screenshots and front camera pictures every 8 minutes, the first application to do so in the anti-theft software arena.
Orbicule has made another application that sounds the death knoll for Mac thieves, as per its website. The Undercover app tracks the current location of the thief with the internal and external IP addresses along with a wireless location tracking. Similar to Prey, it also transmits photos through the front or external camera, albeit it does so every 8 minutes, thus not allowing a speedy escape for the thief.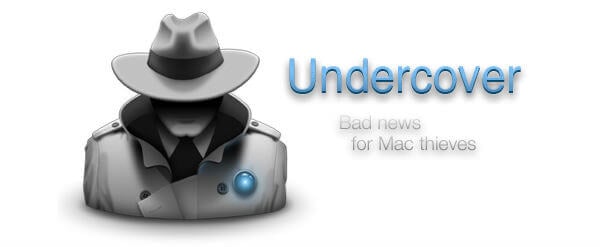 You can even see the live screenshots as well as whatever the robber is typing on your laptop. It has a watch feature wherein any dummy account being used can be traced and you can locate the physical address of whatever account the thief has logged onto. Available in the form of different licenses, although bit costlier, Undercover is worth every penny.
Download Undercover from Website
All the apps listed above are quite resourceful. Few things that the user should keep in mind is timely updating of the app, frequent contact of device center so that new features are updated, yearly/monthly renewal of your plan, frequent testing of the app so as to tap the bugs and the report.
Related: How to Track Your Lost Mobile or PC without a Tracking App
One should also try free versions before purchasing any app. Although devoid of all the features, the demo versions usually enable their unique features, thus the user can easily chalk out and select the one that comes closer enough to his needs. You must have one of these apps to make sure that you can track your Mac if somebody steals it.