How do you send a video or a high-resolution picture with a huge file size to your friend? This article shows you how to send files with your email up to 2GB size. You can send a single 2GB file or multiple files up to 2GB total size one time. You can keep sending emails as much as you want until you finish sending all big files. No limitation on a number of emails.
Well, of course, you may ask about Email or Dropbox. Email is not a good choice for huge files because Yahoo is limiting the maximum size of 20MB, Gmail is 25MB. The next solution is that the Cloud services or image uploading sites. Still, you need a common DropBox folder or public upload sites and obviously not a reliable solution.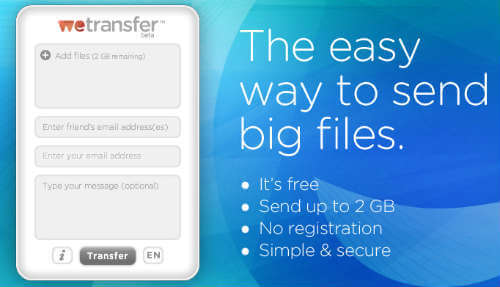 WeTransfer is a free platform for transferring large digital files up to 2GB per transfer. We can transfer any type of file – such as presentations, photos, videos, music, documents and more. No need to register, free service and simple to work with wetransfer.com.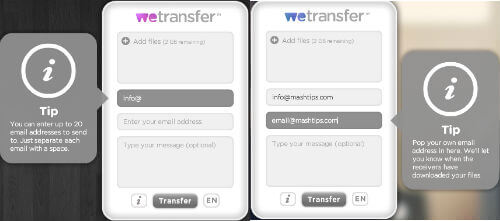 Fill in the receiver's email addresses (up to 20). You can send your files to up to 20 people. Just separate the email addresses with a "," or space. Enter your own email address.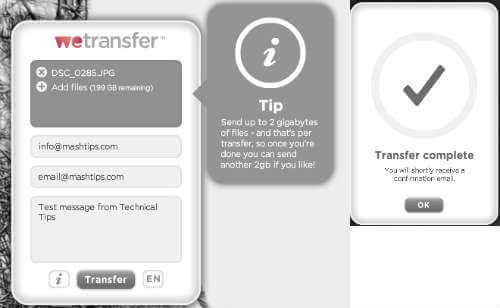 Got to the website, Select the file(s) you want to send by clicking on the "+". Write a message to your recipients (optional). Hit the 'Transfer' button, and the files are uploaded to the WeTransfer servers.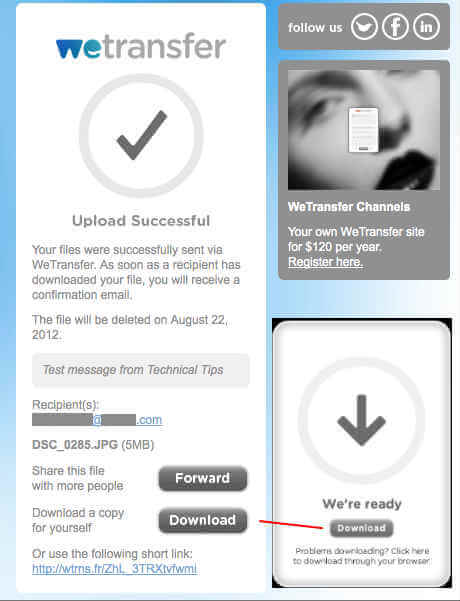 Once the file(s) have reached your intended recipients, you receive an email that confirms that we have received the file(s). When the file(s) is downloaded, you get an email that notifies you that the recipient has received your files successfully.
Related: How to Send Large Files by Email for Free?
Your files will be available to download up to 2 weeks. After that, the files will be permanently deleted to make room for new transfers.