You must have seen email signatures at the bottom of emails, especially from a professional. Ever wondered how they are actually made, and can you make one for yourself? Anyone can make an email signature through the free email signature maker tools online and many of them ever for free.
Let's begin.
Why You Should Own an Email Signature?
Most people think that an email signature is just a fancy design that contains the sender's name and photograph. But in reality, it is more than that. You can use an email signature as a marketing tactic and promote your brand, especially if you are a business owner.
Promote Brand
An email signature is a great way to promote your brand to the recipients. You can also create the message of your brand via the stamp. You can embed your company's name, logo, contact details, and slogan in the signature to promote yourself without even trying hard.
Personal Interaction
We're pretty sure you must have also come across popping profile pictures in an email signature. Indeed, they look fantastic and add more personal touch to the signature. You can embed your profile picture in your email signature to let the recipient know that they are talking to a real person, not a robot.
Increase Reach
Nowadays, it's a cakewalk to find out the contact details of any company. But how good it will be if you will make the task way lot easier for your customers to find details about your company. All you have to do is just embed your contact details in the email signature. This small step from you will make sure that your recipients don't have to Google details regarding your company.
Related: Your College Email ID Is a Discount Card: Don't Pay Full Price for Gadgets and Apps Anymore
Best Online Free Email Signature Makers
Here is the list of the best online email signature creator. All the names mentioned below are free to use, and you can use any of them to make your own email signature. Let's begin.
MySignature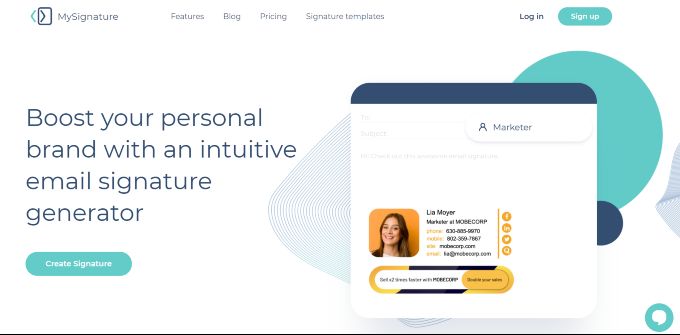 MySignature is one of the best options to produce professional email signatures. It has a collection of professionally designed templates. Simply choose the template that suits your brand, make changes according to your need, and lastly, download a ready-to-use sign-off.
The best part about this platform is that its templates are even compatible with smartphones. You can use the email signature designed from this platform in almost all the popular email clients including Gmail, Outlook, Apple Mail, and Thunderbird.
The compatibility with different devices and email clients ensures that your designed signature will be displayed in the same way on all the mail apps and devices. MySignature is mainly recommended for small business owners, entrepreneurs, and freelancers. However, if you are looking for a more professional tool, then you should check out the other names mentioned in the list.
Pros
Supports all web clients
Compatible with all devices
Best for beginners
Cons
Not suitable for professional users
Key Features: Compatible with all major email clients | Simple and user-friendly signature creator | Best for small business owners, entrepreneur's, and freelancers
Visit: MySignature
Gimmio

Gimmio, or popularly known as ZippySig is a feature-rich tool to design email signatures. This tool is especially recommended for users who are looking for an advanced option for their businesses. Even design agencies use Gimmio to create custom designs for their projects.
If you are new to designing templates, you can use the 40 ready-to-use free professional templates for your business. And as mentioned, even web design agencies are using it to create email signatures for their customers.
Pros
Best for professional users
40+ templates to choose
Cons
Takes time to create signature
Key Features: Plenty of pre-made templates | Advanced Customizing features | Drag and Drop layout controller
Visit: Gimmio (Free)
Related: How to Block Email Tracking on iPhone
signature.email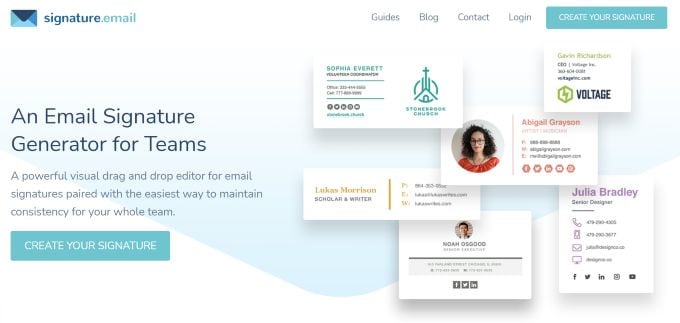 signature.email is another must-try designer tool in our list. As a designer or agency owner, you can use this tool to design beautiful, custom email signatures for your customers.
The working process is also very simple and straightforward. You will begin with choosing the template, and then you can tweak the colors, fonts, and spacing. And once you are done with the overall view, you can rearrange the order of information, and add as much content you want in the signature.
In signature.email, you don't need to worry about the limit of words and sections. The platform also has a paid plan that comes with exclusive features like creating a shareable signature. You can use this feature to copy the content into different email clients of your choice.
Pros
No content or word limit
Plenty of free templates
Recommended for newbies
Shareable signature
Cons
Limited features in free version
Key Features: The best option for beginners | Lot of free templates to choose | Quick signature making process
Visit: signature.email (Freemium)
Si.gnatu.re
Si.gnatu.re is the next name on our list, and using it you can create a personalized email signature within seconds. To be specific, you can use this platform to create a beautiful and professional email signature in less than 60 seconds.
Si.gnatu.re is completely free to use for the first 30 days. You will get to enjoy all the features of the platform in the first 30 days trial period. Si.gnatu.re also has an exclusive selfie mode feature. You can use this feature to put your face to the name. This feature will add a more personal touch to the signature. Furthermore, the platform has more than 15 fonts to choose from.
Pros
Lots of choices in font
Quick email signature maker
Best for small business owners
Cons
Only free trial available
Key Features: 15+ fonts to choose from | Auto-Save feature | Create email signature within 60 seconds
Related: 2 Ways to Download Emails From Outlook Web App
HubSpot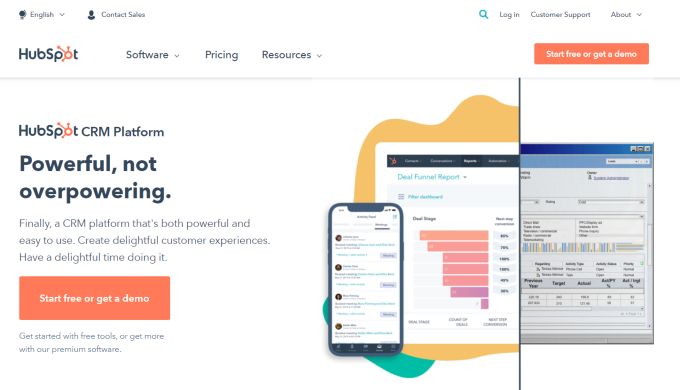 HubSpot is another fantastic option to create email signatures. It is one of the most trustable platforms on our list with lots of quality features to offer.
To create an email signature using this platform to simply have to put in your personal information in the form. You can even add links to your social media handles to give the signature a more personal touch. After that, you will have to choose the themes, fonts, and colors.
Once you are done with the designing part, you will have your own email signature with you. You can share it on all the major web clients including Gmail, Outlook, Yahoo Mail, and Thunderbird.
Pros
Trustable platform
Add social media links
Compatible with major web clients
Cons
Slow signature making process
Limited templates
Key Features: Simple and User-friendly interface | Create own fonts and themes | Add images and social icons
Visit: HubSpot (Freemium)
Newoldstamp
If you are looking for a completely professional tool then Newoldstamp is the best option for you. The platform is mainly designed for enterprise and medium-sized companies that want to create signatures for their firm. You can use this platform to quickly create, manage, and share the designed signature across the firm.
Some of the exclusive features of Newoldstamp include template customization, built-in analytics, core management, automated shearing, and many more. To offer the best management, the platform has integrated with Google Workspace and Office 365. Furthermore, according to various customer reviews, it is among the most user-friendly email signature tool present in the market. Needless to say, they have outstanding customer care service.
Pros
Best for enterprise and medium-sized firms
Quickly manage and create signatures
User-friendly
Key Features: Best for professional users | Google Workspace and Office 365 integrated | Excellent customer care support
Visit: Newoldstamp (Freemium)
Related: 8 Best Online Banner Maker Websites for Brand Building
Designhill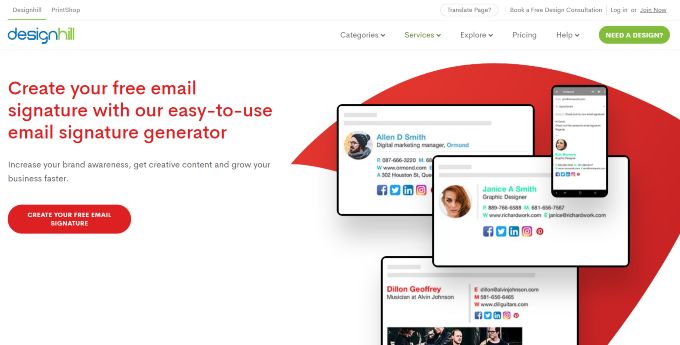 Designhill is another popular name on our list of best online free email signature makers. The popularity can be known by the fact that platforms like Forbes, HuffPost, and Entrepreneur have appreciated this platform for its features.
The process of creating email signatures is also very simple on Designhill. All you have to do is enter the details in the form it includes all the information regarding your company. After that, you can choose the color, font, and template according to your need. And once the email signature is created, you can save and embed it into your email account.
Designhill also claims to create an email signature within less than 60 seconds. Furthermore, it is also compatible with all the major web clients including Gmail, Yahoo, and Thunderbird.
Pros
Most popular Email Signature generator
Simple signature creating process
Get result with 60 seconds
Cons
Not compatible with smartphones
Key Features: Create email signature within less than 60 seconds | Compatible with major web clients | No. 1 choice of Forbes, HuffPost, and Entrepreneur
Visit: Designhill (Free)
WiseStamp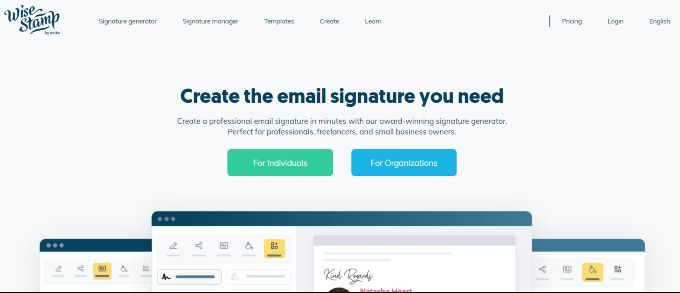 WiseStamp is a free online email signature creator. And the best part is it can seamlessly manage an organization that has more than 1000 users. The platform allows you to embed your social media profile links and promote information regarding your brand via emails you send to your customers. Furthermore, you can choose between 50 professional templates.
The procedure of creating a signature via WiseStamp is also very straightforward. You just have to choose a template, enter contact and other important information, and lastly copy it to your email account. Lastly, the platform also comes with the feature of Zoom call integration and a custom CTA button.
Pros
Mange 1000+ clients
50+ templates
Custom CTA button
Cons
Wretched customer support
Glitchy interface
Key Features: Easily manage 1000+ users | CTA and Zoom call integration | Plenty of pre-available templates
Visit: WiseStamp (Freemium)
HoneyBook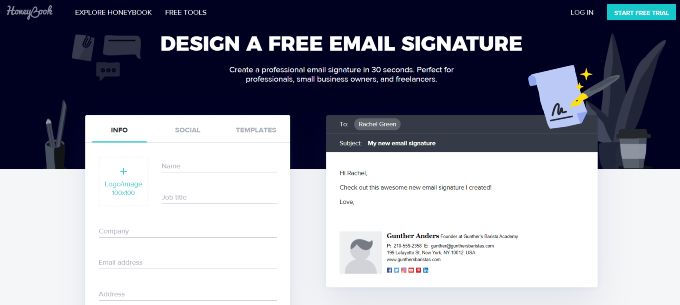 HoneyBook is a completely free-to-use platform to create email signatures. You can either create your own custom signature, or you can choose a template from its collection to ease the process.
The signature creating process is also very straightforward. Just choose a template of your choice, enter your brand details, embed your social media links, that's it, you're done. Customisation-wise, HoneyBook won't be everyone's favorite, but still a great option to create a free email signature.
Pros
Easily manage contracts and client communication
Easy it is to use
Cons
Poor tech support.
Lots of bugs
Limited features
Key Features: Free to use | Simple process to create email signature | Embed social media links
Visit: HoneyBook (Free)
Related: 10 Best Free YouTube Thumbnail Maker Online
Mail Signatures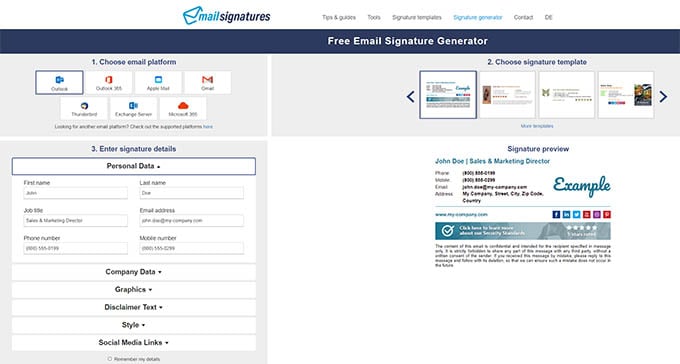 Mail Signatures is one of the most established free email signature maker tools out there. This email signature generator platform has an easy-to-use interface and lots of free templates, so you're sure to walk away with a professionally designed email signature–no matter your expertise level regarding design.
You can either create your signature from the ground up or choose an existing template to use as a starting point. Choose an email platform and a signature design to get started.
Once you have completed filling in your contact information, business name, and logo, enter all of your content and click the 'Apply your signature' button.
Pros
Email platform-specific
Professional email elements
Organization-wide signature management
Key Features: Support for Outlook, Gmail, Apple Mail, Thunderbird | Personal Data | Company Data | Disclaimer text | Organization-wide signatures
Visit: Mail Signatures (Free)
Signature Maker
Signature Maker is a web app built specifically for creating personalized, handwritten signatures. It's your ideal tool to add that special touch to letters, emails, certificates, etc.
For those out there that want to create professional-looking handwritten signatures for emails, documents, or even online profiles like Twitter, Signature Maker is a beautiful place to start.
Users can create custom signatures to be saved on their accounts.
You can use these signatures to sign PDFs, legal contracts through email, and personal documents like your proposals or blog posts. And with the help of the simple and easy interface, anyone can create an email signature for free.
Pros
Handwritten signature maker
Social media links support
Cons
Limited templates
Limited information
Key Features: Email Signature | Font signature | Handwritten signature | Social links with icons | Free source code for signatures
Visit: Signature Maker (Free)
Freelancing Gig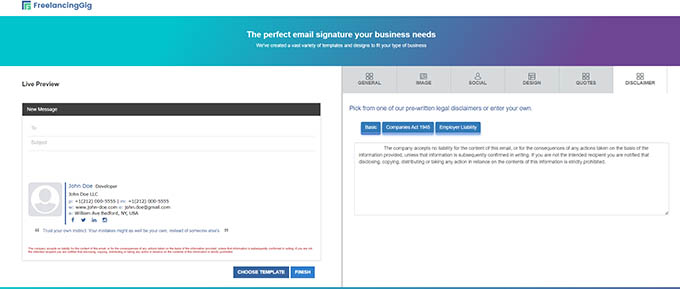 This free online email signature creator tool gives you the power to make professional signatures for your brand. You can customize the templates however you'd like. If you are more of a traditionalist regarding your company's marketing efforts, this choice may be ideal.
Just fill out the form with all essential details like your name and position, company detail, phone number, and company's website URL. You can also add corporate social media profile links, like LinkedIn, Twitter, and Facebook.
You will get your professional email signature in just a few minutes.
Pros
Customization options
Live email preview
Quotes and disclaimer
Key Features: The best option for beginners | Lot of free templates to choose | Quick signature making process
Visit: Freelancing Gig (Free)
MySigMail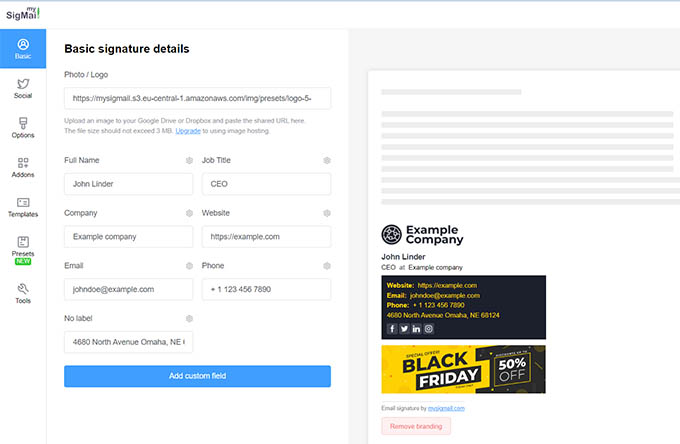 MySigMail offers a clean and uncluttered interface whereby signature creation, editing, and team member addition can be carried out efficiently. It is excellent for ensuring that your team's email signatures appear to customers consistently, which is vital for your brand image.
Once you create one, each team member can add their name, job title, and department. It results in an email signature that looks neat, clean, and professional.
You can choose from 5 responsive templates. You can edit them with your information or add members to your staff. To make your project look great, you can choose to add social media icons, a link for downloading, and the ability to direct clients through your dedicated project management website.
The limitations of creating your custom email signature on this platform are the problems you encounter when trying to use some of their available design elements to make it personalized because it comes at a price.
Pros
Presets and templates
Signature addons
Cons
Requires sign-in
Watermark on free signatures
Key Features: Color customizations | Addons | Presents | Templates
Visit: MySigMail (Freemium)
Thrive Desk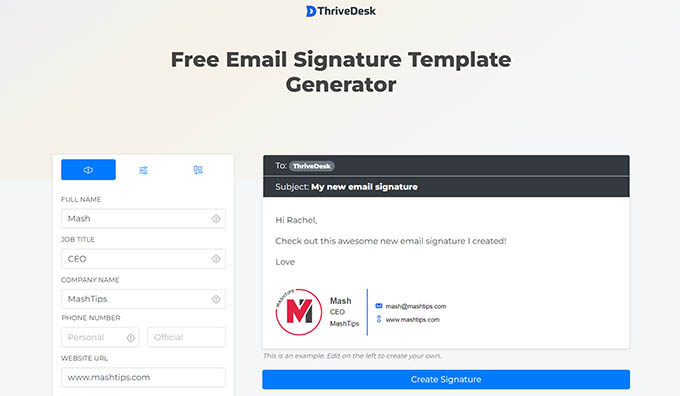 Thrive Desk is not just a help desk. It has many customer service features that make sure your customers are satisfied. It has a free email signature maker, so you can do more for your business and show how great you are.
Build your email signature in 30 seconds with its design tool that offers a wide array of customization options, whether you're looking to create bold imagery or keep it simple and elegant. You'll likely find the perfect email signature design that matches your branding.
Thrive Desk requires you to enter some details about your company and yourself like your name, address, contact information, email address, and more before you can begin to use their platform.
Key Features: The best option for beginners | Lot of free templates to choose | Quick signature making process
Visit: ThriveDesk (Free)
Xink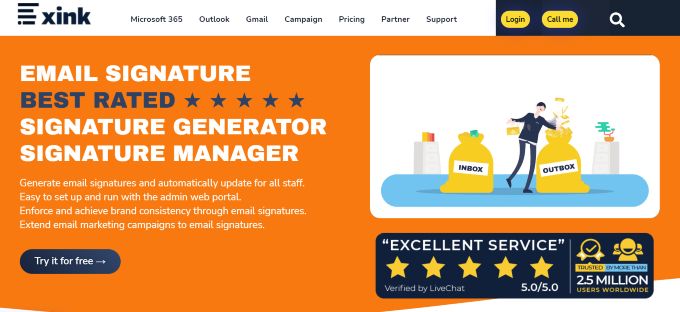 To conclude our list, we have another outstanding option to create and manage email signatures – Xink. To offer seamless management, the platform is integrated with Office 365, Outlook, Mail, and G-Suite. Xink also claims that the signatures created by them will look good on all devices. They also offer promotional banner campaigns that you can embed with your emails and send to your clients.
The platform is free to use but only for a limited number of days. And after its free trial, and you think the features are good enough to satisfy your needs, then you can purchase it paid plan. The paid plan has two options to choose from, $11 per month for 10 users, and $273 per month for 500 users.
Pros
Standardize firm's e-signature
Best for brand promotion
Cons
Limited free period
Poor customer care support
Key Features: Integrated with Office 365, Outlook, Mail, and G-Suite | Promotional banner campaigns | Best management
Visit: Xink (Freemium)
Nowadays, we barely see any company using email signatures. But according to us, it is one of the simplest ways to promote your brand just by sending emails. So, let us know in the comment section which free email signature maker you will use to create a signature for your brand.