There are hundreds of ways to save tons of money. If you are a student and have an EDU email address, chances are you will be getting most of the gadgets and services at almost half the actual price. But where do you use your college email to get discounts? Who all accept your college email and give you the best discount pricing?
Let's explore the best offers you can get if you are a student (and having an EDU email address). Most universities let the students keep their email addresses even after graduation. In that case, you can also get these discounts if you are newly graduated.
Save Huge on Apple Products
Though Apple products cost a fortune for college students, they give you the opportunity to own a Mac or iPad at a lower cost. Apple Student Discounts and Education pricing slashes down huge on most Apple products including MacBooks, iPads, and iMacs (sadly, there's no discount for iPhones and Apple Watch).
If you are having a school email address, you can go ahead and create an Apple ID with it. Signing into the Apple Store Online and heading to the Student Discount page will give you the discounted price tags for your next Mac.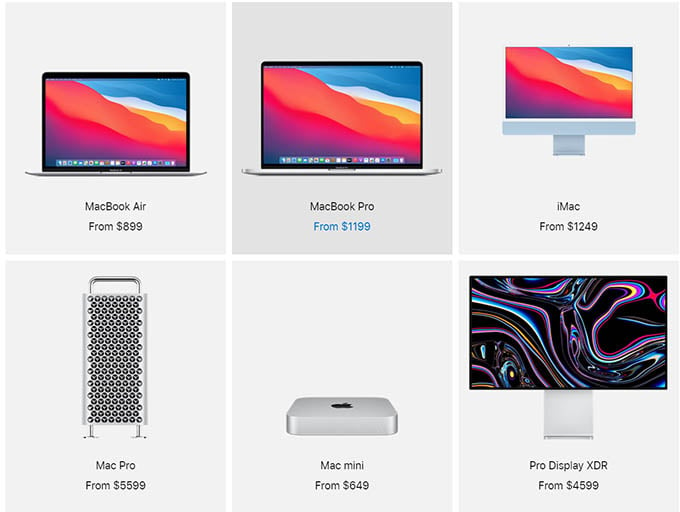 You can add any Mac or iPad to the cart at the discounted price and proceed to checkout directly in the United States. In some other countries like India, you might have to verify your student identity through UNiDAYS.
Other than purchasing Apple products from the online store, you get can discounts from an Apple Store itself by showing a valid college ID. This will give you the same discounts and same-day delivery (since you can pick it up from the store directly). Note that the Apple student discount is not applicable for third-party stores and sellers like Amazon or Best Buy.
Check Out: Apple Student Discount
Related: How to Get Your iPhone and Mac Fixed for Free Direct from Apple
Get Amazon Prime Student Account
Amazon Prime offers a plethora of entertainment tools along with Prime deals on Amazon shopping. With your existing college email address, you get 6 months of Amazon Prime for free and then the prime membership at half the price for the rest of the year and more.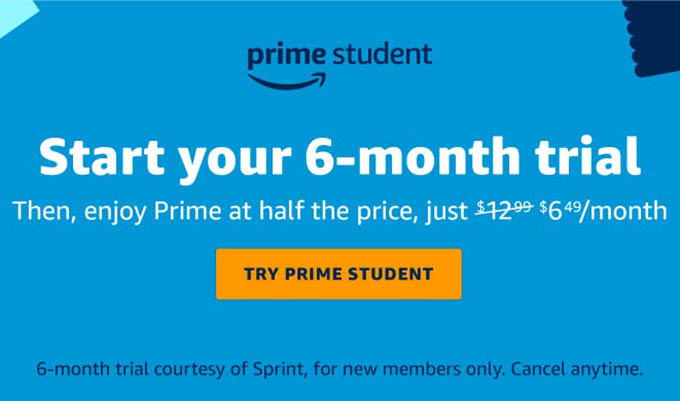 When you buy Amazon Prime Student, you get free access to many useful things. It even includes Prime delivery, Prime Video, Prime Music, Prime Reading, Amazon Warehouse, free storage on Amazon Photos, free food delivery with Grubhub+, 2 months of kindle unlimited, and tons of others. Once the 6 months trial period ends, you can continue enjoying Prime membership for $6.49 per month.
Check Out: Amazon Prime Student
Related: Amazon Prime Day: Best Deals for TV, Mac, and Gadgets
Save 60% with Adobe Creative Cloud
You know the pain of paying half a grand per year for all the tools you want especially if you are a creative student. Even Adobe does not want you paying full price for all of it that's why they are giving you almost 60% off on Adobe Creative Cloud. Instead of one-off purchasing each Adobe app, you can pay a few dollars every month for all Adobe apps with the Creative Cloud bundle.
If you have a legit school or college email address, signing up with it will make you eligible for discounted pricing on Adobe. You will get more than 20 Adobe Creative Cloud apps by paying only $19.99 per month instead of the full price of $52.99.
Check Out: Adobe Creative Cloud Student
Related: 20 Best Free Adobe Alternatives to Replace Photoshop, Premiere Pro, and More for PC and Mac
Get Spotify for Half the Price
Make your study sessions more enjoyable with music from Spotify. Whether you already use Spotify for streaming music or are new to the music streaming app, you can avail the student discount.
Unlike most other platforms, Spotify does not need you to sign up using the college email address to get a discounted rate in Spotify Premium. From your existing Spotify account, go to the plans and select the Student plan. This will direct you to a student verification process, and when you are done, you can save at least $5 on the monthly billing, Plus, it gives you free access to Hulu and ShowTime subscriptions.
Check Out: Spotify Premium Student Offer
Get Unlimited Google Drive Storage for Free
Most schools and universities use Google Workspace or GSuite for Education to create and manage student email IDs. If your college email address is used in Gmail and has a Google Drive attached to it, you can have UNLIMITED Drive storage. Yes, you heard it right. See my Google Drive usage for the college email address below.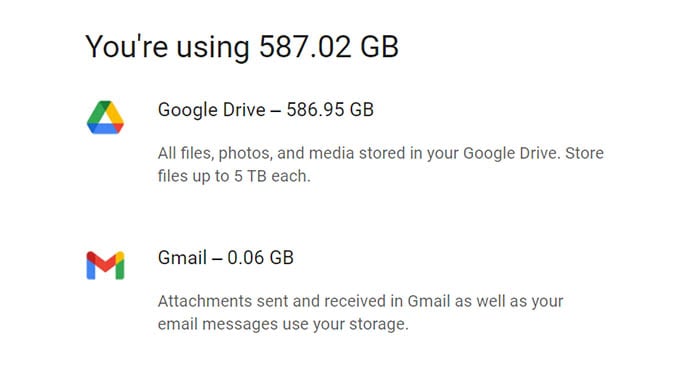 Go to Google Drive and sign in using your school email and check for the storage section. You will not see any storage limit like "15GB" or something there. That means you upload and share files in Google Drive as much as you want. There is no way you can get this much free storage on your regular Google account for free. A thing to note is that you will lose all files the moment you lose access to the college email address.
Check Out: Google Drive
Related: How to Rename Multiple Files in Google Drive
Pay Just the Half for YouTube Premium
The only way to get rid of YouTube ads is to subscribe to YouTube Premium (previously YouTube Red). Although it costs you as much as a Netflix subscription, you can get some cost-cutting here with your college EDU email address. Before subscribing to any YouTube Premium plans, look for the Student plans on YouTube. You will be asked to verify your student status with SheerID and you can enjoy YouTube Premium for half of what others pay for it.
Check Out: YouTube Premium Student Plan
Microsoft Office 365 Suite with 1TB Storage for Free
If you thought getting Microsoft Office apps were expensive, here is how you can get it for free. With your EDU email address from the college, you can sign up for a free Office 365 suite.
You will get free access to all MS Office 365 tools from Word to PowerPoint to Excel, along with free OneDrive storage up to 1TB. This is an unmatched offer compared to the original price you will have to pay for a similar plan for Office 365 apps. Note that you can only avail of the offer if your college or school is eligible with Microsoft's plan.
Check Out: Microsoft Office 365 Suite
Grammarly Student Offer
Grammarly helps you make your writings look better, be it your college assignments or personal blog. Its sentence guides and plagiarism detector tools are pretty well the tools every student and professional needs. But the Grammarly Premium costs more than $100 every year and the only way to save on this is to use your student email address.
Unlike others, Grammarly does not have a signup option for students. Whether you are a Grammarly user or not, create a new account with your college email ID first. Then mail to Grammarly from the same email account requesting for the student pricing. As soon as they accept your request, your account will be activated to purchase a student annual plan with at least 50% off.
Check Out: Grammarly
Get Online Courses for Free
Demand for new skillsets forces you to enroll in new courses and get become expertise in whatever area you are working. Sometimes, these courses can look expensive for you, especially if you are a student and are already in debt. Your college email ID is the pass to get many of these courses for free, so don't ditch that email address even if you just graduated.
Many online courses platforms including Coursera and edX offer free courses and scholarships for students. Signing up with your college email on many of these websites can open a plethora of free-to-learn courses. You can enroll in any of them and learn even if you don't have enough money.
Check Out: Coursera for Campus | edX | Udacity Scholarships | SkillShare Scholarships
Discount on Cell Phone Plans
Cellular plans are not cheap. If you are a student who is forced to spend over a grand every year, cell phone companies might have some plans for you. All major cellular service providers are offering discounted plans for students. If you are a student residing and studying in the States, you can sign up for their student programs and get cheaper monthly plans throughout your college years.
Github Student Developer Pack
There are tons of tools you might want to try out as a student developer but stuck with their pricing. Most of the cloud platforms ask you for a certain subscription amount every month. It may not be worth buying all of them at once to try out which one works well for your projects. In that case, you should look for the Github student developer pack.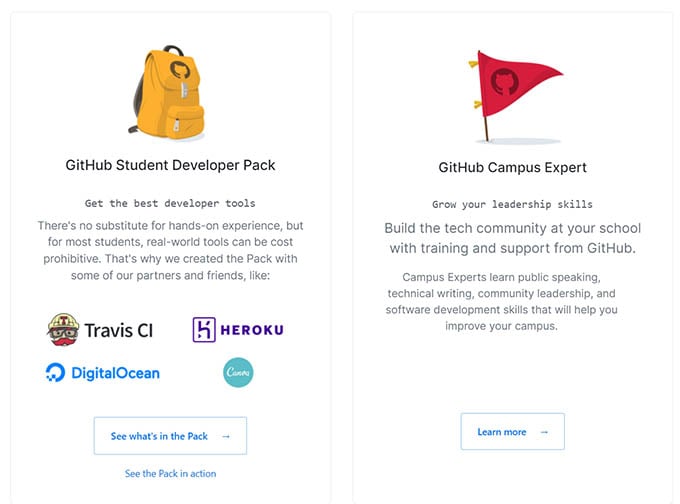 Github is not just a place to host your source code. You can get free access to many of your dream platforms through the Github Student Developer Pack. Don't forget to sign up with your college email (EDU email address) to get the offer.
Check Out: Github Student Developer Pack
Buy Samsung Phones and Laptops
Not just the Apple gives you offers to buy gadgets. Samsung phones and laptops are available at huge discounts for eligible students. Students, teachers, and parents can buy Samsung flagship phones, tablets, laptops, headphones and much more at a discount from 18% to 30% other than existing deals and trade-in value. You will be asked to verify your student identity with the college email address during checkout.
Check Out: Samsung Education Discount Offers
Best Buy Student Deals
Best Buy often comes up with tons of discounts and offers for students. You can sign up as a student to get back-to-school offers, special student pricing and deals all year. While signing up, select your identity as a student and fill in your college information and college email address. This might make you eligible for any ongoing and upcoming deals on Best Buy.
Check Out: Best Buy Student Deals
Buy Your First Car Out of the College
Buying your new car during your college days or out of college could be easy and effortless. Manufacturers including General Motors, Ford, Toyota have their own student discount programs. Signing up for them can help you save hundreds of bucks while getting yourself a new set of wheels. Apart from the brands, many dealerships attract student drivers to buy new cars with discounts and by offering flexibility in payments.
Check Out: GM College Discount | Varsity Ford (Dealer)
I'm sure you might never have thought about your college email ID to have tons of usage other than the university matters. Before ditching your college email ID again, think of these deals and make the best out of them so that you can save tons of money without any effort.