YouTube ads are really annoying sometimes and waste your time while watching something important on YouTube. You must have heard a lot of workarounds to block YouTube ads, but most of them are just workarounds and aren't legal at all. We have some legit methods to stop ads on YouTube but remember there ain't no such thing as a free lunch. Our methods come at a cost but are really affordable for anyone who loves watching videos seamlessly.
Let's see the best possible, legal methods to block ads on the YouTube app and the web while watching videos online.
Use YouTube Premium
If you are disappointed by the title, sorry to say that YouTube Premium is the most suggested and legal method to get rid of ads on YouTube. If your mind is tempting to go back to those third-party apps and tools that offer to remove ads, we will explain why you should not use such ad blockers.
Content creators on YouTube spend hours and put in all their efforts to create content. The primary way their efforts get rewarded is through the publisher ads YouTube shows to the viewers. But once you start using such discrete apps to block ads from YouTube, the creators will not be getting paid enough (and will eventually result in lacking quality content found on YouTube).
But what happens when you use YouTube Premium? No ads will be shown to you if you are a YouTube Premium (previously YouTube Red) user. However, since YouTube charges you for the membership, content creators will get a part of it as their revenue even though no ads are displayed. That way, you and your favorite YouTuber are kept happy, but at a small cost from your side. Your favorite vlogger should get paid off for their hard work, so this is not going to be a bad decision.
You must be already fed up with the YouTube Premium ads. But if you can spend just $11.99 per month, you can get a handful of premium benefits. The cost will reduce to half if you are a student. Here are the benefits you can enjoy with YouTube Premium:
Get: YouTube Premium
Bonus Tip: YouTube Premium costs way cheaper in many countries like India. You can get YT Premium for just as low as $1.90 if you are from India, or travel to India.
Related: How to Upload Local Music Files to YouTube Music and Stream Anywhere
Use YouTube Premium Lite
If you think the YouTube Premium is expensive for your needs, YouTube is offering an ad-free only plan called YouTube Premium Lite. This is simply the YouTube Premium but without all the benefits.
Unlike YouTube Premium, the YouTube Premium Lite does not support background play, high-quality music, or high-quality downloads. You can simply watch the videos ad-free and the plan costs almost as half as the original YouTube Premium.
If you are not a big appreciator of YouTube Music or the background play, then the YouTube Premium Lite is for you. You can pay way lesser than the Premium to enjoy an ad-free experience on YouTube videos.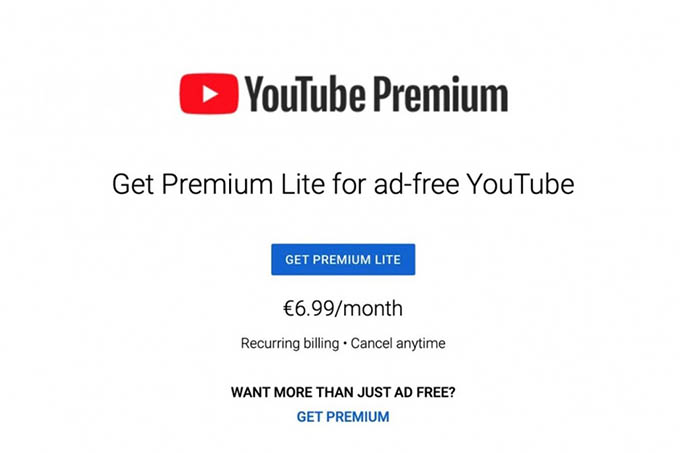 There have not been many words out about the YouTube Premium Lite, but the plan is rolling out to many European countries as you read. You visit the link below to see if the YouTube Premium Lite has arrived on your YouTube account yet.
Get: YouTube Premium Lite
Although you might find many other ways to remove ads on YouTube, we do not recommend using them. Eventually, YouTube may find out and flag such accounts so be careful with non-legit methods. What we mentioned above lets you remove ads on YouTube 100% legit and with extra benefits.