Enjoy the free calls with Nokia phone by installing free applications. These applications good for free calls for Nokia and it is absolutely free. You can use this Nokia app to make calls, chat, video calls with your friends, Facebook and other social media buddies with out loosing plan minutes.
We listed most famous 6 Nokia apps, that you can download free and install in your phone to make free calls with Nokia. Please refer to free text/sms apps for Nokia.
All of these apps are cross platform, and now you can chat with your friends while they are on Android, iPhone, or iPad, compatible mobiles and few of those even supports PCs and Macs.
WhatsApp
WhatsApp Messenger is a cross-platform mobile messaging app which allows you to exchange messages without having to pay for SMS. WhatsApp Messenger is available for Nokia and other smart phones.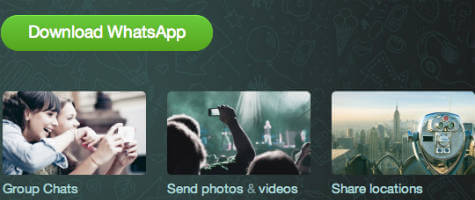 WhatsApp Messenger uses the same internet data plan that you use for email and web browsing, there is no cost to make calls between WhatsApp users on any platform. In addition to calling feature, WhatsApp users can create groups, send each other unlimited images, video and audio media messages.
Link to WhatsApp
Nimbuzz Messenger for Nokia
Combines the power of the internet and smart phone messenger into one, and lets you make free video calls, voice calls, send chat messages, share files, on any mobile device across popular messengers. Nimbuzz Messenger is available on Android, iOs, Blackberry, Symbian, Java, Windows, and Mac. Nimbuzz Messenger lets you chat with your buddies on Facebook, Yahoo Messenger, Live Messenger (MSN) and Gtalk for free.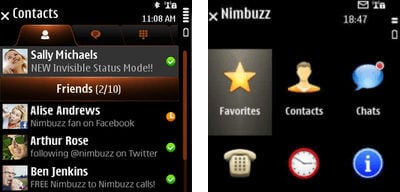 Connect your address book and share unlimited photos, make unlimited audio calls and video calls, files, music, and videos with other friends of yours on Facebook, Yahoo Messenger, Live Messenger (MSN) and Gtalk. You can also connect with your friends on Twitter using our popular chat buddy. Nimbuzz is free calls and messaging for the connected generation. You can import popular networks (Yahoo! Messenger, MSN Messenger, GoogleTalk, Facebook) and SIP (VoIP) accounts.
Link to Nimbuzz
Skype for Nokia
Call, Video and Instant message on Skype for free with Skype app on your Nokia device. Your contacts should be in online to make free audio and video call with them. Skype for Nokia is free to download and works over 3G or Wi-Fi. You can share lovely moments over free video calls with your Nokia phones. You can connect your friends while they are on Android, iPhone, or iPad, compatible mobiles, PCs, Macs or Skype-enabled TVs.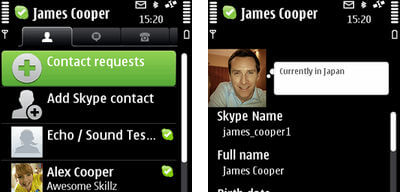 With all the benefits of Skype on your phone, you can save money and stay in touch when you're on the move.

• Make free Skype-to-Skype calls and IM on 3G or WiFi.
 Save money on calls and texts (SMS) to phones abroad.
• Share pictures, videos and other files from your phone.

It's free to use Skype in a WiFi zone. If you use Skype with a mobile data connection, operator charges may apply, so we recommend an unlimited data plan. Large File, use WiFi to Download.
Link to Skype
Fring
Fring is the best free apps for free Voice Calls, Texting and Video Chat with fring members. Moreover, you can join Fring with your Gtalk, yahoo, MSN, aim, MSN Live and SIP accounts.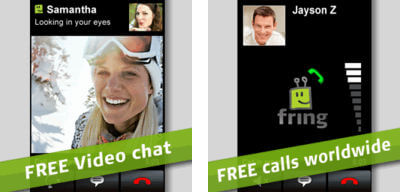 This application also offers free group video chat with 4 friends at the same time, free calls to other fring users anywhere in the world, free live texting. It also supports on other Android, iOS devices and you can talk as free of charge with any Fring user.
Link to Fring
eBuddy
Free, real-time messaging app for smartphones. Unlimited messaging through your Internet connection Message any way you want with text, emoticons, pictures, videos and more. eBuddy XMS enables free real-time messaging for smartphones, with text, pictures, video and more.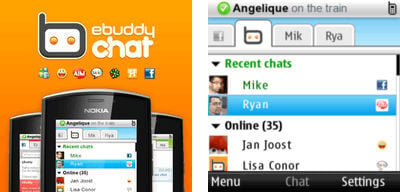 Chat on MSN, Facebook, Yahoo!, GTalk (Orkut), AIM, MySpace, and ICQ. Get the most popular free chat app on your phone. 

With eBuddy you can also send pictures, set your display picture from your phone camera, choose colorful themes and much more. More over you can enjoy the new and improved Facebook Chat and follow all your Facebook updates.
Link to eBuddy
imo instant messenger
With imo instant messenger, it's easy to stay in touch with friends on your existing IM accounts. imo currently supports AIM, Google Talk, Hyves, ICQ, Jabber, MSN, MySpace, Skype, Steam Chat, VKontakte and Yahoo Messenger.
Stay connected to your friends on all the protocols imo supports AIM, Facebook Chat, Google Talk, Hyves, ICQ, Jabber, MSN, MySpace, Skype, Steam Chat, VKontakte and Yahoo. Create groups and chat with friends who are also logged into IMO.
Link to imo
These applications allow you to connect all your friends at free of cost if there are using at least one of these applications. Enjoy free calls with Nokia phone and keep connected with your friends and family. Please refer to Best Free Nokia SMS / Text Apps.