Spotlight search on iPhone is all of ours quick getaway to find some information online. You can swipe down from the middle of the iPhone home screen to search for anything on Spotlight. But when your kids want to search for something online, you would have to unlock iPhone first. But, you no longer have to unlock iPhone to use the iPhone spotlight search. Here we have the best ways to use iPhone spotlight search from the lock screen.
Let's begin.
Content
Use iPhone Spotlight Search from Lock Screen
Spotlight search was previously available only on the iPhone home screen and Today view. With the latest iOS 15 update, Apple now brings iPhone spotlight search into the iPhone lock screen as well. You can now quickly search the web or find some information online while the iPhone is locked.
To open Spotlight search from your iPhone lock screen, simply swipe down from the middle of the screen, If there are any notifications, you can swipe the notifications down to get Spotlight search on iPhone lock screen.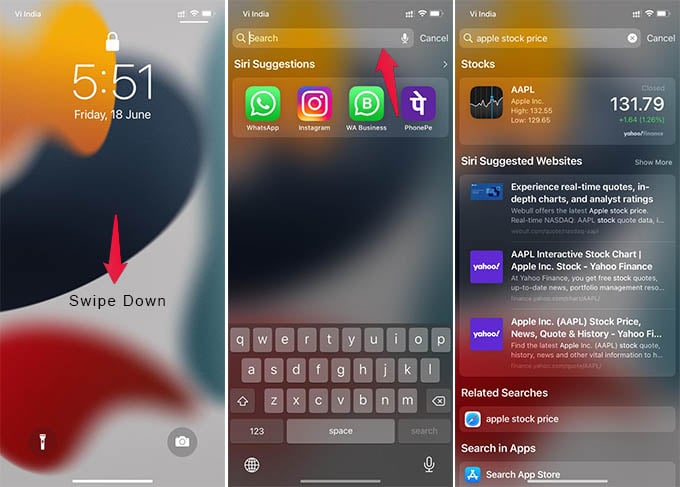 You can then start searching the web by entering whatever you want to know. The spotlight search will show you the results from the web. However, you will not be able to open any apps, see any in-app search results while your iPhone is locked. Thus it will be super safe to hand over your iPhone in the locked state to kids if they want to search and find one thing or two.
Related: How to Clear History on iPhone (Spotlight, Safari and Apps)?
Ask Siri Questions While iPhone Is Locked
Although the spotlight is our go-to for all questions, Siri can work very well from the iPhone lock screen. If you quickly want to know something or even want to call somebody, just ask Siri even when your iPhone is locked.
You can trigger Siri by using the voice command "Hey Siri" or by long-pressing the side button. When Siri pops up, start asking anything you want to search online. Look at the below screenshot in which I asked Siri about the Apple Stock price and its reply even when my iPhone was locked.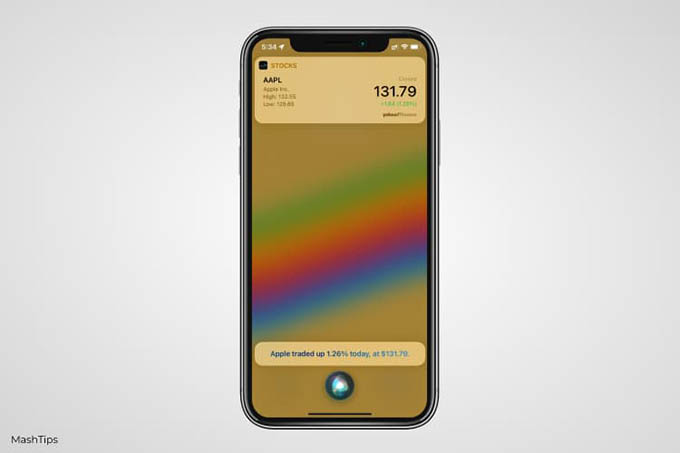 Related: How to Change Siri Voice on iPhone
Get Spotlight Search on iPhone from Today View
In case you cannot get a Spotlight search on iPhone from the lock screen, Siri can answer. When Siri too is disabled from your lock screen, there is one place you can always get the spotlight search on iPhone – Today View. You can quickly access the iPhone Today View from the lock screen from where you can open Spotlight search.
In order to go to the Today View on iPhone from the lock screen, swipe from left to right on the lock screen. This will open the Today View with a search bar at the top.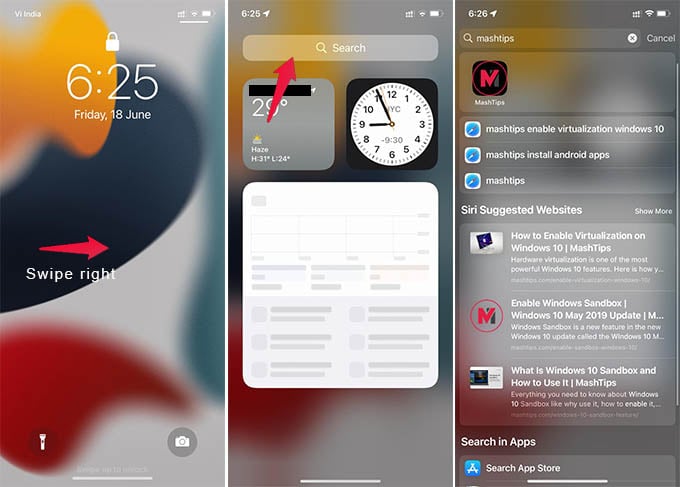 You can start spotlight search by swiping down from the middle of the screen or by tapping the search bar at the top. That's it. You can search and find anything online without unlocking your iPhone.
Related: 10 Tips to Quick Search Photos on iPhone Like a Pro
While the spotlight being the one-stop-shop for all searches on iPhone, the locked screen lacked any kind of search options. now, you can simply get an iPhone spotlight search on the lock screen and surf the internet without unlocking iPhone. This is a very effective way to let your kids use your iPhone to search the internet, while it is still locked.