Wireless karaoke microphones are getting popular nowadays. You don't need to be a professional to get yourself a karaoke mic anymore. The main aspect is that karaoke mics are much affordable and doesn't need any unnecessary amplifier or extenders. Also, it is necessary to get rid of the distortions or secondary noises or at least to minimize them.  If you're looking to get one of the best karaoke microphones, you've come to the right spot.
We've prepared a list of the top wireless karaoke mics available online. Take a peek and make sure you get your right pick.
BONAOK Wireless Karaoke Microphone
The Bonaok wireless microphone is the first one in our list. It features excellent design and fits right into your palms. What we like about this one is its superior audio quality. The ability to suppress background noise to greater degrees make it your best choice. You can connect the mic to wireless devices through the inbuilt Bluetooth module. Also, you get a piece of connecting cable to use, in case your Bluetooth connection's down. It can connect to a wide range of smart devices such as your smartphones, iPads or Bluetooth speakers. You can add an SD card if you need. The device allows max support of 6GB.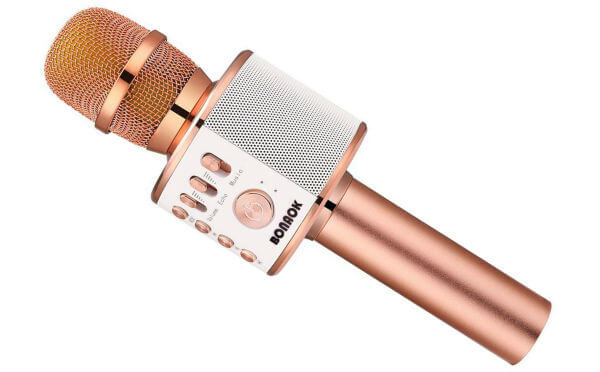 The Bonaok wireless microphone is easy to use and is multifunctional. You can adjust the music volumes, echo effects, etc., according to the mood. The dedicated toggle switch lets you access previous or upcoming songs with ease. The adjustable echo levels can bring vivid music quality even when the surroundings crowdy. The USB port allows you to plug and play your playlist as an MP3 device. The Bonoak wireless mic has a 2600mAh rechargeable battery. You can charge it up in less than two hours.
Buy from Amazon: Bonaok Wireless Karaoke Mic
Related: 4 Best Headphones to Record Calls on iPhone and Android
Kaiyu Karaoke Microphone
The Kaiyu karaoke microphone is a Bluetooth enabled device suitable for all ages. The excellent design and vivid makeup make it apt during your parties. The high-quality Bluetooth module can work as a speaker, player or even a recorder. You can pair this karaoke mic with smartphones with either the Bluetooth or with the Aux cable.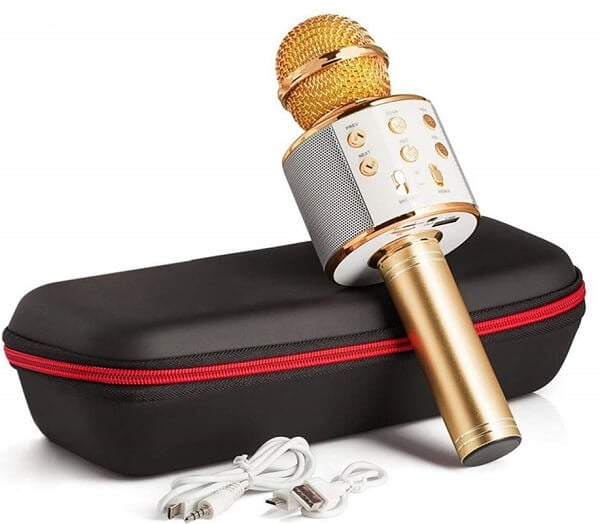 Kaiyu works within a distance of 10m from your output or input devices. It is a great option to take out during your road trips and does well during your late night parties. You can connect the microphone into your car's audio system through Bluetooth. This multifunctional karaoke mic supports SD card up to 64GB. You can use them to provide background effects without connecting your singing app. The internal battery is of 2000mAh and it gives you great performance throughout the day. The buttons on the front panel do a great job in helping you get your songs and other adjustments quicker.
Buy from Amazon: Kaiyu Karaoke Microphone
Bonaok Wireless Karaoke Mic (upgraded)
This one here is the upgraded version of the Bonaok Wireless microphone. This karaoke microphone has quite more than what it's former version had. The latest version includes an LED light panel both in the front and rear of the control panel. This wireless Karaoke Mic comes with six full colors and 7 dynamic breathing lights suitable to create a party atmosphere. The Bonaok mic head has a three-layers to reduce surrounding noise. This, in turn, produces fine audio qualities. The upgraded version has a good speaker and a more enhanced professional system. This internal system makes your voice to stand out even in crowdy situations.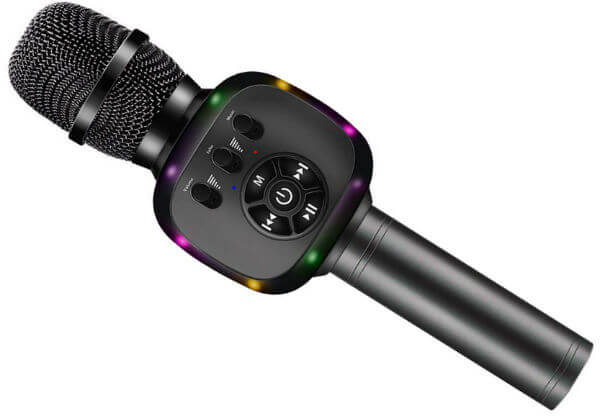 The connection process is as same as its previous version. You can connect to external speakers, smartphones, etc through Bluetooth. The Bluetooth connectivity helps you to link another wireless mic so that you can sing in unison. This wireless karaoke mic offers space to plug in your SD card. You can play music through it as an MP3 player. The Bonaok Karaoke mic works on a rechargeable 2600 mAh internal battery. This battery offers up to a day's worth performance and you can charge it in less than 2 hours.
Buy from Amazon: Bonaok Karaoke Microphone (upgraded)
Related: 7 Best Outdoor Speakers with Bluetooth to Enjoy Music
Domezan Wireless Karaoke Microphone
The Domezan karaoke microphone is multifunctional and comes with a reasonable price tag. It can work as a karaoke microphone, Bluetooth speaker, and a party addressing system. You can use them anywhere, be it during trips, concerts or even recording. You can connect it to any wireless devices with Bluetooth connection. Devices that don't have Bluetooth can connect with the microphone using the 3.5mm AUX cable.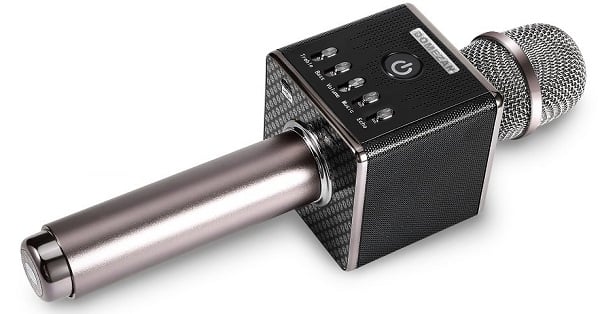 This karaoke mic features triple noise reduction and inbuilt treble and bass adjustments. The front panel holds all these navigation and multifunctional buttons. The front panel also features LED glow lights. It can light up your parties. The Domezan wireless Karokke microphone has a 3200mAh internal battery. The battery makes sure your microphone never runs out even if everyone near you boozes out.
Buy from Amazon: Domezan Karaoke microphone
Mbuynow Karaoke Microphone
The Mbuynow Karaoke mic comes in two color variants and that too at a reasonable price. Mbuynow mic features a superior metal filter and three-level noise reduction system. The noise reduction system and metal filters reduce the effect of external noise. You can also pair two microphones through the wireless Bluetooth interface. All you need to make sure is to check whether the other microphone has an inbuilt Bluetooth module or not. The design part has tried to make thing simple as far as possible. No fancy lights or disturbing switches anywhere.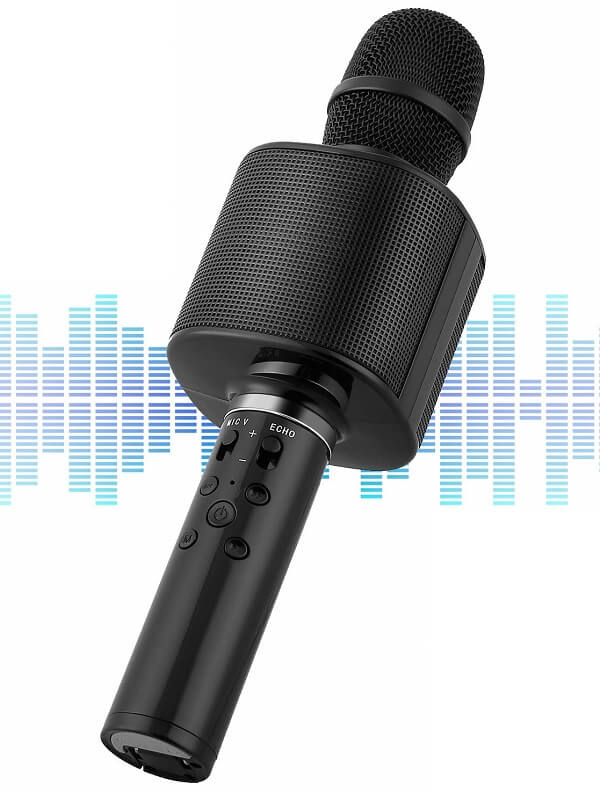 The front grill houses a 50mm stereo speaker. It is capable of producing surround sounds all over the place. The professional tuning system and the echo level adjuster does well. The Mbuynow Karaoke mic is good to have during your late night parties or even during your road trips. The connection interface favors you to connect it either through wires or without them. Bluetooth favors wireless connections to other devices. The Bluetooth has a connectivity range of 33ft.
Buy from Amazon: Mbuynow Karaoke Microphone
Hmovie Karaoke Microphone
The Hmovie Karaoke mic is a wireless Karaoke system that works on the Bluetooth. Hmovie Microphone is a dual sing enabled microphone that is, it can connect to another wireless microphone with ease. It features a 3300mAh internal rechargeable battery. This rechargeable battery offers up to 30 hours of continuous usage. This one here is one of the top contenders when it comes to battery and standby time. With the Bluetooth feature, you can connect to your smartphones or even pair it up with another wireless mic anytime.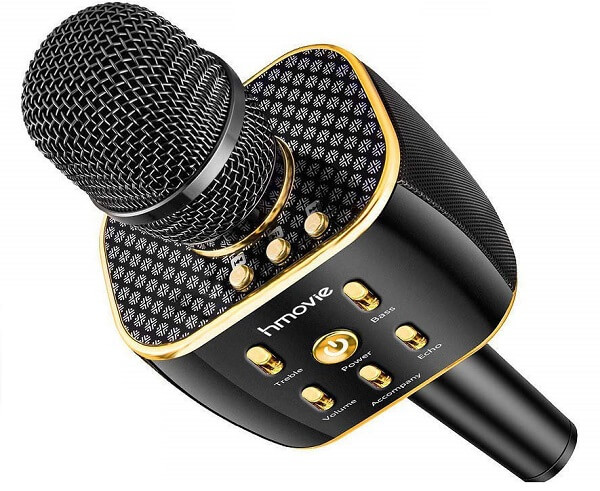 You can turn it into a speaker or into a karaoke mic with a tap on the toggle button. All you need to do is to long press the 'pause/play' key at the center and the mic automatically eliminates the vocal parts. The front grill has two 6W stereo speakers and a small amplifier. This produces crisp and clear audio outputs every time. The presence of echo adjuster helps you reach even the last one standing in your crowd. The Hmovie karaoke mic supports micro SD input. You can add external SD to play your favorite tracks or even use them to record your songs.
Buy from Amazon: Hmovie Karaoke Microphone
Wlantec Karaoke Microphone
The Wlantec Wireless Karaoke mic is more suited as a birthday gift to your children or your loved ones. The presence of Bluetooth makes it easy to connect to other wireless devices. Although it's a decent karaoke microphone, at first sight, you can feel a few volume issues. This one here doesn't make it up as a public speaking system. A thing to mention is that you receive a smartphone mount with the package. This comes handy when you're in the mood to sing or need to give out a speech. The Wlantec karaoke mic is made out of aluminum and features a professional tuning system. The three-layer voice filter makes sure that no external sound other than your voice gets amplified.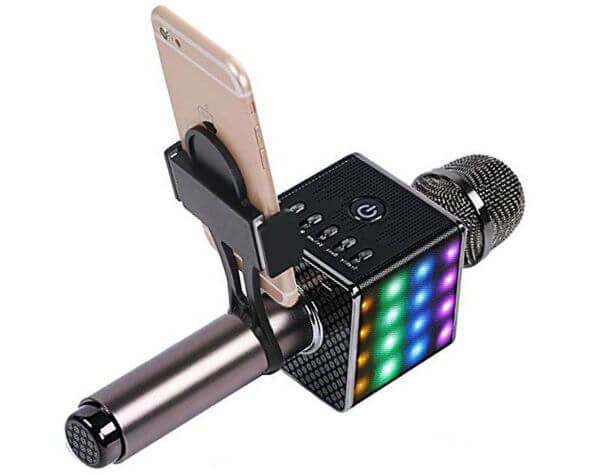 The dual 50mm speakers also do a decent job. But yet they are minimal when it comes to volume levels. The front panel features all the necessary switches you need. The remaining three sides come with an array of led lights. These light enhance the mood during your parties. This wireless karaoke mic features a 2600 mAh battery. It gives you 8 hours of continuous usage and you can charge them through the USB port. The battery is decent and does its job quite well.
Buy from Amazon: Wlantec Karaoke Microphone
Suyosd Karaoke Microphone
The Suyosd karaoke microphone is a 3 in 1 multifunctional mic system. It works as wireless mic, speaker and a cellphone karaoke microphone. This karaoke mic works with your smartphone and iPhone and can pair them through the Bluetooth. Being lightweight and slim makes it suitable for children as goes well as a gift item. The Bluetooth connectivity has a max range of 10m. There is an AUX cable useful for wired connections also. You also get options to insert micro SD cards and USB sticks. You can either use them to play your favorite songs or record your singing sessions.
The max permitted SD compatible with this wireless karaoke mic is 64GB. Coming to the design and other aspects, this one here doesn't have outdated fancy lights. It's simple in design but favors all features needed to get yourself a professional touch. The echo technology and the amplification controllers make it a decent karaoke microphone. The Soyosd mic works on a rechargeable 1500 mAh internal battery. Assuming the battery capacity, yes it's low and we cannot guarantee extended use. But yet, it can give around 3 hours of use in normal volume.
Buy from Amazon: Soyosd Karaoke Microphone
Lefon Karaoke Microphone
The Lefon Karaoke microphone is by far the most basic karaoke mic set in our list. It doesn't fancy itself with led light or midsection panels. It is a multifunctional mic that has an inbuilt speaker and even does a decent job as an MP3 device. Unlike all the other microphones, this one has its speaker beneath the main unit. Well, we don't know whether it adds up to the sound clarity or not, but yes it's cheeky. It comes with features such as the echo level adjuster and smart noise reduction. We are not going into detail on that as we've mentioned them already.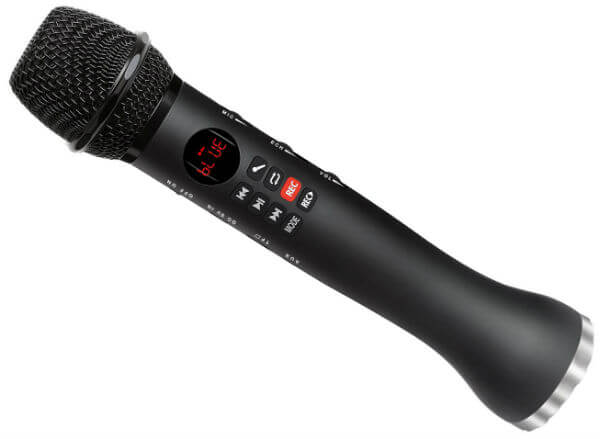 The front part houses a small LED screen that shows details of connections and battery left. You can switch between the Bluetooth or the wired connection according to the external device. If your external speaker doesn't have Bluetooth, you can connect them through the AUX cable. As it supports wireless interface, this mic is compatible with smartphones and iPhones. The main unit houses a 2000mAh internal battery to meet the powering needs. The battery does a good job and offers 6 hours of continuous usage.
Buy from Amazon: Lefon Karaoke microphone
As you know, Karaoke mics one of the easiest way to turn on a fuzzy celebration or party. There is a wide range of basic and advanced microphones out there. But when it comes to quality and convenience, some perform much better than others. The Karaoke mics suit everyone, from kids to grannies. The wireless technology has, in fact, reduced the hassles that occurred with wires.
Our list of the best wireless karaoke microphones includes some of the best performers in town. Most of them come with a reasonable price tag. The main thing to note before jumping into a conclusion is to analyze the usage. Analyze the environment you prefer to use them before buying them. Also, most of them are good as birthday present and gifts. We believe you've gone through all them and we wish you get the right one for your preferred needs.