The Bluetooth speakers are awesome and have brought music to a whole new level. The Bluetooth outdoor speakers came into the limelight with its durability and rugged up looks. The outdoor speakers are designed for working when you are busy outdoors.  They are quite weatherproof and waterproof and can tolerate harsh outdoor conditions. Whether you're working in the garage or strolling in your garden these cool speakers give you some good music throughout the day.
The list of best weather-resistant outdoor speakers that will survive serious havoc conditions. So yeah, read through and take your pick.
BT Blast Pro
The BT Blast pro is one of the best Bluetooth outdoor speakers, with weatherproof design to listen to music. This outdoor speaker can connect up to 60 feet away from your Android or iPhone. You can connect other Bluetooth enabled devices to this weatherproof speaker.
The weatherproof cabinet comes with a UV resistant white finish with impact absorbing materials. Moreover, the internal cabinet walls are thick with rigid bracing. This will prevent cabinet resonance, allowing clean and clear sound at all volume levels.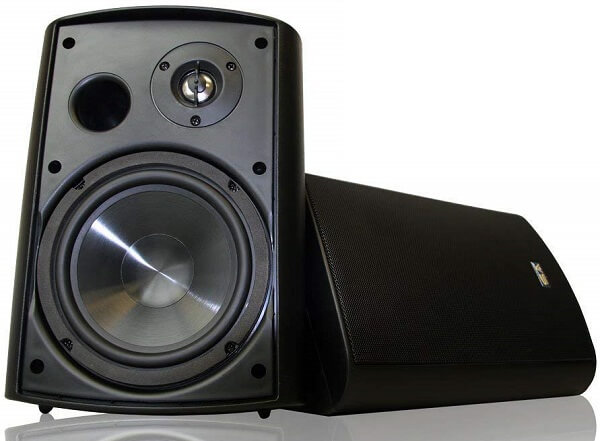 What's more, this Bluetooth speaker has an inbuilt polypropylene woofer and a 1" dome tweeter as the sound enhancers. The 6.5″ polypropylene woofer provides excellent bass and clear vocals. The 1″ dome tweeter offers smooth treble outputs. Additionally, the BT Blast Pro features an inbuilt amplifier with a smooth 80W peak output power. This Bluetooth outdoor speaker required the main power supply and no internal batteries. The weatherproof speaker comes with 25 feet connection wire to extend the speaker to your garden or backyard.
Pyle Outdoor Stereo Speaker
The Pyle outdoor speaker includes two Bluetooth speakers that can be hung in the outdoors or the indoors. This outdoor Bluetooth speaker features one active speaker and one passive speaker. You need to connect the active speaker to power mains and the passive speaker using standard speaker wire. With both the active and passive speakers, you get a peak output of 300 watts. Talking about the design, it's weatherproof and durable.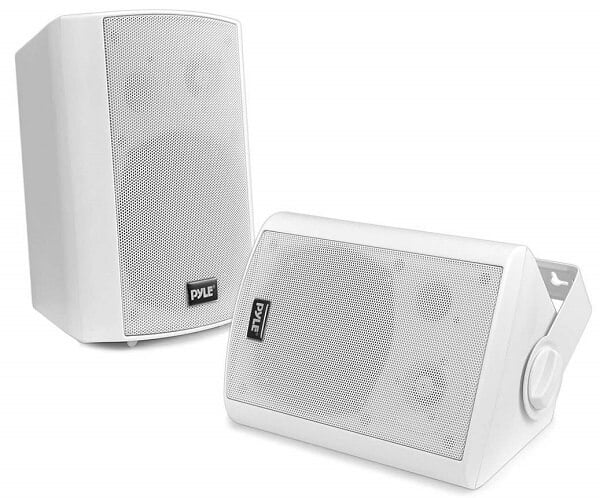 The design will keep the outdoor area clutter-free while giving the speaker a secure place to hang. The rainproof seals keep water from damaging input ports and cable wire connection. Also, the stain protection and waterproof speaker grills keep the speaker and stand up to weather in any season.
Apart from that, this weatherproof speaker comes with a 16ft speaker connection cable and an AUX input on the rear panel. With this input, you could also connect other non-Bluetooth devices with ease. Also, keep in mind that this speaker set goes into the 220V AC mains and gets converted into 12V DC through its adapter cables.
Buy Pyle Outdoor Stereo Speakers from Amazon
Rock Speaker from Sound Appeal
The Sound Appeal Rock speakers are a pair of a finely crafted speaker set. The rock speaker connects through Bluetooth. This outdoor speaker comes with a fine miniature rock design. The entire design is weatherproof and waterproof. The speaker set consists of an active and a passive speaker.
The active speaker goes into the AC mains and works on the 110V AC supply. The passive speaker doesn't need a direct supply. It is connected with the active speaker through connecting wires. These weatherproof speakers can connect up to 100ft. The weatherproof speaker can stream directly from your iPhone and or compatible Bluetooth device.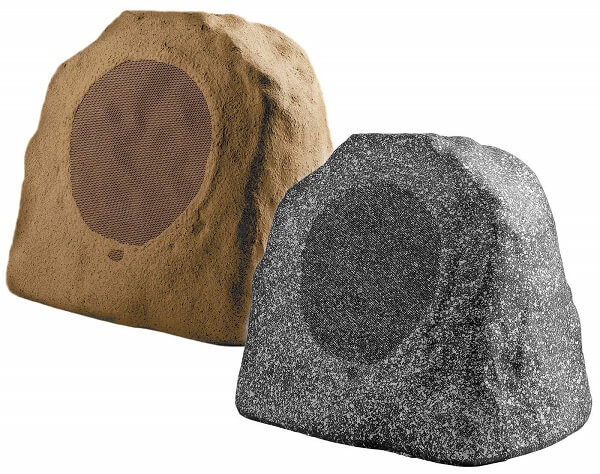 Coming to the internal design, the Rock Speaker consists of a The 6.50″ woofer driver and a 1″ dome tweeter. The Woofer can pump out strong bass outputs and the dome tweeter takes care of the highs or trebles. This outdoor Bluetooth speaker features an internal amplifier with 40W peak outputs. The multilayer protective cabin is to withstand extreme temperatures and heavy drizzle. The inert design of the speaker cabinets allows them to keep their beautiful finish despite, rain, sun, wind and or ice, year after year.
OSD Audio BTP-525BLK Outdoor Speaker
The OSD Audio BTP-525BLK is a wireless Bluetooth outdoor speaker. This outdoor speaker is sturdy and weatherproof design with high-temperature tolerance. With its inbuilt wireless Bluetooth technology, you can stream music up to 50ft distance.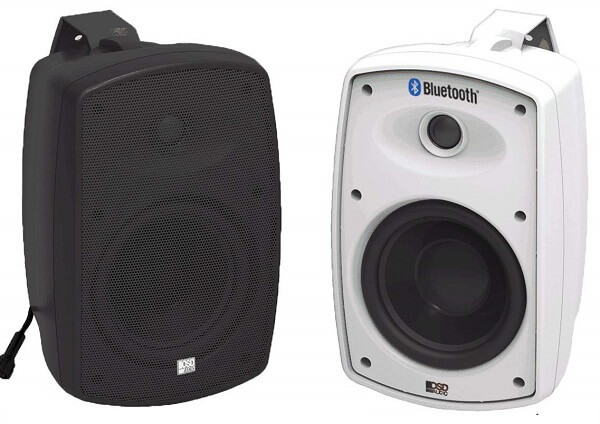 Also, the 5.25″ paper cone woofers surrounded by 0.5″ PEI dome tweeters give a decent sound output. The speaker offers 75W peak output. The outdoor speaker is coming with 25ft connecting wires and mounting brackets for installation. This Bluetooth speaker is worth a try if you are looking for a decent outdoor speaker within a reasonable price tag.
Buy OSD Audio BTP-525BLK from Amazon
Related: 7 Best Bluetooth Adapter for TV to Connect Headphones & Speakers
Pohopa Outdoor Speaker
The Pohopa outdoor speaker is yet another cool outdoor speaker that comes with Bluetooth connectivity. The unique lantern shape and sleek controls give it a classy and elegant look. The lantern design is easy to mount. This outdoor also works as a multifunctional LED light source. The connectivity consists of the Bluetooth as well as wired AUX inputs and offers a maximum distance of 120ft.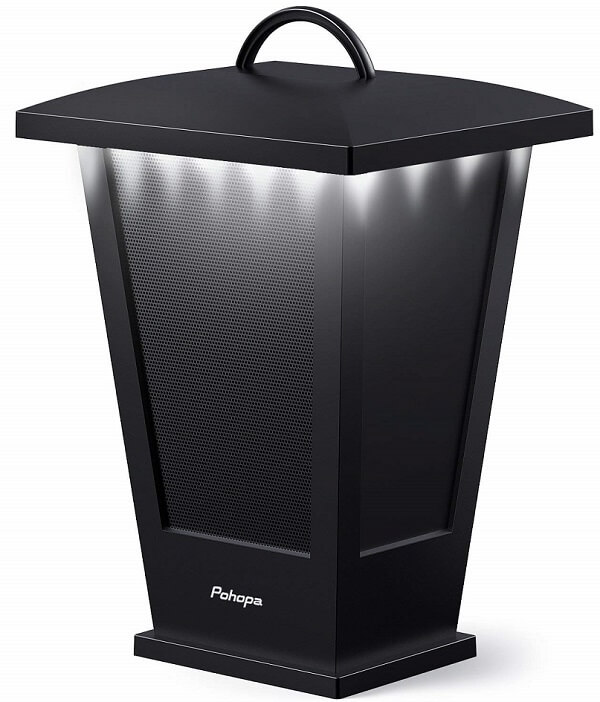 Unlike other competitors in our list, this outdoor speaker comes with a rechargeable internal battery. With 4400 mAh battery capacity, you could get a maximum of 12-hours continuous music playback. This rechargeable outdoor speaker also provides 20 hours of LED light and around 8 hours of both the speaker output and LEDs simultaneously. This cool Bluetooth speaker is weatherproof and tolerates stressful conditions very well. The IPX5 waterproof rating sees to it that there is no need to worry about sprinklers or light drizzles from damaging it.
Buy Pohopa outdoor speaker from Amazon
DIKAOU Outdoor Speaker
The DIKAOU outdoor speaker is like a typical flame lamp, consists of an inbuilt speaker as well as a cluster of LED lights. The outdoor speaker consists of 96 LEDs with bright yellow light. The huge stereo speaker gives clear audios with immersive 5W drivers. Just connect this weatherproof speaker with your smartphone via Bluetooth. Also, the Bluetooth range up to around 33 feet. Once you connected, the speakers automatically reconnect to the last device used.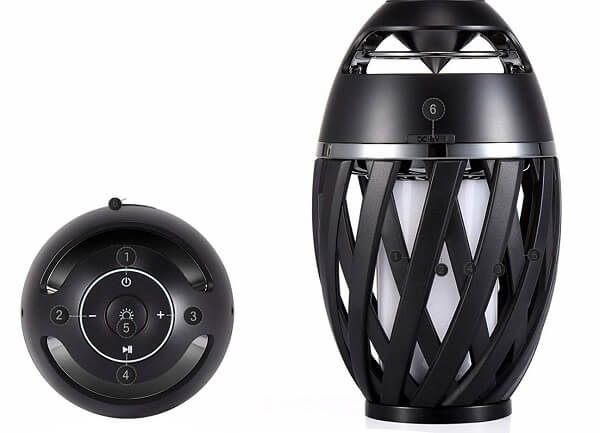 The speaker can be powered by an internal 4000mAh rechargeable battery. The rechargeable battery powers the torch to around 24 hours and the music to around 7 hours. Being one of the best artistic outdoor speakers in town, this cool Bluetooth speaker would be the best option to gift your loved ones.
Buy DIKAOU outdoor speaker from Amazon
Related: 8 Best Wireless Karaoke Microphones to Perform Like A Pro
Dual Electronics LU43PW
The Dual Electronics LU43PW is a 3-way outdoor speaker and compact in design. The LU43PW comes with 100-watts of peak power. The speaker design offer 3-way design provides a significant audio feat with excellent qualities.
The inbuilt 40 mm midrange woofer and piezo dome 20mm tweeter of the speaker ensure clear and smooth sound at all times. The LU43PW is weatherproof and can withstand rain and heat conditions.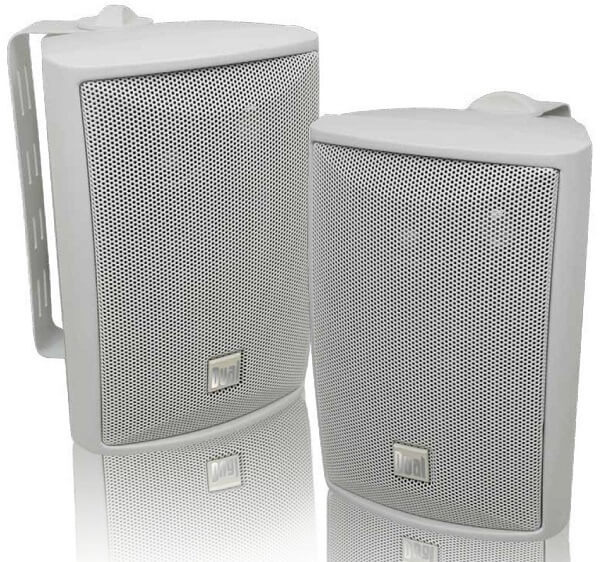 The UV-coated enclosure provides protection against humid conditions and helps sustain sound qualities. The installation is simple with speakers comes with a mounting bracket allow you to suspend the speakers at any location with ease. Also, the swivel brackets allow a 120-degree motion while the front facing dual logo can rotate up to 90 degrees. Being rich in sound quality and durable among its competitors made the LU43PW get some serious attention. Give the Dual Electronics LU43PW a try, if you're looking for low budget speaker without compromising on sound qualities.
Editor's Note: The LU43PW doesn't have wireless connectivity. The Bluetooth is absent and you need wires to connect them with your audio inputs.
Buy Dual Electronics LU43PW from Amazon
Also read: Best Waterproof Portable Bluetooth Speakers
Yamaha NS-AW150W
The Yamaha NS-AW is basically a bookshelf speaker that provides an easy way to enjoy your music on a deck or under a porch. This bookshelf speaker can be used as both indoor as well as an outdoor speaker. The speakers come in pairs and each uses a 5-inch high-compliance, mica-filled woofer, and 0.5-inch PEI dome tweeter. The tweeters and drivers can withstand harsh conditions, and light weighs in design.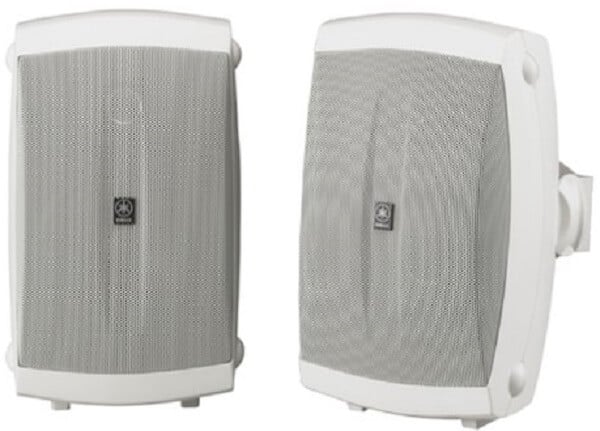 Coming to the technical part, this outdoor speaker gives you around a peak output of 150 watts, with an outstanding peak capacity. The sealed acoustic cabins provide protection against dust and dirt. The cabins are coated with a protective coating and are partially waterproof. It can work well in a moderate climate with slight rains and isn't a good idea to keep it outside during heavy rain drizzle.
Editor's Note: The NS-AW150WH doesn't have wireless Bluetooth connectivity. You need wires to connect them with your audio inputs.
There you have it, that's our list of some of the best weatherproof Bluetooth speaker that's exclusively made for the outdoors. The listed ones are the best rated one online and are within a reasonable price tag. These devices stand out from other Bluetooth speakers with weatherproof design. We believe that you've gone through our list and well, make sure to get your right outdoor Bluetooth speaker for next party.