Smart Speakers are getting powerful with AI integration. Google smart speakers are powered with Google Voice Assistant and good enough to control home gadgets, stream music and even making telephone calls. When you shop around for Smart Speakers with Google Assistant, you don't need to buy these Google Smart Speakers. There are third-party smart speakers excellent is sound quality and integrated with Google Assitant. Most of these Smart Speakers can do everything that Google Speakers can do except making calls.
Here, we prepared a list of Smart Speakers with Google Assistant that can work as your personal assistant.
Google Home Mini
The Google Home Mini is the new innovation from Google that features built-in Google assistant accessibility. From setting up alarms, making shopping lists to even getting live weather reports, the Google Home mini surely turns your personal voice assistant. The design is rather simple and cute with the multi-color choice. The top portion comes with wrapped up LEDs that lit up when the device is powered on. Despite the fabric finish, the Google Home Mini has touch-sensitive controls. You tap the left of the device to turn the volume down; the right to turn the volume up.

The sound quality though isn't that much of a marvel, built with 360 sound with 40mm driver to deliver good sound quality. Also, a small flaw is that it doesn't come with a 3.5mm jack nor it could connect with any third-party speakers. Well, to compromise this, Google implemented the Chromecast ecosystem that lets to stream music to nearby companion speakers.
Buy Google Home Mini from the Google Store.
Google Home
The Google home is the buffed up twin brother of the Google home mini. Both these google speakers share the same technology and features. The only difference you hardly feel is the difference in size and price. As it runs on the google assistant, you can do a wide variety of things through your voice commands. The Google home looks rather muscular, a buffed up version of the Home mini.
The top portion looks smooth and sleek with touch-sensitive controls to control sound and touch wakeup. You can swap your hand in clockwise or counterclockwise to alter the device's volume. Recently, Google has included messaging and calling features direct from Google home. So drawing a conclusion, if you want a Google voice assistant for your living room, that adds a shine to your home decor, you could definitely choose the Google home.
Buy Google Home from the Google store.
Related: 10 Best Soundbars for TV with WiFi and HDMI Connectivity.
Google Home Max
The Google Home Max is the updated version of the Google home for music lovers. Like its predecessor, this Google Home speaker is also powered by the Google Assistant. This Google smart speaker looks like a traditional "home speaker". Home Max built with a strong polycarbonate housing in which the speakers and the tweeters are fixed. Also, the design features an acoustically transparent white grille that looks good. Being a mainstream speaker, the Google home max has two 4.5 inch woofers and a dual 0.7 tweeter for the top-notch sound experience.
The standout feature of the Max, in terms of sound quality, is the"Smart Sound". This feature auto-adjusts music and sound volumes according to the outer environment. Moreover, you can invariably connect and stream to Google Home Max via Bluetooth too. The hardware connectivity includes a 3.5mm audio port. Conclusively,  The Google Home Max is kind of an old wine packed in a new bottle. Yea it has some new features, but the price tag is quite not reasonable.
Buy Google Home Max from the Google store.
Sonos One
Talking about the Sonos One, this smart speaker is a blend of home automation as well as authentic sound enhancing. Sonos is one of the best third-party smart home speaker system integrated with Google Voice Assistant and Alexa, which is the amazon's personal assistant. Both Alexa and Google Voice Assistant, as we know is capable of recognizing your voice commands and control home gadgets, playing music, and making phone calls.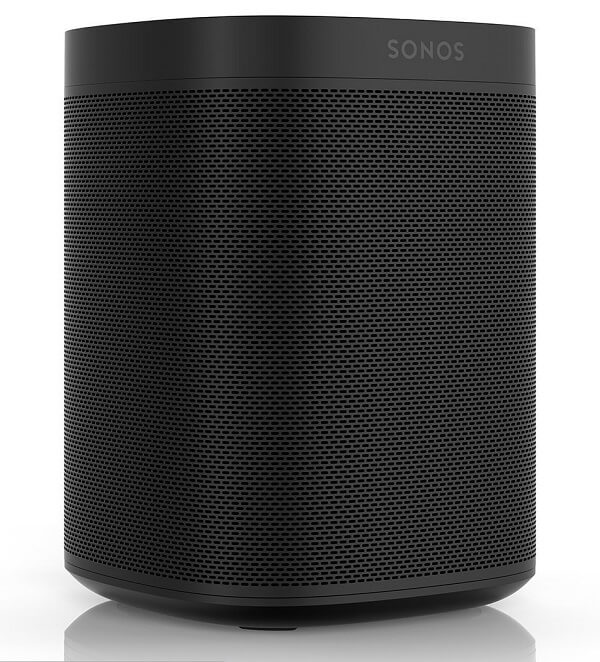 Coming to the design, the Sonos one is a sturdy speaker that features a touch-sensitive top panel. The keys are replaced by the touch-sensitive keys that control playback, volume, etc with a slight touch. Also, the inner panel houses a total of six-voice receptive microphones that capture your voice, even when things are a bit fussy. The True play tuning feature makes it easy to adapt to noiseless as well as noisy conditions. This feature alters the level of volume according to the level of noise in the environment.
The Sonos One works well with all online music stations such as Spotify, Pandora, etc. You could simply load them into the Sonos mobile app or tell Google to stream music online.
Buy Sonos One from Amazon.
Also Read: 7 Best Outdoor Speakers with Bluetooth to Enjoy Music
Sony LF S50
The LF S50 is the much anticipated Sony's original and one of a kind smart speaker. The LF-S50G combines Sony's high-quality sound from a 360° speaker system with help from the Google Assistant. The standout reason for buying this third-party speaker is definitely its compactness combined with rich sound quality. Apart from artificial intelligence, this smart speaker stands a step ahead of its competitors' thanks to its touch-free gesture controls. The top portion features motion-sensor, that facilitates the gesture response.  Just wave your hand accordingly for changing music or calling your assistant in an instant.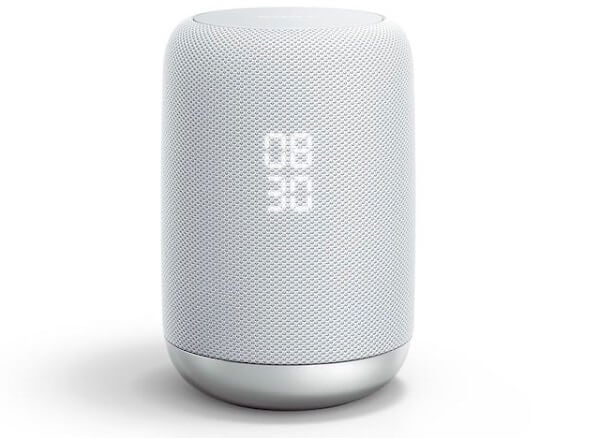 The design is quite compact. It's a bit small compared with Max and the Sonos. The two-way facing speaker project outwards in the center for maximum sound coverage. A diffuser also helps spread sound throughout so that you receive maximum audio reception. The exterior portion is covered with a cloth grille, that features an LED display showing time. On the top portion, you receive a bunch of hardware keys, a Bluetooth pairing switch and mic on/off toggle. Moreover, you won't get an additional 3.5mm audio port on Sony's smart speaker. The only external connection is the power adapter.
Buy the LF S50 from Sony.
Insignia Smart speaker
Now, most of us won't really afford those expensive bigwigs mentioned above. For them, we've got the insignia voice-controlled smart speaker. This smart speaker is a Bluetooth enabled smart speaker with built-in google assistant and LED Display clock. At first sight, you could feel it as simple as an alarm clock, but it's capable of even more. With the google assistant, you can do a hell lot of things just by directing to your assistant. This smart speaker can do anything that Google Home except calling and messaging.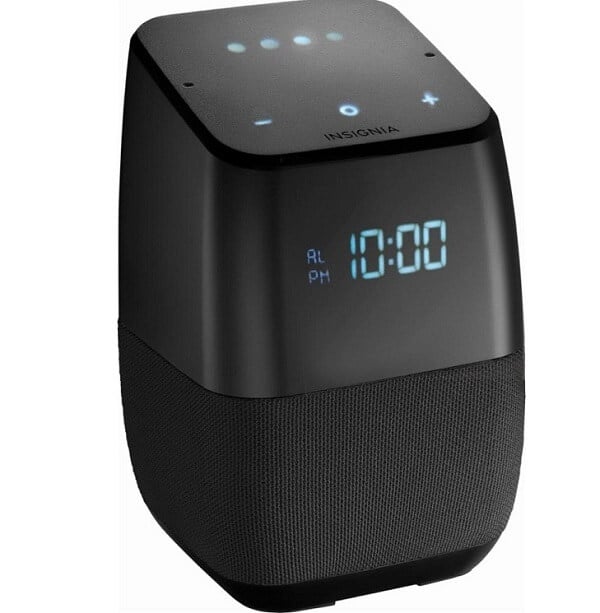 Once you connect your smartphone via the Bluetooth connection, you could easily stream through online stations and enjoy uncut music and infotainments. And if you have other smart devices in your home, you'll be able to control them as well just by asking Google Assistant easily. Also, this smart home speaker comes with WiFi connectivity, that helps you stream online from Pandora or Spotify with Voice Assistant app. A worthy competitor with a far reasonable price tag, the insignia Bluetooth smart speaker is a good shot if money is a big priority.
Buy Insignia smart speaker from Best Buy.
JBL – LINK 20
The JBL LINK 20 is a portable smart speaker which runs on the Google assistant. JBL Smartphone is capable of giving you all those the Google home could give. JBL LInk Smart speaker is a capsule-shaped smart speaker that can in some ways add some vibe to your rooms. The JBL Link 20 doesn't really favor motion sensing or touch sensing. It comes with a bunch of physical keys only. At the back, you could find the power button and a mute button. Also, as its rechargeable, with internal battery make this smart speaker portable.
There are 5 white LEDs located on the back of the speaker, directly above the power button, to show you how much power is remaining. This portable smart speaker is equipped with a 6000mah built-in lithium polymer battery that gives you an approx 10 hrs continuous usage time. The connectivity includes Bluetooth as well as a WiFi but no external input (3.5mm audio port). Now, as for a conclusive idea, yea the JBL is an excellent speaker with good sound quality. Most of you might find it a bit overpriced, and that's a key flaw as most devices are now coming inside a reasonable price tag.
Buy JBL – LINK 20 Speaker from Best Buy.
JBL – LINK 500
The JBL Link 500 is the big brother of the JBL Link 20 that we talked about earlier. It is the biggest and innovative smart speaker in the LINK series with the Google assistant. Unlike Link 20, Link 500 isn't portable. Coming to the design part, link 500 is extremely buffed up. It's quite large compared to the link 10 or the 20. Taling of the physical buttons, this smart speaker has a volume up/down switch, playback, and a mic-mute toggle. Also, you don't receive an external remote controller as most of the things will be done through your voice commands.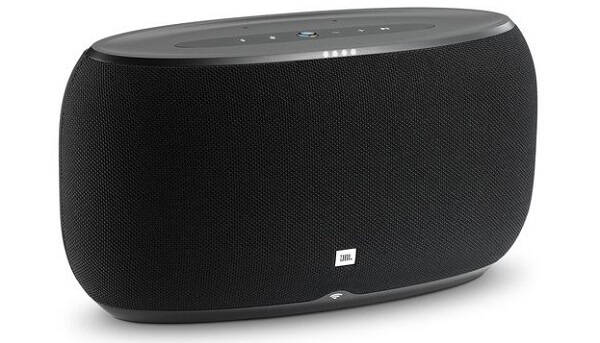 You'll see the small WiFi logo along the bottom of the front panel light up when the connection's success. The audio playback works using two methods, the WiFi, and the Bluetooth. The WiFi connectivity helps stream online music stations whereas, the Bluetooth enables you to play your local files. Also, you get Chromecast support and allows you to play along in different devices using the multi-room feature. The JBL Link, capable of offering 60W of sounds throughout, can be seen as a low profile substitute to the Google Home Max.
Buy JBL Link 500 from JBL.com
Related: 7 Best Outdoor Speakers with Bluetooth to Enjoy Music
Zolo Mojo Smart Speaker
The Mojo smart speaker is rather sleek and compact. This is simply a capsule-shaped smart home speaker that runs on the Google Assistant. Experts do compare it with the Google home mini, but as far as performance and utility are concerned, the Zolo Mojo dims itself out from the Mini. Although it features a music driver quite large than the Mini, it is not up to the mark though.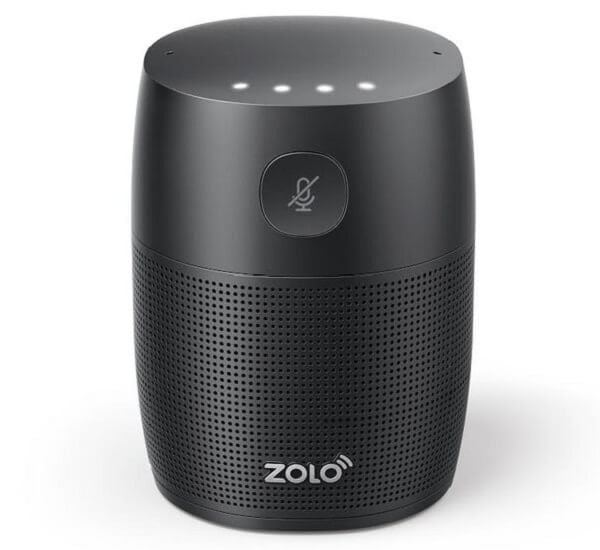 The top of the Mojo doesn't have any buttons, but its surface is touch-sensitive: Swipe left to lower the volume, swipe right to raise it, and tap to pause a track. Apparently, you really feel the responsive touch surface quite good. Additionally, the top surface has an LED indicator, that blinks itself when your assistant is at your service. The Google assistant does a wide range of functions from streaming online to even telling what's on your reminder. But unlike the Google home mini, this smart speaker can't really place calls or automate a reply.
Buy from Zolo Mojo Smart Speaker from zoloaudio.com
LG ThinQ WK7 Smart Speaker
The LG ThinQ WK7 is a smart speaker that runs on the Google Assistant. The first products to emerge as part of the new partnership between LG and British audio specialist Meridian.  This smart home speaker is designed to produce maximum audio quality even in noisy situations. The cylindrical shape facilitates 360-degree surround sound, but, it's better felt when the front side is kept upright.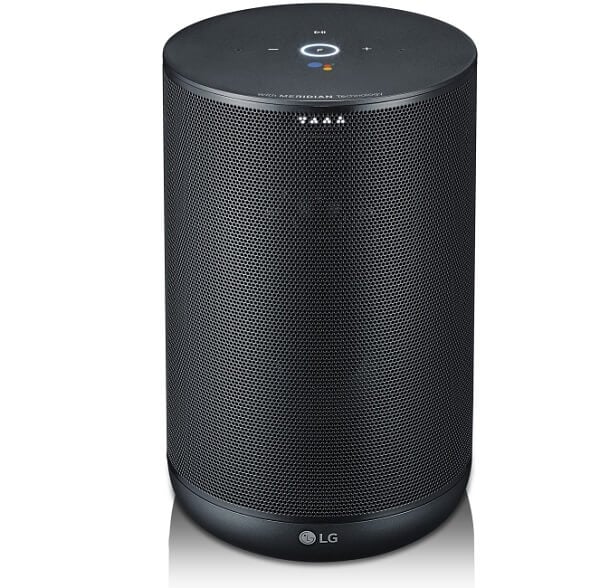 The front-facing speakers also face a great advantage over many smart drivers available. The top portion is touch-sensitive and features most of the buttons needed. You can also see an F button which stands for "function" that allows you to swap between WiFi and Bluetooth connections. Remember, there is no 3.5mm input though. Apart from that, the speaker also has Chromecast built-in, so you can stream between and interact with compatible sources.
Buy LG ThinQ WK7 from LG.com 
Smart speakers are truly changing things apart. Traditional speakers most probably will lose their grip soon and the markets will be dominated by the smart speakers in the near future. As a starter pack, there are quite some good ones that are really innovative and convenient.
These speakers are a blend of superior quality sound as well as intelligent working. The google assistant enabled devices to make things extremely comfortable and easy, Or else, we'd just call them super smart. Our list consists of the smart speakers that come from all those sound mammoths. Make sure you go through them if you are really planning to upgrade your system.