Are you a new generation BSNL customer who rely upon internet and SMS for communication? You might be worrying that your bills are getting received lately which causes interruption in service and late fees.
You can get your BSNL land line Bill details by SMS or e-mail or download immediately so that you can pay the bills well in time to avoid interruptions or late fees.
Only thing you need to register your e-mail id and mobile number in the registration portal http://www.flash.bsnl.co.in for e-mail and SMS alerts. To download your bills you need to register in the Selfcare portal or check here. For more details for Selfcare registration and bill download click here .
Type www.flash.bsnl.co.in in the browser and press Enter. You will get the page for registration.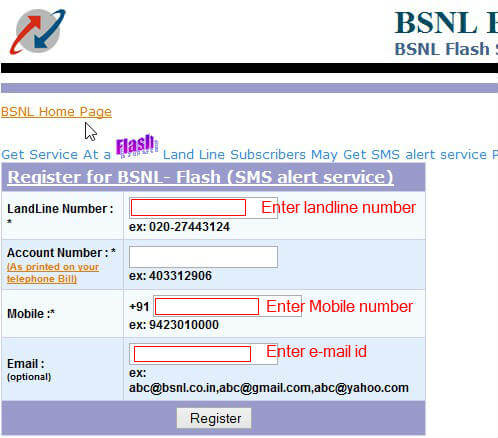 Fill in your land line number with std code and email address in the corresponding fields. Enter you mobile number in the field given. Only Indian mobile numbers will be accepted here.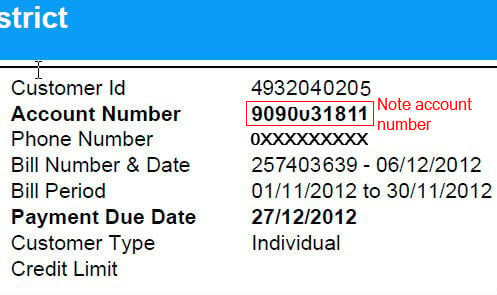 The account number is the mandatory field. You can get your account number from any of previous bills. Note down the account number and fill in the field carefully.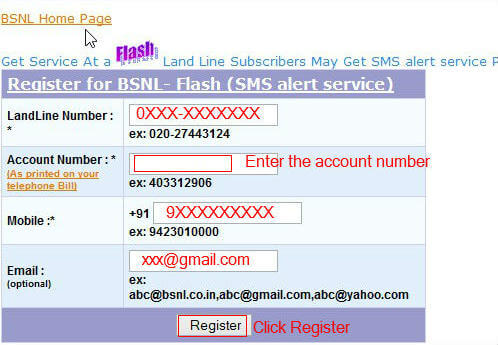 After filling all the details, click on Register. That's all. Now you will get your bill details by SMS and email from next month onwards. If you want to change the given number, repeat the above procedure with the new mobile number.
Go Paperless, easy to organize, save paper and save a tree, get your BSNL bill online.