Do you want to monitor your broad band use per month? Do you want to know how much data use per day and you are on cut of limit. You can monitor everything related to your broad band connection within BSNL website.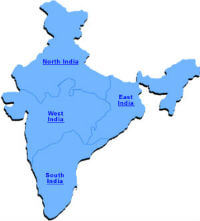 Update: A new integrated self-care portal is launched which enables the user registration much easier. Please follow this post "BSNL new self-care portal registration".
This step by step screen shots will guide you to register on BSNL website if you are a BSNL broad band customer. On the registration process, you are creating a valid username and password for you and you can login BSNL site to check your information regarding your BSNL service at any time. This will be useful for you to control your data consumption and plan ahead before you hit the limit.
Related Post: Download BSNL Land Line Bill to PC, No need to wait for a postal bill.
The site registration portal is divided to East, west, South, North regions of India. Please refer the map and make sure your region and enter the corresponding address. This article is aimed for South Indian states and Eastern Indian states customers. If you are are from North India or Western India, please refer the corresponding link here.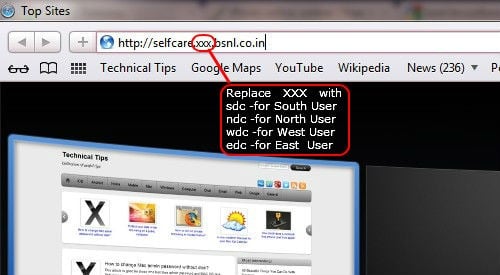 Open your browser and type the address Type the corresponding address on your browser address bar according to your region.
Southern states: http://selfcare.sdc.bsnl.co.in
Eastern states: http://selfcare.edc.bsnl.co.in
Northern states: http://selfcare.ndc.bsnl.co.in
Western states: http://selfcare.wdc.bsnl.co.in
The following illustration steps are mostly suited to southern and eastern Indian states customers. The northern and western Indian customers may be having different illustration. On the screen click on "new user registration"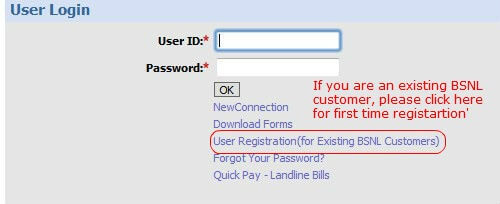 Fill all the details in the form according to instructions and click on next. User Id should contain at least one alphabet and at least one digit and should be minimum of 5 characters and maximum of 30 characters. Special characters other than underscore,dot,hyphen,at(@) are not allowed.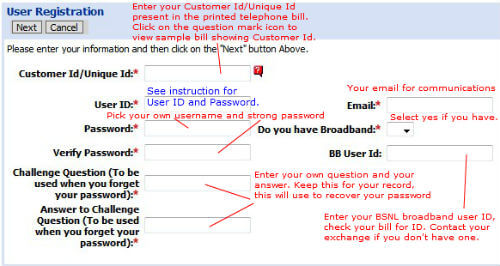 In case the User Id entered is already selected by another customer, then a message would be displayed to enter another user Id.
Related: 10 Online BSNL Tools You Must Know If You Are A BSNL Customer.
Choose a strong password having a minimum length of 8 characters. Password should have at least one alphabet and at least one digit.
Confirm the details. If the user id is not available, try a different user id as per your choice and verify again that all the details are filled and submit form again. Once you submit all, it will show that your registration is successful.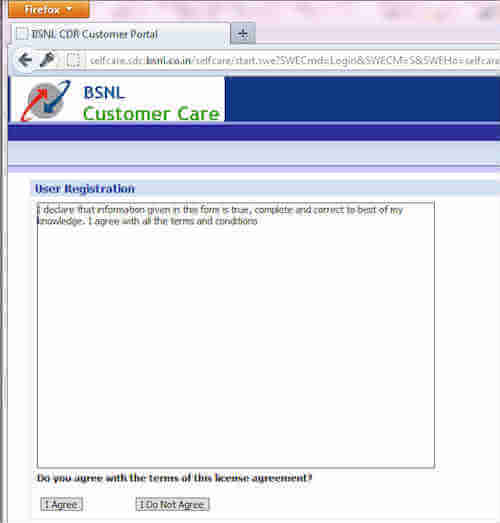 If all your submission, including user id, your chosen password are according to BSNL policy, then site will show you the license agreement after you click submit button. Once you get this screen, then click on I agree button. Now you can finish your registration process by clicking on Finish button in the screen.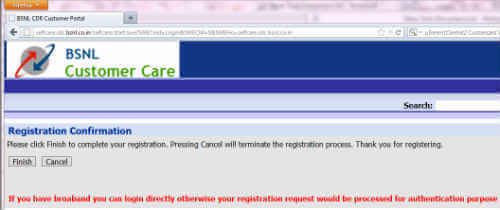 After successful registration, go to the login page and enter your registered user id and password and click ok.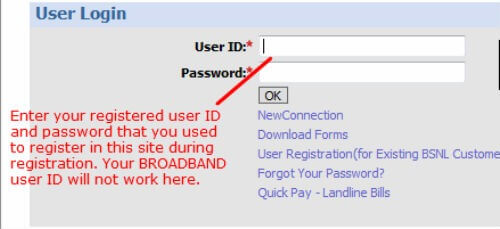 If you are able to login successfully, then your BSNL registration is successfully completed. Keep monitor on your data use and plan the usage ahead. Good Luck.
You will be interested in the following post: Get Your BSNL Bill by SMS or Email. and also make sure you are not overcharged in this month bill here : Overcharged For BSNL Data Usage! Check Here.