Are you using the Amazon Firestick or Fire TV to stream your favorite movies or TV shows? Don't you find it a bit time consuming to select the letters one by one to search for something using the Fire TV keyboard? You might have already seen or used the Voice Search feature on your Firestick Remote. Recently, Amazon has added Alexa support for not only making the Fire TV remote more user-friendly but also to increase its efficiency as well.
In this article, let's take a detailed look at the Alexa Voice Remote and its features.
What is Alexa Voice Remote?
Alexa Voice Remote, launched by Amazon in 2017 helps you to control the Fire TV using Voice commands. It helps you to save a lot of time, as you don't need to use the keyboard or arrow buttons on your remote to browse and watch your favorite content. By just pressing the Voice search on your remote, you can say a lot of voice commands from launching your favorite app to playing a particular music track.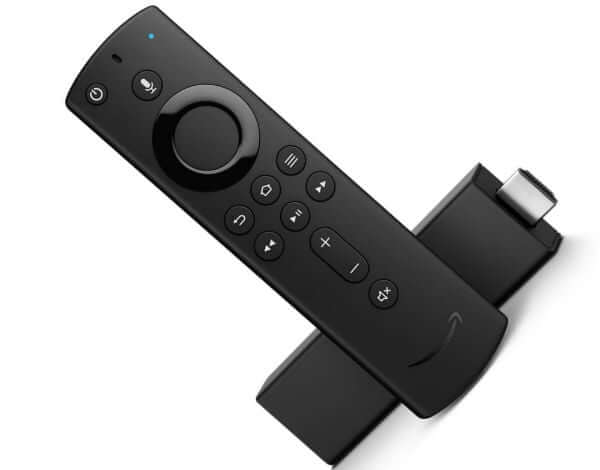 Are you someone who bought the Firestick a long time ago and have only a normal remote? No worries. You can buy the Firestick Voice Remote as a standalone product from Amazon with a price of less than $30. And, there are two versions of Alexa Remote listed on Amazon: 1st Gen and 2nd Gen.
2nd Gen Alexa Voice Remote has additional buttons to turn on/off or to control the volume of your TV. It also has a mute button as well. As both the versions are sold at almost the same price, you can choose whichever you need based on your Firestick version, as the 2nd gen remote is not compatible with certain devices. And, you can find the supported models on the product page of Amazon.
Now, let's see how to pair your Alexa Remote with your Firestick or Fire TV.
How to Pair Alexa Remote with Fire TV/Firestick?
It is pretty straightforward to connect the Alexa Voice Remote to your Fire TV. You don't need to do anything other than inserting the batteries, as the remote that came along with your Firestick device will automatically pair itself with your TV. However, if that doesn't happen, then press the Home button on your Firestick remote for at least 10-20 seconds and try again.
Still, if you are unable to pair the remote with your TV, then you can try the following troubleshooting tips:
Troubleshooting Tips: Firestick Voice Remote
Turn off the power for your Firestick/Fire TV, wait for a minute or so and reconnect the power.
Due to its excellent capabilities, Fire TV remote consumes quite a lot of power and drains quickly. Check if you are using batteries with a full charge. If not, replace them with another pair of brand new batteries.
Make sure if have inserted the batteries correctly. For example, you could have inserted the + end of the battery to the – marking by mistake.
Remove the batteries from the Firestick Remote and insert them again.
Unfortunately, if any of the above tips don't work, then you can contact the Amazon support for a replacement of the device.
Pair Replacement or Additional Remote
Do you know? You can connect up to seven remotes to your Fire TV at the same time. In case you need to connect an additional remote or a replacement for your existing one, then you can do that by following the steps listed below: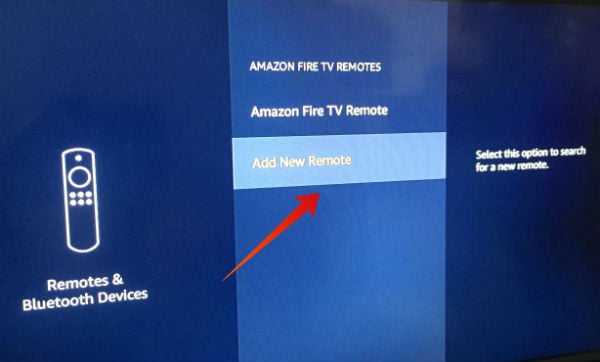 Using your Firestick remote, navigate to Settings->Controllers & Bluetooth Devices.
Select Amazon Fire TV Remotes.
Next, select Add New Remote.
Press the Home button for at least 10 seconds.
Once your remote is discovered by the Firestick, it will be displayed on your TV screen. Go ahead and select the new remote to enjoy streaming with your Fire TV.
Related: 21 Best Smart Home Devices for Alexa, Compatible with Amazon Echo
How to Use Alexa on Firestick/Fire TV?
Let's assume that you have successfully paired your Alexa Voice Remote with your TV. Now, let's see how to control your Fire TV with your voice. For that, you need to make sure that the software version on your Fire TV is at least Fire OS 5 or above. To check the software version, just navigate to Settings->My Fire TV->About.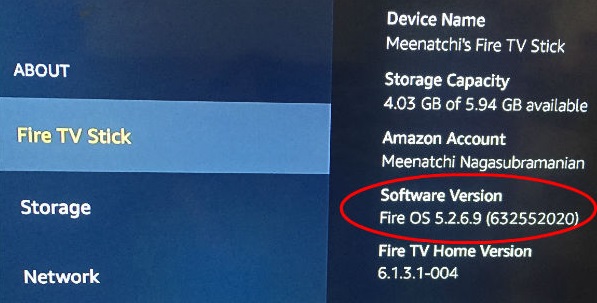 Before saying any command, first, you need to a invoke or launch Alexa. Right? Let's see how to activate Alexa.
How to Launch Alexa
Unlike other devices like Amazon Echo, you don't need to use the word "Alexa" at the beginning of your command, as the Alexa Remote has the dedicated Voice Search button. Just press and hold the Voice button to activate Alexa, say your command and release the button. That's it. If Alexa is unable to understand or complete your command, then you will hear a message like "Sorry. Unable to…". Otherwise, you will be navigated to the relevant screen based on your command.
Alexa Commands on Fire TV
Alexa voice command will work on FireTV remote like the other devices. It can work for you to execute your voice commands.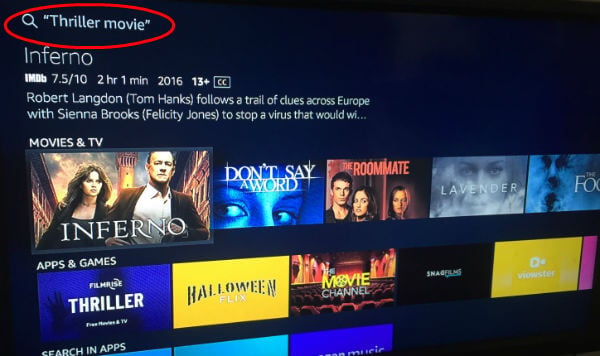 Now, let's a take at some of the cool things you can do with the help of Alexa Voice Remote on your Fire TV.
Open/Launch app
If you have installed a lot of apps on your Fire TV, then you need to use the direction buttons or search option to launch your desired app. However, the Firestick voice remote makes your life easier. For example, let's imagine that you need to open the ExpressVPN app, installed on your Firestick.
Press and hold the Voice Search button on your remote.
Say "Open ExpressVPN" or "Launch ExpressVPN"
Release the Search button.
This command will be handy to quickly open an app, especially if you have installed a lot of apps on your Firestick.
Playing Movies
Have you subscribed for the Amazon Prime membership? Then, you can use Alexa to quickly play your favorite movie. Launch Alexa using remote and say "Play [movie name]". If you don't have any specific title on your mind, you can just say "show thriller movies", "comedy movies" or your desired genre to quickly get the list of movies on your screen. So? Alexa remote helps to quickly play your favorite movie without the need to open and browse the Prime Video app on your Fire TV.
Listening to Music
Likewise, you can get the help of Alexa to play your favorite track, album or artist from Amazon Music. Just launch Alexa using the voice remote and say "Play [track/album/artist name]".
Weather
Do you like to know the weather forecast while watching TV? Just launch Alexa and say "what is today's weather", "current weather" or a similar command. Then it will display the weather forecast on your TV screen.
Besides the above-listed commands, you can also use Alexa to search for restaurants, shopping and more.
What's Missing?
No doubt. Alexa Voice Search helps you to quickly navigate or control a lot of features on your Fire TV. However, it doesn't work well with non-Amazon apps and gadgets. Sad to say,  you cannot use the voice search feature to search for something on YouTube.