There is so much content being produced on a daily that it has become increasingly difficult to keep track. There is a lot of noise and too many catchy headlines trying to grab your eyeballs. An RSS reader like Google News or Feedly can make it easier to follow news and topics that interest you.
Google is on a mission to index the world wide web. Who better to bring stories to your fingertips? Feedly wants to provide a personalized experience with plenty of ways to save and share. While both are good options, which RSS reader and content aggregator is best for you?
Content
Google News and Feedly
Google News was born from the ashes of the attack on WTC Towers. The service was later honed and developed with a focus on local content and niches with mobile apps released later.
Feedly wants to filter out noise using Leo, their smart AI. And help you not only save but share articles by using API to connect with most third-party apps.
Let's begin.
User Interface
Google News has a bottom bar menu making it easy to access everything. Unfortunately, the search button remains at the top still. The For you tab shows headlines with more stories as you scroll. A neat trick is the weather icon tapping which reveals forecast of the week. The Headlines tab features breaking stories niche or category-wise with more focus on your chosen region first and then the world.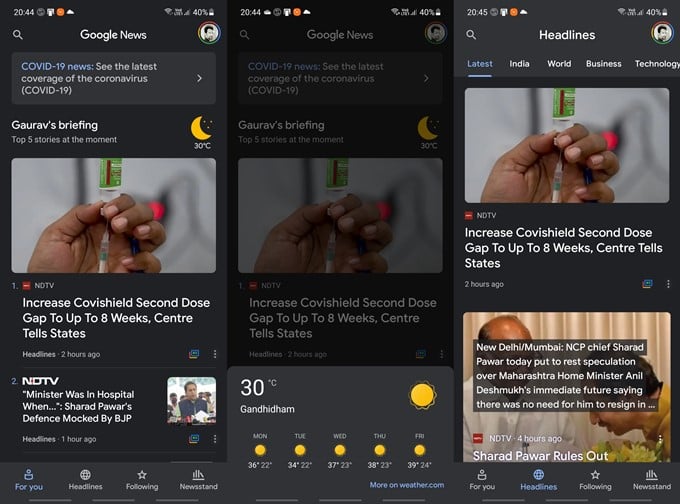 Newsstand tab allows you to subscribe to your favorite blogs, media sites, and categories like health and tech. Following tab display topics, blogs, and search keywords that you have chosen to follow.
Feedly sports a bottom bar menu too but with the search button in it which makes things handy for power users. The menu button is where all your subscribed feeds are at. Bookmark tab is for articles you saved. Plus icon to find and add new sources. The center one displays personal feeds.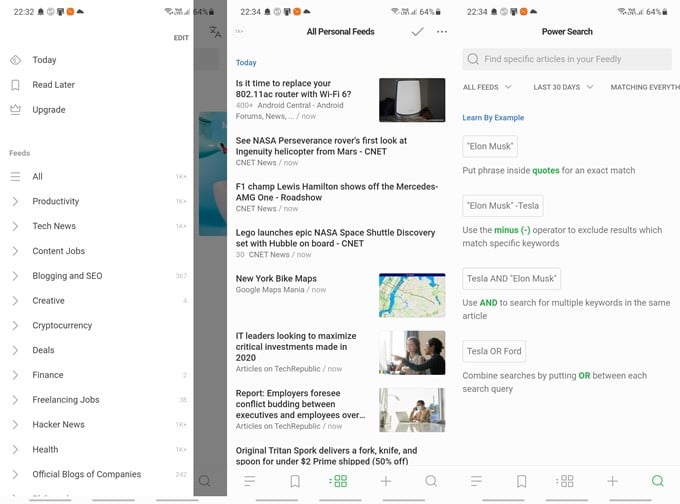 Overall, I like Feedly better because how well it has been designed. This is not to say that Google News is worse. It's great but if I had to pick one, as a mobile user, I like that search icon at the bottom. Being a power user, I search a lot but that's just me.
Discovering and Adding Feeds and Sources
In Google News, open the Following tab and you can search for and add topics that interest you. Interestingly, there is also a way to add location, say your city or town to keep tabs on what's happening in your locality. Just tap the plus icon to begin. Google was built to index and present content and it shows. Follow your favorite companies like Tesla or Netflix by simply tapping the Star icon.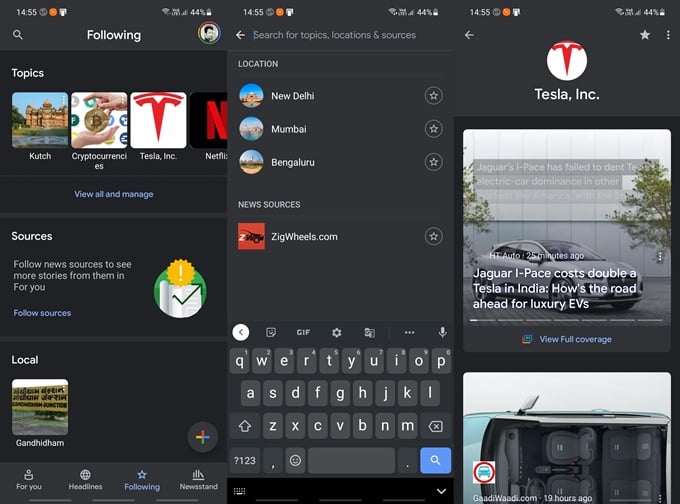 Feedly is an RSS aggregator and so you will find broad and niche categories that you can subscribe to, just like on Google. Found a blog that you like but can't find on Feedly? Add RSS link directly. While adding links and subscribing to topics is easy, and creating folders to manage easier, there is no way to track location-specific content. Feedly does support following individuals and companies like Google News though.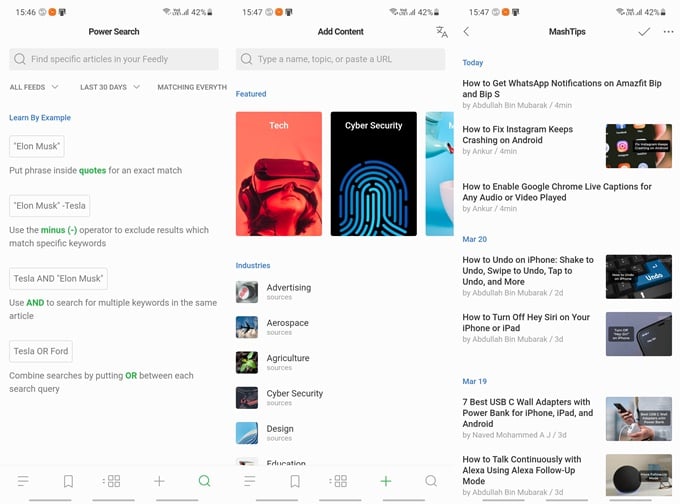 Overall, finding sources, blogs, topics, famous people, and keywords is easy. Where Google News has location-based content, Feedly offers better content management using folders.
Related: How to Customize Microsoft News App for Favorite News in Windows 10
Search and Analyze Content
On some Google stories, you will notice a square icon in Google colors. That's called Full Coverage and what it does is allows you to dig deeper into a story. You will see more links for the same story along with notable updates from Twitter.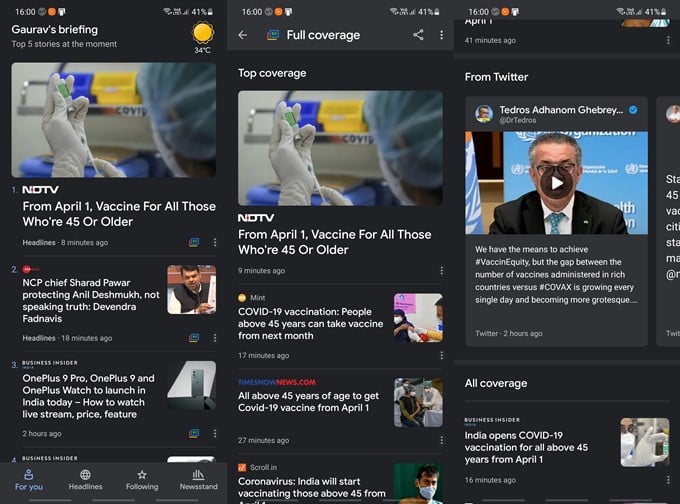 This is useful feature is not available on Feedly and for one reason. Feedly wants you to curate your own content while Google is more about hand-holding. They both allow users to search and add sources but Google News works a little differently than Feedly in this respect.
Both the services will allow you to use keywords to search for more content on any topic. But again, there is a difference in how it works. Google News will display content from sources even if they are not added to your sources. Feedly's search feature will let you search for content by keywords from sources that you have subscribed to. You can however filter searches in Feedly by time, embed (audio, video, text), and more.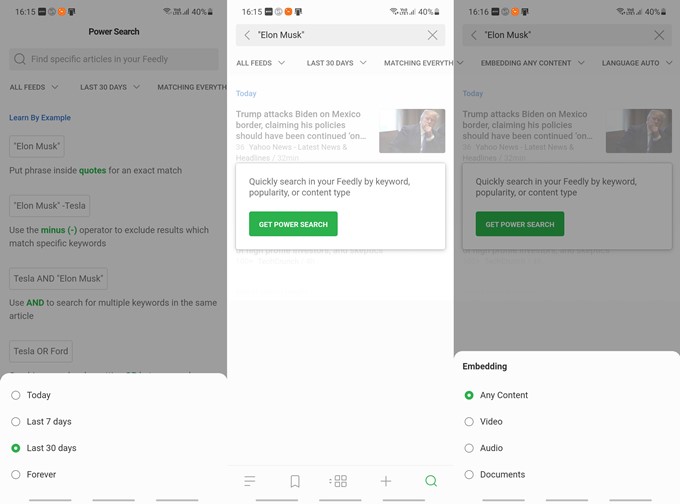 Interestingly, Feedly's Pro plan allows users to add Google News feeds. So, if you like Feedly's UI better, create feeds in Google News and then add them to Feedly and have the best of both the worlds.
Feedly has a few extra tricks up its sleeve. Yo can take notes and highlight important lines or sections of the articles to revisit later.
Related: How to Stop an App from Using Cellular Data on Android
App Integration
This is where Feedly shines. While Google News was designed to consume content by individuals, Feedly was designed to be a scalable solution for both individuals and teams. And it shows.
Feedly works with Zapier and IFTTT which opens the door for you to not only share articles across platforms but do so on auto-pilot. Other notable integrations include Pocket, LinkedIn, Buffer, Hootsuite, and more.
Google News integrates with just your smartphone's default share button which is limiting in so many ways. No API to work with for developers.
LEO, Smart AI
Feedly recently launched a smart assistant called Leo that will curate content based on your habits. You can further train Leo to curate and classify content based on how you interact with the article, read it or not, and how you move or tag it. It's a novel concept but only available on the Pro plan.
Pricing and Platforms
Google News is completely free and is available on the web, Android, and iOS, as is the case with most Google apps. They don't develop desktop apps except for Chrome which acts as a vehicle to access all their web apps.
Feedly works on the web, Android, and iOS too and fails to offer desktop versions. I would have liked one but that's just me. The free plan is good enough for individuals but Feedly offers multiple plans for prop users and teams starting at $6 per month.
Google News vs Feedly
I would suggest you to get the cheapest Feedly plan and set it up. And then you can import Google News feeds into Feedly and get the best of both the worlds. You can also use both the apps where use Google for location-based local news and Feedly for managing content and teams. Otherwise, it totally depends on your personal preferences. Feedly's free plan is equally good but you miss advanced sharing options and power search feature.