Playing games on the big screens does not always need PlayStation or Xbox consoles. If you have an Android TV in your living room, you can pair a Bluetooth game controller with it and play games on your TV. For that, you need to get compatible game controllers for your Android TV.
Here we list out the best Bluetooth game controllers for Android TV for big-screen gaming.
GameSir G4 Pro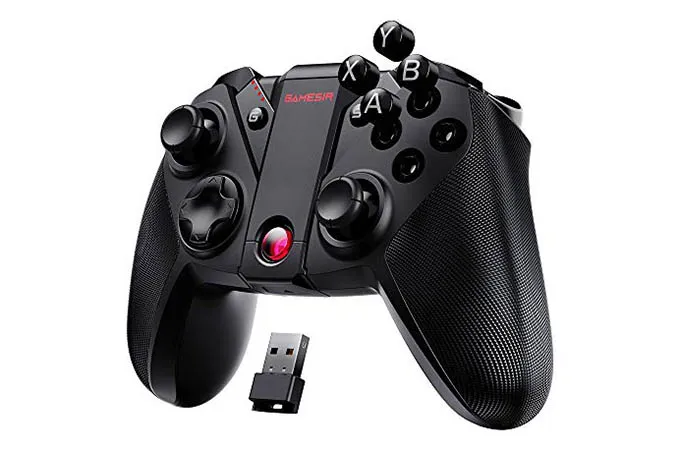 Designed by GameSir, This controller weighs just about a pound and is connected using Bluetooth. The wireless controller has an impressive battery capacity of 800 mAh that should last about 12 hours of gameplay. All buttons (A, B, X, and Y) can be interchanged or swapped according to your preference, making this controller highly customizable.
It also comes with a 6-axis Gyroscope that senses movement and adds to the immersion of the game. One AA battery is needed to operate this game controller for Android TV and is provided with the package. G4 Pro works on any android device running Android 8.0 and above and can be paired via a 2.4GHz USB dongle, Bluetooth, or by wire.
Pros:
Screenshot button
Similar to the Xbox controller
Good grip
Customizable buttons
Cons:
Inadequate build quality

Disconnects frequently

No support for Apple products
Latency issues
Key Features: Connectivity: Wireless (2.4GHz) | Compatibility: Android, PS, Windows, TV Box | Cable length: 6.5 feet | Rubber Grips | Motion Control | Phone Holder | Asymmetric Motor | Magnetic Buttons | Turbo Key
Today's Deal: $10.00 Off
Related: How to Sideload Apps on Android TV Using Your Phone
EasySMX Wired Gaming Controller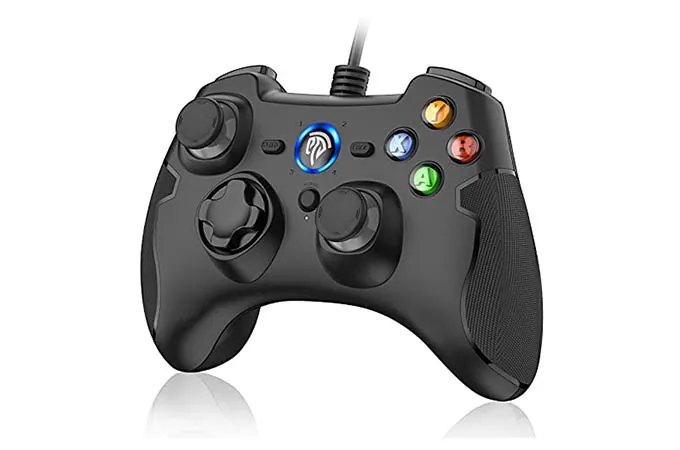 EasySMX wired controller weighs around 0.6 pounds and has a 2m long cable for your comfort. The controller also features a turbo button as well as a home button. This Android TV game controller follows the design of the Xbox controller and sports some soft rubber grips to avoid sweating and slipping on the controller.
The dual vibration feedback function houses 2 separate motors inside the joystick to give feedback when needed. Overall all solid construction also ensures that no sound is made when the joystick is shaken. This controller is made of hard plastic meaning it can easily handle a fall or two.
Pros:
Wide-range compatibility (Tesla too)

Cheap and reliable

Rubber grips
Cons:
Wired controller
Not Xbox compatible
Weak vibrations and feedback
Analog stick breaks easily
Key Features: Connectivity: Wired | Compatibility: Android, PS, Windows, TV Box | Cable length: 6.5 feet | Double shock vibration feedback
Today's Deal: $4.00 Off
IFYOO PC Steam Game Controller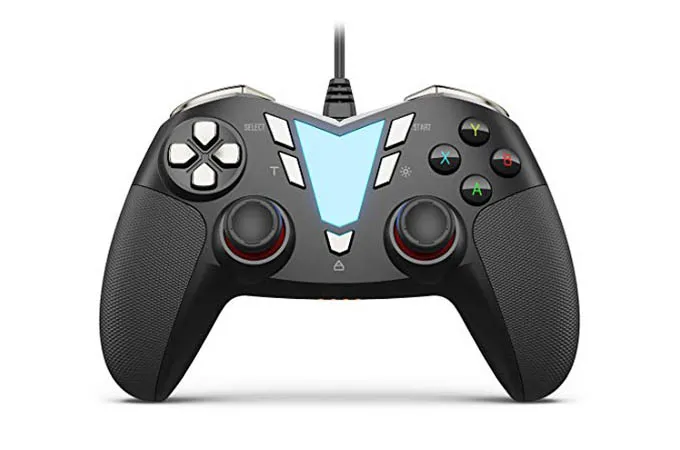 Weighing only a measly 0.6 pounds, this controller made by IFYOO is both lightweight and functional. This controller's ergonomic design conforms naturally to your hands and hence makes handling the joystick a breeze. This joystick also features a multi-mode that supports both Dinput and Xinput.
The vibration feedback and JD-Switch Function ensure maximum immersion while playing games. The joystick follows a button layout that closely resembles a PlayStation controller. Rubber grips on both sides of the controller provide a good grip on either end. This joystick comes with a backlight decorative board that comes in seven different colors.
Pros:
Asymmetric vibration function

Affordable price tag
Cons:
Not compatible with Xbox
No Mac support
OTG adapter not given
Key Features: Connectivity: Wired | Compatibility: Android, PS, Windows, TV Box | Cable length: 10.5 feet | Turbo Function
Related: 12 Free Chromecast Games to Play on Big Screen TV with Android
8Bitdo SN30 Pro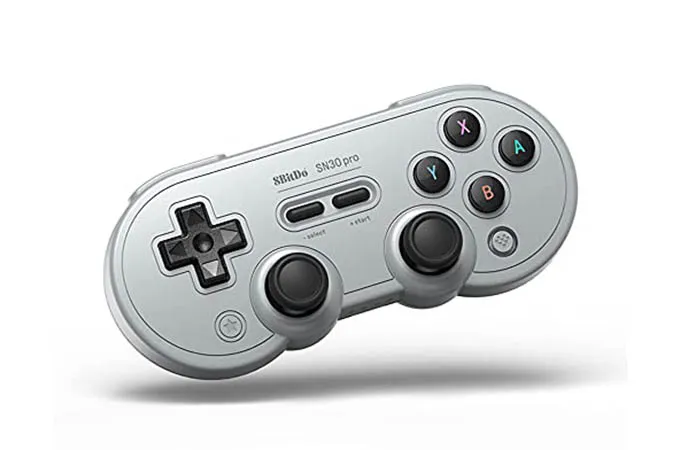 This retro-looking joystick was designed and made by 8bitdo. Weighing slightly more than half a pound, this small controller fits perfectly in your hands. This controller is available in three different variations and three different colors as well.
Other than Android TV, the SN30 also works with Android phones, macOS, Windows, NES, and SNES. This controller comes equipped with a Lithium-ion battery that lasts an impressive 18 hours on a single charge. The charging time is only around 1 to 2 hours long so you don't have to wait too long for your next game. This Android TV game controller works only on 2.4 GHz WiFi.
Pros:
Retro look
Ergonomic design
Nintendo Switch compatible
Cons:
Tiny size
Overly sensitive buttons
Slippery design
Key Features: Connectivity: Wireless & Wired | Compatibility: Android, PS, Windows, Mac, NES, SNES, Switch | 6-axis somatosensory | USB-C connector | 480 mAh Rechargeable Battery | ABS Outer Shell
8Bitdo SN30 Pro+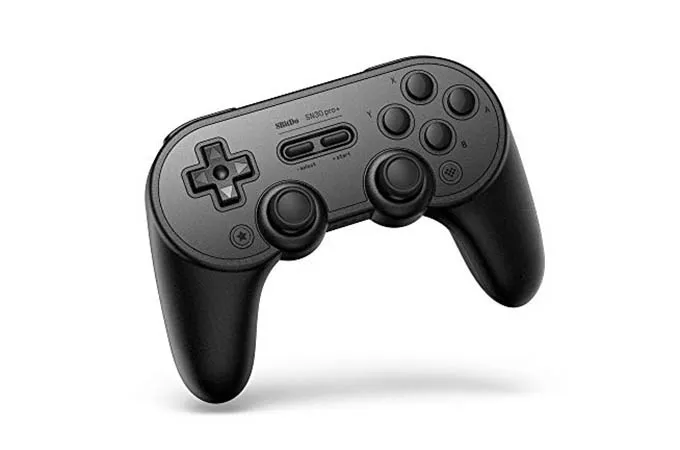 Again, 8Bitdo delivers a truly awesome and completely wireless controller in the form of SN30 Pro+. With a weight of about twice as much as SN30 Pro, this 1-pound wireless controller is powered via the battery. No more tangled wires for you as this controller delivers a truly wireless experience by connecting your device by means of Bluetooth.
With a huge battery life of up to 20 hours, you can game all you like without the fear of your controller dying midway. Claimed to be 'the most advanced controller from 8Bitdo', they can operate even on AA batteries.
Pros:
6-axis motion sensor
Adjustable trigger buttons
Huge battery life
Raspberry Pi compatibility
Cons:
Difficulty pairing
Hard to remap buttons
Stiff D-pad
Key Features: Connectivity: Wireless | Compatibility: Windows, macOS, Android, Steam, Nintendo Switch, Raspberry Pi | Button Mapping | Vibration Control | Trigger sensitivity | 1000 mAh battery
Related: Android TV Remote App Not Working Anymore? Use These Fixes
EasySMX Wireless Game Controller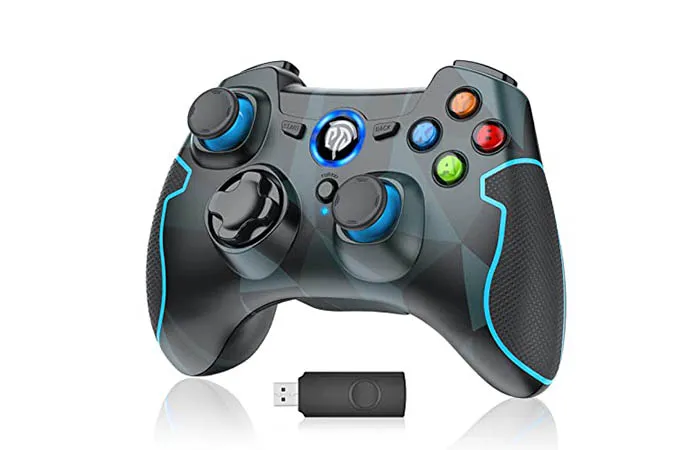 EasySMX wireless controller for Android TV has an Xbox-like design and weighs less than half a pound. It has a huge range of up to 10m or nearly 33 feet so that you can sit back and relax while you game without fear of losing the signal.
Insert two AA batteries and the controller is ready to run. This wireless game controller is compatible with almost all other OS including Windows, PS3, Android, Steam, and Nintendo Switch.
Pros:
Xbox-like design
Rubber grips
Cons:
Batteries not included
Oversensitive analog stick
Key Features: Connectivity: Wireless & Wired | Compatibility: Windows, macOS, Android, Steam, Nintendo Switch | USB-C Port
Today's Deal: $16.00 Off
GameSir T3s Wireless Gaming Controller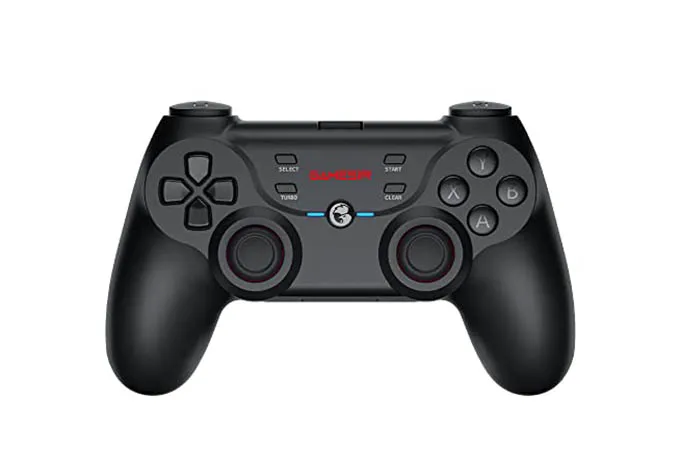 This is another wireless controller made by GameSir that weighs about 0.75 pounds. GameSir T3s wireless gaming controller for Android TV works perfectly on Android, Windows, Nintendo, and iOS. T3s have a built-in 600mAh battery that should provide up to 25 hours of nonstop gameplay.
This versatile game controller for your Android TV can easily swap the mode between Xinput & Dinput making sure your gaming never stops, no matter what. This hyper customizable controller lets you set your vibration intensity, range, turbo button, and turbo range all in one go. This wireless Android TV gaming controller can be converted into a wired joystick when you are out of battery.
Pros:
Highly customizable
Wired/ Wireless modes
Dual-Vibration
Cons:
Random disconnections
No home button
No rubber grip
Key Features: Connectivity: Wireless & Wired | Compatibility: Windows, macOS, Android, Steam, Nintendo Switch | 10m range | Bluetooth 5.0 | 3 connection methods | 8 programmable keys | Auto Turn-off
Related: 14 Best Game Controllers for Amazon Fire TV to Buy in 2022
SteelSeries Stratus Bluetooth Controller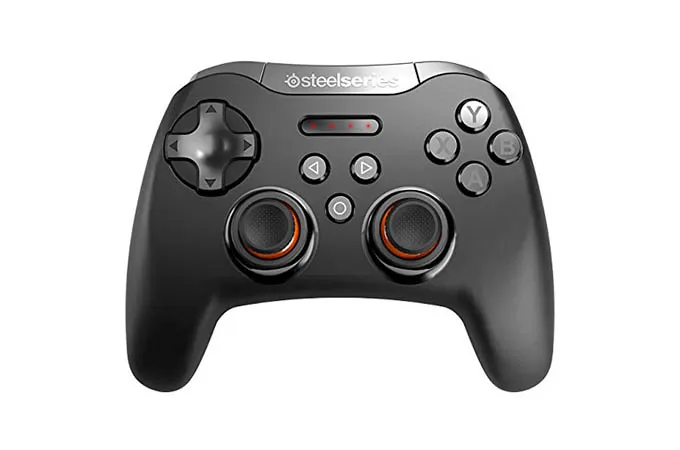 Steelseries Stratus is perfect for any gamer, experienced or otherwise. The Stratus XL controller weighs about 0.6 pounds just like most controllers. This controller comes with 4 LED indicator lights that signify the connection status, so you won't have to play the guessing game ever again.
Stratus XL gaming controller for Android TV comes with a considerably long battery life of 40+ hours and can be charged via AA batteries as well. Using their SteelSeries Engine 3 program you can even adjust the actuation point of the triggers, further improving your aim to pinpoint precision.
Pros:
Fits in hand.
Long battery life\
Cons:
Bluetooth adapter sold separately
Difficulty connecting to Windows PC
Key Features: Connectivity: Wireless | Compatibility: Windows, Android, Steam, VR, Xbox | Home & Back Buttons | VR Support | Indicator Lights | Hard Outer Shell | 40+ Hours battery life
Today's Deal: $10.01 Off
ZD-V+ USB Wired Gaming Controller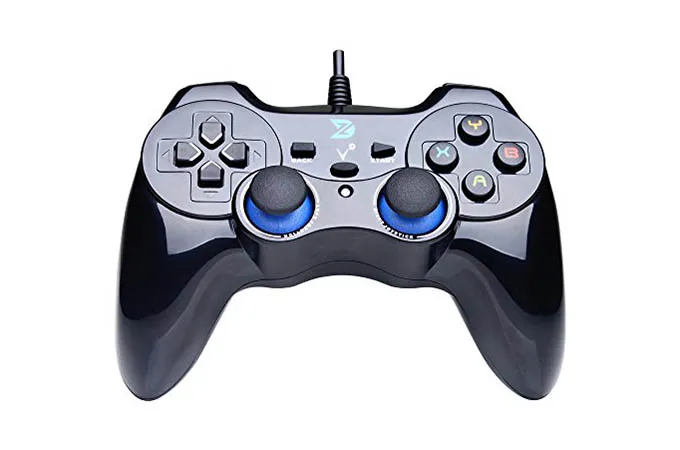 This pure black wired controller is designed and made by ZD. The ZD-V+ weighs around 0.4 pounds, making it one of the lightest controllers on our list. This controller is compatible with Windows, Android, and PlayStation but not compatible with iOS and Xbox.
The wireless gaming controller for Android TV has a multi-mode meaning it can easily switch between Xinput and Dinput. ZD-V+ follows PlayStation architecture and closely resembles the PS controller. This controller also has a JD Switch function. Vibrational feedback and sharp responding controls make gaming on ZD-V+ an unforgettable experience. The smooth and streamlined design of this joystick feels comfy yet firm in your hand.
Pros:
Plug and play design
Vibrational feedback
Ergonomic design
Cons:
OTG adapter not included.
Leaves smudges
Stiff cord
Key Features: Connectivity: Wired | Compatibility: Windows, Android, Steam, PS3 | 1.5m Cable | Non-slip Joystick
Today's Deal: $6.00 Off
Related: 10 Best Android TV Box to Convert TV to Smart TV
FANDRAGON USB Wireless Gaming Controller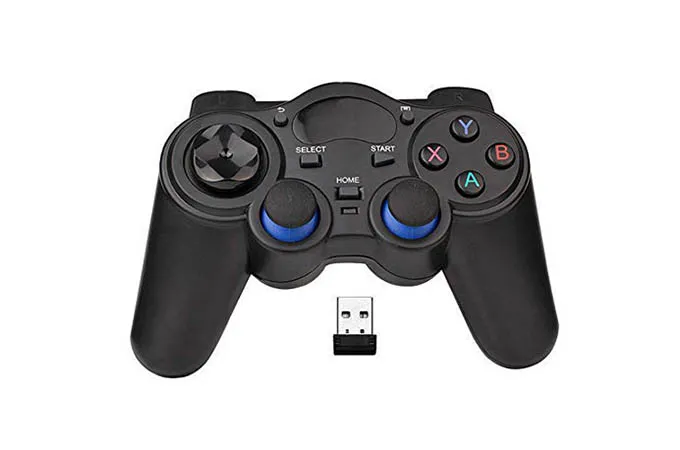 FANDRAGON A-038 gaming controller compatible with Android TV is wireless and so, it leads to a cordless and hassle-free gaming experience. It houses a high-precision D-pad that has a fused key system.
The wireless game controller has a range of up to 30 feet. Its ability to sleep and wake up makes this one of the best power-saving controllers available on the market today. Pressing the 'home' button for more than 7 seconds lets you change its mode from Xbox 360 to PC and PlayStation, further customizing your game playing ability.`
Pros:
Great battery life
Easy to use
Precision D-pad
Cons:
Batteries not included

Very stiff analog sticks
Confusing instructions
Key Features: Connectivity: Wired | Compatibility: Windows, Android, Steam, PS3 | 1.5m Cable | Non-slip Joystick | Intelligent Power Saving | 12 Function Keys | Ergonomic Shape
Adding a gaming controller to your Android TV lets you open a whole new world of living room gaming without getting a brand new PlayStation or Xbox. The above ones are those which are compatible with your Android TV without any additional setups.