iMessage Activation Error? Sometimes when you try to set up a new account or new number for iMessage, you may end up with an iMessage Activation Error "An error occurred during activation". Apple's instant messaging service is a cool option to send any content like text, images, documents, contacts to other devices running iOS or MacOS. Sometimes, things go wrong and you have to deal with a bad apple. If you are not able to send/receive iMessages on iPhone, then it might be due to poor network connectivity. Or you might have missed updating the latest software on your iPhone or something else.
Without further ado, let's try to identify the most common iMessage problems faced by the users and how to fix them.
Check If iMessage is Enabled
Before starting the troubleshooting, check if you have enabled iMessage on your iPhone. If you are someone who is sharing the device with your kids, then it is better to do this step first. Tap Settings->Messages. Make sure that the iMessage is turned ON. If not, toggle the switch to the right to enable iMessage on your iPhone.
If iMessage is not delivered/received even after turning that ON, then try out the following options one by one.
Switch Off & Restart Your iPhone
At times, the simple trick of switching off and restarting your iPhone will help to resolve a lot of issues. Go ahead and switch off your iPhone, by holding the Power button for 30 seconds or more. Wait for a minute or two. Then, restart your device and try to send an iMessage to one of your contacts. Still, if iMessage is not working, then you can try out the other options listed below.
Check iMessage Settings
Are you sure you have configured the iMessage settings correctly? If not, follow the below steps to setup iMessage properly on your iPhone.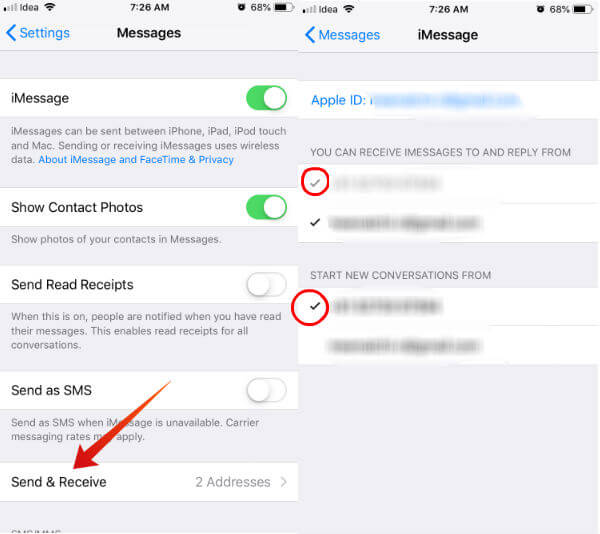 Tap Settings->Messages.
Then, tap Send & Receive.
Next, check if there is a check mark next to your mobile number under the sections titled  YOU CAN RECEIVE IMESSAGES… and START NEW CONVERSATIONS FROM.
If you don't see a check mark, then select your mobile number on both the sections. Otherwise, iMessage will not work properly.
Also Read: How to know my iMessage is free or not.
Toggle Airplane Mode
You need to connect the iPhone to either Wi-Fi or cellular data connection to send/receive iMessages. If iMessage is not working properly, then try to put your device in Airplane mode so that Wi-Fi and other networks will be disabled. After 30-60 seconds, put your iPhone in normal mode and try to send an iMessage.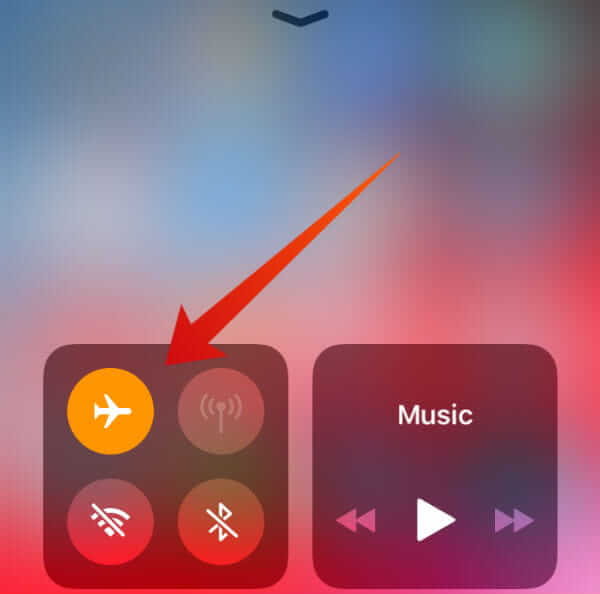 Launch Control Center by swiping from the bottom of the iPhone.
Tap Airplane icon to enable Airplane mode.
Next, navigate to Settings->Messages and turn off iMessage.
After 30-60 seconds, tap Airplane icon to bring your iPhone to normal mode.
Now, turn on iMessage from Settings->Messages.
For many users, this simple trick has fixed the iMessage problems on their device.
Check Your Apple ID
Are you still seeing the message "iMessage Activation Error" on your device? Then, turn off iMessage and sign out of your iCloud account. After 30-60 seconds, log in back to your Apple ID and turn on iMessage.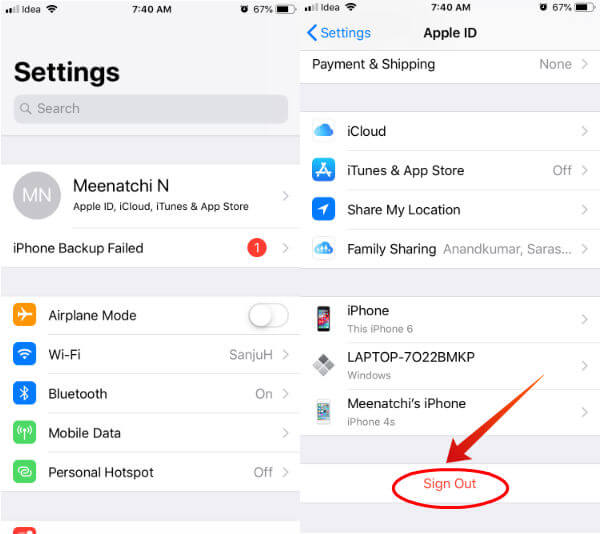 1. First, tap Settings->Messages and turn off iMessage.
2. Next, tap Settings->Your Apple ID.
3. Then, tap Sign Out to log out of your iCloud account. Don't forget to backup your
data before signing out of your Apple account.
4. After a few seconds, tap Settings and log in back using the same Apple ID.
5. Next, turn on iMessage from Settings.
Even though the above procedure might look weird or odd, it helps to fix the iMessage problem.
Update Latest iOS
Even though iMessage was originally introduced in iOS 5, Apple regularly adds improvements to the messaging feature. In general, every new iOS software release will not only include the new features but also the bug fixes for the old features. That's why it is always recommended to install the latest software on your iPhone.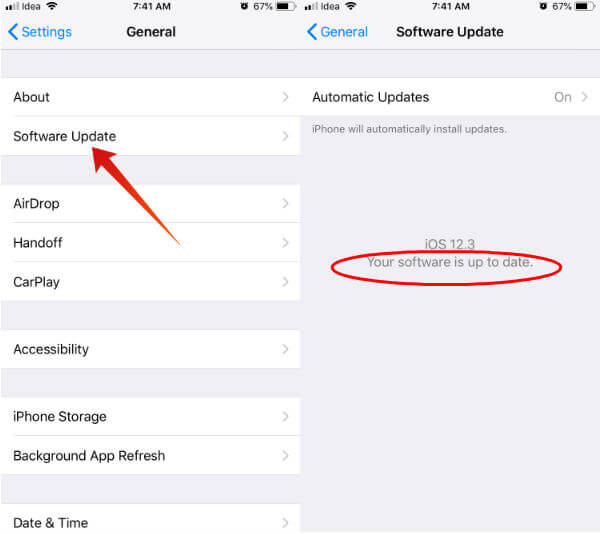 If you have already enabled automatic updates on your device, then the latest software will be installed automatically on your iPhone. Otherwise, you can update the software manually by navigating to Settings->General->Software Update. Sometimes, updating your device with the latest software will help you to resolve a lot of weird bugs which are hard to simulate.
Clear iMessages
Definitely, this is not a great or clever option to fix the iMessage not working issue. However, this simple trick has solved the problems in iMessage for some users. Launch Messages from your iOS home screen and delete all the messages which are not needed anymore. Sometimes, this is a hard step. But, consider as last resort. Then, try to send iMessage to any one of your contacts. Hopefully, it should work.
Reset Network Settings
Sometimes, poor network connectivity or incorrect network settings might affect iMessage. To avoid that, try resetting or restoring your network setting to the factory defaults.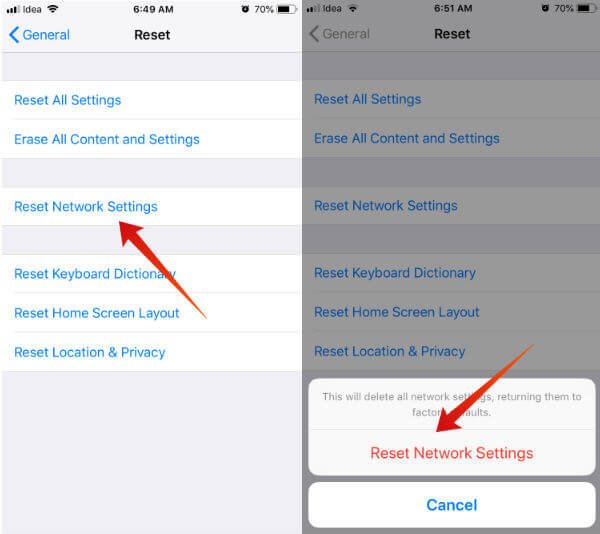 Tap Settings->General->Reset.
Tap Reset Network Settings.
Next, enter your phone passcode.
Then, your screen will show two options: Reset Network Settings, Cancel. Go ahead and tap Reset Network Settings.
Now, all your network related settings (including your Wi-Fi login credentials) will be deleted and restored to the factory defaults. Before doing this, don't forget to make a note of your Wi-Fi password so that you won't face any issue in connecting to your Wi-Fi network again.
Get Help From Forums
Redditors always provide great support for resolving any kind of issue. It is one of the best places to find solutions for tech-related problems. r/iOS is a dedicated sub, where you can talk about anything related to your iOS devices. Apple forums are one of the places you can get help from experts for iMessage issues. Just go ahead and share a brief description of your iMessage problem on the sub. Definitely, you will get some inputs from the fellow iOS users.
Alternative Message Apps
iMessage has not lost its popularity among the loyal users of Apple devices. However, many users often complain that iMessage is not working on their iPhone or other devices. These days, there are plenty of options like WhatsApp, Skype, Telegram, Facebook to share your personal media/text with your friends/family. You can check a list of iMessage Alternative to text between Mac, iPhone and Android users.
The iMessage Activation error might be a temporary issue that can be resolved by following the steps above. In case the above-listed solutions don't work for you, then the best option is to contact the Apple Support. Hopefully, they should be able to fix the issue on your device and make the iMessage feature work again.